Tweet
AUGUST 2014 ISSUE WINDSURF MAGAZINE
The August 2014 Issue of the world's only monthly English-language windsurfing magazine is out now! Subscribe or grab your copy now in either App or Print  versions! (Prices include delivery anywhere globally 10 times a year.)
#FACT: WINDSUP IS COOL – MEGA BUYERS' GUIDE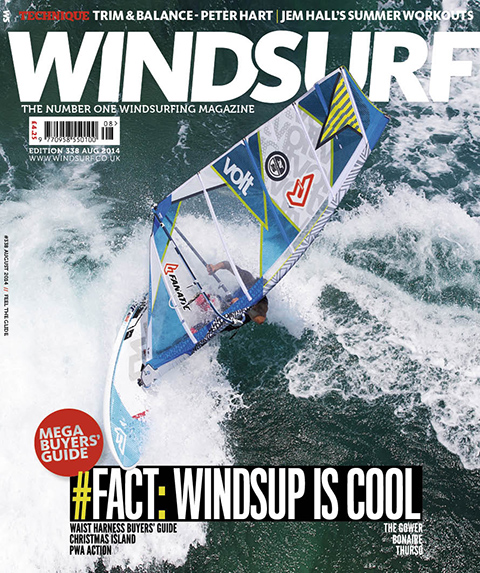 BIG JUICY READS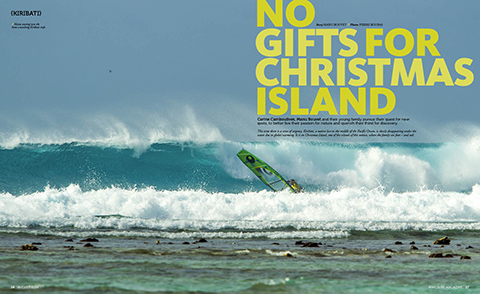 NO GIFTS FOR CHRISTMAS ISLAND
The intrepid, adventurous, Manu Bouvet, Carine Camboulives and their two kids enjoy a dream trip to Kiribati. But paradise is threatened and the French family find out that rising sea levels will soon render the perfect reefs redundant.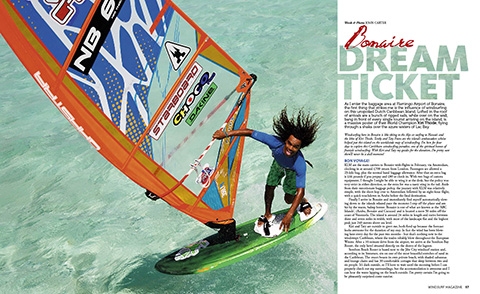 BONAIRE
JC might be a total travel disaster zone, but his recent trip to the Dutch Antilles went relatively smoothly, bar the mosquito bite to his eyelid that is … oh and he scored some insane tropical freestyle action on a boat trip with the World Champ and friends.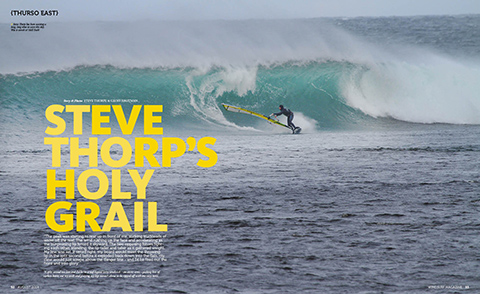 THURSO
Steve Thorp must have an oil refinery in his back yard, with the diesel-burning wave hunter clocking some serious miles in the search of a mythical wind and wave combo on Scotland's far North Coast.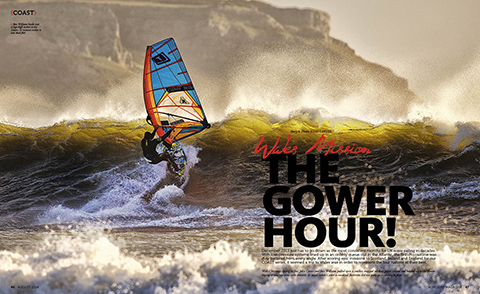 COAST
The Motley crew's persistence and trust in the locals paid off as JC and Ross Williams reveled in the dragon-sent waves in The Gower.
EVENTS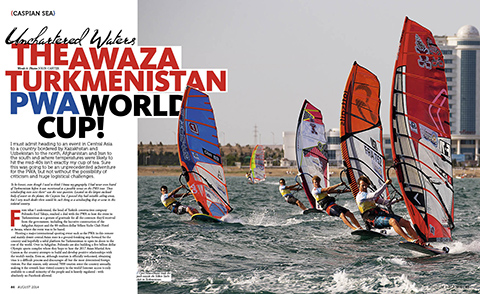 PWA TURKMENISTAN
The World Tour got extra global as the slalom series explored a brand new event in Turkmenistan. Carter even got to meet the President.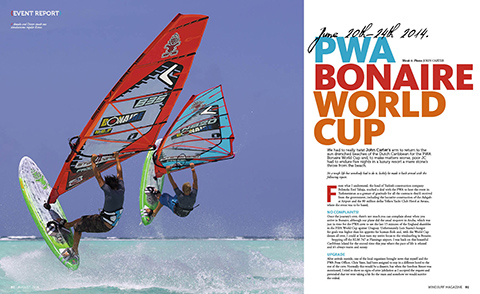 PWA BONAIRE
Lucky John Carter blagged another ticket back to Bonaire as the PWA freestyle fleet rolled into the Caribbean for some insane, azure-water showdowns.
GEAR SHED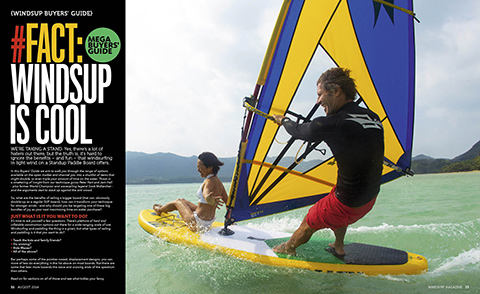 WindSUP BUYERS GUIDE
It's time to face facts and realise that light-wind sailing is fun, beneficial and downright cool. Throw in the versatility that a paddle board throws in when even the lightest breezes fail to show and you're suddenly the new waterman in town. We walk you through some key learning/cruising, all-round and dedicated wave-riding options.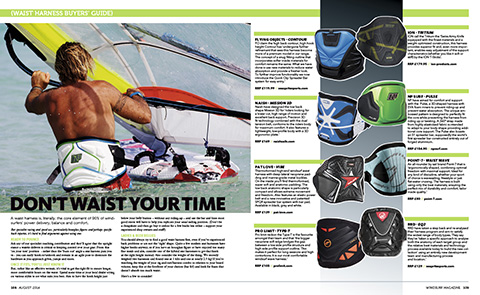 WAIT HARNESS BUYERS' GUIDE
It's hard to find arguments against the use of a waist harness, yet fit is still vital to sailing efficiency. Read our overview on the latest models on the market.
TEKKERS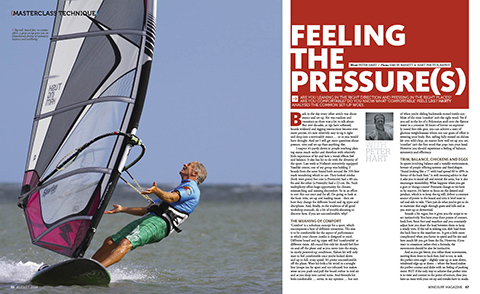 PETER HART MASTERCLASS – FEELING THE PRESSURE(S)
Are you leaning in the right direction and pressing in the right places? Are you comfortable? Do you know what 'comfortable' feels like? Harty analyses the common set-up woes.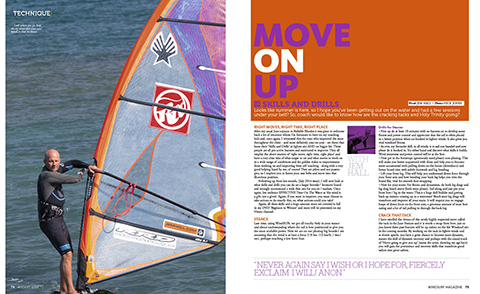 MOVE ON UP – SKILLS AND DRILLS
Light-wind workouts to polish your technique from Super Coach Jem Hall
 
BOARDSHORTS
LATEST & GREATEST
More 2015 gear releases, fashion, GPS software and more.
PEOPLE & PLACES
New resorts, milestones – and even some jobs!
SITTIN' ON THE DUNNY
EDITORIAL
Let's all loosen up a little and get back to basics.
AFFAIRS OF THE HART
Harty ponders what makes his old chum marooned on the remote West Coast of Ireland – Jamie Knox – so resilient to the wild weather and challenges Mother Nature's thrown at him?
Get your copy by App or in Print now!