Tweet
CANOS DE MECA WINDSURF TRIP
Caños de Meca is a small, unspoiled community on the windswept but stunning Costa de la Luz coast in Cadiz Province, Andalucía, Spain. Reader Martin Bayryamov from Bulgaria tells us of his trip there and why it was well worth it.
Words : Martin Bayryamov
Photos : Martin Bayryamov
After we spent the summer in Portugal, it was time to go. Again on the road, chasing the endless summer again. We were going to Fuerteventura for the winter, but before we take the ferry we decided to spend a few weeks in Andalucia.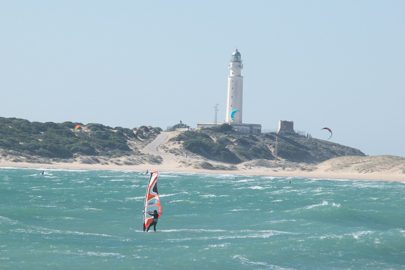 There is no journey which can be boring, especially when you have surfing and windsurfing gear in your van, and plenty of time… We drove through sunny Algarve in Portugal, where I had the chance to catch some nice waves, to be honest I even don't remember the names of those places. We passed by Odeceixe and Aljezur, but the name of the spots is not anymore in my head. Let's keep it as a secret.
It took us a week before we arrive in Zahorra, a little hippie village next to Los canos de meca and Trafalgar lighthouse, where the British navy managed to sink 22 French-Spanish battle ships, without any loss. That happened in the good old times when arguments were solved by just killing the opponent…easy and safe method. If you are the stronger one, I guess.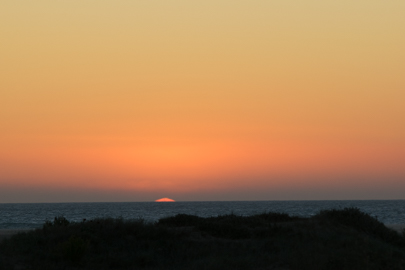 I had studied the forecast already the whole summer and to be honest I didn't have any expectations for wind. For the whole summer I saw on windguru maybe 5 days in total with more than 20 knots wind. But I was assuming that something must be going on with the east wind blowing from the Mediterranean.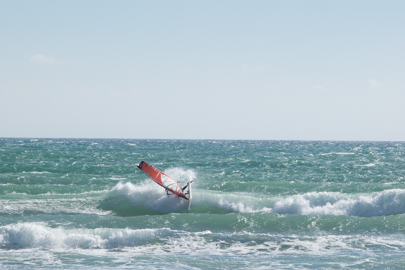 The first week we had some surf. We noticed that El Palmar beach,  which is the most popular spot for surfing is actually the worst place to go surfing with packed line ups, schools, beginners, locals and etc….unless you go a bit north of the tower where eventually you may find a break with not more than 4-5 guys. Of course the swells are not really consistent in October-November. I had my fishing rod in the van for days with no wind and waves. In the days with no wind and waves, there is no fish too…well, not on my hooks. My landlord told me that in the 70-80's fishing with dynamite  was popular in the area. The explosions destroyed the reefs on the ocean bed, which chased the fish away, and most likely the ecosystem didn't recover fully yet.
We had a few windsurf sessions on 105 ltrs and 5.3 when in the bay of Los Canos, where all the kite boarders go. Then Levante arrived wearing his shiny armour. And I noticed that I am not ready to meet him. We drove around midday to the reef in Los Canos, few guys were already out, sailing on 3.4 and 3.7 My smallest sail was 4.2 and I rigged it up very slow. Fully overpowered, big wind swell…I sailed for half hour when I came back in. My sail was obviously too big for the conditions out there. Another guy on 3.7 came on the beach to change to smaller…I am not really used to that strong wind.
The reef is few hundred meters south of the lighthouse, where the sand beach finishes and the block of flats start. Then in high tide you can  enter just next to the wall of the flats, but in the low tide the rocks are not very friendly. Better walk another 50 meters with your equipment further to the south (there are stairs from the beach to the flats) where you can enter in the water easier. After this carnage I was already thinking if I should drive to Tarifa to buy a smaller sail…Luckily next day was a bit less windy. Still some guys choose to rig their 3.7, but my 4.2 was ok and I really had good fun. Good steep ramps to jump on the port tack and waves to ride coming back in. The wind was blowing 2 days before it disappeared. A small swell from the west arrived and the next  days I was surfing Conil and El Palmar.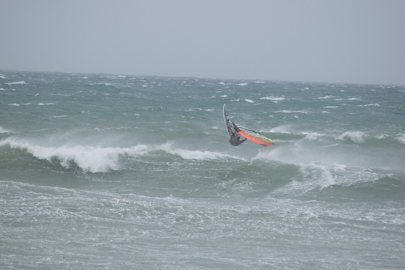 After 5 days the Levante was on again. Two days in a  row I sailed with my 4.2  and 82 ltrs quad board. It was somehow doable and I really had fun, but if I would have had a  smaller it would have been better. The 3rd day the levante was less, but still I could sail on 5.3 and big board. The Levante was gone again for a couple of days, which I used to go surfing. We left Zahora on Saturday 14th of November, to take the ferry to Fuerteventura. We took off early in the morning, and the Levante was already howling. The weather forecast was giving 35 knots wind for the next 3 days. Right now we are in Fuerteventura, busy with our windsurf camps. I know the island already as we lived here for a few years. I expect very good waves with side shore winds through the winter, good surf and windsurf. The place we left two weeks ago has not always wind and waves. I believe if I would go in the summer I will find crowds on the beaches, full restaurants, many Madrilenos (a native or inhabitant of Madrid. ) looking for cooler air and I probably wouldn't like it as much as I did when I was there. We really enjoyed those empty beaches, we felt the spirit of the small villages around the coast like hippy Pueblo de Zahora, quiet Los canos de meca, and the typical Spanish town of Barbate and the white colored Vejer de la Frontera, which looks like nothing changed the last 300 years with its tiny steep, paved streets, walking on the same cobbles that the Moors were walking on many centuries ago…hard to explain it all in words but definitely it was a very worthwhile trip!
For this Winter my girlfriend, Eline Schenk and I will organise windsurf and yoga camps in Fuerteventura – http://www.windsurfyoga.eu in conjunction with www.sailsense-school.com
Contact –  https://www.facebook.com/WindSurfYoga  and  https://twitter.com/windsurfyoga
About the author
I am 35 years old originally coming from Bulgaria. I grow up on the beach and my brother pulled me onto a windsurf board aged  9. Few years later I joined the local windsurf club where I competed on the Olympic class boards which were Mistral One design. As the club didn't have enough money I needed to use (until 95) the old Lechner board, which was the Olympic class till 92 I believe. Black sea is not very windy in the summer, and sailing on 7.4 m2 and huge racing board was ok.
I spend around 10 years working in office in the logistic area. Until March 2011 when I went to Tarifa to join a vdws windsurf instructor course and in May I moved to Fuerteventura. Over there I started a job in one of the local windsurf schools. I wanted to experience riding ocean waves and the north shore of Fuerte was the best choice for me. In the summer the waves are not so often, so I bought as well freestyle board for the flat days.