Tweet
FESTIVE STOCKING FILLERS
Yes don't panic but it's nearly ding dong merrily on high time and Santa needs some help in filling your quiver bag otherwise you're going to end up with more socks and Terry's chocolate oranges than your local Debenhams. All we windsurfers really want for Christmas is some wind, and I don't mean from Nan's brussel sprouts, but anything else in our splendid seasonal guide would be good too…along with a nice force 5/6!
1. Aquapac TrailProof™ Waist Pack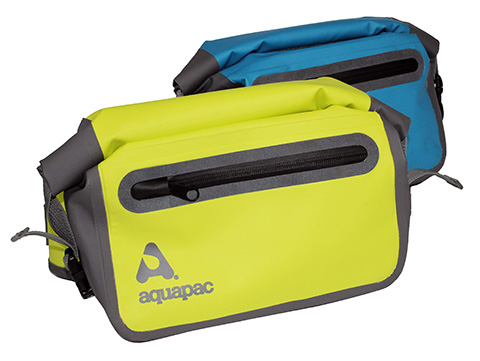 New from waterproof bag specialist Aquapac is the Waist Pack – the perfect gift for windsurfers say Aquapac. ''The Waist Pack is, as the name suggests, ideal for keeping valuables such as phones, wallets, keys, medicines etc safe and secure around your waist so you can have fun in and around water, worry-free. The all-welded construction means no sewing holes so no leaks.''  Available in two vibrant colours – green and blue.
RRP: £35.00.
2. Procella hoodies and T-Shirts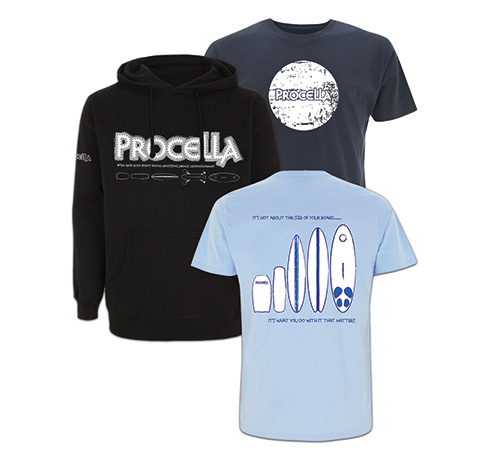 "Clothing for those that do…" is Procella's motto, offering a rich alternative to high street fashion. "Unique designs for those who have a love of watersports. The perfect present to add to your Christmas list, or stocking filler for a fellow waterbaby. Our products are made from 100% premium combed organic cotton, printed/embroidered in England using water based inks. Orders are beautifully hand packed in a recycled brown paper bag".
Tees: from £20.00, Hoodies: £55.00.
3. The 2016 Windsurf Calendar by John Carter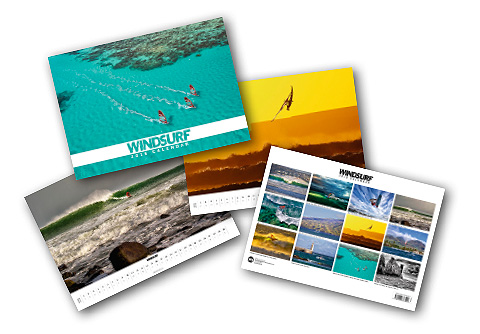 A collection of high quality awe-inspiring images from the best windsurfing photographer in the world, John Carter, all shot on location at the world's best windsurfing locations. The 2016 Windsurf Calendar – give your wall a treat or the perfect gift for the windsurfer in your life.
Calendar Specifics:
Size: A3 (297mm x 420mm).
Locations: Cornwall & IOW – UK, Maui – USA, Margaret River – Australia, Essourira – Morocco, Tarifa – Spain and West Coast of Ireland.
RRP: £18.99.
www.windsurf.co.uk/2016-windsurf-calendar-on-sale-now
4. Tricktionary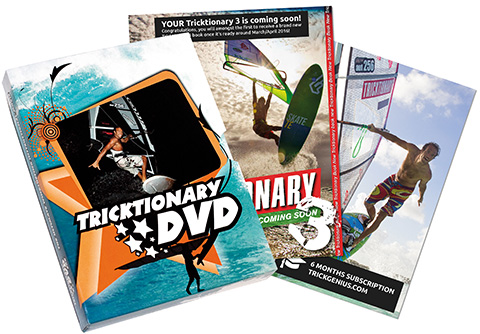 The legendary Windsurfing book, Tricktionary, has a new 2016 edition coming! "With 150 pages more and completely reworked, the new Tricktionary 3 will be strongly connected to the latest in online coaching, the TrickGenius platform. The best gift for a windsurfer? Pre-order a Tricktionary 3, add some free TrickGenius access on a cool gift card and to give away the real deal, get a Tricktionary DVD Box along with it!" For pricing, see their website.
5. Windsurf Magazine Gift Subscription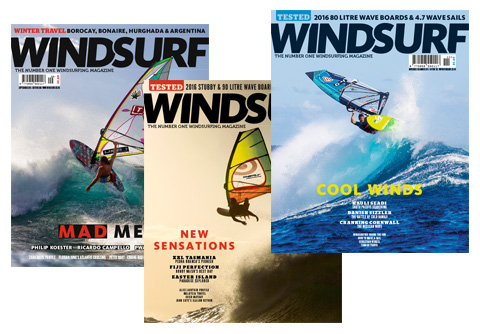 Subscribe to the world's number one windsurf magazine for the best features, test reports and technique articles all delivered to your door ten times a year. Digital version also available for tablet, mobile and desktop users. This may sound biased, that's because it is, but we think this is one of the best presents you can buy a windsurfer, non-windsurfer or friend of a windsurfer or non-windsurfer! For pricing options, look up our link below.
www.windsurf.co.uk/subscriptions
6. RRD EQ3 Harness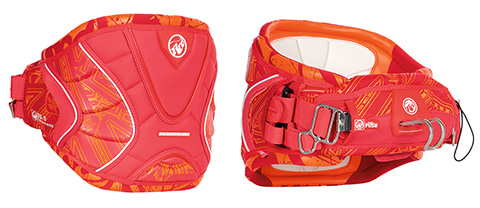 Those Italian stallions, RRD, tell us they have been busy knitting Santa a new jumpsuit and carbon fibre sled with quad fins. Meanwhile back in the real world of RRD research and christmas present development, RRD have the perfect gift, the EQ3, a high-end windsurf specific harness built for power and comfort. Pre-shaped moulded EVA, fibre glass battens inside, spreader protector, key pocket, quick release closure, spreader downhaul, neoprene edges and grip print.
RRP: £150.00.
7. ION Neo Shelter Jacket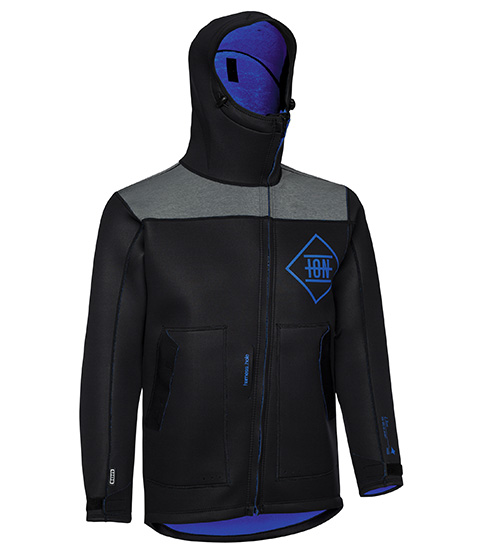 ION Neo Shelter jackets are a gift to guarantee a cosy Christmas on the beach. As used by the riders and crew in the Red Bull Storm Chase, they come with an ergonomic shaped hood with elasticated draw-cord adjuster, diagonally slanted front zip for a centred harness hole position, two comfy hand pockets for warmth with a Key Loop for key storage, elasticated drawstring on the hem and velcro closures for wrist adjustment.
RRP: £82.40.
8. Mystic Outdoor Jacket 
Mystic are back for this winter with an all new line up of jackets. The Outdoor Jacket is a water resistant puffa style with a slim athletic fit, perfect for winter wind protection. With an adjustable hood and bottom, the jacket will suit every body shape, and with the Black or Winter Blue colourway you will be looking fresh whilst keeping warm! Get ready for the warmest winter ever!
RRP: £109.00; Sizes: S-XXL.
9. Flymount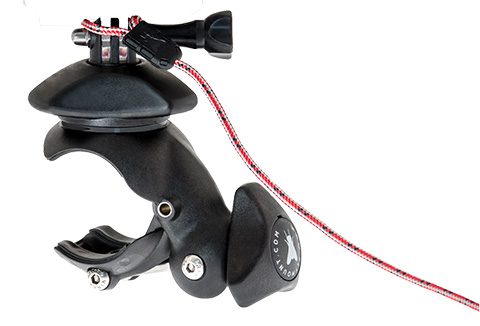 Flymount have just announced the launch of their 4th generation camera mount, due for release this winter. The new version is stronger, and weighs even less than before (143g). The weight saving is down to a new Nylon part that copes better with grit and sand. There's some serious beefing up around the hinge area too, and a stronger bond between the jaws and the urethane liners. British made to last a lifetime.
RRP: £64.99.
10. Starboard Waterman package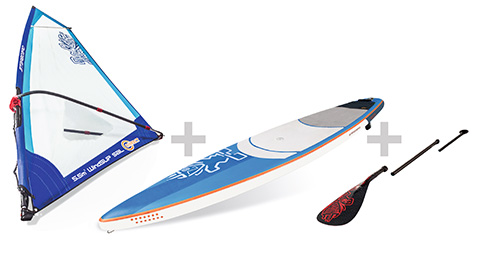 Here's a great present and it can even get down the chimney as it's available as an inflatable! Consisting of an 11'6''x30" Zen (the all-round inflatable WindSUP with Rail Edge technology for a new inflatable planing sensation), a WindSUP Compact 5.5 rig with 4 piece mast and 3 piece boom, 3 piece Enduro Tiki-Tech paddle and high aspect pump. Easily assembled and disassembled in seconds and fits into a car or Santa's sack.
RRP: £1299.