Tweet
CORKY KIRKHAM
Corky Kirkham is one of the most colourful UK windsurfers; hailing from Newcastle, the Geordie was a firm fixture on the UK wave circuit, with multiple titles and a reputation as being one of the keenest sailors in his adopted home of Fuerteventura. Many will know of his infamous 'Corky's bar' in Corralejo but with new sponsors and a surfari business launching this year we caught up with K212 to hear about his ventures, old and new.
Photos Gilbert Barra
WS: How long have you been on Fuerteventura Corky and how has life changed on the island over the years ?
CK: I've been here now for over 25 years, when I first arrived it was for a 2 week holiday; the main street was sandy and there was tumbleweed rolling down the middle of the high street in the wind and I fell in love instantly with the style and vibe of the island. It has changed a lot over the years, now we have a lot of different styles of people living in Corralejo, the vibe is still very chilled out and laid back and surfy, it's just a lot busier than before but still quieter than the other islands.
WS: We hear you sold Corky's bar and have a new business, tell us more.
CK: Yes, the bar is sold; I decided to concentrate more on my windsurfing where my true love lies. My surfari idea came about through friends and support from my sponsors, they were all keen to kickstart it. It's not a clinic it's basically intermediate to advanced sailors asking for help with which break is best and where do I go now???, is there wind on the other side of Fuerte.?? I take my clients to the best and raddest breaks everyday of their holidays, they don't waste any time waiting or searching, I find the best spots with my knowledge and we sail together, changing location of course depending on conditions – riding the best waves and sailing in the best conditions each day at spots like El Cotillo, Glass beach and a lot more.
" I'm sailing for all the people that can't; windsurfing  is a great sport that has kept me clean and fit for years "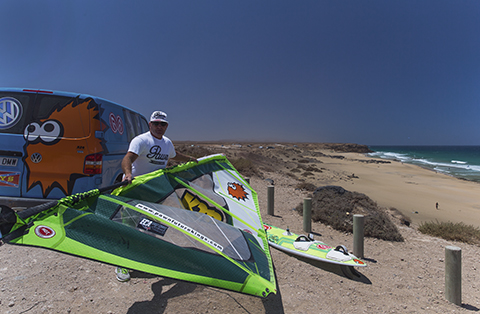 WS: What equipment are you using these days and what's the funky sticker on your board and sails?
CK: The boards I'm using are handmade by Adriel Omar, a good friend who's been here all his life repairing boards and has some great shapes. His company is CTD, Crash Test Designs, he's into custom paddle boards too. I'm with Hot Sails Maui now and using the three batten Kauli Seadi model. I'm so impressed with this sail, very powerful and stable and the manoeuvrability is incredible. As for the funky orange logo on my boards and sails –  I'm also sponsored by Asgar, the boss of Secreto Del Sur, the best and busiest ice cream and health drinks shop in Corralejo and where I go for breakfast every day. My clothing sponsor is Pawn Future Kings, great guy, Chris Sykes, a windsurfer too. It's a new company and now flying high sponsoring a few rugby guys and even a guy off Geordie Shore! – great clobber! Gecko headgear from Cornwall sponsor me for my helmets and the designs and spray jobs are all done by my mate in Newcastle, Kev Bambra, sick air brusher and a pretty good drummer as well.!!!
WS: Finally, you are known as one of the most enthusiastic sailors on the water, what keeps you motivated?
CK: Motivation has never been something I've had to search for, windsurfing is in my blood. I love this sport; it's saved my life a million times over. The freedom, excitement, the friends you meet and the ones we've lost – K24 and now H24. I'm never giving up this sport and I'm as keen as ever, when the trees move or a storm tracks in, I'm all over it. I'm sailing for all the people that can't; windsurfing  is a great sport that has kept me clean and fit for years. I'm still pushing it daily, charging hard and no one's going to stop that. I'd like to firstly thank my family and Josh and Jason for always being there for me; my sponsors Chris Asgar, Anton,  Jeff, Kev and Gilbert for my pics and to my mates Phil, Michael, John, Luke and Roger for always being there. This article I'd love to give in memory of Andy Funnel and Peter Volwater – K24 & H24 – R.I.P.  FM
To contact Corky about his surfaris email [email protected] or facebook corky.kirkham