Tweet
DESIGNER SUPREME! Q&A WITH SAM LATHAM
Up and coming North/ Fanatic rider Sam Latham takes the hot seat in our latest series of BSA racer interviews and reveals all about competing on the British tour.
Words JOHN CARTER // Photos DAVE WHITE
Where and when did you learn to sail and why do you love windsurfing?
I learnt to windsurf at Aqua Sports, Merstham, Surrey when I was nine. A family friend had started dinghy sailing and asked if I wanted to try windsurfing with him. I did RYA level one and two, but just couldn't get the hang of it. So I actually gave up and did sailing for a year. After spending some time at the lake I saw someone (who is now one of my best friends and actually my boss) planning around. I knew I had to give it another try, I haven't looked back. I did the whole RYA pathway, Team 15, Techno and RS:X until I was about to move to the Mens 9.5 fleet. I had always slalom sailed and wave sailed alongside my course racing and enjoying the high wind side of the sport more.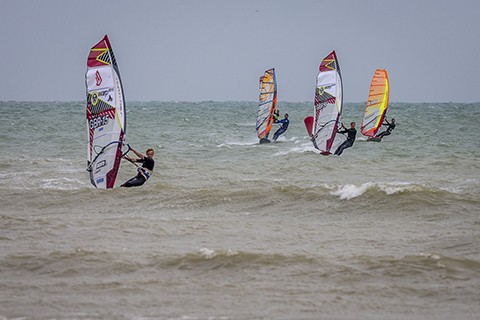 How many years have you been racing on the BSA tour?
I think I did my first slalom event on my Techno in 2006, which was a great event, I remember it very clearly, the sand bar was kicking a wave up just by the start line and everyone was launching themselves!
How much equipment do you need to be able to compete at one of the BSA events and what do you typically take along?
A sail and board that can get you planning in 13 knots is key; with a few sails down to a 6.5/7meter. Then I'm sure you will be fine on a large wave board and waves sails in more wind. At a guess for an average weight man on the tour 85/95kg: – 130 later board with a 8.5 – 9.0 and a 100l 7.0 down to your waves sails I'm fortunate enough to be supported by the best shop in the UK, the one and only BOARDWISE and am part of Nik Baker's K66 Team. Because of this I'm able to have 3 boards and a range of slalom sails, which include:90l, 112 and 120l Fanatic Falcons and 5.2, 5.7, 6.3, 7.0, 7.7 and 8.4 North Warps. If the forecast is looking super hairy, I tend to chuck in my larger wave board and my 3.7, 4.2 and 4.7.
How much does a typical event cost?
I try to do my events as cheaply as possible, by sleeping in my van and making lunch before I go away. The largest expense is obviously fuel and the entrance fee. If you pre-enter the events the UKWA give you a very generous discount, which I believe is 25%. I would say I probably spend approximately £100-£150 an event dependant on location and what I eat.
What do you do for a day job?
I currently work for my good friend Ben Grist, who set up Oakdene Designs. We have a studio in Ockley, Surrey, designing and manufacturing personalised gifts for Not On the High Street. I also have set up my own business, South East Signage. I design, manufacture and fit vehicle graphics, signs, stickers and merchandise.  Including windsurfing sail numbers.
www.southeastsignage.com   www.oakdenedesigns.com
Where is your favourite location on tour besides the one closest to home!
Weymouth always provides good conditions but I do like being in the west-country when we have a Marazion event.
Are there any equipment restrictions at a BSA event?
To be honest I'm not sure, I thought there was a restriction on board width but we have people race on formula boards when its light, so I don't see that being a problem!
Are you a very competitive person?
I like to think I'm not, but everyone says I am. I think I'm so used to being how I am that I don't notice it and just enjoy giving it my all. Otherwise what's the point in training so much!
What makes a winning racer?|
Well it used to be that the heavier guys do the best, weight seems to still be a great help for speed. But it seems the people who are what I call 'efficient' weight/strength and of course skill level seem to be getting the top results. There is a hell of a lot to be said for experience and time on the water though! I'm still learning new things every year!
Why choose racing to get your kicks?
Don't get me wrong, riding big waves or looping is a real buzz! But a similar feeling of fear runs through me when I'm trying to go as fast as possible, in sometimes 35knots, surrounded by 10 other guys squeezing into the first gybe mark. There isn't a self-given reward like it when you finish one of these types of races in a respectable position.
Do you ever test and train with any partners?
I was training with a few guys, such as Simon Pettifer when I was in Bournemouth, during university. But to be honest there isn't really any slalom guys that regularly sail at Worthing or Shoreham. I tend to do minimal speed tuning, but instead sail up wind and gybe a crazy amount of times on the way back.
Can you give us a few tips on how to tune up your slalom equipment?
The North and Fanatic gear is pretty simple. Its pretty much right out of the bag. I tend to tighten the battens a little and write on my sail the extension size and clue settings I like the most to make rigging at events easier and with no errors.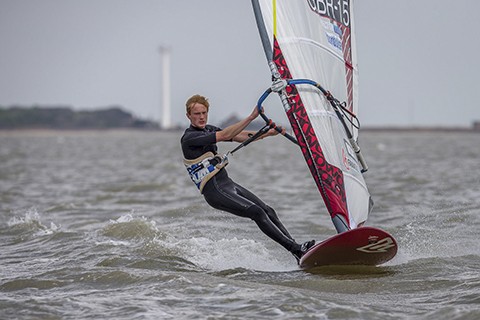 How about a few tips for a first timer at a BSA race event?
Make sure you're in the right place at the right time. Understand the heat and timing system and then trust your watch, try not to follow other people as you will always be behind them. It can be a slow and long learning curve so just try to enjoy the experience and your performance will increase over time. Talk to people, the slalom crowd is like a big friendly family, everyone is happy to help each other.
Any advice for the BSA organisers on how they might encourage more people to turn up at events?
Maybe advertise and encourage people doing course racing to join in, especially the younger techno guys as there boards are perfectly suitable to get around the course.
Best and worst day ever on the BSA tour!
I have had a few events where I have lost overall positions because of count backs or discards. That never feels good, when you know you have sail consistently well. I will always remember an event many years ago at Hove, 30knots onshore, mast high shore break, figure of eight course around the half mile fixed boys. On wave boards and 4.2's and the committee boat was only able to hold ground on the engine. No idea how I did, but it was a mental experience and I was very young back then.
Give us three words to describe yourself?
Dedicated, Ginger and Organised!