Tweet
GERALDTON WINDSURFING GUIDE
Ezzy & RRD Rider, Carl Tomlinson, recounts his recent trip to Western Australia and a handy guide to windsurfing in Geraldton.
"After several trips to Cape Town during our winter time, I'd wanted to try something else, last year we decided to spend 4 weeks in New Zealand, this year I had 3 weeks leave and we decided to go to Australia. You can windsurf all round Australia but the main and most popular spots for travelling windsurfers are without doubt in Western Australia. On 2 previous trips, 15 years ago, I had largely spent surfing and wave sailing around Margaret River which is 300km south of Perth. The waves here are famously big and powerful but the wind is not as reliable. North of Perth there are several spots, the best known of which are Lancelin about 160km drive from Perth, Geraldton, 450km and then Gnarloo about 920km. Then there is also Esperance on the South Coast a mere 725km from Perth. I'd never been further north than Lancelin and was keen to go as I'd heard lots of stories about sailors spending months at a time sailing every day in conditions not too dissimilar from what we get at my local spot of Rhosneigr during the day and then switching in the late afternoon for some cross off wave riding; sounded perfect!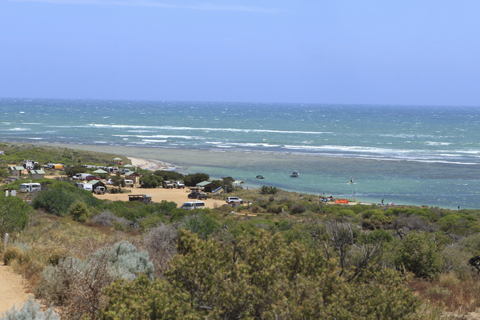 The main and most popular spot is Coronation beach which is about 30mins drive North from the nearest town, Geraldton, both affectionately known in Ozzy slang as Coro and Gero. Coro is also a camp site, but don't expect to find running water and all mod cons, you have to bring everything with you including water for the shower! There's a whole community of travelling windsurfers who shack up here for months at a time and have been coming for years. It makes for a very friendly atmosphere and I remember a German lady walking around offering everyone a small piece of Xmas cake on Xmas day, nice!
With only 3 weeks holiday and those being around the busy Xmas holiday, I decided it'd be best to head up to Gero and stay there for a couple of weeks and then we'd spend some quality time together around Perth doing some sightseeing and catching up with friends after Xmas. So I was banking on the forecast being good for those first two weeks. Just before getting on the plane I got a Facebook message from Mike showing a great forecast, 25kt wind with 2.5m swell for 3 days during the first week. After the week I'd just had at work it felt as if the planets were, at last, starting to line up for me!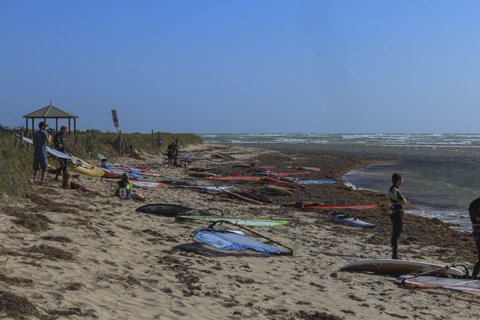 The first 2 days the swell was small, making for small jumps on the sandbar. The next 3 days the waves increased in size and easily logo high on the sandbar and great for jumps. I was building on the backloop practice I'd be working on in Pozo earlier in the year. Coro is perfect for learning and practicing jumps, especially backies. You have a long run across the lagoon, where you can pick up speed whilst watching for a suitable ramp to launch from. It's a bit like "Bernie the bolt" you keep adjusting course to line up with the perfect steep pocket to launch off. In reality other sailors can get in the way, or the wave closes out just before you get to it, or the wind drops and you lose speed…….but for the most part you get more jumps in per session than you would in a month at home. And because it's 4.5 or 5.0m most of the time, it doesn't get too scary.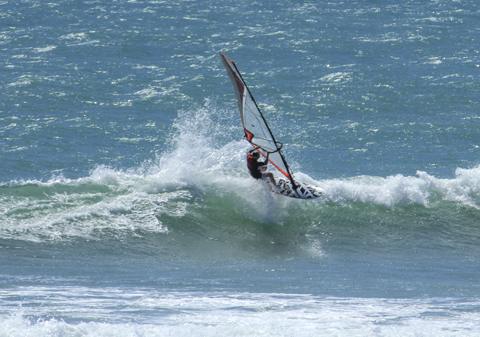 During the second week, and after a couple of days of light winds and flat water, we were blessed even more  great windsurfing as a 4m swell arrived with strong winds, this lasted 4 days and it was honestly windsurfing heaven for me. Warm and sunny, jumps on the way out, wave riding on the way in, great feel on the water and in the company of some outstanding sailors and for once I wasn't the oldest sailor on the water! I remember Mike mentioning for me to bring small sails, I'm glad I did as I used my 3.7m twice and needed it.
Once the swell gets to 3m plus it's also worth considering some of the local Gero breaks, Triton, Sunset and Swan are all close to each other and popular with locals. The waves break on sand bars between 100-400m just offshore and get to a nice size. The sailing isn't as easy as Coro, as it's gusty and light on the inside, but it's well worth it as its less busy and I'd say the riding is slightly better. Great waves like in the pictures and just a handful of guys on the water, awesome!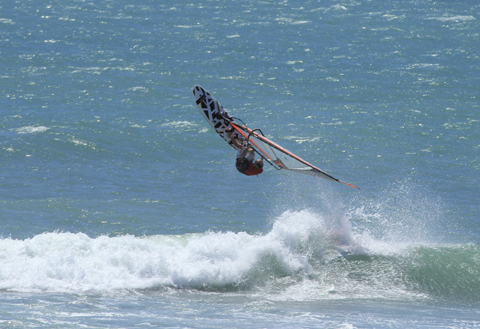 After the great time at Gero & Coro I wasn't expecting too much from the sailing in Perth and besides I'd promised Jane we do the touristy stuff. As it turned we headed south to a break called Avalon Beach near Mandurah about 90km south of Perth. Unlike Perth, where the spots which are sheltered from swell by outer reefs and Rottnest Island, it's a pukka surf break with waves breaking on a reef and then wrapping onto a sandbar. Of course when the sea breeze kicks in it's perfect side shore. I was fortunate to get a short session in with small waves and could see the great potential of this place when a proper swell is running.
All you need to know
Wind blows October to March, typically 13 days of every 20 sufficient for windsurfing, with the best winds November to February.
Cross on shore during the afternoon, then side/cross offshore in the late afternoon/early evening.
Sails, people were using 3.7 through to 6.0, I took Ezzy Taka2 5.0, 4.5, 4.1, 3.7 and used them all but mainly 5.0 and 4.5 is typical, but I'm only 72kg so don't need a big rig.
Boards, a typical board would be 80l wave or 90l freestyle board, I took a RRD Wave Cult v6 74l. On balance this was the right board for my 73kg, but I could have been at home on my 82l.
Warm water and very warm air, most people wear a 2mm long sleeved summer suit, shortie or boardie's and a thermal rash vest (2mm neoprene)
Sun is ferocious; you must wear sunscreen (50spf) and a hat if you are follically challenged like me!
Inner lagoon great for freestyle and learning
Waves break on the sand bar about 200m off the beach
Varying places to stay in Gero to suit most budgets but most windsurfers rent an apartment or stay at Sunset Beach Holiday Park where you can camp or hire a cabin.
The thing is with Australia it's so big and so far away, it takes 24 hours to get there and then it's another 24 hours to get your stuff together and head up the coast to wherever you are going. It took a few days to get my sleep patterns back to normal, but after that I got into a routine of finding something to do in the morning with Jane and then heading off up to Coro in the afternoon for some windsurfing. Gero is a main port on the west coast and most of WAs significant grain and metal ore exports are channelled through here, so it has a bit of an industrial/utilitarian look about it. For non-water sports enthusiasts there isn't a right lot to do in and around Gero to be honest, but the city itself has been refurbished and now has a modern and upbeat feel to it and is pleasant enough. Up until 2000 the beach at the front of town was a railway sidings for the busy port, but that's all been torn up and moved so that now there is a pleasant beach and waterfront in its place. There's plenty of places to eat out but don't expect European culinary standards. We also drove up to Kalbarri, a small seaside town 160km North and explored the Murchison River Gorge which was well worth it.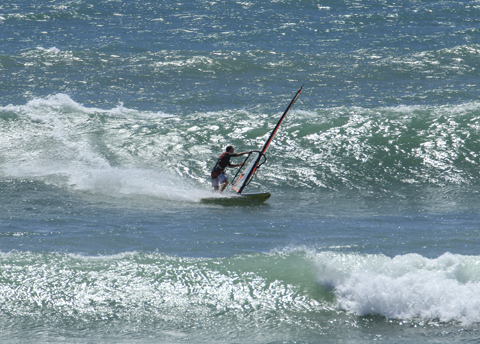 Big thanks to Jane for taking pictures and the guys at Seasprite sports as always for looking after me with RRD boards, Ezzy Sails & Streamlined accessories.