Tweet
A SPOT GUIDE TO GRAN CANARIA
Words  Chris Pressler //  Photos  Kerstin Reiger, John Carter, Juan Enrique Ureña
Gran Canaria is often called a "miniature continent" with its wide mix of climates and landscapes. For windsurfers, it's an island which offers an equally diverse range of sailing conditions. From the extreme high wind conditions of Pozo Izquierdo and Salinas to flat water freestyle, freeride and even speed conditions at Bahia de Formas (Arinaga), which even beginners can enjoy. Read on as Chris Pressler journeys into the windsurfing history and spots that makes this varied island so unique.
In 1989 Pozo Izquierdo played host to Gran Canaria's first international windsurfing event. These were the good old days, when the cars were parked on the rough lava stone beach. No concrete, no statues, no cafeteria with sea view and protection against the 45 knot strong gusts. Just the pure lava rocks and wind. Some things might have changed, but the conditions haven't. Even if you leave the beach, you still have the sound of the wind in your ears, the whistling wind in the narrow roads inbetween the spartan buildings, the sound of windows hammering against a rugged wall. It can be a rough environment to live in, far from comfortable, but it is exactly what hardcore windsurfers love!
But Gran Canaria, which is the third largest island of the Canary Islands, has a lot more spots than just Pozo Izquierdo. Most of them are located on the dry and highly populated east coast of the island. The spots line up like a pearl necklace, starting around the airport, then Vargas, Arinaga, Pozo Izquierdo and finally El Castillo. At Bahia Feliz the tourist area starts to show; Pizzerias, shopping centres, hotels and garish discos fringe on white sandy beaches. The big boom in tourism started in the early 60's, when the area around Maspalomas started to develop and tourism became the main income for the island. The surfers discovered the island in the 60's followed by windsurfers in the late 70's. Björn Dunkerbeck, who learnt all his basic skills on the island, arrived with his parents on Gran Canaria in 1977 and the family Dunkerbeck established a windsurfing center at Maspalomas. In 1981, 12 year-old Björn was already training at Pozo Izquierdo and Vargas, earning his nickname of el nino, the windsurfing child, going on to win an incredible 41 world championship titles. Many other riders soon increased the island's reputation; Vidar and Orjan Jensen, Paolo Ianetti, Iballa and Daida Ruano Moreno, Marcos Perez, Dario Ojeda, Jonas Ceballos, John Skye, Nayra Alonso and nowadays Philip Köster, Moritz Mauch and Alessio Stillrich.
"Pozo was really important for me, when I was young. There I had the advantage to windsurf with a lot of wind for many hours. If you know strong wind you are capable of a lot more control. If you are used to 30 or 40 knots 20 knots is a kid's birthday party. But take care, when you windsurf at Pozo. Even very experienced riders go into the water and leave 3 minutes later at the bunker (a building left over from the war at the right hand corner of the bay) with destroyed equipment and sea urchin spikes in their feet."
– Björn Dunkerbeck. 
Pozo is definitely the best known spot on the whole island, it catches the most wind and works with swinging wind directions all year round. When the big winter swells arrive and the spots further north are closing out, Pozo is still sailable. But the island has many more spots to offer. From flat water at Arinaga, comfortable freeride conditions around Bahia Feliz, strong waves around Vargas, where wave world champion Philip Köster lives, to the gnarly expert only wave spots at the infamous north shore such as the beaches of Galdar. In Gran Canaria there truly is something for every windsurfer.
During our 3 weeks stay on the island in February we had an incredible more than 80% windy days, but we needed to leave Pozo sometimes and drive to other beaches north or south to catch the right conditions. To find the right place we got some help from the locals, Philip Köster and Jorge, his friend and part time caddy. Philip told us: "Visit us at Vargas tomorrow, it will be worth the drive". Pozo was relatively flat, so we took his advice and drove north to Vargas. Philip was waiting next to his parent's house and told me to rig a 4.7m. We started to play on the small but punchy inside waves. He was on a 86 litre big wave board and a 4.7m as well. It seemed like he always had the right gust, accelerated perfectly and landed huge jumps right next to me, he definitely has his home spot dialled! The standard of sailors is really high on the island. You often share spots with world champions, world cup riders or locals with PWA level skills so it is definitely worth respecting the locals!! It's better to arrive physically fit on Gran Canaria or stay for at least two weeks so you can get used to the exhausting conditions. To get the best possible session of the day it's best to have a look at the tides and forecast wind direction to decide your best time to sail and spot location. Pozo Winds has a good website www.pozowinds.com, with a live webcam to keep you updated on the current conditions.
---
" Pozo Izquierdo sees an incredible more than 200 strong wind days a year! "
---
If the wind machine stops completely there are a lot of other things to do. Surfing, SUP, swimming, hiking. The weather is one of the reasons why the island is a perfect destination for outdoor activities. The climate in Gran Canaria and the other Canary Islands is often described as an "eternal spring", and the difference between average minimum and maximum temperatures throughout the year is just 6 – 8°C; 18 – 20°C in the winter months and 24 – 26°C in summer with much higher peaks.
Inside this mountainous, rocky island you can discover quiet places, quaint villages and untouched nature; a world away from the dense, populated tourist shores of the east and southeastern coast. And you definitely shouldn't miss the exposed north western coast of the island with several 1000 meters of steep slopes, which fall almost vertical towards the Atlantic Ocean along an impressive coastal drive. The port city of Las Palmas in the North is another must do with its quaint old quarter, long boardwalk with excellent swimming and surfing and modern shopping centres for a consumer fix.
Gran Canaria may be best known for Pozo and high density tourism but there is a wealth of contrasting conditions, countryside and culture to explore and why the island can easily be one of the most rewarding and interesting destinations a windsurfer could and should visit! If you need proof, just ask the multiple champion windsurfers who live here!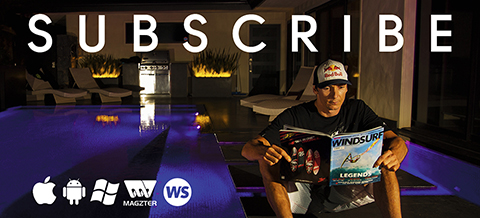 BEST TIME TO GO
Gran Canaria has the high season during the summer months (June till September) with wind 80% – 90% over force 5. Pozo and the nearby spots work best during the summer, because the trades are blowing from a stable north eastern direction. The trades can be disturbed sometimes by Calima periods, when hot Sahara air arrives and the wind can stop completely. During the summer months it's hard to get any wind further south than Ketchup (Castillo de Romeral). In the off season the wind is quite good with a percentage of 40 – 60% above force 4. Pozo Izquierdo sees an incredible more than 200 strong wind days a year and it's a good place for water sport enthusiasts during the winter months, very seldom the temperatures fall below 15° in January or February. The sea temperatures range from 17° – 23 ° throughout the year, with the warmest temperatures in September and October and the coldest temperatures from January till April. Bring a wetsuit with long legs at least for the winter (2/3mmm) and a shorty for the summer; during the coldest days we recommend a 3mm long sleeve.
WHAT GEAR TO BRING
You can rent all kinds of gear for all levels and all kinds of watersports and you can also buy gear, used and new. If you decide to bring gear it depends on your personal level, but would recommend small to medium sized wave boards and sails in between 3.7 and 5.3m (depending on your size), 3.7/4.0/4.2/4.5 and 4.7m are used a lot and boards in between 70 and 85 litres most of the time. During the winter months it pays to bring a 5.0 or a 5.3m. If you prefer to go for free ride sessions we would recommend a 105 – 120 litre board with sails between 6.5 and 8.0m, I had an iSonic 107 and a Reflex 7.8 with me and it was a perfect light wind combination.
SPOT GUIDE (FROM NORTH TO SOUTH)
Gran Canaria is a round island and there are many places where the trade winds hit the coast, but there are places where it doesn't and can remain windless even on the strongest of days. The main wind directions are the north eastern trades. They can swing a bit more to the east or north direction, or sometimes even north west. Pozo Izquierdo is the best known spot and works with a lot of different wind conditions, but if you are looking for specific wave conditions, like side shore or even cross off shore wind and clean waves, it's helpful to know a few more spots around the island.
It's possible to sail at several different spots during one day as the island is relatively small and huge highways connect all the windsurfing spots. It just takes you a lot of time when crossing the island inland or driving along the exposed west or southwest coast where no highways are available. In general, look out for rocks that are not visible during higher tides, strong currents, unexpected set waves, accept the local rules and keep in mind that there can be sea urchins everywhere.
(Editor's note – a good rule of thumb with Gran Canaria by local John Skye is that the more north the wind, go to the north of island spots, the further east the wind, go south)
North/North west shore: there are several spots, which work mainly during the winter months from October until March, most of the spots are quite difficult and just for experts and include Agaete (next to the last roundabout to the right in the village), quite rocky, works with north east or south west wind; Galdar Boca Barranco beach, sandy beach, quite tricky with rocks inside the sea, works with south west wind (the wind is gusty and unsteady as it comes over land) and the area around San Andres (difficult spots, rocky with a lot of big slippery, basalt rocks, hard access, a lot of surfers, works with eastern wind during the off season).
Las Palmas (Playa de las Canteras or Sailing Club): works more often during the winter months, when the wind blows from westerly to north westerly direction, good flat water sailing, home to large ships, oil rigs and a large yacht marina.
Jinamar: works during the off season in the winter months with north eastern wind, a lot of current and rocks on the left hand side of the bay, popular kitesurfing spot, dirty beach, views of Las Palmas, can be combined with a visit to the huge shopping centre la Terraza.
Ojos de Garza (the first village a bit north after the airport): relatively narrow beach on the right hand side of the tiny village, more for experts, rocks, it's limited by a military zone towards the right which landing ashore is not permitted on, the shore break can get heavy at times.
El Burrero (road down from Carrizal): excellent Slalom and Freeride spot, Canary Slalom championships took place at this spot, the spot works with north and north eastern wind or with south southwest, beach is located at the left hand side of the village El Burrero, take care of some rocks and the pier.
Vargas: Philip Köster's home spot, leave the highway at Arinaga from the south or from the north at Carrizal, no direct exit, big bay, the wind on the left side of the bay is covered by a big hill, waves, side – side on, big rocks, which makes the access harder during high tide, during low tide there is a chance to have a sandy beach, strong current, main local spot for riders from Las Palmas, Camping Playa de Vargas is nearby walking distance (300 m from the beach), no shops, no restaurant, bring food, stay away from the mountain on the left as strong shore break, sometimes the road towards the main parking spot is locked, in that case it's better to park outside and carry the gear to the windsurfing zone in the middle of the beach, better that than to get a ticket by the local police, kitesurfing is possible at Vargas with its own zone on the right hand side of the bay.
Vargas outside break – Erizos (Sea Urchins): it's a real jewel, the best is to start at Vargas and to sail upwind, when you arrive at the breaks you will have the mountain just in front of you, there is a chance to ride waves with several turns, Philip landed Goiters, Takas and Shakas plus Aerials, all on one single wave when I was there, take care that you don't get washed on the inside, as the wind is really much lighter or stops completely and there are rocks, sea urchins and caves inside the mountain.
Bahia de Formas (Muelle de Arinaga): flat water, good for North winds, choppy for Freestyle, Freeride, Slalom, Speed and at low tide great for beginners as there is a lot of beach with sand and just small rocks, protected by a big harbour wall, view to Pozo, option of downwinder to Pozo, you can drive from Pozo through the tomato fields on narrow paved roads to the spot and park directly at the beach, the wind is a bit gusty – especially during low tide – and the purification plant can smell heavily, but it's a good spot to warm up for Pozo, no wind shadow at the beach, dusty, no infrastructure at all, during the winter months strong south swell can create fun waves on the inside.
Mosca Point (Punta de Gaviotas): upwind of Pozo, you park on a hill and have a nice view on the point, it's a point break and it works more often during the winter time with clean down the line conditions, it's a popular surfing spot, waves up to 2 meters, allows several turns, rocky, needs good skills, when it's on all the pros are out there.
Pozo Izquierdo: main spot on the island, works all year round (strongest wind from May till September, best waves during the winter months), best with regular north east trade winds or north winds, waves can get big, keep left at the beginning and be careful at low tide, it's rocky nearby the bunker and difficult to make it in and out, especially when the tide is up and a big shore break gives you a hard time, it's not always wavy, many days with bump & jump conditions, you will not use a bigger sail than 4.7m during the summer months, good for jumping and backside wave riding, frontside if you are a pro, the village offers a good infrastructure for windsurfers, a few gear shops plus rental, apartments for rent, gear storage, restaurants and bars, two little super markets, public bus connection, no cash machine, well connected with good roads from Vecindaria or El Doctoral.
Salinas (Punta de Tenefe): next spot further southeast from Pozo, waves break over a reef and the spot works with regular trades, wind blows almost side shore, but gets best with wind from northern direction, then it gets a bit side off, you can sail downwind from Pozo or drive around the wind farm and park next to the beach, it works, when decent waves are breaking at Pozo or when Pozo's waves are blown down by the too strong wind, a spot for real experts.
El Castillo de Romeral (north and south): best waves with a lot of current, side off shore conditions with northern wind direction, for experts, especially with South Swell, better at higher tides due to the rocks in the water, nice village with good bars and restaurants.
Ketchup (Puntilla de Caleta): during the summer months it's the last spot towards the south which catches the regular north easterly trade wind, but not too much swell. Also works with South wind.
Punta del Cardon (a bit north of the Aeroclub and Kart pist at the GC 500), also called La Curva: no infrastructure, good freeride and freestyle spot with east, east northeast wind, when the wind kicks in side shore, it's really nice.
Bahia Feliz (Punta Tarajalillo): Club Mistral, all kind of levels, sometimes nice waves during the winter, a good place to stay, good infrastructure and excellent for kids, very green park with palm trees, holiday feeling and just 15 minutes to Pozo, if you sail there with your own gear you have to carry it a few metres to the beach.
Playa del Aquila: winter spot, next to the Side Shore bungalows of the Dunkerbeck Family, good for Freeride and Slalom, easy parking, take care, the wind sometimes swings within minutes further outside and you can have a hard time to get back to the beach, watch the wind a bit before you start for a session. Sometimes you can get a strong shore break there, keep away from the rocky cliffs on the right hand side.
Las Burras: well known as a kite spot, located in between Playa del Ingles and San Fernando, at the GC-500 on the Avenida Europa from the south, good parking, you walk under a concrete walking bridge to the beach, it's good for freestyle and free ride there with eastern or east north eastern wind.
Playa del Ingles: onshore waves, the conditions are suitable for bigger gear during the winter with wind from the east.
Punta del Maspalomas: long walk, but natural surroundings, works during the winter.
El Faro de Maspalomas: world class waves during the winter, with easterly wind direction or wind from west or northwest, bring your surfboard.
CAR RENTAL
To get the cheapest rates, make an online reservation. Take a roof rack, because lately the police do not like it if you have too much gear inside the car or directly on top of the car. If you stay at Pozo only you don't really need a car but just keep in mind that there is no ATM at Pozo. Hiring a car makes life easier on the island, prices range from 15 – 30 € / day. Gear theft can be a problem on the island, try to secure inside the car when away from it and certainly not in or on the car overnight and don't leave valuables inside, some say to leave doors unlocked like in Hawaii so thieves don't force locks and leave you with an expensive bill to replace.
WINDSURFING HIRE CENTRES/SHOPS
LPWS: www.lpwindsurf.com – Jose can organize your holidays, lessons (all levels), rental (Tabou, JP, Starboard, Severne, Gaastra, Ezzy) and repairs.
Pozowinds: www.pozowinds.com – Jonas can organize everything +34928155009, rental car, shuttle, apartments, rental gear (Fanatic, Quatro, Goya, Simmer, North), teaching (all levels), gear, Surf/SUP/Kite.
Cutre: www.english.cutre.com – all inclusive packages, car rental, windsurf rental (Witchcraft, F2, Ezzy, Loft).
Centro Internacional de Windsurf Pozo Izquierdo: storage, accommodation (cheap) +34 928 121 400, [email protected] , www.pozo-ciw.com, rooms right on the beach, 14 – 16 € /night with pool.
Dunkerbeck Windsurfing Centre Gran Canaria: Plaza de Hibiscus 2, Playa del Aguíla, 35100 San Augustin Spain +34 678 893998 / 649 538333 www.sideshore-es.com
Marcos Perez: [email protected] , +34606329069, SUP tours http://e7pantaisurf.jimdo.com