Tweet
JOSH ANGULO – THE FIRST TIME
Josh Angulo has had many firsts in his career. World titles, innovative moves and that infamous barrel at Jaws – Josh has a history of being the man with first place or the first person pioneer, not to mention his current quest to be first past the PWA Slalom finish line. But what about the other firsts in his life? John Carter interrogates with the questionable questioning of 'the first time' to find out.
Words & Photos JOHN CARTER
(This feature originally appeared in the August 2015 issue of Windsurf Magazine. To read more features like this first, Print and Digital subscriptions are available. Prices include delivery globally for 10 x issues a year!)
First time you had a real travel disaster?
JA: First trip to a world tour event in Europe I was headed for the Canaries. My gear bag went missing! I was the only guy who had twin fins back then and I also lost all my slalom fins and extensions. That bag has still never showed up; Madrid airport is always a nightmare! More recently I flew to Turkey and woke up to go testing before the PWA event. I was ready to go sail, but couldn't find my fins. After thinking really hard I realized I left my fin bag on my work bench in Boston; yes that's Boston back in the USA!. There was no way to Fedex it in time, so I took a taxi back to Izmir and flew back to Boston, walked out the terminal, got my fin bag from my buddy and got back on the same plane, in the same seat and flew back to Turkey. But the kicker is when I was flying from Izmir to Munich, I fell asleep at the gate while they were boarding and missed that flight! So I guess you could call that a proper travel disaster!
First time you missed a plane?  
JA: Sorry, I have no idea the exact first time! I know I have missed more in my later years than when I was younger. I am getting jaded flying so much. I'm now at the age where you see the old people stand in line to board; I don't stand in line to board yet but I have started going to the gate early enough that I see them do it!. I really don't like missing planes and getting where I am going has much more appeal than hanging in a lounge.
First time you sailed Jaws?
JA:That is still a special day for me, as it was also the first time Jaws had been ridden when it was really breaking. Previous to this day Mark Pedersen and Dave Kalama sailed up there, but it was just capping. Roy Patterson and Johnny 'V' had also tried to paddle surf it on a smaller day. The day I sailed it, myself and the Aguera brothers went up in Greg's boat. Everything was new, no jet skis, no helicopters, nobody on the cliff, except my two buddies who I left messages with and I didn't know if they made it up there or not. It turned out one filmed the other shot stills. We scored some massive bombs, one of which I got my sail pretty dang close to being barrelled. We cruised back downwind into the sunset hooting and hollering on one of the biggest natural highs ever! Little did we know the genie's lamp that we had just opened!
First time you owned a new car?
JA: It was a Toyota Tercel station wagon. Haas Jahrmarkt, an old school Maui ripper, helped me buy it after I won some money at one of the early Diamond Head events. That was still one of the best cars I have ever owned. I could fit all my wave gear inside; it was automatic and easy on gas!
First time you prayed?  
JA: I am sure it was when I was pretty young. I grew up in a Christian, praying home, so it's further back then I can remember and I've learned that prayer is one of the greatest tools we have in our lives and I am trying to pass this on to my kids now.
First time you won a PWA slalom round?  
JA: Sylt, when I was on Maui Sails and Phil McGain was there so it was cool. Over the years, even before I rode for Phil and even after, he was always a strong source of experience and knowledge. I would say I learned some very important nuggets of wisdom from Phil that I carry with me now in my racing career.
First time you went on a sick boat trip?  
JA: The only boat trips I've been on were with the Itoma boat in Cabo Verde which was really fun but never like crazy Indo waves. Actually now that I think about it, we did one day anchor at Sao Nicolau right next to this perfect, glassy absolutely barrelling 'A' frame wave that I surfed all alone on a NSP mini long board. I'm still hoping to get over to Indonesia for the real deal someday!
First time you screamed after you rode a wave?  
JA:The first one I can remember was a big barrelling left at outer Hanamanu lefts on Maui. It was just my brother Mark and Laird out there and Laird was teasing me for yelling and claiming my barrel, but it was 'so sick', I still miss those days.
First time you sailed Punta Preta when it was firing?  
JA: Going there with the boys from the Trilogy event and then staying after the event; that place was so amazing, but the thrill really started kicking in during my first few years staying there and sailing days all alone with just a couple local kids on the beach. Light side off shore winds and 8-10' feet swells stacking to the horizon. There would be days where the sets were like 10-15 waves and you just couldn't get back out quick enough. One of the highlights on my second trip was discovering the secret left point where I now have my windsurf centre. Scoring it mast high and then planing full speed up the little deserted beach (where my club is now). Carrying my rig to the Santa Maria beach Hotel and leaving it in front of the hotel; I had a couple of beers with the owner and walked up to my room balcony and looked over the shoreline towards the sunset at the exact moment my future wife was walking up the street in this tiny skin tight dress, I knew I had arrived in paradise!
First time you said never again? 
JA: Probably the first time I drank alcohol, it took me quite a few years before that "never again" actually kicked in for good.
First time you won a PWA world cup?  
JA:  I'm not sure exactly when it was, but I know I went on a run the same year I sailed Jaws the first time. I won two events at Ho'okipa and nailed a 4th in one event, so that was a big year! Back in those days all the Euros would bunker down on Maui and it was a huge scene. I think I was the first Maui guy that bridged the gap between the Maui guys and the Euros. I was hanging with the Dunkerbeck crew a bunch, including all the Norwegian boys, plus I was obviously in with all the Maui boys, so I had a role in bringing those two scenes together at the parties and at the beach. Those were dynamic times!
First time you nailed a huge sponsor?  
JA: I had a pretty big run with North Sails that seeded Mistral and Old Spice sponsorships during my Billabong era, so times were pretty flush then! I squandered a lot of those opportunities but by God's Grace I still have maintained sponsors that will support me, even to this point in my career. The industry is very different now than then, but every step along the way has been very enjoyable.
First board you ever owned? 
JA: I think my dad made me a little surfboard with 'Mighty Mouse' on it. We were getting custom surfboards every year for Christmas when we were kids. I was raised in a very blessed way!
First time you nailed a one handed back loop? 
JA: Not sure about one handed, but backloops started at lower reef Kanaha with me and my buddy Kurt De Winter. We were inseparable and would sail everyday Kanaha or secrets and sometimes Ho'okipa. I was probably around 12 when I started hitting them. I'd just go do back loops all day and count them. I'd try and nail like at least fifteen in a day or something.
First time you put your mark on an aerial?
JA: I'm still working on that! I guess that whole one handed aerial thing, I was kind of the guy that really made that move into something special. Mark had the goiters and 360's and pretty much everything else, but I had the one handed aerial in a class of its own. I still bust that one out every now and then but there was a point in time where I could get some serious height and tweak on a regular basis. In saying that; in my yearly sessions at Ponta Preta I still hold my own and love sailing there.
First board you ever loved? 
JA: I'm not sure I can fully remember, but I had one board that I scribbled a design on a napkin off of a tablecloth fabric that I liked while having a nice dinner with a girl at Mama's fish house. I somehow maintained that napkin for at least a day and gave it to my brother Andy who did this awesome plant design with lots of colours that matched my Zeta's and it was right when my dad got the twin fin / phazer design super dialled in with the X-tune construction. I scored my most pics ever on that board and pretty much felt invincible riding it, so that was probably the single most impact board I've ever had!
First time you wave sailed at Hookipa?  
JA: I was young, nine or ten. Mark, my brother, took me out there on a summer's day. Both Mark and my brother Andy were on the water with me. I think Rush Randle was with us too, he grew up with us like one of my brothers! Those were special times. I was in amongst it all at a very dynamic time in windsurfing. I feel extremely blessed to have been in that place at that time.
First time you went on a windsurfing road trip? 
JA: With my family when I was probably eight years old. We did the California Coast up to Hood River. I went windsurfing at Lake Lopez in Southern California, surfed Ventura and Santa Cruz and windsurfed every day in Hood River, while my family competed. That trip really inspired my windsurfing!
First time you were in trouble with the law? 
JA: I'm not sure exactly what the first time was, but there were quite a few situations down the road of life in many corners of the world. I'm really happy to be on the right side of things now, where I'm always happy to see a cop or authority figure, because I know they are here to help!
First time you crashed really badly on a windsurfer? 
JA: Just twisting my ankle really bad in the straps at Kanaha when I was a kid and breaking 3 bones. That was the first time, but the worst time was doing an arched back no handed jump, where I got inverted and landed head first on my sail and blacked out. I came to on my sail, seeing red and barely could sail in and had total amnesia and couldn't remember anything or anybody. I eventually came around, but it was super scary at the time. I was probably only 14 then!
First time you did a massive jump? 
JA: My first ever chop hop surely felt like a massive jump and I'm sure I claimed it to be one
First time you got really angry? 
JA: I've always had a bit of a temper being a mix of Mexican and Irish.
First time you had a punch up? 
JA: Haleiwa Beach Park during a surf contest. Me and my buddies were playing tricks on other guys kneeling behind them and the other would push them backwards so they would fall. One of the guy's didn't take too well to it and he gave me a black eye.
First time you were conned? 
JA: When an older kid on the North Shore convinced me about this flying craft he had, he told me he needed a few bucks for gas and promised he would pick me up at the baseball field. I convinced my mom to give me some dollars in loose change, while she was just shaking her head and trying to tell me it didn't exist. I hung out for some hours at the baseball field after giving him the gas money, what a let-down that was.
" Prayer is one of the greatest tools we have in our lives and I am trying to pass this on to my kids now "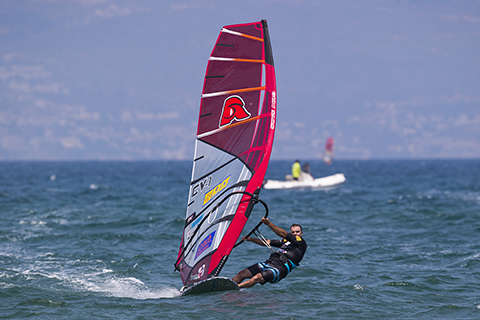 First time you gambled?
JA: Probably the most I did at gambling was in Sylt with John Skye and the crew, before I was racing. We'd organize bets on the different races, the winner, plus top six spots. I think we even suckered in Rich Page, the tour manager. Is that allowed? I lost money every time so I quit gambling,
it was not for me.
JA: It seems like I started doing that at a pretty young age, but it probably wasn't until I was about 14 that I started hitting the lip and getting big airs at Hookipa, I was young and in the limelight, you just had to hit it back in those days; 'Go big or go home!'.
First time you nailed a double loop? 
JA: Never! I did a few crummy ones. Those things always scared the crap out of me and I'm pretty happy that whole era came after my day. I am sure if that stuff was around when I was 20, I would've been at par with the best of em', but trying to learn doubles when I was in my mid 30's was not cool! So fortunately I escaped doing them, earning my last wave world title without having to kill myself attempting doubles, thank god Koester was not around back then!
First time you went so high you were shit scared? 
JA: Is this a trick question? Let's assume you mean windsurfing. It is probably more recent. I wasn't really scared as a kid, but now that I've gotten older I'm scared every time I get two feet off the water. Sometimes at Ponta Preta I'll opt for a big carve rather than an aerial just to avoid that thought of maybe not connecting it perfect and landing 98kilos in a weird way. So probably the day I turned 35 I got scared.
First time you bought a record? 
JA: Never! I never did my own thing with music. I always listened to whatever my older brothers had and then floated for a few years. Now I just listen to whatever my wife has, plus my techno-stuff on my iPod when running or working on something. I grew up at the end of the record generation, but just never was into it.
First time you won some money? 
JA: I think I was 15 and got in the finals at Diamond Head against Robby Naish. I got all star-struck and lost that heat, but walked away with a bunch
of money, thus relating to the early question about my first car!