Tweet
KEVIN GREENSLADE – ADDICTED TO RACE!
Next up in our BSA racer interview series is a one to one with the one and only Kevin Greenslade.
Photos John Carter & Dave White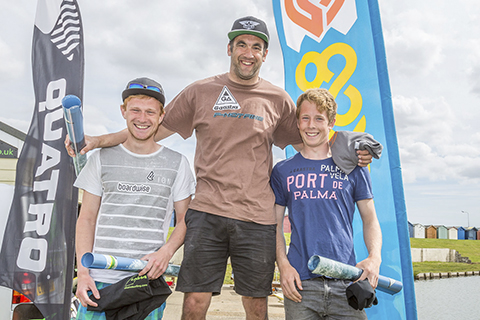 Where and when did you learn to sail and why do you love windsurfing?
KG: My first attempt at windsurfing was in Cornwall, It was a while before I went on to learn in Weymouth properly as I struggled to pull the sail out of the water but my Dad then bought me a Kiddie rig and I never looked back after that. I think once you get planning for the first time you're hooked. For me windsurfing is so pure it takes over the mind whilst you're on the water, you never stop learning, there are so many different aspects to it, you can continually push yourself. I've met some amazing people and travelled to some awesome places and great memories all because of Windsurfing. That's why I love it 30 years on!
How many years have you been racing on the BSA tour?
KG: I did my first BFA and UKBSA events in 1989 and have raced since then taking a few years out when the Children came along.
How much equipment do you need to be able to compete at one of the BSA events and what do you typically take along?
KG: Due to the way the BSA is structured you can race with as much or as little kit as you want. Master blast you could compete on a beginner board or a wave board. The amatuer fleet you could for sure compete with three sails and one or two boards (not necessarily slalom gear) depending on how seriously you're taking it. In the Pro fleet I tend to take three Boards (Tabou Mantas) 85, 71 and 61 wide and 6 sails (Gaastra, GA Vapours) 9.6 down to 5.6 and fins are very important I use F-hot 50cm down to 32cm.
How much does a typical event cost?
KG: Entry is quite a bit cheaper if you enter the whole year, but I would say typically £100 pound with entry and fuel most people kip in vans and tents to save on accommodation costs.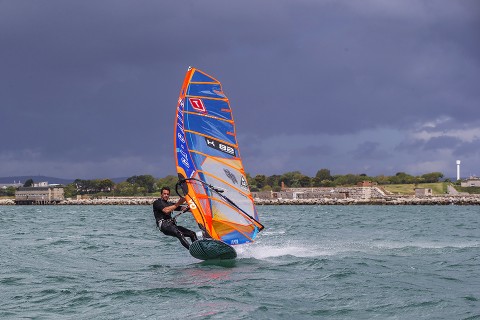 What do you do for a day job?
KG: I work as a Supply chain Engineer for AgustaWestland (Helicopter manufacturers)
Where is your favourite location on tour besides the one closest to home!
KG: I always really enjoy the Worthing events with fun challenging conditions and the new Venue at K66 is awesome for the family.
Are you a very competitive person?
KG:….Oh yes….. I've always hated losing (ask my Family about Monopoly), to be fair, so long as I know I've done my best I can just about cope if I lose!
What makes a winning racer?
KG: Well you need to be fiercely competitive, I think the best racers are able to stay calm under pressure and like all good boy scouts, be prepared.
Do you ever test and train with any partners?
KG: I'm Fortunate enough to have Ross Williams (when he's in the UK) and Simon Pettifer to train with. We have spent the last couple of years helping develop the F-hot fins (Weymouth is the perfect testing ground). There is also a really high standard of others who I sail with at home such as Pete Young, Steve Core and up and coming youth Tom Wells. OTC are pinging out lots of Gromit's who are soon to be hot on our heels Scot, Reed, Sam and James to name a few. The future is bright!! So yes I'm spoilt for training partners.
Can you give us a few tips on how to tune up your slalom equipment?
KG: Bjorn Dunkerbeck once said it doesn't matter how you rig it as long as you rig it right!! One thing I've learned is you can spend as much time looking at your sail on the beech but there is no substitute for taking out on the water and lining up with someone of a similar speed , then make your adjustments and try again. Remember it doesn't just stop at downhaul and outhaul, you've got Boom height, harness line length and position, Clew position, mast track position, fin and even foot strap positions. All these are variables that can be changed to help you go faster or slower. Don't be afraid to ask others for help!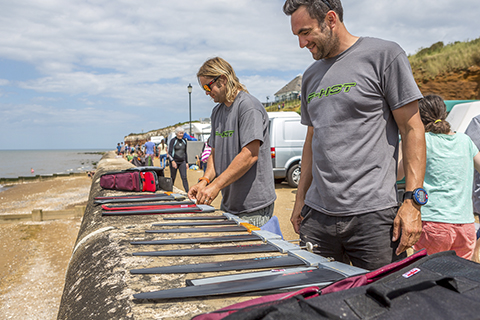 How about a few tips for a first timer at a BSA race event?
KG: Be organised have as much kit ready as you can to take the pressure off if you need to make a change. The start is crucial, make sure you're near the start boat in good time to get your heat. Try and find space on approach to the start and hit the line with as much speed as possible (this takes practice but it is something you can practise on your own). Finally try and stay out of trouble if you crash whether you're right or wrong the race is over, sail within your own limits don't try and pull off any miracle moves at the gybe marks. Oh yes and enjoy it!
Any advice for the BSA organizers on how they might encourage more people to turn up at events?
KG: It's always difficult being at the mercy of the weather, the BSA is constantly evolving and looking for ways to get more people competing. Location is critical and getting local shops/schools to publicise the events and spread the word that you can now come and compete at your first event for just £10.
Best and worst day ever on the BSA tour!
KG: Slalom can be brutal at times probably the worst is losing an event on the last race as a result of the wind dropping that happened at Weymouth last year to me. Best moments I guess winning your first elimination is one of the most memorable, but to be honest any event with good wind lots of racing and sunshine is hard to beat.
Give us three words to describe yourself?
KG: God this feels like a dating website or a job interview  Tall, Dark and Handsome ha ha!…. On the water, competitive, passionate  and determined off the water relaxed, approachable and fun!