Tweet
KEVIN PRITCHARD – AIR TAKA HOW TO
I get sick of all the kids doing the cool new tricks. My new saying is spin it to win it, so here you go with my guide to the air taka and tips to get you in the spin.
Words  KEVIN PRITCHARD // Photos JIMMIE HEPP

(This feature originally appeared in the September 2015 issue of Windsurf Magazine. To read more features like this first, Print and Digital subscriptions are available. Prices include delivery globally for 10 x issues a year!)


Required
In order to do an air taka it is pretty important that you know how to read the wave and how to do an aerial off the lip. The best sized waves are head high, not too powerful, but also not too mushy. Side shore winds, 5.0 or 4.7 and an 85 litre board are the ticket. I have been using the thruster set up to keep the fin sizes small and easier for spinning around on. Also this move is easily done in flat water as a flaka, so if you practice on flat water and can make them easily, then you are already ahead of the game
Technique
The hardest part of the whole move is hitting it at the right time. Too early and you go straight out the back, too late, well you know what happens with too late. I try to set it up where I have one nice turn off the main peak then work my way down to the end bowl and punch out a nice spin off the section coming towards you.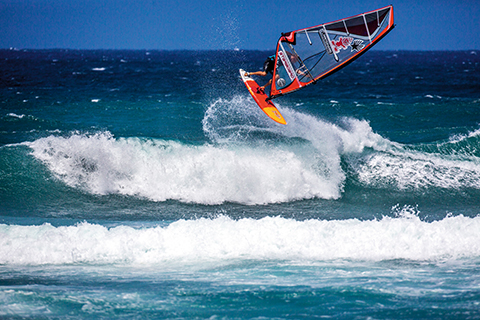 Photo 1
As you can see I am hitting the wave very late. It is a section that has a little bit of a left hand beak coming towards me as I hit it right at the same time. I am pushing with my head and body looking forward and around, twisting and pushing the sail into and through the wind as hard as possible.
Do's
Wait for the wave. Go into it really late and let the wave come to you a bit. Make sure to hit it late and with speed. You also want to make a pretty shallow bottom turn so you don't lose your speed.
Don'ts
Don't go for a long drawn out bottom turn. Don't go uncommitted.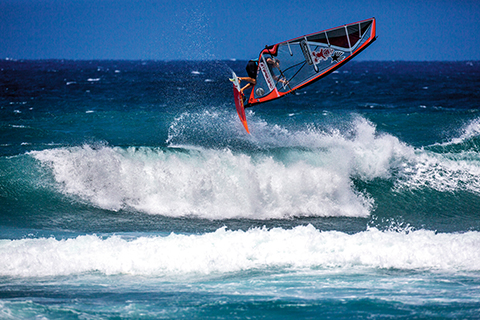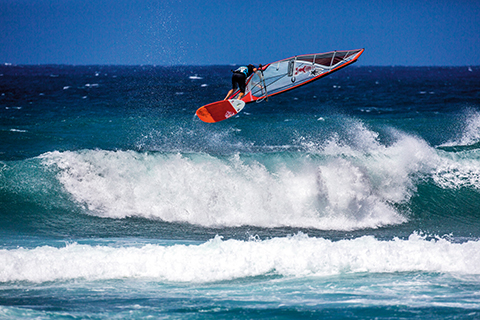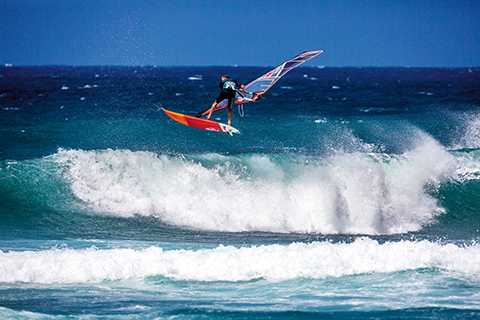 Photos 2-4
This is all about the rotation. You are spinning looking around with your head twisting and pulling and pushing with all your might. I had a hard time to keep my board with me, so I really worked on moving my feet and spinning the board with me and following where I am looking. I am also trying to bounce off the whitewater and have it push me back into the wave
Do's
Make sure you keep your momentum spinning. Keep your head twisted and your shoulders and waist pushing through the rotation of the move
Don'ts
Don't slow your momentum down. Don't leave your feet behind. I have a hard time with keeping my feet spinning around so keep working on this.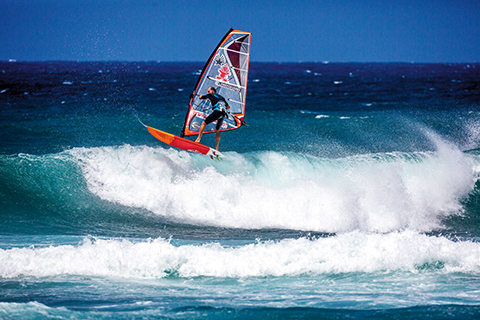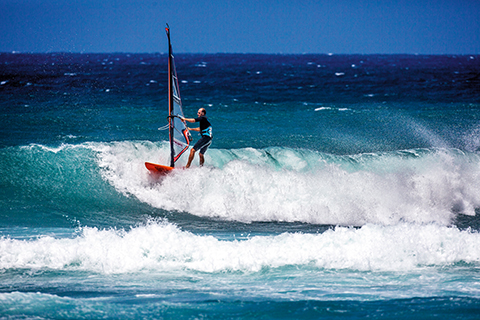 Photos 4-6
Start to spot your landing. Keep your momentum spinning and keep using every muscle in your body to not land out the back of the wave. By this time you are usually in or out; but it still doesn't hurt to keep believing in your rotation and the direction that you are going to nail this move and come out planing.
On this particular one it felt like I accelerated out of it and kept my speed by getting flung off the lip and back into the front part of the wave.
Do's
Believe! Believe you are going to make it. It might sound a little hippy but I have seen people give up before they have failed the trick. I believe I am going to make it so much that I just walk around so cocky that I believe I am the greatest air taka man that ever walked the earth…. clearly I am not but anyhow, you get my point! – believe you are going to make the move.
Don'ts
Don't let go until you have or haven't made it. It is such a tricky spinning rotation that you want to keep your gear where you know it is safe and that is in your hands!
I hope this will inspire you to try the move. I am still learning, believing and spinning and you can too! Enjoy. K.P.
"spin it to win it"