Tweet
KUROSH KIANI PRO-FILE
Originating from a country where water sports were never really known, lots of challenges had to be overcome for Kurosh to be able to embark on this life as a windsurfer who´s been to most windsurfing paradises around the world and has competed in the PWA for a number of years. Read on for a greater insight into one of the most well liked and interesting characters on tour.
Photos  Russel Groves // Starboard HQ  Starboard  Lifestyle  John Carter/Kurosh Kiani
---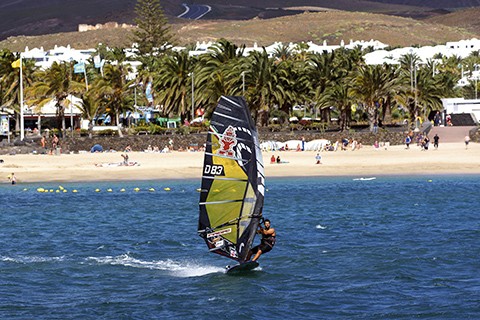 First of Kurosh, tell us a little about your name.
It's a traditional Iranian name and I´m named after the old Persian King, Cyrus the mighty. A seemingly fitting name if I should say so myself haha, however, you won't believe how much trouble I´ve had over the years trying to help people actually pronounce it.
How did you end up moving to Denmark?
Well my dad got on a donkey and went through the mountains to Turkey together with a guide, to make a long story short. There is a bit of fun in this answer, but the situation in those times was quite hard in Iran and most were looking to get out for a better future. So my parents sold everything they owned to be able to have enough funds for this plan. At that time I was only 7 years old, so I was more occupied with causing trouble at school and playing soccer, so I didn't notice it too much until the day when my father was actually gone. He went for a drive with my uncle and never returned! From Turkey he managed to move his way up through Europe and finally ended up in Denmark as the final destination. My mother and I took the easy route by boarding an airplane and a new era of our lives.
When did you move to Denmark?
This was in 1990. I was only 7 years at that time.
" Still to this day, I have got the same excitement about competing and pushing my limits as I did when I first started windsurfing "
How was it growing up half in Iran and then moving to Denmark?
Let me start up by letting you in on how it is being a kid in Iran. In Iran, ALL kids are sent to school with three purposes in mind: To become a doctor, to become an engineer and/or become a soccer player. That's really all there is to it. And if you aren't the brightest fox so to say, you´re in trouble! Back then, going to school was like going to a competition every single day. It was like getting thrown into a wild jungle everyday. First obstacle was actually making it to school in time, because if you didn't make it in time, the school gates would shut, and you wouldn't be allowed in. Once inside, you would have to queue up like soldiers for the school principle to do his morning speech and to check that you´ve dressed properly. Then would begin the actual class where it was about getting those high score grades. I could keep going for hours about this, but I then got moved away from this competitive environment to Denmark, where it's OK if you´ve got other talents than just your brain, and it's accepted to be something else than a doctor. Ohh, and you get to attend school with girls! How amazing was that? I consider myself crazy fortunate. We moved into a little town in the middle of Denmark, and the public school there had a program for kids like me coming from foreign countries. So I started up in this class where I was taught all about being Danish and of course the language, until I gradually got put into a first grade class and my life took form from then on. Although I´m "half" Iranian, I now consider myself Danish, but for personal reasons. The rest of my life I grew up in Denmark, I went through school, high school and university there. All my friends are there, and my whole life and memories come from there. With that said, I will always be Iranian at heart!
Do people windsurf in Iran?
Honestly, I might get roasted for saying this, but when I was a kid, most people were afraid of the water!! I don't know how it's like now. I wouldn't be surprised if people have taken up the sport there. I´ve seen Iranians around the world who windsurf, so they are out there, and it wont be long before we´ll be enough members to form the first "Irooni surf club"(Irooni is slang for being Iranian in Farsi).
So you say in Iran its all about soccer, how did you end up windsurfing?
Well I played soccer all of my childhood years, also when we moved to Denmark. I tried many different sports, but between us, I once saw this ad in TV with someone windsurfing and jumping, and I secretly was sold. As an amazing coincidence, that same summer, there was a program in our local school to try different sports, and one of them was windsurfing, sign me up! I was ready to settle into my new life as a bad-ass windsurfer!. Only there were a few obstacles! First of all, I was sort of nervous about being out at sea, and then there was another small minor detail: I SUCKED!! The instructor told me on the first day that I´ll never be good at windsurfing, I just didn't have the skills. Hmm, the thing he had underestimated was my will power. I signed myself into the local club, and I would be down there every single time it would be open, even on the harshest, freezing, rainy days. What really caught me with windsurfing though was the social aspect of it, which started when I became really good friends with some of the other kids who were windsurfing there, and we then went on to go on trips together, and it was always about pushing each other. Our parents would drive us over to the west coast of Denmark, and drop us off for our school holidays, and we would camp and windsurf until we couldn't walk anymore. It was AMAZING times. Since then I have never let it go. It just always kept being just as fun. I just love racing and sailing in any crazy kind of conditions I manage to get myself out in.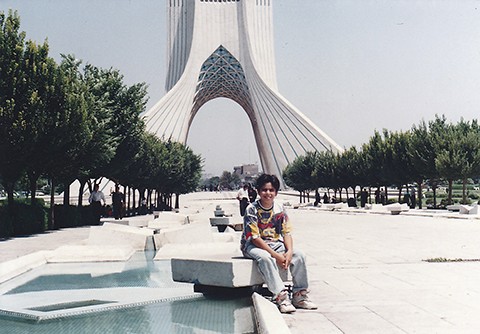 How did you get into racing?
It was just what you did back then. I started relatively late, but I managed to be Formula windsurfing Danish Champion when I was 18. I wanted to keep on racing full on, but my Iranian background came back to haunt me. My parents sort of put the hammer down and said I should finish my education first, and then I was free to do whatever I wanted. I eventually got it negotiated into taking a sabbatical year. I got a job as a windsurf instructor on the Canary Islands, and I managed to burn off all of my excess energy. Back to school it was for another 5 years, where I was racing just locally. And finally when I finished school, I returned to my initial plan. I jumped straight into it. I went to a few international events and thought, wow this is "de action" to quote Brian Talma. Still to this day, I have got the same excitement about competing and pushing my limits as I did when I first started windsurfing.
You've mixed windsurfing with your student life – what did you study?
I studied Business Administration and Computer Science at Copenhagen Business School. It was the perfect way for me to go. I´ve always been interested in computers, and to be able to combine that with business knowledge was the ultimate study package for me.
You setup the live scoring and other innovations on the world tour, how did that whole idea start?
The idea of setting up live scoring for the world tour was talked about for a very long time. Lots of chats over many beers! How did I get involved? Well I first started out building a statistics database for the PWA, which allowed them to go back in time and look at individual heat results about 10 years back, and to compare two or more sailors against each other.  We then looked at what it would really take to make live scoring work in windsurfing. Once we really looked into it, we realized how difficult a task it would be, and for me personally, it was most definitely a challenge to move into a realm where no one had ever gone before.
Explain the live scoring in more detail
Well, to the outside world, only live scoring is known, but what most people don't know, is that we´ve built a whole event management system behind it. Everything happens electronically now. Everything from sailor profiles, to each score or heat result goes into a huge database. In order for this to work, I had to build an event management system, which supports world rankings in each discipline, generation of elimination ladders, sailor profiles, result calculation and so on. Furthermore, an app had to be built for each discipline for result entry. We only see the outside of it when we look at results etc. on the PWA website, but for instance, what many don't know, is that we use the same technology to optimize the slalom discipline. All heat results are entered into our new app. The results are sent to our local server, which calculates results, and updates the elimination ladders, and in that same instance, updates the websites. When the elimination final has been sailed. A new elimination ladder is created by the click of two buttons, which has saved huge amounts of processing time. Rankings and new elimination ladders are calculated and updated automatically, based on the rules we feed to the system. The same goes for the wave discipline, which was the biggest task by far. Here we had a big disadvantage in only being able to properly test during running events. We went through at least 10 iterations of bug fixing and adding on to the system with unexpected issues. This is where we really realized what would need to go into this for it to really work! As for the freestyle discipline, we are already on the fourth version of a score entry app, and this time it will be accompanied by some changes in the competition format itself for it to support live scoring.
So how does the wave scoring system actually work?
Those familiar to wave competition know that there are at least three judges judging each heat during PWA competitions.  Each judge now has an iPad which they use for their score entry. Like in the slalom discipline, their scores are sent to our local server, which waits until all the judges have entered their scores for that particular jump or wave ride. When all scores are present, the average score is then instantly tabulated. Once that process is finished, the score is then pushed to our online server, which then updates the scores in the box we see when we click on to the PWA server. Simple, right? Actually, its quite a complex task. You could ask  yourself, how does the system know how to pair the correct wave scores together? In some heats, there can be 10 waves ridden or more from each competitor. This question was a very complex challenge for us. It's not  even worth going into details, but we found the correct formula to bring down the possibility of error to a very small minimum. We still suffer from having poor connectivity to the internet every now and then, and massive amounts of server load because of the increase in traffic the live scoring has brought with it. But it's things we are actively working on, and it's just getting better event by event!
You're known for being very involved with tuning your equipment, can you describe the process to us
You can prepare yourself as much as you want, but if you don't have your equipment tuned up for competition, you´ve already lost half of the game. Even with the newest equipment, there is stuff to be done. For a long time, I thought it was about having the absolute fastest top speed. Only in recent years I realized, that there is more to it than just having good speed. Your final goal is ultimately to be fast around the course! I now work more towards having a rig which is easy to sail with, meaning a forgiving rig which can handle rough conditions, have good bottom end power, and very easy to pump! And when it comes to the board, well it just needs to sit still in the water and take you down those reaches without throwing you off. So when I get new equipment, of course I just start out by sailing it and getting the feeling for it. These days, with the great development of gear, often you need to do very little, just work on your downhaul and outhaul settings. Basically you need someone to sail with in order to tune up your gear. Someone fast as a reference while you try different settings to identify what is faster and what is slower. This is pretty much the only way to properly tune your gear. And when it comes to the feel of your gear, as a rule of thumb, you should be able to be locked in and not be scared to be hitting chop and waves. If you´ve managed to get to this point, you are already going fast!
You've recently changed sponsors how is it changing boards and riding for Starboard
To be changing to Starboard is sort of the ultimate in sponsor change for me. I rate brands by different characteristics, and not only by how good their gear is. It is also important to have a good team behind the brand, which is something Starboard has. A while back I was at the headquarters where I was able to meet the whole team, and we had a great vibe instantly. This is something which really motivates me on all fronts! I picked up a stack of boards to take back with me. And the day I arrived back home, I unpacked the iSonic87 to take it for a spin. And the first time I got planing, I got a smile on my face. It was such a great experience Everything well balanced, and gear which is crazy easy to ride. So to say the least, I´m super excited, motivated, and happy to be joining a team which I see is working hard, and who is motivated to be working towards common goals!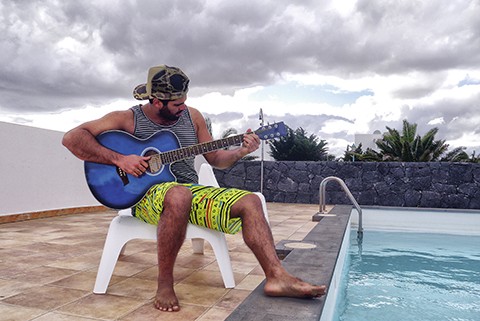 What are your goals and preparations for the year ahead?
Preparation wise, I have focused a lot on getting stronger physically, and generally getting out on the water every day, even if for an hour. This has helped me keep up a good level over the winter, sailing wise. I´m joining a group of friends in Tarifa to be doing tuning and race training at the same time. But ultimately, I want to just be prepared, meaning that I like to have tried ALL my gear in ALL different combinations. Over the years I´ve realized that I race really well when I turn up to events prepared with no unanswered questions in my mind. And all of this comes from doing lots of sailing, going through all of your gear, changing all of your ropes, and generally being on top of all details! Goal wise, I want to be more stable. Fewer mistakes and changing some of those losers' final spots to winners' finals, then the results will follow as well. So to make it very short, raise the bottom level of my performance, and getting the peaks to be higher, and finally, staying on top during a whole week of hard racing. Whether that translates to a top 20 or a top 10 position, only time will tell.