Tweet
WINDSURF MAGAZINE #343 MARCH 2015 ISSUE – ON SALE
The March 2015 Issue of the world's only monthly English-language windsurfing magazine is out now! Subscribe or grab your copy now in either App or Print  versions! (Prices include delivery anywhere globally 10 times a year.)

BIG JUICY READS

PE'AHI AWAKES a powerful Pacific winter storm lights up Jaws. Polakow, Swifty, Morgan, Levi and Marcilio Browne tell their big wave tales.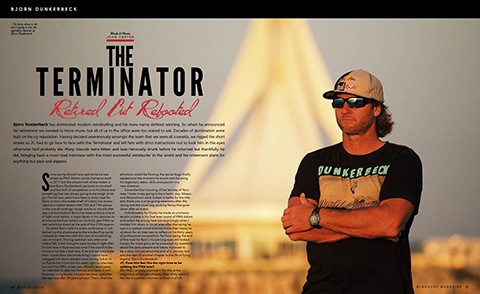 BJORN DUNKERBECK, RETIRED BUT REBOOTED. JC finds out from the man himself why we have far from heard the last of Bjorn.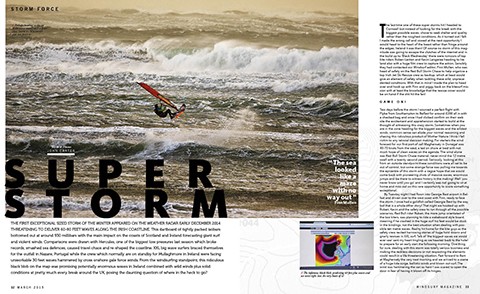 CODE BLACK An exceptional storm threatened 60 foot waves. Finn Mullen and John Carter seek, retreat, score and report on the big black blob !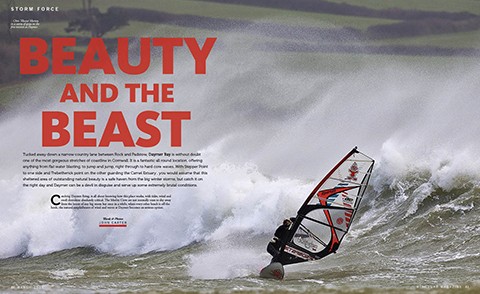 DAYMER BAY Daymer is beautiful but has waves that can wreck any sailor. A story of two storms and a local's guide to this must visit spot.

FUERTE' ON FIRE Atlantic activity lights up Fuerteventura's famous shores. Jules Denel and a cast of locals and visitors enjoy the spoils !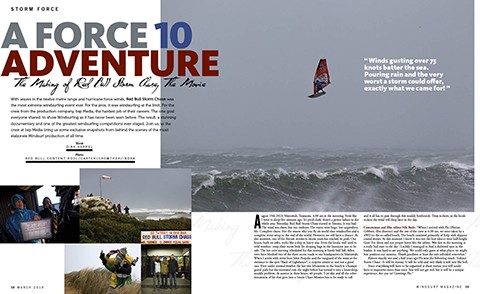 A FORCE 10 ADVENTURE The making of Red Bull Storm Chase, the Movie. An exclusive insight to the most elaborate Windsurf production of all time.

EVENTS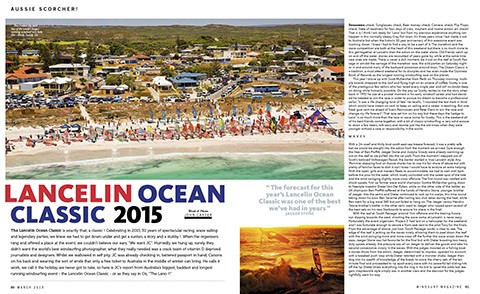 LANCELIN OCEAN CLASSIC The world's longest running windsurf competition celebrates its 30th year ! JC reports from the beach.

GEAR SHED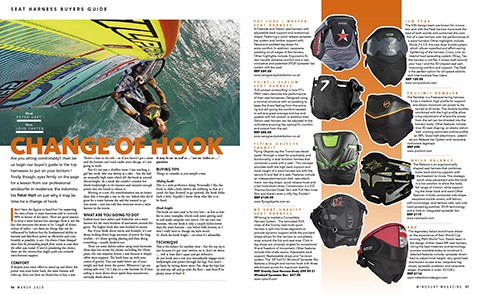 SEAT HARNESS BUYERS GUIDE Peter Hart explains the benefits of sitting down alongside our run down of the latest bums in hooks on market.

TEKKERS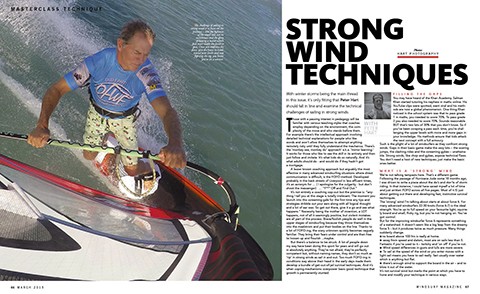 PETER HART MASTERCLASS – Harty on high winds. When the wind really blows, Captain Hart gives his tips on how to steady the sail..and board !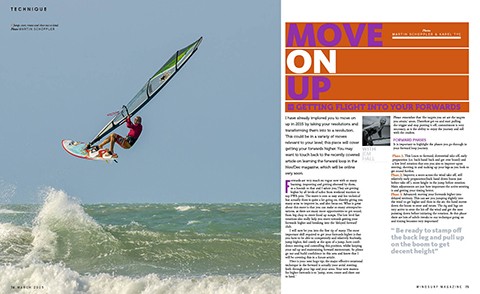 MOVE ON UP – Getting flight into your forwards. Jem Hall brings us his top tips for getting your forwards higher.

BOARDSHORTS
EGYPT WINDSURF GUIDE Egypt is a windsurfing Paradise, Peter Hart explains why. Read his tales, tips and our resort guide.
LOWDOWN : INTO THE COLD CHAMBER Gollito Estredo goes deep deep freeze, testing ION's Fall/ Winter wetsuits in a cold lab !
LOWDOWN : STARBOARD RIO LONG TAIL Starboard have a new beginner board and concept, designer Tiesda You gives us the lowdown !
LATEST & GREATEST The freshest gear, the new design ideas, all here !
SITTIN' ON THE DUNNY
EDITORIAL – STORM FORCE  Storms, the greatest force in windsurfing also gives the greatest lesson. Challenge and be beautifully humbled.
AFFAIRS OF THE HART Brazil, paradise with an edge. Harty on the good and bad of a country famed for both but always worth it for a windsurfer.

Get your copy by App or in Print now!