Tweet
WINDSURF MAGAZINE #341 NOVEMBER DECEMBER 2014 ON SALE
The November December 2014 Issue of the world's only monthly English-language windsurfing magazine is out now! Subscribe or grab your copy now in either App or Print  versions! (Prices include delivery anywhere globally 10 times a year.)
TEAHUPO'O – KAULI'S BARREL MISSION // BEST OF BRITISH: THE BEST SAILORS, THE BEST BEACHES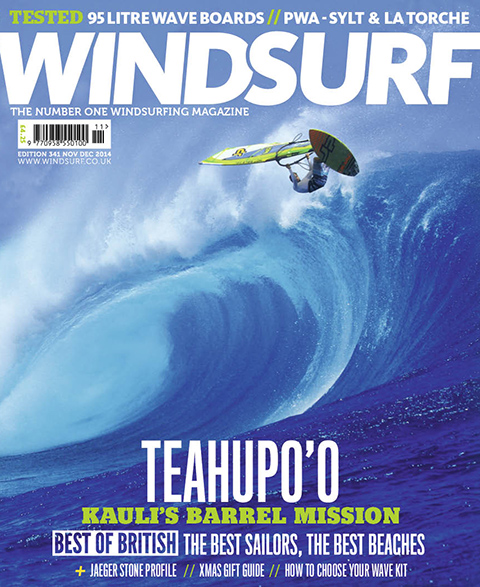 BIG JUICY READS


HOPE AND FEAR
Kauli Seadi voyages into French Polynesia searching for wind and surf and scoring the ultimate treasure of Teahupo'o. Hopes, fears and the mother of all wipeouts, read it all here.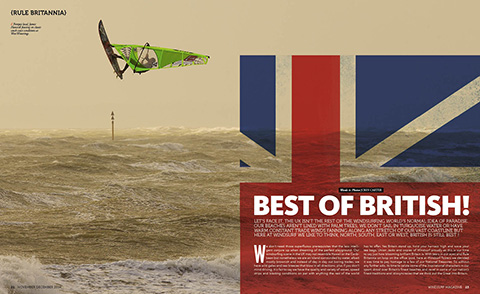 BEST OF BRITISH 
Yes Britain, lend me your ears..we mean eyes sorry, this is our tribute to the best country, best sailors and best beaches. We are proud of our island nation and this is our potentially libellous homage.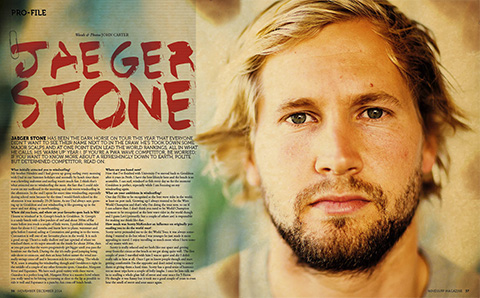 PROFILE – JAEGER STONE
Kicking off a new series of profile interviews, we take a look at the young Aussie who no one wanted in a wave heat this year. Jaeger's story from severe injury to mixing work with a PWA career is one you don't want to miss.
CYRIL MOUSSILMANI
The underdog comes good, we find out more about the man who has dominated the Slalom rankings this season on how he has broke the stranglehold of the big names on the podiums and his tips for going fast.

EVENTS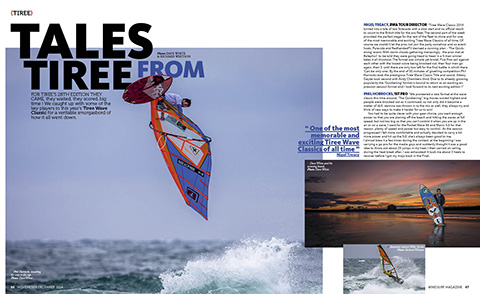 TIREE TALES
They came, they waited, they scored..big time. Tiree retains its reputation as the go to stop on the UK tour, the top finishers tell us why.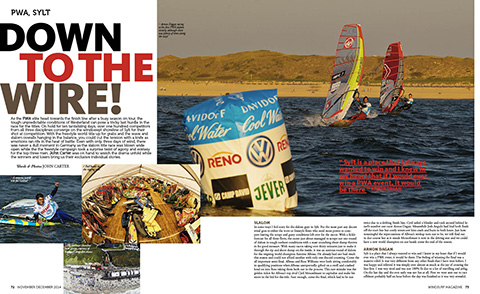 PWA SYLT 
Europe's premier windsurf event saw red hot action in the cold North Sea. Freestyle title shocks and the return of surf slalom with a surprise winner. The top names speak and JC reports.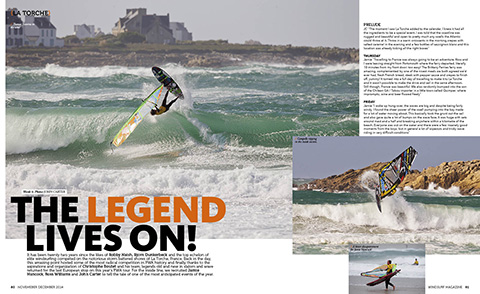 PWA LA TORCHE
La Torche marks it revival with a bang as this renowned event blows the doors wide open on the PWA wave title. Starboard tack madness and a maiden win for Campello, we take an inside look.

GEAR SHED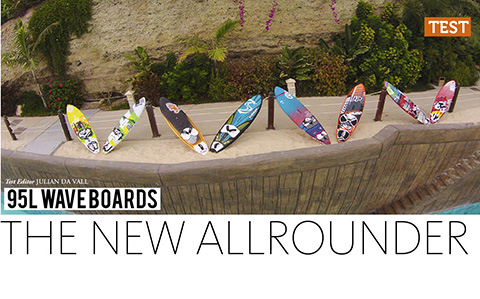 95 LITRE WAVE BOARDS
The new all rounder ? We take a close look at the most versatile of wave board sizes in 3,4 and 5 fin box versions from all the top brands.
THE LINE-UP 
FANATIC TRI 95
GOYA 94
JP THRUSTER QUAD 93 PRO 2015
QUATRO SPHERE 95
RRD CULT QUAD 92
SIMMER QUANTUM 95
STARBOARD QUAD 94
TABOU POCKET 94

TEKKERS TEKKERS – CARVE GYBE SPECIAL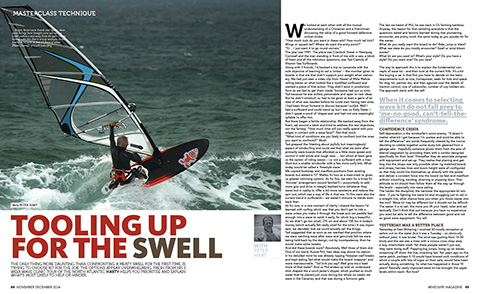 PETER HART MASTERCLASS  – TOOLING UP for the SWELL
Peter Hart takes a look at finding what wave kit works for you, the evolution of design and some highly pertinent case studies from his clinics.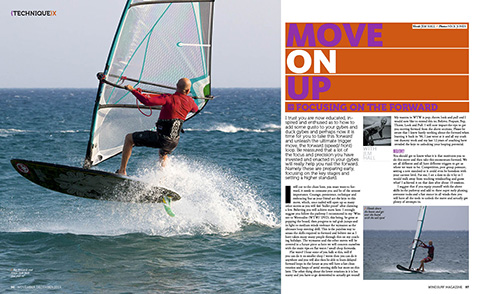 MOVE ON UP – FOCUSING ON THE FORWARD
Jem breaks down the barriers on the forward loop, once considered only for the pros but now well within the reach of the masses thanks to Jem's top tips !

BOARDSHORTS
PEOPLE & PLACES
Nik Baker We hear from the only Brit to ever win the Aloha Classic on just how he won and his tips for following in his footsteps – a must read !
LATEST & GREATEST
The gear that makes us go green with envy and our wallets empty, all factory fresh !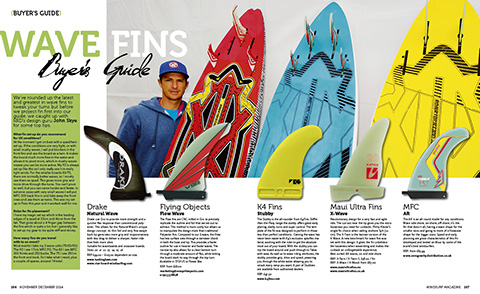 WAVE FINS BUYERS GUIDE
We look at all the latest offerings to tweak the performance from the tail of your board with pro knowledge from John Skye.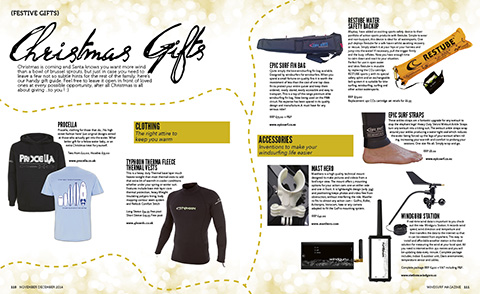 CHRISTMAS GIFT GUIDE
Our handy guide to festive windsurf Goodies; leave in an obvious place to make sure there is no socks under the tree this year !

SITTIN' ON THE DUNNY
EDITORIAL
What dreams are made of – windsurfing dreams don't always have to be far away or destined by luck.
AFFAIRS OF THE HART
The Talent Myth – champion born or champion made – Peter Hart adds sports science to windsurf myth for an interesting result !
Get your copy by App or in Print now!