Tweet
ODA JOHANNE – NORDIC FREESTYLE QUEEN
Oda Johanne Stokstad Brødholt or Oda Johanne for short has shot up the women's PWA freestyle rankings, finishing runner up, Vice World Champion for 2014. If you've seen her videos online, you will know Oda is the real deal. If you haven't seen her videos, be prepared, you're in for a humbling surprise at the sky high level of modern women's freestyle windsurfing. So how does a young woman from Norway, not known for its windsurfing, become one of the best in the world we sat down with Oda to learn more about her winning ways.
Photos Håkon Skorge & Markus Seidel
(This feature originally appeared in the July 2015 issue of Windsurf Magazine. To read more features like this first, Print and Digital subscriptions are available. Prices include delivery globally for 10 x issues a year!)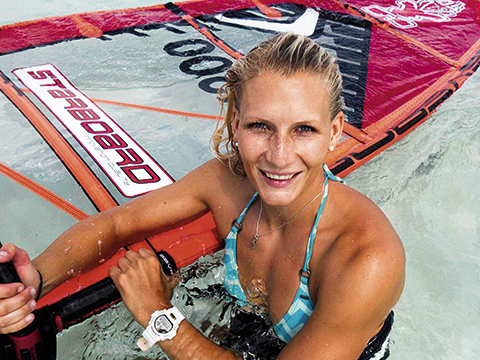 Ok Oda, introduce yourself please 🙂
OJ – My name is Oda Johanne Stokstad Brødholt. How I ended up with this long name… I ask my parents every day! To make it easier I only use Oda Johanne outside Norway. I was born in Norway in Tromsø, in the north of Norway and known as the gateway to the Arctic. When I was 1 year old my parents moved back south-east to the warmer part of Norway, 45 minutes from Oslo. I grew up with my mom living in Tomter and my dad living in Son. I'm 25 and from the ages of 5-6 years I have been playing handball. I played my first professional handball game when I was 17 years old and I played 5 years in the top league in Norway and for the Norwegian national youth team. I went to a special high school for handball players and after high school I took a bachelor at the Norwegian School of Sport Science in Oslo. While studying I still played handball, and it was after my bachelor I realised I wanted to go all in to try to be a pro windsurfer and try to live my new dream: "windsurfing around the world"
You have risen to being one of the top freestylers in the world – what are your secrets of success?
OJ – I started windsurfing pretty late. My parents had a windsurfer from the 80's but it was never really used, so as a child I never saw people doing it before. I randomly met a windsurfing couple who insisted that I had to try it. At this time I was 18 and really busy with handball. I never had many days off from handball to go on trips, but somehow I managed to sail after school and before my handball training in the evenings. My whole life was dedicated to handball, and so to have a hobby next to handball I thought that I should give it a try with windsurfing. I worked that summer and spent the money buying a board and a sail. I immediately fell in love with windsurfing. It was hard for me to quit handball after so many years of hard training and dedication from myself, not to mention all the support and time/money my family also had put in to handball so I could be as good as possible. But I had a bad shoulder injury and I felt that it was the right decision to just follow my new dream – go windsurfing and forget everything about the tight schedules I was used to having. Standing at the airport and for the first time going for a two months trip just thinking of windsurfing and all that freedom was just an incredible feeling! For the first time I felt really free to do whatever I wanted and it felt so good. I have been competing in the PWA only two years, but my secret to success is just I have so much fun training windsurfing. It is what I like to do more than anything else, and when you have fun and are really motivated you will have progression which will show in competition. From handball I am really used to competitions, and even though it is a very different sport, I know myself well and I know that when I have a bit of pressure I normally get better results. I love the adrenaline I get when my watch is making the count down to the start and the green flag shows that the heat is on.
Women's freestyle has really exploded in level – why do you think the level has become so high so quickly
OJ – I think it is because there are more girls that have the chance to travel and train as much as the boys. I see really clearly that in just the last year the level has increased a lot and this is for sure the right way to go! Now we can do a lot of the same moves like the boys, such as burners, skopus and shaka's just to mention a few. I also think that people like Sarah Quita are super important to show that girls can also rip just as hard! Rumor has it she beats a lot of the PWA boys in local competition landing Pasko's and air skopus. When I see Sarah sailing I just take her as an example that nothing is impossible. She is a really inspiring windsurfer for me. The level has also maybe increased because the girls on tour now are so keen and motivated to learn more power moves. Sailing with each other and watching your friends landing new moves is a big inspiration to push yourself harder. There are no limits in windsurfing! Every year we see moves we didn't know would be possible are now possible!
There's a really good group of girls on tour, are you all friends or is it very competitive
OJ – Both outside the water and on the water we are all friends. Just during the 7 minute heats we are competitive. I always get really good advice from the girls and also the PWA boys about what you need to change to land the moves you want to learn. By helping and motivating each other we are together pushing the level of freestyle – this is the most important part for us. For me competitions are still really fun and a great motivator. Getting the 2nd overall PWA title was pretty unreal and awesome. But still, the best is to achieve my goals landing the moves I have been crashing over and over again, and when I succeed and land one for the first time, that is the happiest moments of freestyle for me.
What are your tips for learning a trick
OJ – First it has to be realistic. For example if you want to learn skopu, you should be able to do a normal switch kono first. Or if you want to learn burner you should be able to duck the sail and do a funnel. The next step is that you need to really want to land the move. If the motivation is not there, forget about it! Freestyle is hard and you will crash a lot – so you need that inner motivation. Before you try the move – dream about it and visualize it many times– do the movement of the move while taking a shower or while walking to your car. Think about it a lot. Remember to watch a lot of videos of people you admire the style of and try to see yourself being that person in the video who does your dream move. Then go to a spot that is the easiest for learning exactly that move – and try it with full confidence! You already know by watching the video how the technique should be – so there is no need to try to do it another way. If you don't see any progress – it can also help to take some days off trying the move. Sometimes that helps for me! Get new motivation and talk with people who already can do the move. Maybe they have some small secret details that will make you land it! You will probably have plenty of crashes before you land your move for the first time, but remember to always make small adjustments so you don't spend your whole session memorizing mistakes that will make it harder to land it. Remember the most important is to have fun, enjoy the wind and the water and never give up! If you have fun, you will land it!
" Watching your friends landing new moves is a big inspiration to push yourself harder "
Tell us about windsurfing in Norway
OJ  – Sailing in Norway is the best for me. Mainly because I have all the memories from the places I learned windsurfing for the first time. Sailing in Norway compared to for example Bonaire and Jericoacoara is really different. In Jeri and Bonaire you can have your sails rigged and you will have wind almost everyday. Norway is different. You are waiting days, weeks and sometimes months to get a windy session. You have to pack your car and drive. My favorite homespot is a 1h and 45 minute drive. So quite far, but when you score some great sessions there, it is all worth the hassle packing the car, driving in rush hour, trying to skip work and other appointments for these windy days. In the weekend we sometimes drive 6 hours to Lista (South of Norway) and sleep in tents and make a fire in the evening with homemade burgers with a group of friends. These weekends are just epic! So sailing in Norway is more adventure, while sailing in Jeri and Bonaire is proper training and easier conditions. Sometimes if I am in Norway during the winter I also go sailing, as long as the temperature is above 3-4 degrees. It can snow while sailing, but with a layer of wool under my 5/3 O'Neill Psycho 5 mm wetsuit, I don't get cold as long as I keep myself warm doing tricks all the time. When you crash with your face first in the ice cold water, you realize you are alive! A great feeling!
What is your home spot like?
OJ  – My dad lives 2 minutes from the sea in Son. The wind there is not strong, so I normally drive to my favorite spot called Ørekroken. It is a 1h and 45 min drive from Oslo. It is a bay with shallow water on the inside. Sometimes we have small 0.5-1 meter waves you can do some moves off. It is such a cool spot; not the easiest, but just really fun sailing there. When it is a warm day in the weekend and people are off from work, the parking lot can be full of happy windsurfers.
I feel really blessed to be able to sail this spot!
Svein Rasmussen is your sponsor and one of Norway's most successful windsurfers – has he given you any advice?
OJ – I am really happy to have Starboard as my sponsor, and extra cool that Svein is Norwegian. He advised me to always listen to yourself, and that it is only you who know what is best for yourself. He also said when I have to make important decisions it can be smart to ask people around you and then decide what you want. His advice when it comes to windsurfing was that 90% is done by your training ahead, and to keep your head focused try to meditate. I never meditate during a competition, but I have my things to do, like listen to special songs and in one way this is a kind of a meditation I guess.
You travel a lot, do you see yourself always on the road?
OJ – Norway will always be my home and where I have all my family and good friends. I could never leave them for too long a time. Maximum 3 months I can be away. After 3 months I get homesick and want to go back to Norway. I love to travel, and at my age now this feels like the right thing to do at this moment. But when I get older I am pretty sure I will settle down in Norway, as long as I know I will have time to travel in holidays to windy warm spots. Norway is really beautiful, the place and the people. It is a good country to live in, so it's natural to spend more time there later.
Where is the best place you have been for windsurfing so far?
OJ – Last year I went on a roadtrip with my boyfriend driving from Norway to Fuerteventura. In total we drove 10,000 kms. During this 1.5 month on the road I have to say that sailing in Holland was the most epic days. The freestyle spots there are just the best. Inside the lakes they have small "pools" to protect the birds and give them flatwater. And flatwater in Holland is REALLY flatwater. Not a single chop to disturb you when you learn new moves. I had 5 days of wind there last year on the last days of our roadtrip, and every day we sailed new and better and better spots. Not strange that Holland has so many talented young kids who are ripping when they have spots that are so much fun to train at. The best spot is a secret. I promised my friend who showed it to me not to tell anyone… so sorry! haha
How do you fund your trips?
OJ – I work as a ski instructor and I have a 2nd job helping people who have Alzheimer's disease but still live at home. It is a job you can have for a short time before a trip. And they can always offer me a job whenever I need it. So perfect while being a student or a windsurfer!
Any advice on how to limit costs traveling to Bonaire?
OJ – If you travel to Bonaire there is two flight companies flying direct from Amsterdam to Bonaire. KLM and Arke flight. Sending your bags with Arke flight is around 35 Euros and you can bring a heavy bag, 32 kg I think. Sending your bag with KLM is between 100-200 Euros and it can be maximum 23 kgs. So you might need 2 bags and if you bring a 3rd piece, like your normal luggage, they want to charge you another 100 Euros for the 3rd bag. So a big difference in the costs. But the flight with KLM has always been a pleasure, even nice food and they never damage my gear inside my board bags! Bonaire is not the cheapest windsurfing destination, but if you are on a budget, you can live at the Surf Hostel. And for a few dollars per night you get a bed, breakfast and a good dinner. And for sure, friends for life!
What will it take to close the gap between second place and beating Sarah Quita at the top?
OJ – Many more years of training. She is always ahead of all of us. For sure she started many more years before me, if I learn culo, she will for sure be able to do double culo. And if you can do skopu she can do air skopu… It would be possible if her flight was delayed and she lost the heat because of that! Haha.. She is just really consistent and the queen of freestyle!
Finally what is your game plan for the year ahead?
OJ – My goals are to land my moves on the "2015 wish list" and then be able to land those moves consistently. For the PWA I want to get a good result, but I will only focus on my moves, and then I will see where I end up after that. I am going on a 1 month road trip in Scandinavia and maybe Holland for some windsurfing and some video projects. I also have a goal to start to train some slalom, and hopefully in the future I will compete in this discipline too!