Tweet
P.O.V FILMING GUIDE – A GUIDE TO SELFIE GLORY
Ok Billy no mates, so it's the only day of wind in the last few weeks. All your windsurfing buddy's are out sailing and 's in no way they are going to stop their session to film you. There's no chance in hell that the other half is going to sit and film for hours until you finally pluck up the courage to attempt that forward you've been dreaming about trying. And, lets be honest, when you finally do, they've probably drifted off to sleep and will miss it anyway. 

So, for anyone out there who has this problem, that we all do, especially in the rainy U.K., I've put together the 'Billy No Mates, Proffitt's Film Yourself Kit' together, all of which I've tried and tested personally and wouldn't go to the beach without!
REPORT BEN PROFFITT
(This feature originally appeared in the June 2014 issue of Windsurf Magazine. To read more features like this first, Print and Digital subscriptions are available. Prices include delivery globally for 10 x issues a year!)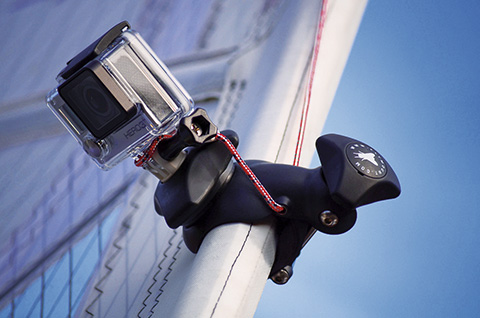 ESSENTIAL TOOLS
CAMERAS
You need a waterproof action camera. There are lots on the market, from the popular GoPro to new brands entering the market, including the likes of Braun, Garmin, Drift, Muvi, Contour Hedcam,Q-camz, Intova et cetera. There are lots of Pros and Cons with each, but I have to say, for me at the moment, the GoPro Hero 3+ is winning the battle with its floatable back, great image quality and wireless remote control capabilities.
MOUNTS
Flymount
The first thing to add to your shopping list is the Flymount 2.
Now this is an awesome mount designed for windsurfers by windsurfers – and it certainly shows. The MK I model was good, but I have to say the small change to 2 really has made this the 'mount of mounts' and a must for any windsurfer with an action camera. If you're going to buy one mount make it this one as it's super easy to use and takes up no space, plus you can get a few different angles out of it. (Including some good ones of any bald patches you may have!) The main ones I use are the mast and the front of the boom.
PROS
• Very versatile. You can stick it on your mast, front of boom, back of boom etc.
• So easy to clamp and secure
• Small and lightweight
• Cheap
• Great for clamping to anything else off the water. (Mountain bike etc.)
• So much better than the actual GoPro mounts
CONS
Err, I can't think of any!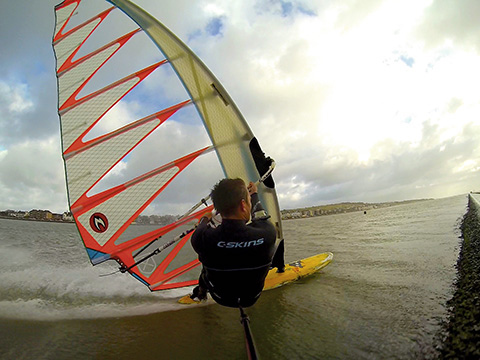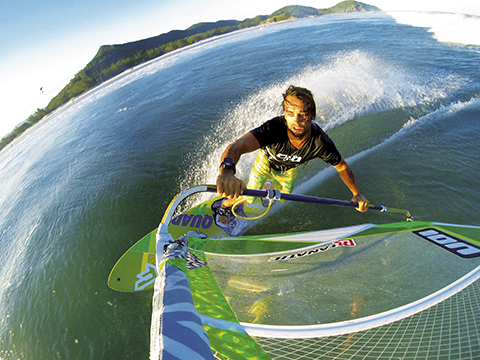 K4 Mount
This is by far my most favourite angle for self-filming. You see everything. It's like having a little drone following you around and the perfect tool for learning moves when you can't get anyone else to film. It does take a little time to set up, but if you have a spare harness you only have to do it once. So I'd suggest you either pick up a cheap harness, or use your current one and go treat yourself to a new one. It's not essential, but just a lot easier and you'll use the mount a lot more as a result.
To set it up you have to make 2 holes in the back of the harness and bolt it on. I found the best way was to heat up a screwdriver and melt 2 holes! It worked a treat. But, don't worry, it comes with instructions …
The mount comes with a standard length batten and also an extension for those that want to add more height. On the short batten you can reach the camera to turn it on and off, but with the extension you'll really need a wireless controller, otherwise you'll have to sit through hours of footage prior to editing.
PROS
• Best Angle for Windsurfing footage ever..  it's like a drone following you around.
• Perfect Billy no mates training tool, as you can really see exactly what you're doing right or wrong in moves.
CONS
• Not easy to take on and off…  and you need to drill holes in your harness.
Tips:
• Buy another harness or use an old one you don't need any more and treat yourself to a new one. It's by far the best way …
• Have the camera pointing quite far down as, when you sail, you lean back and you want the board in the shot
• You can also point it more one way or the other if you want to see more of what's coming towards you. For example, if it's port-tack jumping (wind from left) and you want to film yourself in the air, angle the camera more to your left shoulder so you can see the ramps coming towards you better
MOUNTING ALTERNATIVES
Q-Mountz
Norwich based Maptaq launch all new Q-Mountz IP68 Waterproof Case for iPhones & Samsung Galaxy S4 with removable Fisheye Lens. Q-Mountz offers a complete range of versatile mounting options which can be adapted to suit your application. A chest mount is included and the Outdoor Pack offers additional options for custom, bike, board & helmet mounting.
Mast Hero
Masthero, Eva Cirnski s.p. is Slovenian company which sets the standard for providing high quality technical Windsurf mast mount for action cameras. Masthero fits to almost any action cam – GoPro, Actionpro, IronX, Isaw, CamOne infinity, Rollei actioncam, PNJcam, Garmin VIRB Elite, Toshiba CAMILEO X-Sports or any camera adapted to fit the GoPro mounting system.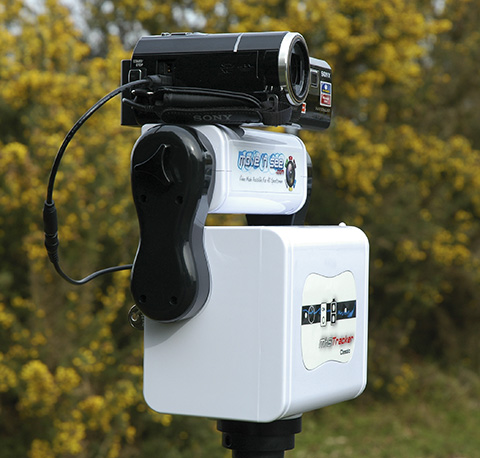 ROBOTIC CAMERAMEN
SoloShot.
At the moment we haven't seen much from SoloShot in the windsurfing world, but all that is about to change with the SoloShot 2. The first one was good, but, after I got lucky with my first outing with it, it was downhill after that. Mainly because I first used it in onshore conditions and it was perfect as I didn't move out of the screen. It also works well in down the line (cross-off) conditions. Basically the camera pans side to side, which is fine for surfing or onshore/cross-off days, but it doesn't work well for sideshore setups as you move out the line-of-sight, especially when you jump. So the only way to get most of the action was to zoom out.
Well, forget the old one – the new one looks the nuts!  It pans from side to side and also up and down, plus, if you have a Sony camcorder, it'll also zoom in and out!!  Now we are talking. (Apparently zoom function will also soon be available for some Canon and Panasonic devices, plus a better tracking system. More details at soloshot.com). The setup on the first one was a bit of a pain in the xxx, although I'm not a big instructions man – so it could have been my fault – and when it's windy I want to get on the water ASAP. Somehow I nailed it the first time I used it, but after that I never quite managed to get it right. But if this new one is as good as they say it is, it really will be a must-have toy. People question the security and, yes, I'd agree – but there are plenty of places where it would be safe. But the best place is just to leave it next to a non-windsurfing partner while they're on the beach. They then don't have to film and it's pretty unlikely someone will steal it – plus it won't miss a thing.
PROS
• Don't need someone to film
• Really good tracking
• New one tracks up and down
• Zooms as well if used with Sony camcorder
CONS
• Setting it up right (old one)
• Security
TIPS IN GENERAL…  
Always tie your action camera to something
A floatable attachment is a great idea – or something bright you can see underwater (GoPro have both in one with their foam pad on the back of the camera housing.)
Make sure the camera's set up right and pointing at the correct angles for the results/views you want to achieve.. Use the apps supplied and make sure you allow for any arm waving/one-handed stuff as you will want that and other pieces of glory in the frame!
ROBOTIC CAMERAMAN ALTERNATIVES
Move'N See:
A young, innovative company based in France, Move'N See designs, manufactures and markets video systems. The company was founded by Eric Willemenot, an engineer and also a long-standing sports and video enthusiast. Two models are offered to cater to the needs of high-level athletes, sports enthusiasts and sports associations and academies; Move'N See
CLASSIC or the Move'N See FULL MOTION. 
CAMERA ACCESSORIES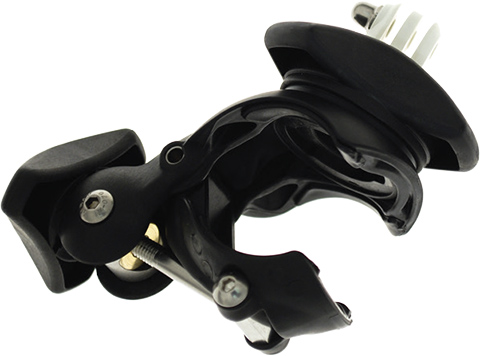 FLYMOUNT
This is the camera mount of choice for some of the world's greatest windsurfers, magazine test teams, and the PWA.  100% British made from premium materials for ultimate boom and mast mounted photography in any conditions.  Flymounts fit all masts and booms, with grippy protective jaw liners to prevent equipment damage and movement.
RRP £63.50
www.flymount.com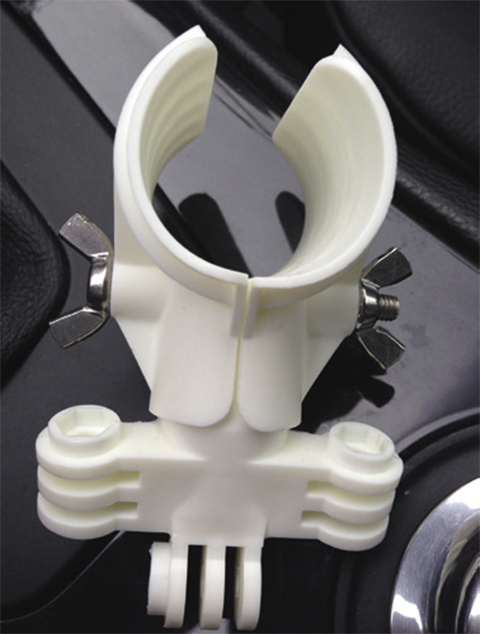 MAST HERO
The high quality technical mount is designed to make pictures and videos from a bird's-eye view. Is the latest product that will help you film yourself and produce images that will be the envy of all of your mates.  The mount offers 3 mounting options for your action cam: one on either side and one in front. It is lightweight design (only 35g) and positioning keeps photos and video free from obstruction, without interfering the ride. The mount securely envelops your mast while avoiding point-loads so dangerous to carbon fiber. Masthero fits to almost any action cam – GoPro, Rollei, Actionpro, Ironxcam, Isaw or any camera adapted to fit the GoPro mounting system. Some times you have to use »GoPro mount adapter« to be able to mount Drift, Contour, iON, Sony Action Cam or any action camera compatible with a 1/4" tripod screw.
RRP £42
www.masthero.com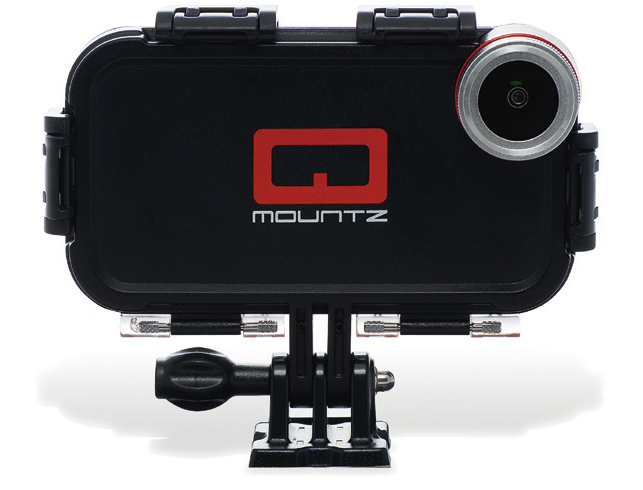 Q-Mountz
Q-Mountz is the only load-lock-shoot smartphone case designed for both of the major smartphone platforms withmounting versatility for all cycle, water and action sports. Current models include Apple iPhone 4/4s, Apple iPhone 5/5s, Samsung Galaxy S3 and Samsung Galaxy S4.Q-Mountz is all you need to carry for your adventures as it packs the features required to take your smartphone camera into the most challenging conditions. Key features include 10m IP68 waterproofing, super rugged body with complete dirt and dust protection. Q-Mountz offers a complete range of versatile mounting options which can be adapted to suit your application.
RRP From £69-79 (Depending on model. Accessory pack is £9.99)
www.maptaq.co.uk // www.roho.co.uk
CAMERA GUIDE & ACCESSORIES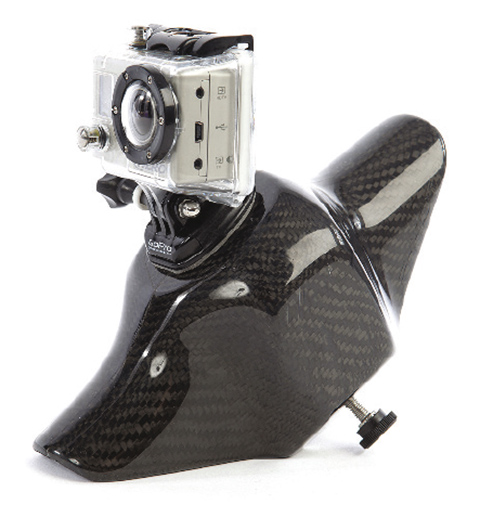 F-Hot CARBON Mast Mount
For shake free video that follows you from gybe to gybe, and everything in-between, already enough to make the F-hot Mast Mount the Pro videographer's mount of choice. Constructed from carbon making it one of the lightest mounts available, but also one the highest load carrying mount ensuring every camera from the GoPro up can be safely attached to your mast. It is robust enough be used in the biggest waves to the fastest speed course.
Weight: 150 Grams
RRP £150
www.f-hot.com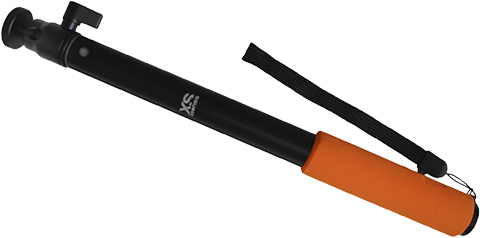 Xsories – Big U Shot
A large telescopic extension arm for your camera, which allows you to take pictures of yourself or others. Fix any type of compact camera to the U-Shot and capture all your moments from unique angles. Portable and fully adjustable for the desired angle, tilt, and length.
RRP From £39.99
www.xsories.co.uk

Braun Master Action Camera
Kenro, the official UK and Ireland distributors of Braun Photo Technik have announced the Braun Master Action Camera. Designed for extreme sport enthusiasts wanting to record adventures, the compact camera can capture videos whilst being strapped to various mounts and withstand depths of up to 100m underwater. It also sports a 16 megapixel still camera with 10x digital zoom and an external special-purpose optional microphone. With WIFI function, remote via your smartphone and up to 64GB memory, it is one of the most impressive sport cams to hit the market.
RRP £249.95 inc VAT
www.kenro.co.uk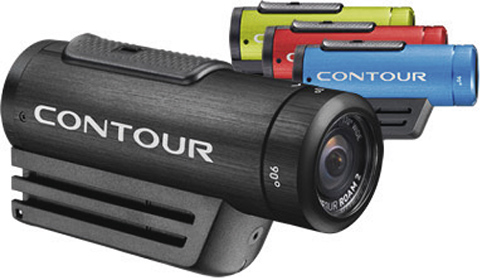 CONTOUR ROAM 2
The ContourROAM2 is quite simply the easiest-to-use camera on the market. With a slide of the Power On & Record Switch you're filming your favorite adventures in crystal clear HD video. Available in four colors and waterproof without a case, the ContourROAM2 is ready for anything, and is sure not to cramp your style. Live life in colour.
RRP £149
www.ultrasporteu.com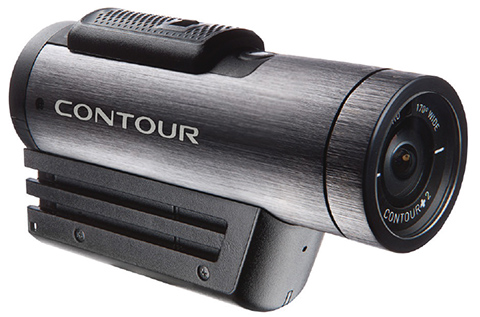 CONTOUR +2
Getting professional quality video has never been easier. This top-tier camera is packed with features, designed with style, and simple to use. The Contour+2 features crisp HD video, GPS data that brings your adventures to life, and a wireless mobile app that turns your smartphone into a remote control. Preview your shots, change camera settings, and check memory and battery status on the fly.
RRP £259
www.ultrasporteu.com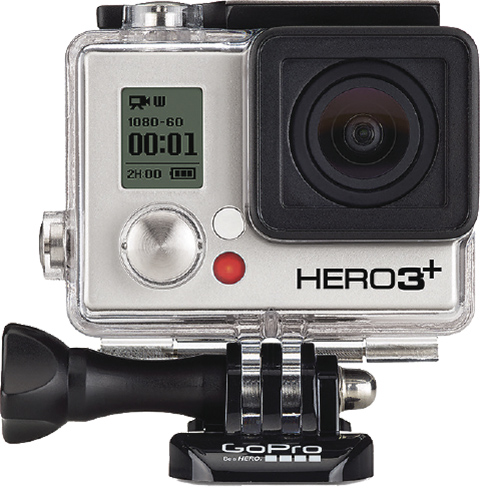 GO PRO HERO 3+
We're excited to introduce the most advanced GoPro yet, the HERO3+ Black Edition, featuring a 20% smaller and lighter design and 30% better battery life than previous models. These upgrades, combined with an improved lens and convenient new video capture modes, produce the most advanced and easy-to-use GoPro, yet. In addition, GoPro announced several new mounting accessories that further enable immersive content capture during any activity. The HERO3+ line of cameras and accessories are now available at gopro.madison.co.uk and at select retailers worldwide.
RRP £359.99
gopro.madison.co.uk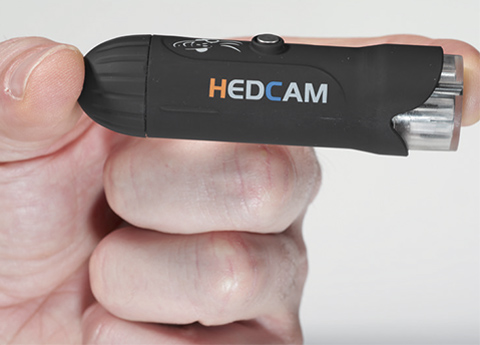 HEDCAM Ten80
The ever-popular HEDCAM (now called the 7Twenty) and the NEW HEDCAM Ten80 are unobtrusive and extremely lightweight, thumb sized waterproof (10M) wearable video cameras that enable you to relive all of your extreme activities in FULL 1080P HD (720P HD for HEDCAM 7Twenty). With their laser pointers setting up your angle couldn't be easier! They are fully self-contained with a built-in battery that gives approximately 1.5 hours of recording time. You can wear it and position it just about anywhere. It weighs in at 32.5g and it's waterproof to 10 metres and – you'd have to get pretty royally drilled to end up any further down than that! They're supplied with a range of mounts a 4GB Micro SD card to get you started.
RRP From £99.99
www.HEDCAMz.com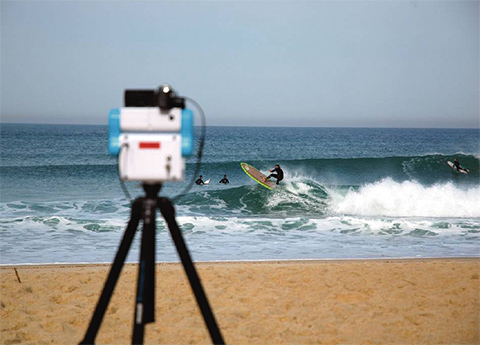 MOVE N SEE: Your Robot Cameraman
The athlete wears a special GPS armband (the BEEPER), the camera on the TRACKER turns to face the athlete, and zooms automatically. There is a REC function on the armband: no useless image, making debriefings more efficient. Inclinometers measure the tripod horizontality! the light of sight is corrected automatically from any misalignments… thus making it possible to zoom in! A complete anti-theft system is proposed with the high class model.
• MOVE 'N SEE Classic (entry level model, no camera, no tripod): £780
• MOVE 'N SEE FullMotion (high class model, no camera, no tripod): £1560
• Pack with quality tripod and mid range camera starting at £1214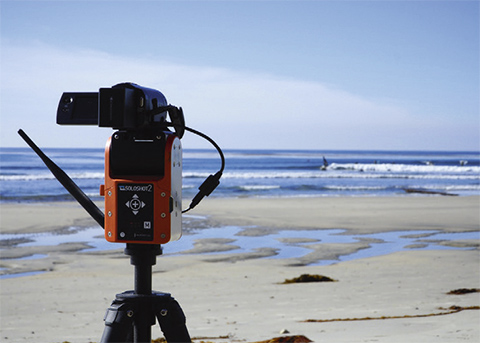 SOLOSHOT2
Introducing SOLOSHOT2, the newest and most advanced robot cameraman! SOLOSHOT2 automatically pans, tilts, and zooms to keep your camera pointed at you, from a distance, with NO camera operator. Simply set up your SOLOSHOT tripod, attach your camera and film all your outdoor exploits. Users can also link multiple SOLOSHOT2s together to to get multiple angles and track multiple transmitters simultaneously.
RRP £335
www.getsoloshot.com

Q-CAMZ Q-ECO
The new ultralight mini Full HD 1080p sport camera combines to compact design of the original Q-HD with the performance for the former range topping Q-FHD action camera. Q-ECO FHD is now the ultimate lightweight waterproof and shockproof Full HD 1080p camera. With Q-FHD ECO you can go for it! Ultra-light (94gr), waterproof (10m), enclosed in an extremely rugged aluminium housing with a compact size (86x30mm) – designed to survive even the most extreme situations.
RRP £89 (including the complete mount kit for cycle and surf)
www.roho.co.uk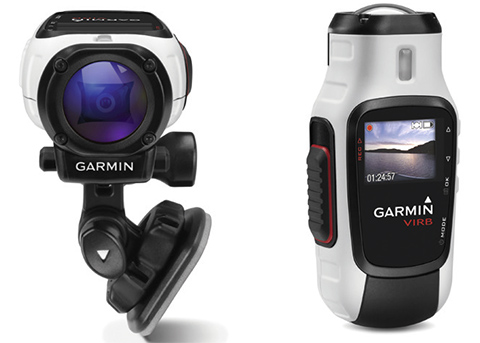 Garmin VIRB Elite
The VIRB Elite is a true HD 1080p action camera that combines enhanced HD video recording with Wi-Fi capability and advanced GPS functions like preset recording profiles. VIRB Elite features a built-in 1.4" Chroma color display that stays on when the camera is on, but uses minimal power. The display lets you easily setup/preview/playback video and adjust menu settings without detaching it from its mount. Record at 1080p for up to 3 hours with the rechargeable lithium-ion battery.  The WATERSPORTS bundle includes;
VIRB Elite, Adjustable Mounting Arm Kit , Mount Base Kit, Curved/Flat, 5 atm Rugged Dive Case, and a MicroSD 16GB Memory Card.
RRP £379.99
www.garmin.co.uk/onthetrail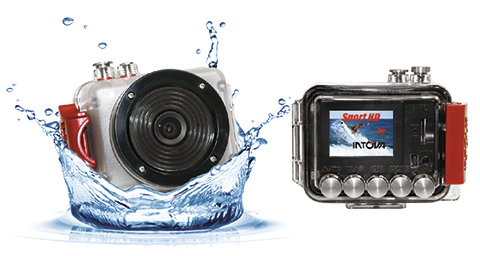 Intova Sport HD2
Small and compact, Intova Sport HD II (SP1 N) offers full 1080p High Definition Video with a 140° wide angle lens. This design allows the maximum view angle without the significant distortion found in wider lens  angles. Sport HD II supports Micro SD card up to 32GB. s. . Its flat design allows seamless operation above or below water. Waterproof to 60m / 200 feet, the housing includes buttons for full camera control in any environment.  Intova offers a full system of mounts (sold separately), specifically tailored for a full range of activities and interests.
RRP £159
www.intova.co.uk