Tweet
RHODES RESORT REPORT
Far from being a Greek tragedy, the town of Ialyssos in Rhodes is a windsurfing paradise. Peter Hart explains the attractions and Juergen Niens and Bertrand Crausaz give the local lowdown. 
Words  Peter Hart, Bertrand Crausaz // Photos  Rob Whitely, Peter Hart, Bertrand Crausaz and Morten Knudsen

There can't be many places in the world where the transition from aircraft to planing is that quick. The Pro Centre in Ialyssos is 15 minutes from the airport. Our flight last week landed at 4pm and by 5, we were skipping across the azure waters on 5.2's. We sailed for 2 hours (they don't shut up shop until 7). Desperation drove my group to push on until they were hauled from the water screaming. According to the Guru of Wind, that was to be the last we'd see of the wind for the week. I wasn't that worried. This was my 5th June clinic to Rhodes and I can count the windless days on one hand. Sure enough, by the afternoon of the next day we were planing on 6.5's. By the end of the week the group were pleading for a rest having planed every day – the last 2 on 4.2's.
Rhodes is a consistently windy place. Jurgen, the co-owner of the Pro Centre, explained that thanks to a concrete development in the far corner of the bay, which heats up to boiling point, Ialyssos gets its own thermal when all around is calm. The sea conditions are what are commonly known as 'real world.' You can head for the flat water paradises and learn to gybe, only to return to the chop of home to find you can't. In Ialysos, the wind blows pretty much dead side shore from the left, all the way to the beach to leave rolling chop on the inside and smooth swells away from the shore. When the wind kicks in above 20 knots (as it frequently does) you can get a ride-able wave. It's also a brilliant place to learn to jump and loop. Dave White, who ran dealer meetings there for years, says it's like Clacton (in a good way),  except 20º warmer and with Photoshop blue water. The accents are also far kinder on the ear.
" Iallysos ticks more boxes than most people have boxes to tick '' Peter Hart 
So much of windsurfing is tactical. Gybing is as much about knowing where to do it as how. My groups embrace the lumps, which they say adds an all important dimension. When they learn a move in Ialyssos, it stays learned. It's not hard to sail there. The lowest intermediates are giving it a good lash. But it makes you work. There's a hint of a shore-break and a gentle downwind current that makes you speed up waterstarts and hone your pointing.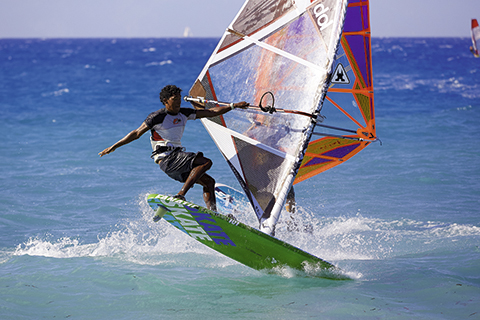 The Pro Centre is run with precision and efficiency and the North/Fanatic/Gaastra/Tabou kit (with JP and Pryde as an option 100m further up the beach) is immaculate. In peak season they rent out over 100 boards. Sounds frantic but the sailing area is huge. Jurgen's partner Bertrand says that many choose to avoid July and August because they think it will be busy – and as a result it's often less busy than June (when flights are also cheaper).
Ialyssos lies at the urban, more lively end of Rhodes and overlooking the coast of Turkey. When a couple, just one of who sails, go on a windsurfing trip, it's rare that both have an equally good time. Here they have a good chance. Last week culture vulture Pauline, walked about 30 miles a day taking in the extraordinary history of Rhodes town. Polly did about 50 metres, remaining horizontal with a fine book on the sheltered lawn of her bungalow, which overlooks the sailing area; and from where she can keep an eye on her husband Nick.
We stay in the Blue Horizon hotel right on site. It's clean and comfortable if a little generic. Hence we forgo the full board deal and opt for B and B.  Away from the sports bars and a further 10 minute walk into old Ialyssos town, nestle some classic loal Tavernas. On the last night we crawled from one having been fed about 10 fresh, home-cooked courses and drank the place dry for €12 a head.  And what's wrong with it? The smooth pebble shore-line is a little uncomfortable under bare feet, although the boys have laid carpet right up to the water's edge; and I narrowly avoided a €500 fine from the water-borne local police for sailing bare-chested. You're supposed to wear a buoyancy aid, or at least a rashie. I guess they have to make up the deficit somehow… For me clinics must be more holiday and less boot camp. The wind and sailing are crucial but it's also essential to have pleasant surroundings offering a variety of alcohols and a comfortable place where you can sit and exaggerate about the day's events! Iallysos ticks more boxes than most people have boxes to tick.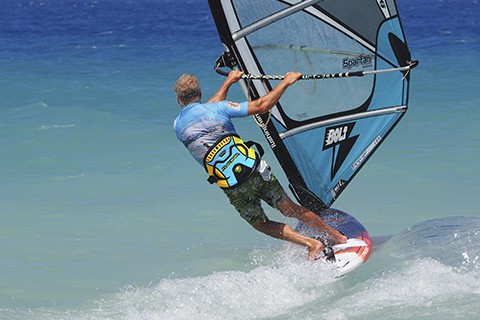 Pro Centre RHODOS
Juergen Niens and Bertrand Crausaz have 3 centres in Iallysos running for over 28 years, we asked them for their big fat Greek guide.
Location
Iallysos is a top destination where you will find all the facilities you deserve for a perfect vacation. The sailing spot is situated in the centre of Ialyssos, a welcoming traditional village with a beautiful promenade inviting visitors to stroll along the hotels, colourful shops and to explore lively bars and restaurants waiting for you do indulge yourself in delicious Greek, International and fusion cuisine. Wandering, chilling, dining, dancing or whatever you feel like after a hard but fulfilling day of windsurfing, is all possible.
Ialyssos itself is small but picturesque and nestled at the foot of Filerimos Hill, the site of an ancient acropolis named The Temple of Athena Polias (do not miss the panoramic view from there!). Ialyssos is situated at the north-west coast of
Rhodes, only 15 minutes from the airport "Rhodes Diagoras". You can reach it within an average flight time of 3 hours from most major European airports.
Wind
The Pro Centre Rhodos is well-known for the Meltemi a thermal wind offering you a constant perfect side shore wind from 16 to 25 knots. In July and August, there is a 95% chance of planing conditions, in June and September there is still about 80%.
Centres
We have three centres to match your respective needs. The biggest one lies at the front of the beautiful Blue Horizon Palm Beach Hotel, the second one lies on the other side of the hotel, with the third 500 metres away at a slightly more wind-sheltered location known locally as Windmill Beach. The centres offer you the latest windsurfing equipment by Fanatic / North as well as JP Australia and Neil Pryde and Tabou/Gaastra. The friendly international service team eagerly welcomes you and is happy to provide you with customized support for finding the right gear.
Our centres open on the 24th April and close on the 24th October.

Pro Centre 1 holds a huge range of the latest 2015 Fanatic & North Sails equipment. Opening at 9 o'clock in the morning and closing at 7 o'clock in the evening, you are given plenty of time to explore the wind and crystal blue water, improve your skills and test out the latest kit. We store 3.4 – 8.2 rigs and all our masts are made of 75% carbon. Along with boards and sails, you can also rent harnesses and wetsuits but in the summer months, board shorts and a rash vest will do.  Once you have arrived and checked in, we welcome you to join us for a quick tour into how the station operates. We care for your safety: our Baywatch tower is manned throughout the opening hours of the centre and our professional team will be eager to help you to prepare your gear, assist you and always have a handy hint.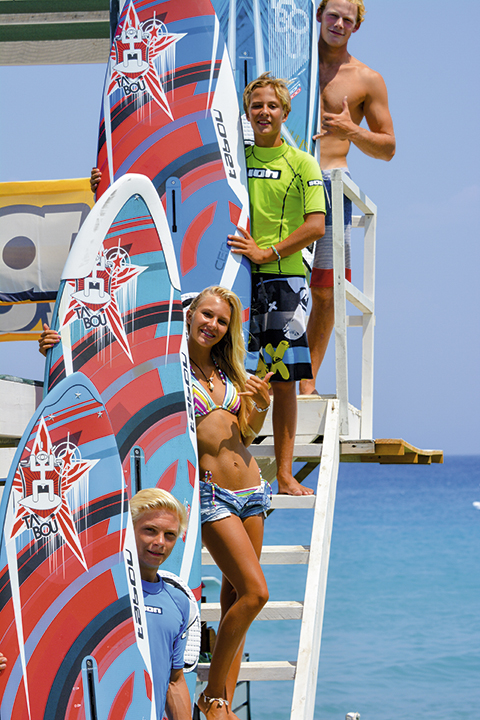 Pro Centre 2 is only 100m to the left of Pro Centre 1 and has a range of the latest JP and Neil Pryde gear. Choose from more than 70 boards at our centre located in beautiful palm gardens and only 30m from the sea, allowing you the opportunity to change your sail in a very short time!
Pro Centre 3 known as the Windmill Centre is located around 500 metres walking distance from Pro Centre 1. This centre provides perfect learning conditions for beginners as it is sheltered from the strong winds and waves of the bay. At this station we provide you with the latest equipment by Tabou and Gaastra, renewed every year. You have access to more than 50 boards of every size and type with sails between 1.0 to 7.5. Again, you will find the Windmill centre situated less than 30m from the sea. If you want peace and quiet, this centre offers a more chilled out atmosphere!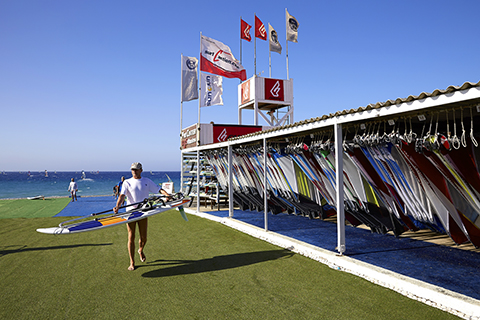 Storage
The 3 centres offer you the possibility to bring your own gear. Please ask for our package including the transfer of your equipment from the airport to the centre and other services such as the Baywatch tower and water rescue.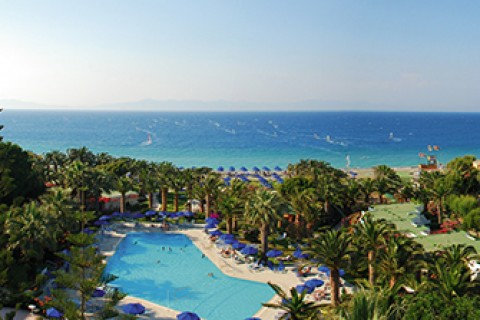 Accommodation
The 4 star Hotel Blue Horizon, one of our partner hotels, is perfect if you prefer a room with an ocean view. The hotel welcomes guests of any age and is equipped with a swimming pool, a patio, a volleyball court and a tennis court. A friendly and enthusiastic team is happy to offer you various sports and leisure activities. (dolce far niente ..Aka doing nothing!  is warmly welcome too of course.) If you prefer more private rooms or apartments, low budget or luxury hotels, do not hesitate to contact us. We shall happily try to find accommodation tailored to your wishes and budget.
And what if there's no wind?
You will have a hard time to get bored on the pretty island of Rhodes even if the wind is too light for windsurfing. There is a variety of sightseeing spots and excursions for you to enjoy, literally from Alpha to Omega. Visit the butterfly valley, the water park, or the UNESCO world heritage site of the famous old town of Rhodes, the oldest continuously inhabited medieval town of Europe. Once in Rhodes you feel that every stone tells a story. Rent a bike or book a bus tour for exploring the beautiful landscape, little villages or historic sites of the island. If you want to stay in the water, you can take a snorkel trip through one of the hundreds of beautiful coves in the morning and be back in time for your afternoon windsurfing session.
Before you starve after a long and active day, ask the team at the centre where to enjoy the best local Greek cuisine.
Special offers
While Northern Europe is preparing for the winter season, we are still surfing under the Greek Sun, book now for our End of Summer Special for stays from 27.09 – 25.10.2015. 4* Beach Hotel Blue Horizon, 7 nights Double sea view room incl. HB + 7 days of windsurf rental from 350 Euro per person.
Booking
Find the best package through our travel partner Sportif (www.sportif.travel) or contact us directly at [email protected]
Website and contact
Pro Centre Rhodos
Juergen Niens and Bertrand Crausaz
Ialyssos Beach
Summer phone +30 2241 095819
www.procenter-rhodos.com
[email protected]