Tweet
SEPTEMBER 2014 ISSUE WINDSURF MAGAZINE
The September 2014 Issue of the world's only monthly English-language windsurfing magazine is out now! Subscribe or grab your copy now in either App or Print  versions! (Prices include delivery anywhere globally 10 times a year.)
GYBE-TASTIC – CRACKING THE CARVE FOR ALL LEVELS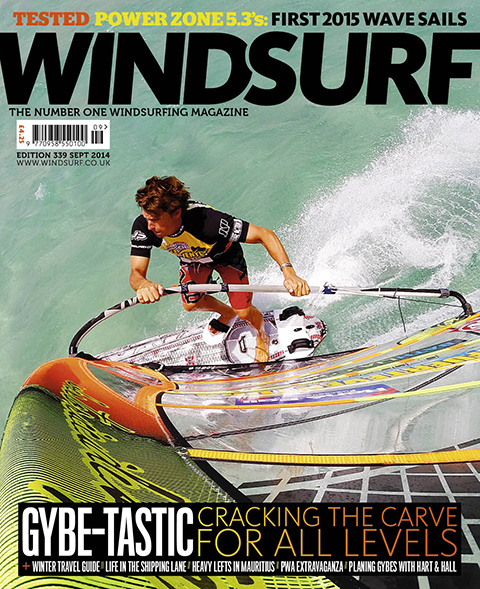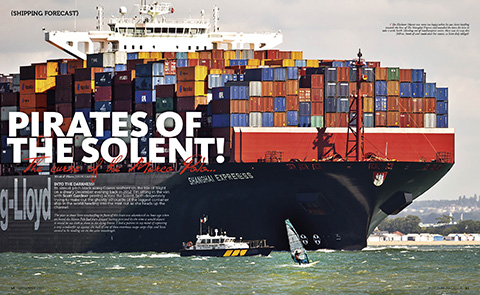 PIRATES OF THE SOLENT
Our very own camera geek, JC, and Isle of Wight local Scott Gardner became more obsessed than train spotters with their pursuit of the world's biggest container ships – and the curse of the Marco Polo in the English Channel.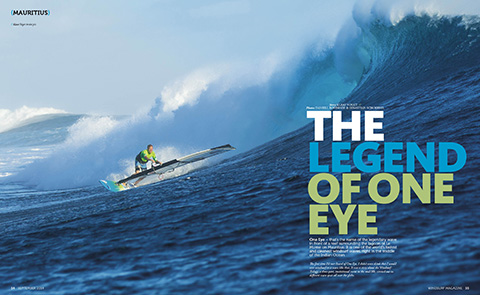 THE LEGEND OF ONE EYE
With the luxury of a sponsor shoot boat, Klaas Voget scored heavy, pristine, turbo-speed surf at Mauritius' famed, bone-crunching break.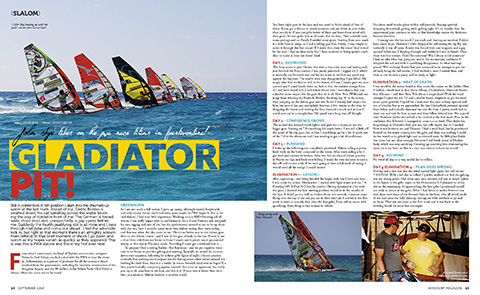 GLADIATOR PIT – FIRST-TIME RACER
John Skye sharpened his fins and became a rookie racer at Sotavento. Read his insider view of being a slalom tour newbie.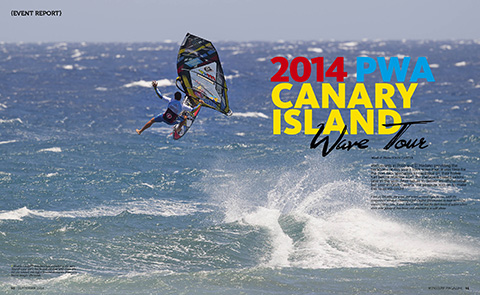 PWA CANARIES WAVE TOUR
There were new contenders, heart-breaking trials and some serious scores to settle in the surf of Gran Canaria and Tenerife this summer. John Carter was on-hand for a first-hand account of all the drama.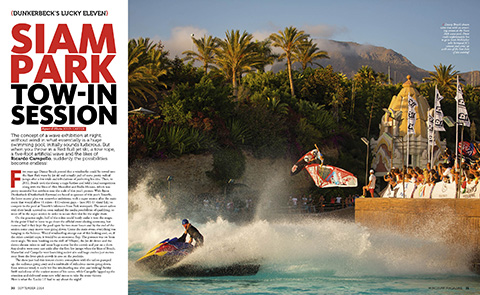 PWA SIAM PARK POOL SESSION
Event sponsor Bjoern Dunkerbeck's 'Lucky 11' qualifiers perfected their jet ski slingshots and went into aeriel battle above the Tenerife wave pool.
PWA FUERTEVENTURA FREESTYLE
More controversy and a jaw-dropping standard left the spectators at Sotavento staggered at the level of modern windsurfing.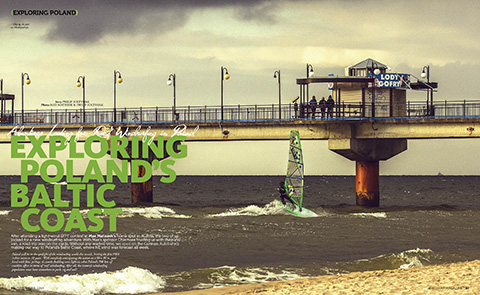 EXPLORING POLAND
PWA Pros Phil Soltysiak and Max Matissek took the road less travelled along the Poland's Baltic coastline.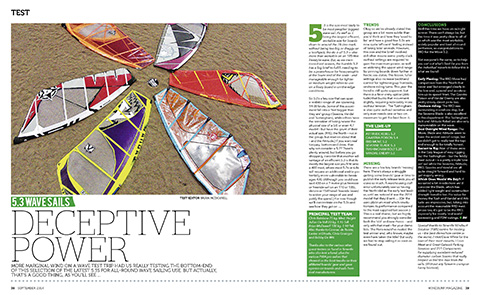 GEAR SHED
5.3 WAVE SAILS – The first 2015 gear was put to the sword against sloppy surf and marginal wind conditions in Tenerife.
TEKKERS – CARVE GYBE SPECIAL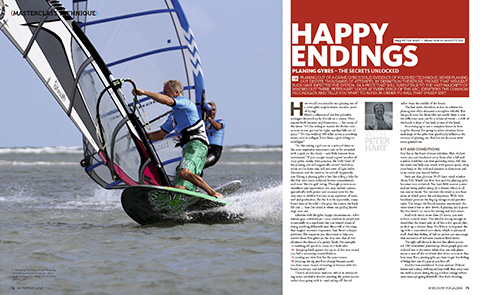 PETER HART MASTERCLASS – HAPPY ENDINGS
With the technique focus on the age-old carve gybe hurdle, rather than a generic 'how-to' guide, Harty focuses on how to exit planing. And we all want that …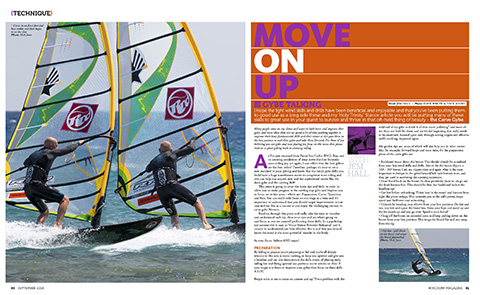 MOVE ON UP – GYBE TALKING
Jem brings a step-by-step overview of the critical phases of that elusive carve gybe.
BOARDSHORTS
LATEST & GREATEST
More 2015 gear to salivate over and all the latest toys.
PEOPLE & PLACES
Right place right time. Catch up on all the best events and destinations to visit.
SITTIN' ON THE DUNNY
EDITORIAL
The great indoors – does fan-assisted windsurfing aid the image of the sport – and does the tow-out, arena-based side of sailing need a makeover?
AFFAIRS OF THE HART
Is it an institution – or just for people that should be housed in institutions? Probably both. Harty assesses the significance of the annual National Watersports Festival.
Get your copy by App or in Print now!