Tweet
SUMMER WETSUIT GUIDE 2015
Summer, we love summer, sea breezes, rigging up in boardies and a few less mm of rubber round our waists. Summer wetsuits are actually one of the best neoprene investments you can make these days. Improved insulation technology means their use can extend into the Spring and Autumn seasons and not forgetting their utility for trips overseas, where the water temperature or just extra protection can warrant their use. As ever, fit is everything with wetsuit buying, so do your research with our selection here and then get down to your local stockist for a try on and some old fashioned 'Suits you Sir' service and advice.
This guide first appeared in the May 2015 issue.
---
Ion Amp 3/2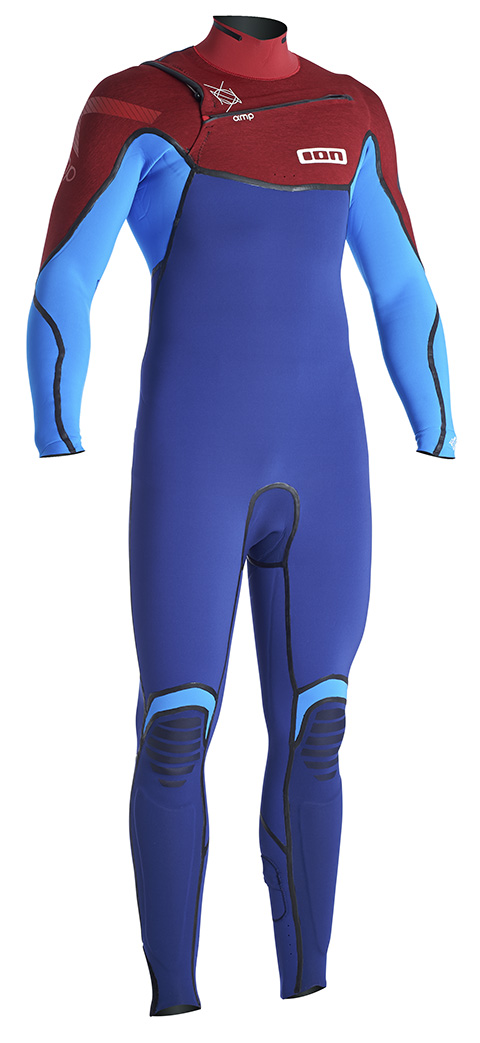 SRP: £239.95
Info: www.ion-products.com
It's different! ''With red mélange on the outside and some stunning features the ONYX AMP is for every rad performer who wants to stand out of the crowd'' say ION. The new Ninja_Knees feature uses the same high elastic material used in the arm panels resulting in an amazing freedom of movement while bending your knees. Additionally K_Type Neoprene pads (Crash_Padz) at the shins protect this sensitive body area against impact injuries. The Onyx Amp also features S_Seal – ION´s approved highly elastic liquid seam sealing glue for outstanding water sealing and even greater bomb proof tearing strength of GBS_Seams.
---
Mormaii Orbixx 3/2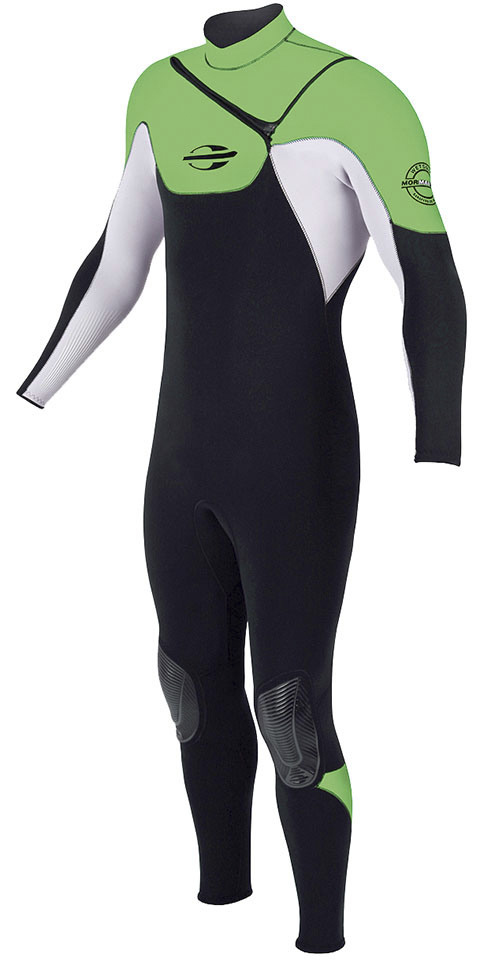 SRP: £149.00
Info: www.zerogravitydistribution.co.uk
Super lightweight, super flexible is what the 3mm Orbixx is all about. ''A suit you can put on and forget, letting you concentrate on nailing the latest move or cracking those gybes. Equally at home surfing as windsurfing, with the power stroke system on the suit arms to propel you efficiently through the water, it is a fantastic addition to any waterman's kit'' say Mormaii. Available in sizes; S/M/L/XL. Features include; anatomic design, Super Stretch X3 in all the suit, seal tape – blind stitched with double seal, Titanium Reflex Technology, chest zipper, Powertex knee pads, key pocket and super light foam.
---
Mystic Majestic 3/2
SRP: £219.95
Info: www.mysticboarding.com
Mystic's all new suit, the Majestic, is packed full of all the technical features of its bigger brother, winter version. With a renewed pattern to maximize the stretch of the suit, it's got a front-zip construction that gets you in and out of your suit faster and adds more flex to the back panel compared to a back-zip model. It's super light, super flexible and features include 100% waterproof 100% stretch seams, the latest M-Flex neoprene for ultimate stretch and comfort and is available in Black or Navy colourways. Be a King on the water this summer with the new Mystic Majestic Fullsuit. In stock now at your local retailer.
---
NP Surf Mission 3/2 Front Zip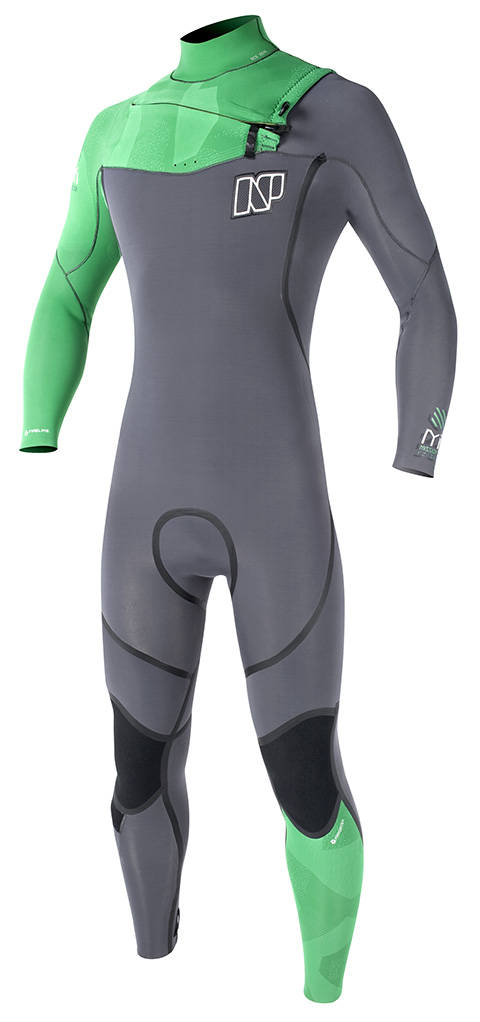 SRP: £249.00
Info: www.npsurf.com
'Redefine the concept of motion' say NPsurf. The Mission FZ is built for unrestricted freedom of movement and superior warmth. Designed for multisport use, it is constructed from 100% Apex Neoprenes and loaded with features such as the ultra-warm Fireline insulation and P-Skin taped seams, providing the ultimate combination of warmth and flexibility. Other features include Bamboo Charcoal fibres woven into the wetsuit lining for their anti-odor and antibacterial, warming and energising properties, SCS Neck seal, Armortex 4-way stretch knee pads, key pocket, ankle cinch loop with detachable ankle cinches, glued and blindstiched seams and griplock wrists and ankles.
---
O'Shea Cyclone 3/2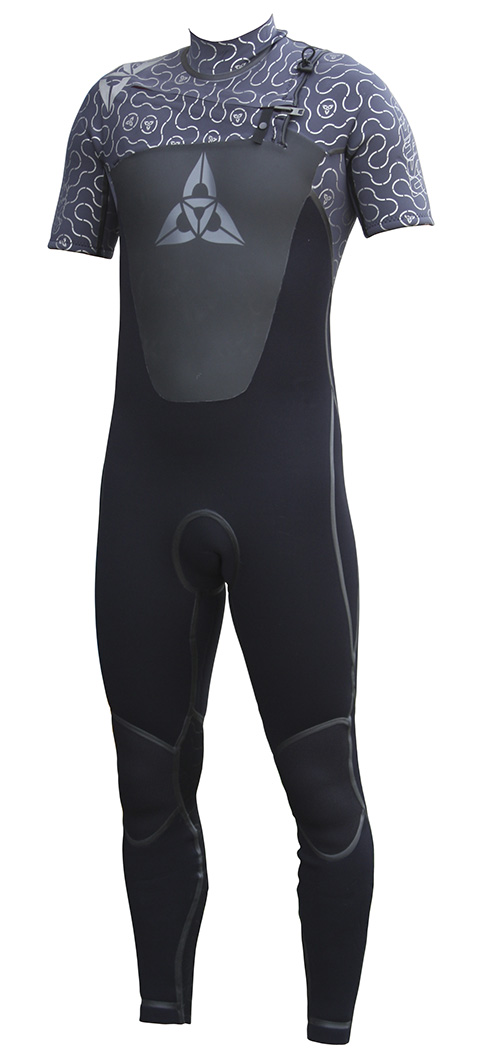 SRP: £139.00
Info: www.osheasurf.com
O'Shea describe their mission as ''To produce the best wetsuit to insulate the rider from the worst conditions possible''. The Cyclone 3/2  is, they claim, ''A no compromise design with a perfect 360 anatomical fit, combined with ONLY the very best materials available today! The O'Shea premium wetsuits are made exclusively from 100 percent limestone based neoprene, the ultimate in stretch, warmth, fit and durability. The Cyclone 3/2 also uses Mitsu seam tape technology, making it very warm for a given suit thickness. We are one of very few companies using this material and technology in the global wetsuit market''
---
RRD Celsius Pro 3/2 Chest Zip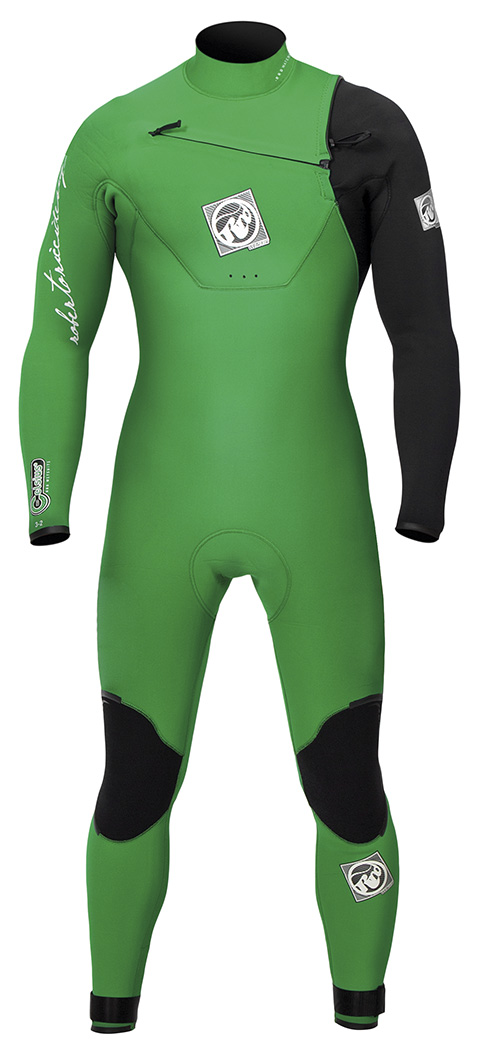 SRP: £278.00
Info: www.robertoriccidesigns.com
The Celsius offers, RRD say, ''Extreme flexibility where pattern design is combined with market leading neoprene. Fully made with Superstretch limestone neoprene, the very best material available today, the Celsius Pro is the wetsuit made with the lowest number of panels in the RRD collection. Less panels mean more flexibility. In addition, it is fabric taped inside only on stress points for maximum flex and liquid taped only on side legs and kneepads for antiskid protection. Other features include glue and blind stitched airtight seams and 100% built in SuperStrech neoprene with 4 ways stretch back panel.''
---