Tweet
THE ROAD WEST TRAVELLED

The West coast of Ireland has one of Europe's wildest coastlines that has long drawn artists, writers and surfers to its shores. The Motley crew enjoy a stellar day of Irish Atlantic action along with the inevitable Motley mishap and learn what has drawn some of the local crew of windsurfers to make their home out west.
Words & Photos JOHN CARTER
(This feature originally appeared in the October 2015 issue of Windsurf Magazine. To read more features like this first, Print and Digital subscriptions are available. Prices include delivery globally for 10 x issues a year!)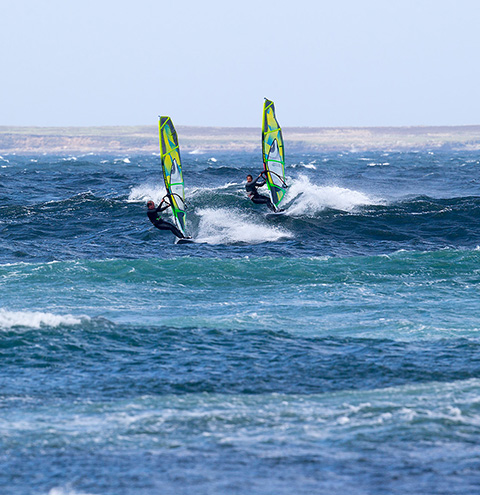 Thibault Peigne and Andreas Mohr sharing the swell.

Artist Graham Reid and pilot Mike Scott trade waves in their adopted home.

Mayday – emergency!
"Mayday, Mayday, Mayday, this is the Motley Crew, err I mean Timo Mullen and John Carter. We are camped out on a remote beach on the North West coast of Ireland and are in desperate peril. It's wall to wall sunshine, the wind is howling 40 knots perfect cross off, the swell is picking up by the minute and Timo has forgotten his harness. I repeat, Mayday, Mayday, Mayday, this is a dire emergency!!! Please somebody help us"
You really need to know Timo to realize how much of an utter disaster this situation was. Somehow in a moment of confusion back at his parent's house, a bag containing his wet suit and harness was mistakenly removed from our car and left in the kitchen. So after leaving home at 3am, driving from Poole to Bristol, flying to Ireland and driving a further two and a half hours to the beach we were finally on location. Timo was truly frothing at the conditions and was rigging within moments of checking the waves. With barely a cloud in the sky, the wind cross off from the south west and just a hand-full of guys out, this was indeed setting up to be a special day in Ireland. As you might gather, you have to be pretty committed to make such a journey just for a days windsurfing, but for Timo, these are the days he lives for. There is something etched into his DNA that says he has to be on it, he can't miss out and will go to extremes to track down perfect wave sailing at all costs. So therefore to be in this ridiculous situation where we had gone to all the effort and then be without the essential harness and wet suit was nothing short of torture for poor Timo. 
So what do next? I actually had a Mystic wetsuit in my bag so the problem was half solved although Timo had just moved over to ION suits courtesy of Nik Baker so it was not an ideal situation. No phone signal was the next problem but there were a couple of guys out on the water and there was a possibility that they might have a spare harness and at least Timo would be able to sail. Timo was prepared to hit the water without a harness and see how long he would last but the wind was picking up even stronger and the guys on the water looked to be headed in to change down to small sails. To cut a long story short, Timo was saved by the cavalry, with the local crew of sailors on hand sourcing a spare harness, while we managed to contact his Dad, who heroically drove the aforementioned bag, with suit and harness all the way to the beach in perfect time for the afternoon session. Luckily the coastguard was not required! 

Perfect day
It turned out to be one of those few and far between sessions when all the elements combined together to make it a day to remember. Unbroken sunshine, relentless wind and countless waves and all with just a handful of sailors out on the water on a beautiful May day in Ireland. It truly was one of those rare occasions where if you were lucky enough to be in the right place at the right time then it was like finding that elusive pot of gold at the end of a rainbow. For Timo, years of scouring this coastline meant it was no accident he had honed in on this particular beach on this particular day. All the signs were there on the forecast and it was just a matter of making sure he was in location to be on the receiving end of the conditions to make the most of it. As for the other local sailors on the water, they were equally tuned in to the weather to reap the rewards of this magical Irish day of wave sailing. We caught up with them to learn their thoughts on the day and how their lives working and playing on this coast have come about.
" Everyone was maxed-out but the sun was shining and with the dropping tide the sets were getting heavier and cleaner "   Katie McAnena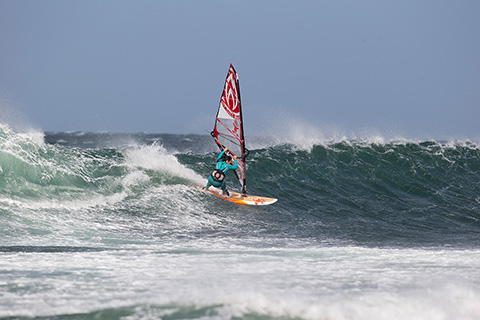 Dr Katie McAnena – overworked and overpowered but happy out west.


Doctor's note 
Katie McAnena – Doctor.
''I'm a doctor working full-time in Sligo General Hospital. I've been here for the last 18 months and I am loving it. I chose to work and train here because it's right beside some of the best surf in Ireland. It's the only Hospital in Ireland where you can see the surf from the windows on the wards! It's 2 hours up the road from my home city of Galway so it's super close to home too. So many of the doctors who work here also surf and chose to come to Sligo to strike the best water/work balance they can. Work in the public health sector in Ireland is super tough, regardless of the discipline. I usually work 70 hours per week and every 2nd or 3rd weekend. This is standard across Ireland, so it makes finding time to train and compete really difficult. I'm so insanely fortunate to live in Sligo because it simply takes away the time wasted through driving. I surf and SUP probably 4 days a week at least and with the long Northern Hemisphere days in Spring to Autumn, I can often get out on the water both before and after work. I live in a small surf village called Strandhill. It's perfect!! It's at the base of a large hill called Knocknarea which is ideal for hiking and cross-training when the water's flat. The beach is 200m from my doorstep along with the local pub, surf cafe, shop and seaweed baths…what more could you want?! There's also a classic collection of locals and ex-pats from the UK, Oz, New Zealand and South Africa. Windsurfers around these parts are few and far between but the crew who do sail and live here are awesome! 
On this day I'd finished work and scrambled to the van to hit the reef which is only fifteen minutes from the hospital. I knew all the local boys were out sailing and that Timo had flown over with JC but more importantly that it was sunny and warm and there was wind and waves to be had. A rare old combo here in the North West of Ireland! I rigged my 4.3 Hot Sails Firelight and my 69L Starboard Quad and stumbled down the grassy cliff to join the fun. My anticipation and excitement was quickly dampened by the fact that I was insanely over-powered! I was getting flattened by the gusts and couldn't help but hydrofoil and catapult repeatedly. So'eager as you like' I came back in re-rigged and ignored Timo's advice to don some booties. Big mistake. Note to self, Timo doesn't always wear booties but when he does I should too! The tide was dropping out fast making the waves more punchy and hollow and with that the reef sucked dry and I got to endure the tortuous clamber over jagged/slimy/pointy rocks. Graceful as a newborn elephant on roller skates!. I'd rigged my 3.4 at this stage and I definitely needed it. Everyone was maxed-out but the sun was shining and with the dropping tide the sets were getting heavier and cleaner. Timo was busting out some big aerials and hacking away at the biggest sets. Andreas was a total tour-de-force. I'd never seen him sail so well! He knows this reef and it shows, I was stoked to see him sailing like this. I on the other hand didn't have my finest hour. It was the classic combo of sailing a spot for the first time and being wrecked from work, but it didn't matter, the sun was shining, the reef was firing, I was with some of my closest friends and I was only twenty minutes away from my own shower and bed. Magic!''

High Flyer
Mike Scott – Helicopter rescue pilot.
''I've lived in Strandhill, Sligo for 8 years but am originally from the UK. I work for a company called CHC who supply the search and rescue helicopters to the Irish Coastguard. I'm based at Sligo airport. We work a 24 hour shift pattern that allows a fair amount of free time during the week for sailing and supping (All sailors know there is more wind during the week than at weekends). There are not many sailors locally and those who are, are 'blow ins'. We tend to try to stick together but we have differing needs; one lad won't get out of bed if it is less than logo high, while I get scared when it gets above waist high. We are fairly flexible which is essential here. The forecast is often a long way out and the 'good' spots can be quite fickle. This May-day was special because it was windy and sunny; a very rare combination here. There was also a full turn out of local lads and lasses; five or six on the water is a rare pleasure. I turned up having had about two hours sleep due to work, and met you guys, who had had one hours sleep, so stopped feeling sorry for myself. 
What was great for me that day was it was windy, but the swell was manageable.  Often at this spot in the winter it is huge and almost unsailable (unless you are Finn). It is also quite unusual to get the wind blowing from the right direction for there. It also blew for the whole day which meant I had to make an emergency call to the missus to get her to pick the kids up from school! The day was rounded off with a debrief in the local pub. A German, Frenchman, South African and Brit sitting in an Irish pub not complaining about the weather; very rare indeed. That's the most I've written since I left school!''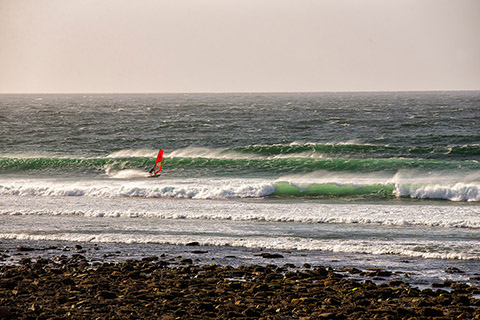 Wild and windy, Timo enjoying the perfectly lined up waves in the west.


Artist in residence
Graham Reid – Artist (www.grahamreiddesign.com).
''I'm a sculptor and glassblower originally from South Africa. My great grandfather was from Cork so I came for a visit and fell in love with the wild West coast. At that time the perfect waves were almost deserted, so I bought a two hundred year old derelict cottage and started blowing glass. It was the perfect place for a home base to travel the world and go surfing and sailing. Because I work for myself I don't have a fixed routine. I generally check the charts in the morning and either go surfing or sailing, or stay home and work in my studio. Being a wave sailor as well as a surfer means there are so many more surfable days in these very changeable weather conditions. There are only a few other hardcore sailors on this stretch of coast, so we are a tight and friendly crew. There are many days in the depths of winter when I'll be the only one out, so I'll call one of the other guys and ask them to come looking for me if I don't report back. Mike is the best guy to call because he flies the rescue helicopter!
The spot we were sailing is one of our favourites, but very fickle. If you look at a wind graph for the year, you'll notice that perfect cross off is rare. If you add in tides and the need for proper ground swell, you have to be local or willing to travel long distances at a moment's notice like Timo does to score this spot when it's on. This particular day was special because it was sunny and most of the local crew was out, so it felt fun and playful on an often wild coastline.''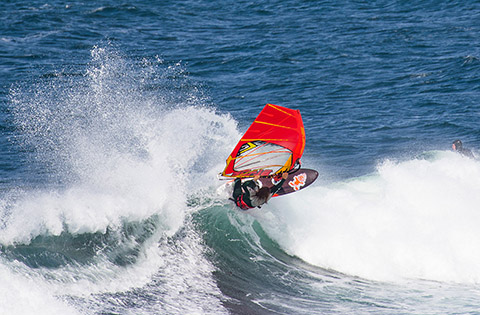 Finn Mullen, not at work! but on days like this who can blame him – certainly not the editor!' Photo Ronan Oertzen


Le boulanger
Thibault Peigne – Organic bakery owner (tartine.ie)
''I grew up on the West Coast of Brittany (FR), where water sports are part and parcel of daily life. After studying in the UK and working/windsurfing in South Africa for a number of years, I came to Ireland in 2005, in search of work and waves. Little did I know that I would fall in love with baking (sourdough) and a lovely Irish girl. I live in Dublin so sailing on the west coast involves a 500 to 800km round trip, many nights on a couch and many hearty meals after long and cold sessions. You make good friends very quickly rescuing each other in these cold waters! Windsurfing in Ireland certainly requires patience and a lot of driving to find the perfect spot when it comes to actual conditions vs forecast, but sailing those waves with the rugged Irish landscape in the background is just magic!  I haven't been in the water much the last few years, as I was busy setting up my bakery; so that spring session on one of my favourite spots, with pretty much everyone there, felt good. Thankfully the bakery is looking after itself and I am already plotting my next trip west!''


Rad radiologist 
Andreas Mohr – Radiologist
''I work as a Radiologist but surfing and windsurfing are my passions. In 2007 the search for the right place brought me from Germany all the way to the NW of Ireland. I never regretted the move. All I need is right in front of my doorstep here in Ireland. This guarantees lots of quality water time all year around with  like-minded friends and a simple good life. I can't believe Timo just turned up out of the blue on such a perfect day. We scored quality waves, wind and sunshine all together and I can tell you that is a pretty rare combo on this extreme stretch of wild Irish Coast. When this spot is on it is like a ski lift, just without a queue. Friends cheer at each other while riding solid stuff; yep that is total bliss and why we all live here!''
" Days like this when the richness of the natural surroundings blend with the excitement of our sport yield a feeling of contentment that only a windsurfer could define as paradise " Finn Mullen


Editor's explanation
Finn Mullen – Editor..sometimes..if it's not windy!
''I'm sure anyone who studies windguru must think the west coast of Ireland is a cold water windsurfing paradise. It is, but not for the wind. The mountains that fringe the shores here make for inspiring vistas but often can lessen the wind strength, much to surfer's delight. Other times storms can be so ferocious that it just isn't safe to sail. What makes here a windsurfing paradise though is the people, the peacefulness and days like this when the richness of the natural surroundings blend with the excitement of our sport to yield a feeling of contentment that only a windsurfer could define as paradise. There's times you wonder in the depths of bitter winters why you live here, then there's times when the wind and Atlantic swells rise that make you wonder why you'd live anywhere else. We all wander, but when the West calls we all find our way home''


TIMO'S TALE
Timo Mullen – Professional Windsurfer
"The west coast of Ireland is a really special place. Sam Ireland from Canada was the first guy to sail this spot many years ago, since then myself and Finn have sailed it quite a bit, but it is sensitive to the wind direction, swell size and tide so we only really score it a few times a year. This day was one of those lucky times. The conditions were pretty perfect, not too big and plenty of wind, normally this spot is either onshore or no wind and raining, but this was side off and howling, it was like a skate park with waves linking all the way from the way outside point to right in front of where we park, roughly a 300m long ride!! You are literally shattered at the end of each ride.  I was on my smallest gear which is so rare here, it made everything a lot easier, Starboard really have come up trumps with the 74 Quad! It's great now to have a good solid local crew at the spot which means you no longer have to brave the elements on your own, which on a cold Irish day is warming to the soul!"  
" The West coast of Ireland has one of Europe's wildest coastlines that has long drawn artists, writers and surfers to its shores "