Tweet
TIREE BWA EVENT REPORT
Had a fantastic time in my first BWA comp and finished 6th in the ams out of a fleet of 10. Everyone was so nice giving me lifts around the island as
I was without my own transport! Such a top week, had 2 decent windsurfs and countless surfs on the very cool island! Cannot recommend the week highly enough, bring on the freestyle champs next week – turns out competing is addictive!
Day 3.
With the forecast looking like a large swell coming in later on the (Tuesday) evening and staying until early Thursday we chilled in the morning waiting for the waves to arrive. Later on at Balevullin the swell arrived we had a brilliant 'head and bit' high session until it was too dark to see. Was really fun surfing with everyone involved with the comp.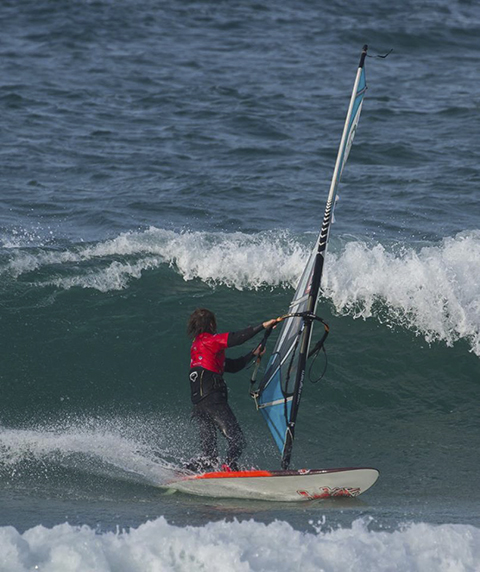 Day 4. Mega day.

We went to several different beaches from first light to finally decide on the Maze as the contest beach as it was cross shore 15 knots and head to logo high sets were rolling in. I rigged my 5m Bolt and 82 Kode ready for contest. My first heat in the single elimination was against a chap called Ruben and I went out to see what I could do. I got a few decent waves and tried to make the most of them as much as I could. My opponent had the better of me here and beat me, that was the end of the single elimination for me! With rumours of a double elimination and a chance to go again I headed off downwind for some training. When I got back to the main breach for the double, I realised that I had left my watch in the van and had wayyyyyy over done it training so was shattered! My first heat was against Tris and George and I was determined to make it through! Thankfully I did well and went straight back out into my next heat full of fire. I was sailing against Tris, Ruben and Mike, and waited for the best waves of which to my advantage really opened up! Being so light the conditions really suited me and I was able to win this heat! After watching a heat I was back out on the water, now with legs and arms full of cramp, and did my best against Tris to see who would windsurf against the finalists from the singe. After a fair few workings (the Bolt is definitely well indestructible) I was beaten by the better sailer and that was the end to my windsurfing for the day! Safe to say that after my first day of competition I was pretty stoked about finishing 6th!
Day 5.
Another early start to finish of the super final between Ben and Scotty for the ams, and Daniel and Graham in the masters, it was a joy to watch the brill sailing from all! There was still enough swell and wind to go out for a sail. There was only 5 of us out despite being head high clean and 10knots cross shore, perfectly float and ride-ably. Had a brilliant time, a great final sail for a fantastic week! Back to the lodge for a couple of beers and packing. I have to say I am very, very glad that I accepted the offer from Sam to go up for the event! And it really really goes to show how kind and welcoming the windsurfing community is! Big thanks to everyone especially Ben, Andy and Phil for the lifts!! Cannot recommend the week highly enough! Bring on the next one!!