Tweet
BUYER'S GUIDE 2015 – 2016
Words  Finn Mullen  Photo  John Carter

After one of the coldest summers in recent years it's time to don the armour for winter and prepare for the cool water battles ahead. Advances in wetsuit technology have meant we can enjoy even more the windy months of winter as the latest lines in neoprene insulate us from the wildest weather to even greater degrees. We take a look at some of the brand's latest offerings but before that we thought we'd hook up with Ian Gregorelli and the crew of Boardwise, one of the largest wetsuit retailers in the UK, to learn more about the current market.
"There's a definite trend towards double lined, chest zips and if you need more warmth, to layer underneath" commented Ian. Spurred by the trend in the surfing community for faster drying, lighter and more flexible wetsuits, double lined suits have become popular even amongst the windsport community. With the greater stretch in modern materials, getting in and out of chest zips no longer requires a black belt in yoga and the benefits of a front zip in terms of warmth (less water ingress) and greater freedom of movement make this more than a trend and offers real benefits to an ever increasing number of windsurfers. The quick drying materials in modern suits should not be overlooked either, one of the major benefits of these suits is not just a drier suit in the morning but the fact that they are physically much lighter as they retain less water and are thus less tiring to wear over a session. If you haven't  tried one of these new generation suits, you will be surprised at just what a difference this makes. Another trend Ian noted was the surprising number of people opting to insulate over wetsuits by buying an oversized rash vest or thermal top to place over their wetsuit and reduce wind chill. I myself am an advocate of impact or flotation vests to wear on top on very cold days with the foam on same offering insulation as well as buoyancy. As windsurfers we deal more than any other watersport arguably with the perils of wind chill and here single lined suits have long reigned supreme. Offering an innovative solution to wind chill this year is NP who introduce their new Armor-Skin material, which they say combines the durability and warmth of a double-lined wetsuit and the wind-chill protection of a single lined mesh suit. Whatever the brand or type of suit you decide to buy, the team at Boardwise had some sagely final words and a timely reminder of the value in visiting a well stocked and expert retailer over buying blindly from a website – "The suit that fits you best is the suit you should buy!".
This guide first appeared in the October 2015 issue. For more info and advice please log on to www.boardwisecannock.co.uk
---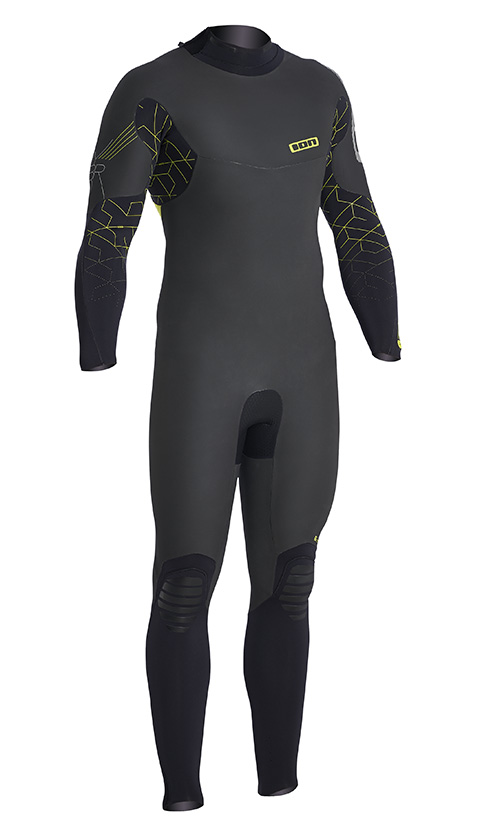 Ion Hybrid Amp 5/4
SRP: £279.00
Info: www.ion-products.com
This suit delivers all-round performance: optimum wind chill protection and outstanding warmth where needed but also great flexibility. It merges the former skin suit ION Quantum with the Hybrid line. In addition ION increased the amount of skin around the side of the torso and shoulders.
The Ninja Spine & Ninja Knee gives unstoppable flex by incorporating a small striped insert between the back and the buttock panels, the knee and the upper leg, whilst the single seam design of the lower leg increases durability and stretch. Also the Water Gate construction has been updated for superb water resistant sealing.
---
 
Mormaii Windsurf 5/4/3 
SRP: £249.00
Info: www.zerogravitydistribution.co.uk
The Mormaii Windsurf is one of the few suits on the market specifically designed around windsurfing. With smooth skin on the body, arms and calfs to reduce wind chill and reinforced high wear areas such as knees. The suit also has super stretch X3 material in key movement areas to reduce fatigueand increase range of movement. It has an internal waist coat to minimize any flush and is made out of superlight foam to keep the weight of the suit to a minimum. Other features include blind stitched, anatomic design, Zipper® with handle of inoxidable steel and powertex knee pads.
---
 
Mystic Majestic 5/3
SRP: £279.00
Info: www.mysticboarding.com
The Majestic combines the best in Soft Touch neoprenes offering the ultimate warmth and stretch, with 100% waterproof taped seams, to create a suit that flexes in every way you would ever need, keeps you toasty out on the water in any conditions, and keeps the water out! The Majestic has 3 colour options choose from subtle Black, intense Army or a brighter Coral/Navy! Grab the Mystic Majestic suit this winter and be a king without a crown! Front or back zip available. Other features include key pocket, Aquabarrier, Glideskin thin neck construction and 100% GBS (Glued Blind Stitched).
---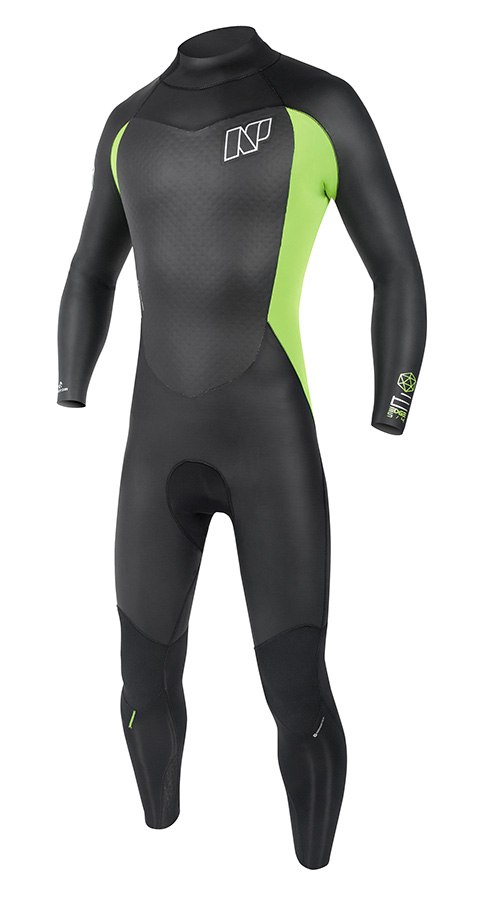 NP Edge Wind 5/4/3 
SRP: £279.00
Info: www.npsurf.com
The Edge Wind is the best and ultimate wind-sport wetsuit that combines warmth and wind-chill protection with stretch and durability. Featuring the innovative Armor-Skin neoprene, Fireline insulation, heat-trapping Matrix Mesh and full P-Skin tape, the Edge will keep you toasty warm on the coldest of days. Armor-Skin was inspired by triathlon wetsuits that repel water to minimize drag. It has the durability and warmth of a double-lined wetsuit and the wind-chill protection of a mesh suit made possible by the top layer of SDS (Super Durable Skin) as this polyurethane layer is water-repellent and highly resistant to wear and tear.
---
 
O'Neill Psychofreak 5/4 
SRP: £330.00
Info: www.oneill.com/wetsuits
All new for 2015, the Psychofreak blends the best features from the Psycho 3 and Psychofreak of the past. The lightest firewall ever produced with O'Neill's TechnoButter 2 Air-Insulation and rapid drying TechnoButter Neoprene make this highly innovative, technical design the best performing wetsuit available. Key Features include: Double Super Seal Neck, Double SuperSeam Weld (Watertight Stitchless Technology), TechnoButter 2 Neoprene, TechnoButter 2 Firewall Neoprene, TechnoButter 2-Air Firewall Neoprene, Super Seal Cuffs, Krypto Knee Padz, Plasma Wrist and Ankle Seals, Patented Z.E.N. Zip Closure System (Mens and Womens) and F.U.Z.E. Closure System.
---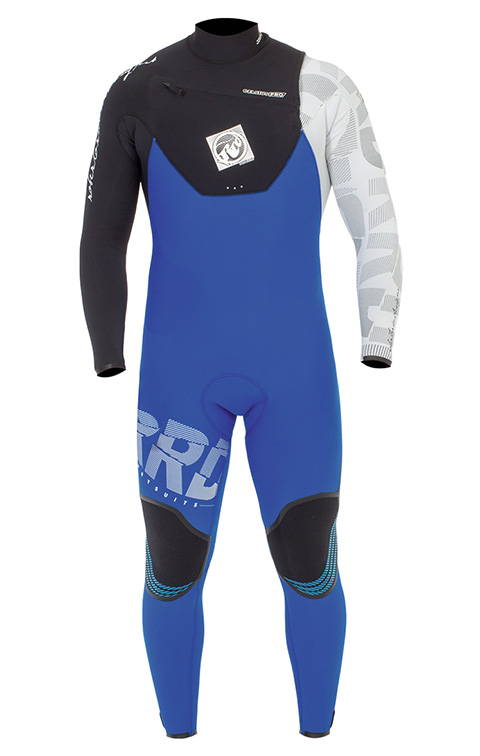 RRD Celsius Pro Chest Zip 5/3
SRP: £299.00
Info: www.robertoriccidesigns.com
The RRD Celsius Pro Chest Zip is extreme flexibility where pattern design is combined with the best available neoprene in the market.
The suit is fully made with Superstretch limestone neoprene, the most flexible material available today. The Celsius Pro is the wetsuit made with the lowest number of panels in our collection. Less panels means more flexibility. The PRO has pure fabric taped on the inside, only on the seam joint areas. This allows even more flex. Other features include 360 ultrastretch back panel, antiskid deck protection liquid tape on side seams,  drain holes and ankle water lock straps.
---