Tweet
WINTER RUBBER ROUND UP 2014 – 2015
Seasonal Affective Disorder affects 0% of the UK's windsurfing population with a good winter wetsuit. ''It's always summer on the inside'' was the tagline for a popular brand but far from marketing hype, the rapid increases in neoprene technology mean our bodies are getting warmer in the water even if our winters aren't. Comfort and enough flex to keep even the bendiest knee'd freestyler happy aside, investment in a good suit should be seen foremost in terms of safety as we expose ourselves to the volatility of winter's weather unlike any other sport in the UK. On the frontline of gales and cold seas, we owe it to ourselves and our loved ones to be as insulated and as a result, as safely attired as possible.
This guide first appeared in the October 2014 issue.
TOP TIP:
So once we have made our purchase how do we protect our investment? Rick Findlow runs a dedicated wetsuit repair centre at Robin Hood Watersports in Yorkshire so we turned to him for advice.
''Most damage we see is caused by getting in or out of your wetsuit so where possible seek help putting it on or taking it off and be aware of the layout of the various seams and panels so you don't over strain them in the dress and undress process.
Even a simple step like having someone zip your suit up for you can reduce the stress at the base of the zip where a lot of failures occur. When drying your suit we recommend inside out first then a final dry the right way round to get rid of moisture in exterior panels which can keep the suit damp otherwise. Store the suit the correct way round for longevity and on a wide based hanger to avoid dents in the shoulder, best of all is if you can store it flat if you have the space.''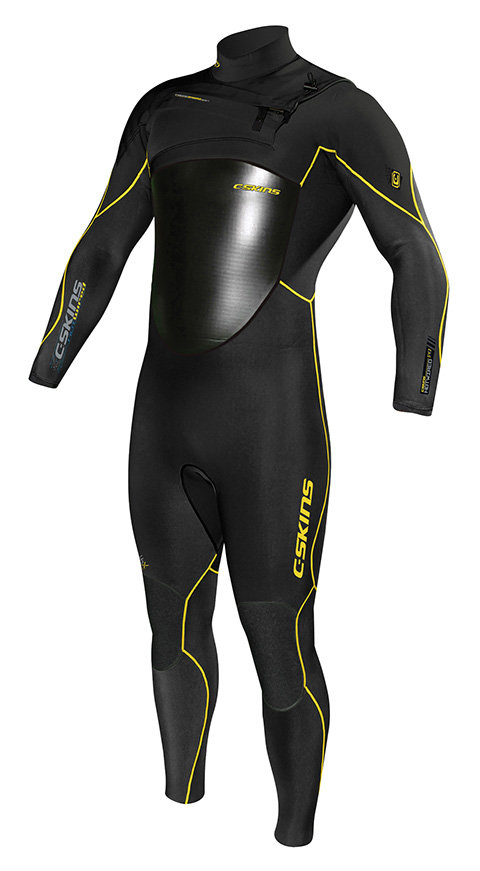 C-Skins 'dryknit' hotwired 5/4/3 
SRP: £320.00
Info: www.c-skins.com
C-Skins have upped the ante this winter by introducing the all new and exclusive DryKnit lining to their range of winter suits. You'll find DryKnit+ inside the chest and back which uses a foil reflective layer under the DryKnit to utilise the body's radiant heat and reflect it back to your core. Combine this with the superfast drying capacity of DryKnit and you'll be wearing the warmest, fastest drying suit on the market.
---

Ion Hybrid Amp Semi-dry 5/4 HYB
SRP: £279.95
Info: www.ion-products.com
With the Hybrid Amp you get what you really need. Full flex performance at arms and knees /shins thanks to the lightweight V Type double lined neoprene and skin neoprene wind chill protection at the torso in combination with the warm and  cosy Hot Stuff lining inside for maximum warmth during stormy sessions. Hybrid technology means the only problem is staying in the ocean for too long but guess what? that's no crime, so stay out as long as you like! This suit is for all wind and water lovers, looking for unmatched freedom of movement for all-out riding and sick tricks. Embrace the elements!
Features:
• ION created Sanitized® fabric means no bacteria or bad smells!
• L-Tex Protection (new!)
• Seam Reinforcements
• Seal Tite
• Water Gate Plus (only Semidry styles)
• Gate Keeper
• Contour Cut
• Leg Loop
• Crotch Protection
• Drain Holes
• Sunglass Loop
• Key Loop
---

Mormaii Windsurf 5/4/3 
SRP: £249.00
Info: www.zerogravitydistribution.co.uk
The Mormaii Windsurf is one of the few suits on the market specifically designed around windsurfing. With smooth skin on the body, arms and calf to reduce wind chill and reinforced high wear areas such as knees. The suit also has superstretch X3 material in key movement areas to reduce fatigue and increase range of movement. It has an internal waist coat to minimize any flush and is made out of superlight foam to keep the weight of the suit to a minimum.
Features:
• Anatomic design
• Super Stretch X3 on back, arms, armpits, shoulders, knees, calf and crotch.
• Blind stitched
• Titanium Reflex Technology
• Mesh Skin on body, arms and calf
• Antiflush internal waistcoat
• Zipper® with handle of inoxidable steel
• Automatic lock
• Powertex knee pads
• Adjustable velcro on ankles
• Super Light Foam
---

NP Surf Nexus 5/4/3 
SRP: £275.00
Info: www.npsurf.com
The Nexus pares down our windsport performance wetsuits to the core: offering only what's important. The Nexus is the perfect combination of highly flexible, mesh neoprene, ideal for windsport. An inner layering of Hotcell insulation fabric effectively traps a layer of warm water next to the skin, keeping the core temperature up.
Features:
• Apex Mesh outer neoprene – a Closed-cell neoprene with a waterproof, rubbery texture that cuts down wind-chill.
• Hot Cell inner lining – lightweight, quick drying polypropylene insulation.
• Bamboo Charcoal fibres woven into the inner wetsuit lining for their anti-odour, antibacterial, warming and energizing properties.
• Anti choke V neck
• Apex mesh wrist seals
• Reinforced crotch
• Latex embossed knee pads
• Adjustable ankle closure
• Debossed knee back
• FLX Zone
• Glued and Blindstiched seams (GBL)
• E3 entry system
---

O'Shea Cyclone 5/3 
SRP: £179.00
Info: www.osheasurf.com
O'Shea is a UK brand ,founded and still operated by Farrel O'Shea ,the UK windsurf and outright speed sailing record holder .O'Shea's HQ is based in Abersoch ,North Wales, a perfect location for the R & D requirements of today's watersports industry. The company makes high quality, well researched toys, maintaining the mantra of "Performance, Progression, Precision '' with a mission to produce the best wetsuit to insulate the rider from the worst conditions possible. As a brand inextricably linked to windsurfing, the "Cyclone 5/3 " is a great suit to sail in those blustery Autumn and Winter winds! Windsurfing is a strong part of our heritage and something that reflects the passion we still have for our sport, its past, present and future.
Features: 
• Perfect 360 anatomical fit.
• Made with a fusion of 100 percent limestone based neoprene, the ultimate in stretch, warmth, fit and durability. We are one of very few companies using this material and technology in the global wetsuit market.
• Tested and Designed in Britain.
---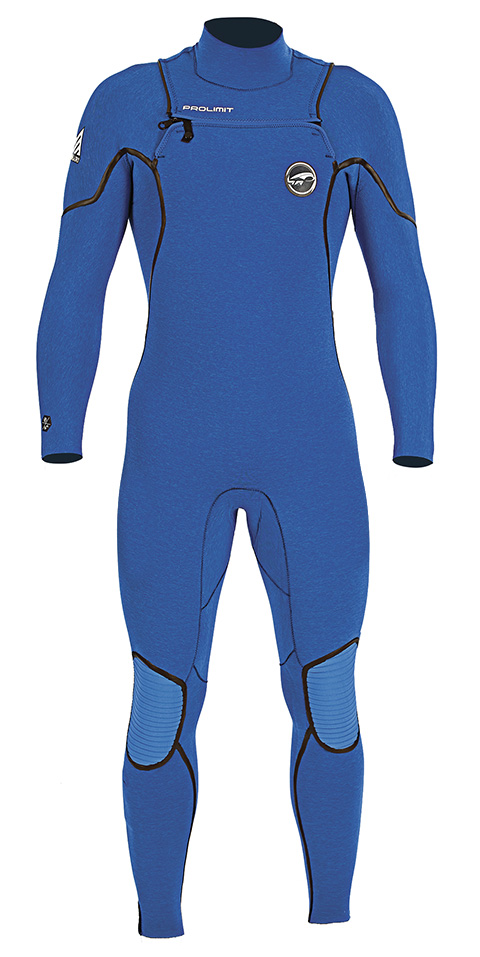 Prolimit Mercury Freezip 6/4
SRP: £199.00
Info: www.prolimit.com
The Mercury wetsuit is designed with tons of tech features and designed with the idea of maximum comfort. Built from the latest stretch materials, with a simplistic minimal seam for the ultimate in freedom of movement during your session. The FTM (fluid taping method) seams and Zodiac lining (plush inside) make it one of the warmest wetsuits out there. Our neoprene is made out of limestone which is a rock that is remarkably free from impurities. The maximum of elongation of our neoprene is close to 500% and human skin stretches to around 70% making our wetsuits the most free moving wetsuits available.
Features:
• FTM fluid taping method
• Seams Glued and Blind Stitched
• Zodiac lining
• Water repellent finish
• YKK zipper
• Drainholes
• Fitted collar
• Limestone airflex 550+Fused Technology
• Key Pocket
• ToughPadz
• Inside suit channel flow quick dry lining
---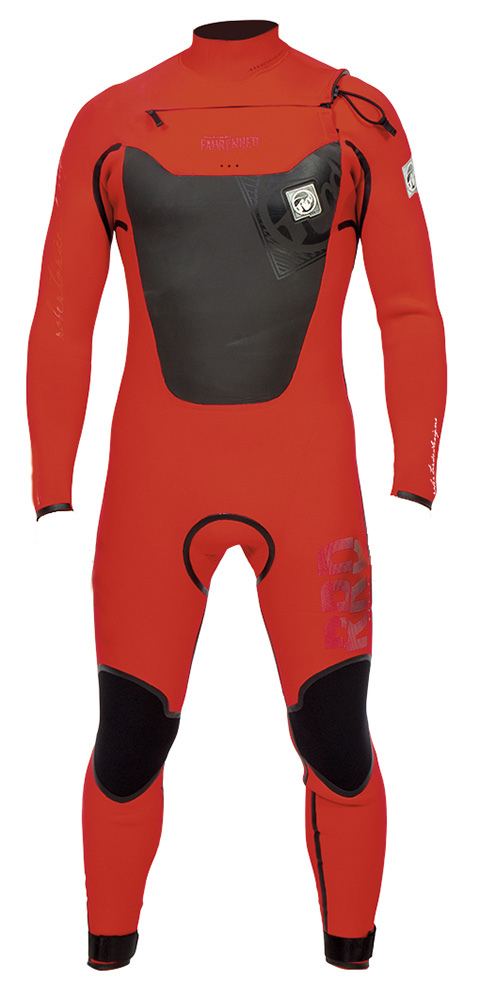 RRD Farenheit Chest Zip 5/3
SRP: £319.00
Info: www.robertoriccidesigns.com
The Fahrenheit is the latest development available for a super quick drying wetsuit combined with extra durability and stretch. The whole wetsuit is made without any stitches; it's fully liquid taped on the outside and fabric taped to offer a superior stretch and a longer lifetime. Internally, it's made with an especially engineered quick drying linen that features two layers of fibres on top of each other, woven with a squared pattern design that allow water to flow through it quickly to the outside and downwards. It's like pulling water towards the outside and channelling it downwards so it can dry quickly. We have tested the Fahrenheit in European autumn sunshine, air temperature of 20°, and we got it dry in less than 20 minutes! This special linen also keeps you warmer and longer in the water!
Features:
• Stitch less technology
• Liquid taped
• Quick drying linen
---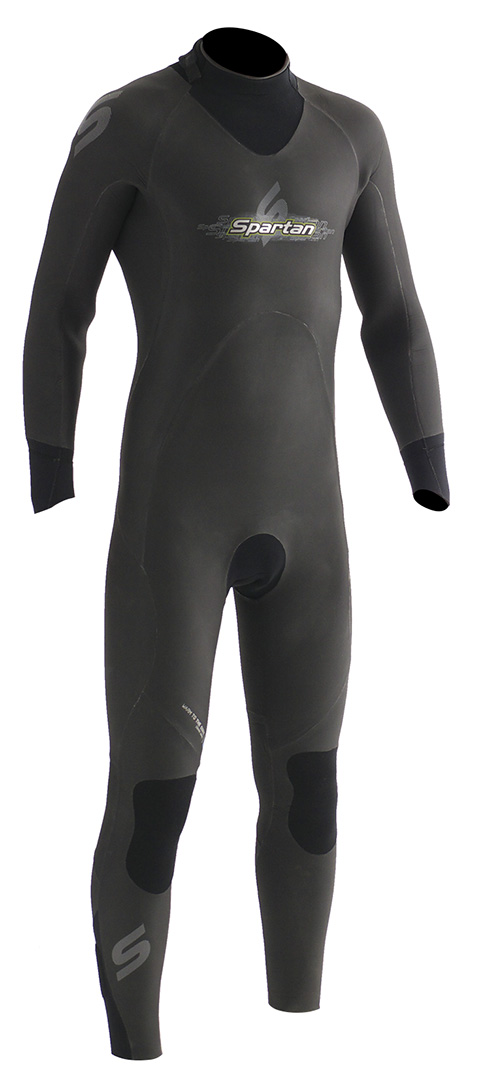 Spartan Reflex 5/4/3  
SRP: £229.00
Info: www.spartanwetsuits.com
British brand Spartan have been producing suits since 1958 and recently brought some of their manufacturing back to the UK. Specialising in single-lined 'smoothskin' suits, Spartan cater for 'surface' watersports users and their products are focused on wind chill reduction and core temperature maintenance.
The Reflex is a vertical, zipped overhead barrier sealed suit. The chest lining has a specialist thermal material using the same technology as used in cold weather, technical, sports clothing. Combined with the refined panel layout, adjustable neck seal, water entry to the suit is kept to an absolute minimum; this suit allows maximum flexibility and warmth.
Features:
• 5/4/3 zoned neoprene thickness, extra stretch panels in areas of maximum movement
• Overhead barrier and unique one way drain valves at the ankle
• Genuine YKK Zip
• 100% Yamamoto neoprene with pure limestone for stability and durability
• Superior memory/stretch
• Highly closed cell content for amazing stretch and insulation.
---