Tweet
ZARA DAVIS – SPEED QUEEN
Zara Davis is the holder of two WSSRC world speed sailing records, the 500m for windsurfing and the outright Nautical Mile; in other words she is officially the fastest female windsurfer on the planet! Her speed exploits have earned her a place in the Guinness book of records and she has been ISWC European Speed champion a record 4 times. Believe it or not, Zara is not a full time sailor she holds down a full time job as an Osteopath and runs a busy health center in Portishead near Bristol. JC caught up with the Queen of speed to find out more about her gift for sailing fast.
Words  & Photos  JOHN CARTER 
(This feature originally appeared in the September 2015 issue of Windsurf Magazine. To read more features like this first, Print and Digital subscriptions are available. Prices include delivery globally for 10 x issues a year!)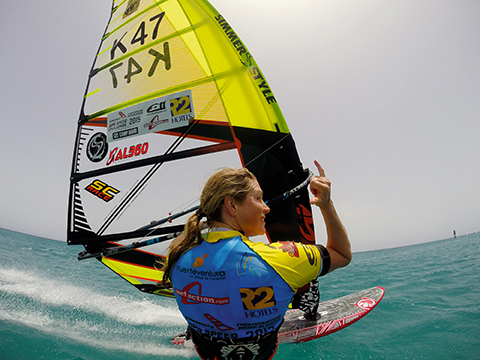 JC: How did you catch the speed bug?
ZD: I think speed is in my genes. My dad was a rally driver and I was just born into the world around people that like going fast. Even when I was a beginner, all I wanted to do was catch the guy in front of me. I just love going fast in a straight line!
JC: When was your first ever taste of windsurfing?
ZD: I learned way back in 1979 while on holiday in France. When we returned home we bought a BIC DuFour Wing which was the board of the time, it had one of those big solid booms and a triangular sail. I sailed for a couple of years before I became ill with serious glandular fever. I had to stop all sports for quite a while and never got back into it until I was 28, after I had passed a couple of degrees and started work in Milton Keynes. I started sailing at Brogborough Lake, near Bedford where I met my husband Pete. I did not know anybody when I first moved there so I joined the club to help meet people. Windsurfing had moved on quite a bit since my first sessions in France.
JC: Were you straight into speed back at the lake?
ZD: Pretty much! I was never very good at turning the corners and I am still not (laughs). The great thing about speed is that it is so accessible. In the early nineties, speed was quite popular. They had events at West Kirby and Weymouth with speed guns and there were quite a lot of those events happening. You could roll up, pay a tenner and have a go on the speed course; it was great fun. It was low level competition, you did not need to be able to do anything aside from be in the foot straps, harness and go in a straight line. That is really where it all started!
JC: Have you ever been a full time pro or have you always had a day job?
ZD: No! Definitely not no! I run a medical clinic, I am an osteopath and I have always worked. Until recently I worked full time but now I only see patients three days a week. We live in a very tidal location on the Bristol Channel so I don't get to windsurf as much as I would like to. If I can squeeze forty good days in a year I am pretty happy. Most of the girls I compete against on the world circuit are sailing three hundred days a year. That is a massive difference.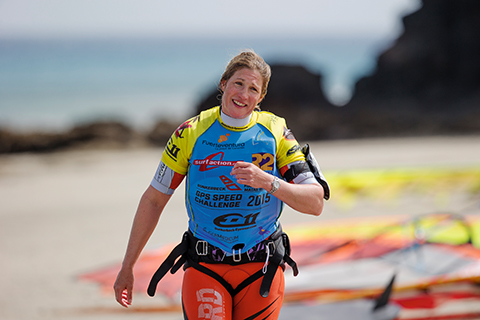 JC: When did you first start becoming serious with speed?
ZD: My first major event was 2005, Pete wanted to do Sotevento, it was 'the' place at the time. That is where the records were being set and it just happened they were offering half price entries for women. There were about fifteen women in the fleet, it was a world championship and I ended up fifth. So I was delighted to do so well and thought maybe I have a talent for speed! The girls that beat me were Karin, Valerie and Alison Shreeve. They were the best in the world. In 2006 I headed out to Warvis Bay in South Africa to have a go at the mile record. I broke the record and that really triggered me off to get more serious. Valerie was there, I broke her record from the previous year and the story goes on from there!
JC: So when did you head out to Luderitz?
ZD: We had tried to do a 500 meter record attempt in Warvis Bay in 2006 and then I had a bad accident in 2007. I fractured my left foot and had to have a couple of operations. I missed the record attempts in the Canal in France because of the injury, that was the year Antoine did 49.09. I was desperately sad to have missed that. It was also the year of Driven by Wind, with Whitey at the Ray so I missed out on that as well. In 2010 I broke the women's production record at Luderitz on my Mistral 47 but the trench they made was not the best. They had put all the sand that they dug from the canal on the wrong side and it meant there was no wind in the bottom half of your sail when you were blasting down and hitting it at forty knots. By 2012 they had dug the canal inland and that is where Antoine and I both broke the world record. The trench still was not perfect, it could certainly be better. But either way it was an amazing opportunity. I did a 45.83 run and that record still stands!
JC: So how was that particular run?
ZD: It was really weird. We were all getting quicker all day. It was probably about 3pm in the afternoon. All the times were building. After I broke the record I decided stupidly to change down sail because it was getting windier. I was on a 5.5m at that point and it was blowing about 45 knots. I thought maybe I would go even faster with a 5m and I made it to the end of the course and just when I put my feet down, the board flicked up and whacked me on the front of my shin. Somehow it managed to chunk off a piece on the front of my shin. I had to go to hospital and have that stitched. In the next two hours everybody went two knots faster while I was in hospital. It was quite gutting. It was awesome that I had broken the record but being that everybody improved their speed that afternoon I know I could have also improved my time. It was disappointing that I could not have taken that opportunity. Hey, I still hold that record so it was still a good day!
JC: Was that particular run scary or did you enjoy it?
ZD: It was not scary, if you go down the canal and you are scared you should not be there! It is too dangerous! I knew that my kit was working and the Sontag asymmetric fin was also perfect. Each day records are broken your speeds build through the day. You don't just get in the canal and do 45 knots on your first run! You can start at 12pm and do a 39 knot run and gradually you pick up as each run happens. You almost don't notice that you have picked up an extra five knots or so later in the day. I knew I had nailed a decent run, the best runs are when everything goes quiet and it feels easy! It was just one of those runs. I was on my 5.5m Simmer SER and a Mistral 41 and my Sontag 20 inch asymmetric fin.
JC: What is the key to nailing the perfect run?
ZD: It is really difficult to know exactly the secret to the technique. I am not a very geeky sailor. I don't spend hours priming my gear, I rig it, get on it and sail it! I think I am quite a natural sailor from my point of view. You need to be a bit bold, you need to maybe have a screw loose. You need to be focused to where you are headed for. It does not take long to do it. The whole thing is over in twenty seconds. That is a very short period of time. I guess it is like running the Olympic 100 meters final. You have to be 100% in the zone. I think the key is having that ability to absolutely concentrate for that bit of time and know that your gear will get you there.
JC: What do you think set you aside from the other women that day?
ZD: I think I have a physical advantage in the sense that I am taller, bigger and longer levered. I am not saying that is the only aspect, Antoine is not the tallest for instance. He might be the strongest, he possibly is but he is certainly not taller than the others. Jürgen was there, Anders was there, what is he 6'4 or 6'5?; so there were taller guys there. I think there is just something in his technique and ability that enables him to go faster than anyone else down the canal. I think the Mistral 41 holds more than half the records in the canal. So I think there is certain evidence that the 41 was a particularly great design by Chris Lockwood.
JC: When you are at home do you ever go chasing big speed days when the forecast is on?
ZD:  God yeah! Again because I work it always seems to be windy when I have bookings. My work is not at all flexible. A month in advance is fine but I have patients that are booked in.  If I see on Monday that it is going to be windy on Wednesday; bad luck! There is absolutely nothing I can do about it. West Kirby is a long way away. It is a three and a half hour drive for us. I can't just pop up for an hour, pop back and then see patients! So it always seems to be windy on the only days I can't move anything. Monday and Fridays are paperwork days so I can shift those around at least! Kirby is the place to go in Britain and my last decent session was way back in January! The Ray also has potential but it is equally far away. I don't know that place so well so it is much harder for me to just turn up. Whitey is always raving about it. The nice thing about Kirby is that you rig up in the car park next to the water, do the run, walk back up the wall and you are done. It is simple speed sailing! Also practice for Luderitz is amazing because it is very similar to how you take the corner and enter the course. That bend into the wall is a very similar physiological barrier. You have to be able to go at forty knots round a corner!
JC: Do you think Pro-am speed events like the Dunkerbeck Challenge are helping attract more people into the sport?
ZD: For sure!, at this event we have little kids and some very talented older youths racing together. The kids are doing 17 knots while some of the older youths are doing 34, isn't that fab! They can windsurf, they can get in the harness, straps and sail between buoy A and buoy B. They have a result and they have competed next to some of their idols and legends of the sport. This is a fantastic way to inspire the younger generation to start competing.
The harder thing from the women's point of view is that most women are not naturally competitive so they simply don't want to compete like that. But the nice thing about speed is that you are not necessarily competing against the others. Out there on the course you have no idea what speeds anyone else is clocking up. It's not like slalom sailing with eight people at the buoy screaming at each other. You go down the run on your own, you do your own thing and end up with your own set of results according to the conditions. People ask me if I am competitive, I am not really like that against others, I just want to be the best I can be. That usually means winning! If I do the best I can be, usually I do win! All of us can have a go at that and challenge yourself! Speed gives you that. The other disciplines are more fraught with danger and that is what women don't like. I think women should speed sail actually. I think they see it as a big, heavy man's sport while the reality is that it's a great sport for women. It is fab what Bjorn has done and that is why I am here! I love the idea that everybody is here from all different levels. There was one guy here who had never rigged a sail before because he always rents from centres! He will be out there on the course with the likes of Bjorn! Where can you do that in any other sport. That is such an amazing opportunity alone. I would recommend this event to anybody. It is warm, sunny, windy, pretty flat and relatively easy. Nobody is expecting this guy to beat Bjorn but he is sailing with Bjorn and he will probably go the fastest he has ever been. That is what it is about; doing your own personal best!
JC: How would you feel if your record is beaten?
ZD:  Records are there to be broken aren't they? My mile record was set in 2006 but now there is a girl called Hanna White who is setting herself up with a boat called Speedbird to break my mile record. That is quite exciting. She is sponsored by Landrover, has a team together and is trying to beat my record. If she does it, I would have held it for ten years so I am happy with that. I am proud that I have done it and the nice thing about records is that your name will be in the book forever. It would be nice to have another go at the 500 metre record. I feel that there is slight unfinished business in Luderitz because of that injury the day I broke the record. I had that window of opportunity that I could have gone to maybe 47 or 48 knots. Maybe I should go back and have one last stab at it. I am getting older and if you have that sort of crash at 55 miles per hour with little protective gear on, it can be pretty lethal. Maybe I'll feel differently if somebody breaks it, who knows! 50 knots for a women is certainly possible; I think it would be tough. I still think there is a possibility that I could get there given the right day and the right location. If I had done the 47 or 48 that day I would be pushing now for the fifty because that would be my next big hurdle. Right now I am four knots off and that is a hell of a chunk to improve on at that speed. In women's windsurfing there are some fantastic younger girls coming along and sooner or later one of them will go that fast!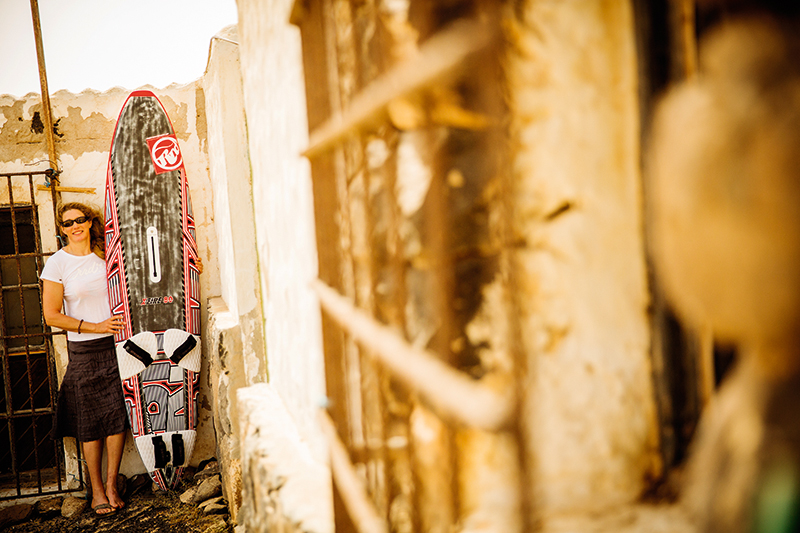 JC: Is Luderitz the only place where the records can be broken?
ZD:  I don't think so, what we have established is that in order to beat the record what we need is absolutely flat water. If we could find a better canal in an easier location for everybody to get to that would be the answer. The South of France or maybe some places in Holland might be the ones. I think you need to build two or three canals at slightly different angles! We are not talking a huge amount of money to dig a hole. I know it is a kilometre long hole but it does not strike me as that expensive, but you need a big sponsor to put that effort in. I think there are guys looking into this right now, yes you will have to wait for a forecast, but I think there will be more opportunities to go quicker.