Tweet
SLICK STICKS
115L SLALOM BOARD TEST 2018
Test Editor Tris Best // Second Testers Maurin Rottenwalter & Joe North
Photos Tris Best // Test location Portland Harbour
In days past slalom boards used to be precocious beasts, demanding constant attention and input from the rider, and if they caught you off guard for a moment, they would buck and spit until you relented.
This test was originally published in the June 2018 issue.
The more recent past has seen the trend to make slalom boards much more manageable, user-friendly even, to ensure control remains in place as the conditions turn on. It has, in turn, broadened the slalom boards user range and made them more accessible than ever before. They have easily been within reach of the weekend sailor for years now, which has improved their residual value and meant that slalom sailing on a local level can prosper. Plugging a powerful cambered sail into any of these highly refined thoroughbred boards on test this month cannot fail to get the pulse racing. Is it all good news then? We sent the test team in to find out and see what's new for 2018.
FINDINGS
And the answer to that question is simple too – very little really! There isn't a massive leap in advancements here in the mid-size slalom board group. Of the six boards on test here, only two are completely new, and a third sees a subtle refinement to its cutout shaping. So, as a result it would be false to make any sweeping statement about a new direction in the market. What we can say however is that the craftsmanship in these boards is always impressive.
Firstly, their outlines are quite complex – short and rounded by previous standards, yet with parallel rails under closer inspection and in comparison to a contemporary outline. Rider stance and location is meticulously considered, along with the position of the track and fin box, volume distribution and rocker-line. Secondly, they are always incredibly light. Developments in technologies are always first aired in the slalom discipline and it never ceases to amaze us just how feather light these boards are. 
If there is any trend worth mentioning here, it seems that bottom shapes are becoming simpler and cutaways in the tail more refined, with some correlations in shapes between the brands. All bar the Tabou now have profiled tails (most rounded, the JP adopting a diamond outline) when looking at the deck from above. And underneath it seems that complex deep-stepped cutouts are being replaced with single tiered tapered designs, aimed to provide more control without increasing extra tension with the water's surface or reducing speed. It is a fine art and we're guessing is only really achieved through long hours of iterative design, but any increase in top end control can only be a good thing for everyone, from pro rider to recreational blaster. 
The other point, (which we have made time and again, but deserves to be repeated in this test) is that the board only makes up one part of the overall picture. Daniel Aeberli alluded to as much in Fanatic's promo video for their Falcon – if you want to sail fast on any of these boards, you have to consider which sail and fin you partner them with. Any of these boards can
become part of a killer combination that is greater than the sum of their parts.
Adversely, a flighty highly spirited board will feel unsailable if used with an unsuitable fin. Consider your existing setup and then choose accordingly.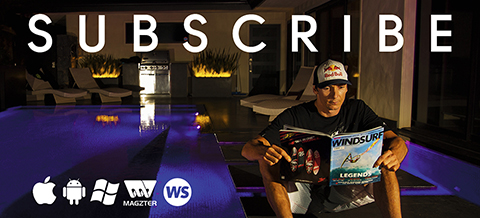 SUMMARY
So let's go through the boards on test this year, starting with the cream in lighter airs. The Fanatic Falcon Slalom is simply stunning in marginal to comfortably powered conditions. That is not to say that it is wildly out of reach when the wind increases, but it has its moments and certainly requires a committed riding style to keep it in line. The new JP Slalom is also a light wind maestro and surprised us with the drive and poise it had when partnered with a large sail. Directionally balanced and committed, it isn't a handful per-se, but like the Fanatic it takes more rider input when the conditions increase (particularly round the corners), responding best to being dominated rather than sailed half-hearted. The Goya and Tabou are the real all-rounders of the group but for very different reasons. The Proton's forte is its ease of use, offering a massive range and being almost freerace in nature when you compare it to the others. The Manta from Tabou is an all-rounder should you wish to spend time understanding its tuning potential. Its character can be altered massively by using different fins and sail balances – a real gem for those analytical sailors out there. The RRD X-Fire simply loves to be loaded. Don't sail it half-baked, just load it up, lock in and let it do the work for you. That leaves the Starboard iSonic 107. In essence, Starboard describe it as the sweetheart of their mammoth fourteen-board iSonic range … and all we kept saying during testing was, "We can see exactly why!" If you are racing on any of these boards this season you will have a memorable year! In the right hands and with a tuned setup, they are all capable of winning races on the biggest stage. If you're not racing and simply want to show a clean pair of heels to your mates, these six boards were all A LOT of fun to sail on. Slalom is undoubtedly for the masses – jump on any of these and be inspired to ignite the scene at your local venue.
THE LINE UP
• STARBOARD ISONIC REFLEX CARBON 107
---
TEST OVERVIEW PAGE
---