Tweet
GENTLEMEN, START YOUR ENGINES – 120L FREERACE BOARD TEST 2015
Test Editor Tris Best // Second Tester Maurin Rottenwalter, Joe North
Photos Andy Stallman, Nick George & Alex Beste // Test Location OTC, PORTLAND
Everyone likes to sail fast. Okay, quite a sweeping statement, I grant you, but one that I stand by. 'Fast' can equate to any speed. For a beginner, it might mean simply catching their first gust and realising that what they are doing with the rig is directly affecting the board. At the other end of the scale is speed freak, Antoine Albeau, pushing the boundaries of the sport itself at a record breaking 52.05kts knots. So what do we actually mean by fast? Can we put a nominal figure on a speed that it is officially 'fast' – a speed that would impress a bystander … your non-windsurfing mates maybe? Perhaps there is a better way to define the word. In coaching circles for example, there is a model to help explain how people learn. It involves three concentric circles representing three zones, the inner one being your 'Comfort Zone'. This represents your state of mind when you go onto the water and sail within yourself. You might just sail from A to B, turn around and cruise back. You may complete a few gybes … even plane out of some; but the truth is you've learnt nothing new. You're consciously competent at the skills you can do and you've stuck to that winning formula. Bravo!
This test was originally published in the June 2015 issue.
Let's move on to the outer most circle – the 'Panic Zone'. This is the other end of the scale to the comfort zone, where too much is changed and it feels like you're struggling to sail; in a 'survival mode' to do the simplest of tasks. There could be a number of variables that might have shifted your sailing into this zone – the conditions might have changed and become extreme; the kit you're using might be beyond you … or it may be the skill or manoeuvre you're trying to learn. Heck, it could be a combination of all three! Either way, if you review what you're trying to achieve and realise you're in this zone, it's time to change something as there is little chance of progression if you're fixed in the Panic Zone!
The area between your Comfort Zone and Panic Zone is what is known as the Zone of Proximal Development and coaches will all chant that "this is your happy place". What they mean is that you're outside of your comfort zone; you're pushing your boundaries without being scared or leaping headlong into the panic zone abyss. You're giving yourself the best chance to learn something new in relative comfort. And it is when your windsurfing session is in this zone that you may sense you are 'sailing fast' ! It's a subjective notion and varies for every person. As you progress and become more proficient, it becomes harder to really push yourself out of your comfort zone, but that is the beauty of our sport – searching for these ever shifting goal posts, the boundaries of these zones. There are three variables that can help you in your quest – the windsurfing conditions, the skill or manoeuvre you're intending to learn.. and the equipment you use, which is where we step in with our test !
FINDINGS
So will the boards on test here move you out of your comfort zone? Do they stand for the next level up from freeride platforms? For most, the simple answer is yes! So should more experienced or advanced sailors bypass this freerace group and look to going straight for a slalom platform? That is the more complex question to answer. Slalom boards have undoubtedly become more accessible and user-friendly over the years ..but they still represent the cutting edge of development, are made of the lightest and most fragile materials, and normally don't even come with a fin! By contrast, all these freerace designs are often not too far removed from their slalom cousins (not at all in the case of the Fanatic !), but in addition offer various footstrap plugs to help vary your stance; are always supplied complete with a fin, and are produced in a more durable and cost effective package. And the performance available in some cases is nigh on that of a slalom board as well. It certainly makes them worth considering in our eyes.
The most important finding to highlight from this test is that a board should be married with the correct sail to achieve the best results. The way the board and sail interact is a partnership that is undoubtedly more evident in this freerace category than in the previous freeride test, influencing your sailing comfort and style. For example, put a sail with soft easy handling characteristics with a smooth controllable board and the combination can feel slow and lacklustre in marginal winds. At the other end of the scale, put a lively flighty board with a sharp, precise, high-pulling powerhouse and you'll struggle to keep the two trimmed in overpowered winds. Think about the type of blasting you do and the set up you're looking for. There is a real mix of board styles here, each of which can be electric when partnered with the right sail and used in their ideal conditions.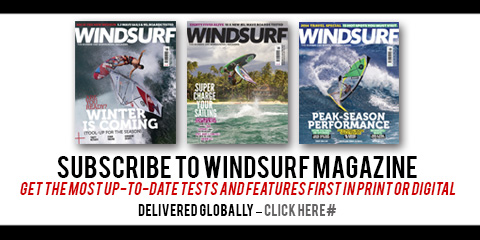 SUMMARY
Of the five on test, the JP Super Sport was the most potent when it came to early planing prowess. It simply leapt on the plane at the slightest whiff of a gust. The Tabou and Fanatic represent the closest you'll get to slalom performance without actually going down that route. Lively and fin critical, they remain tuneable and a lot of fun, with masses of performance to tap into. The RRD is all about control and practicality, becoming the go-to-board when conditions become extreme. That leaves the Futura, which possessed the all-round balance between loose excited performance and control / ease of use. There is a good deal of versatility amongst the group, so read the reports, see which board best matches to your riding style and requirements, then start your engine !!
THE OTC
This test was conducted at the Official Test Centre (OTC) at Portland, Dorset. The OTC centre is based within the grounds of the National Sailing Academy that hosted the Olympic sailing classes in 2012. With the best wind stats on the south coast, mirror flat water in prevailing winds and a safe launch area with excellent facilities, it provides the ideal test venue. Much of the kit is still on site, so why not go and try some of it for yourself?
THE LINE-UP 
---
---