Tweet
2014 120L FREEMOVE BOARD TEST REVIEW REPORTS
GAME CHANGERS?
Report by Test Editor Brian McDowell
Have the wide and thin freemoves outdated the 'classic' freeride board? Are old-skool, stretched outlines dead in the water?
Last season, on our annual entry-level freeride boards test (June issue), we took a cross section of the 140-150L market for a spin. Amongst them – and the shortest one in the selection – was a board around 5 cm. wider than the average – with 10-15 litres less volume than the rest. Perhaps you can guess which one tickled our fancy the most? (2013 RRD Firemove 130).
YES, BUT NO
Yet, the answer to the original question though, in our opinion, is: 'not quite'. The short LOAs (lengths overall) still present a few challenges for early intermediates.
Such as nose-diving, where even the width up front is not alone enough to prevent the occasional plunge forwards.
Plus, a little extra rail length and straightness still helps those getting to grips with shortboard basics to get upwind and keep good balance in light-to-moderate wind speeds.
LOADED
'Just what is it that you want to do?'
We wanna be free… to do what we wanna do …and we wanna get loaded … and have a good time. That's what we're gonna do'.
Freeride. Freestyle. Freecarve. Freerace. Freemove. Yes.
We're scratching our heads too over the confusing nomenclature in the industry. (And they're all anything but 'free' in pounds and pence.)
In our opinion, 'Freeride' is a perfectly acceptable classification. And 'Freestyle' and 'Freerace' perfectly understandable too. But the category in question here –  'Freemove' – is, we think, confusing.
If anything, these are 'Freecarves' –  on account of the fast-and-hard gybing being the primary benefit this type of shape delivers as opposed to 'moves'.
Sure you can do some old skool freestyle, but that's likely to be a carving-derived trick anyway on an 80-centimetre-wide hull, as opposed to a jumping manoeuvre.
PRINCIPAL TEST TEAM
James Randall 70 kg. Med. Height
Julian Da Vall 83 kg. 1.95 Tall
Toby Gibson 87 kg. 1.90 Tall
Brian McDowell 98 kg. 1.90 Tall
Thanks also to: Kevin Salmon 85 kg. & Kevin Pijl 70 kg.
KEEPERS
So what are these 'Freemoves'? They're not freerace boards – and they're not quite entry-level freeride boards either. Well, they can be for the more ambitious, or perhaps smaller rider.
At 120L, with an effective (or 'perceived') volume of a 130, or even 140L board, these wide-and-thin shapes do leave a lot of 'growing room' for sailors of most levels in that they're are fast enough to provide some excitement, are super carvy and fun and therefore a really good hull to hang onto for when you're skunked for wind on a coastal wave mission – or for some sea breeze fun in the summer.
WHAT'S 'PERCEIVED VOLUME'?
Being wide, yet thin-railed, an 120L freemove board is as wide – and therefore as stable – as a board of 10-15 litres more. However, being thinner and therefore with mast foot and straps sitting lower in the water, they deliver the control – and added manoevreability and enjoyment of a board with 10-15 litres less float. The reduced foam also brings weight-saving benefits and, of course, the slimmer rails mean way more carving grip – and fun!
FAMILY BOARDS?
Yes, you could teach kids on them and they're excellent for learning modern, upright-stanced active/semi-active planing skills that will reap rewards on smaller boards with curvier rocker lines. Perfect for getting into good technique habits for contemporary freestyle and wave sailing equipment.
Basically these modern freemove boards are a good step-up from an entry-level board. They all turn incredibly well and their short profiles are convenient – and, being the same length as a wave board, they fit into cars.
All-in-all every model in this selection are confidence-inspiring shapes. They're not as weight-sensitive as some boards and they handle loads of wind range, read: value.
Perfect for a one-board, one-rig combo and a budget-conscious pocket looking for quality and performance.
THINGS TO BEAR IN MIND ABOUT THE TESTING
• We've tested individual models, NOT ranges, so have an open mind if it's other sizes of the products we review that you're considering – quite important considering smaller 'freemove' sizes are capable of more, err, 'moves'
• We mainly used these on 7.5 no-cam freerace and 6.0 crossover sails
CONCLUSIONS
All the boards here have their own benefits. For perspective's sake, we think the RRD is still the 'benchmark' board that we'd test any newcomers of this category against. It's a good mix of 'planted' and 'lively', carves well, is exciting enough to satisfy advanced windsurfers looking for lightwind, flat-water fun and secure and stable enough for those stepping up from entry-level short boards.
As a 'middle-ground' good all-round option the Fanatic Gecko is a strong candidate to consider, especially for those wanting to crack gybes – and at 80-cm. wide, ease of gybing is paramount.
The JPAustralia Magic Ride offers something different. The 'perceived' volume factor is amplified like in no other on this shape and the boxier rails in the tail will make it more familiar to those used to past generations of slalom and freeride blasting boards. The Magic Ride definitely feels the smallest on the plane and has a good all-round manoevrable nature.
Then we have two polar opposites. At the lively, exciting end of the scale you have the Starboard AtomIQ. Much racier feeling and 'lifty' than the others – and a joy for more advanced gybers – the AtomIQ is the most 'sporty-feeling' shape here and a strong consideration for the ambitious, wannabee racer.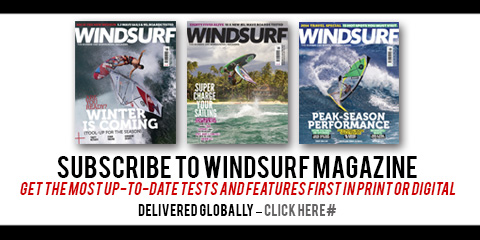 However, at the opposite edge of the spectrum is the Simmer Freemove. Undeniably the fastest – and easiest to control – it also split the team's opinions on sailing sensation preference.
Some loved its pinned-down nature, while others loathed the 'heavy' ride. But nobody can argue against it's head-to-head drag-racing prowess in all water states and that, in up to 35 knots, it has the calmest nature and is therefore most likely to be first past the post in a burn-up.
Read on for more in-depth details to see which one's for you!
Special thanks to Harry Nass Centre Dahab, F-Hot/Dave White for the loan of their mast mounts, I Love Meet and Greet Gatwick Parking Services and North Sails for adjustable outhauls for our test rigs.  BM
NOW READ THE INDIVIDUAL REPORTS
FANATIC GECKO 120 LTD
JPAUSTRALIA MAGIC RIDE 118
RRD FIREMOVE 122
STARBOARD ATOMIQ 120
SIMMER FREEMOVE 120