Tweet
From our October issue we look back at some epic performances from Team GB in Lake Silvaplana as well as insights from many of the top players!
Lake Silvaplana in the eastern Swiss Alps, 1800 metres above sea level, in the Engadin valley region of southeastern Switzerland was the setting for one of 2020's few international windsurfing events – the Engadinwind. Taking place at the end of August, it's one of the longest running windsurfing competitions in the world, and this year had everything from wing surfing competitions to tow-in freestyle.
Importantly it also played host to the 2020 Formula Foil world championships and inaugural 2020 iQFoil European championships, the latter event having a controversial finish. It was the first real test of PWA v Olympic sailors and the Brits had successful outings at both major regattas, coming away with champion titles and a string of podium placings, not to mention 6 British sailors in the top 30 of the mens iQFoil European championships, an encouraging sign for the new Olympic class. John Carter and a selection of British and international racers tell us more about the event.
Words: John Carter, Tom Squires, Islay Watson, Andy Brown, Sam Sills, Guy Cribb, Matteo Iachino, Sebastian Koerdel, Kiran Badloe, Svein Rasmussen, Hélène Noesmoen & Nico Goyard.
Photos: John Carter//Sailing Energy

To read more features like this first, Print and Digital subscriptions are available. Prices include delivery globally for 10 x issues a year!
---
JOHN CARTER
I arrived in Silvaplana in the middle of the night after a sketchy, four-hour drive through the mountains from Zurich. The sat-nav said 2.5 hours, but anyone who knows my driving will be aware 4 hours wasn't too bad. Peeling back the curtains on the first morning at the lake, I was stunned how beautiful this infamous windsurfing Mecca was. The lake was pure glass with an eerie steam rising from the water, while reflections from the giant mountains on either side topped off the picture postcard setting. By mid-morning, the whitecaps of the 'Maloja' wind were creeping up the lake and that was pretty much the pattern for the rest of the week, tranquil mornings and hectic windy afternoons.
Amidst a year ravaged by Covid-19, somehow event organizer Christian Mueller had managed to pull of an international windsurfing competition, which must have been incredibly difficult logistically. And this was no ordinary event! Alongside his normal action-packed itinerary of the Engadinwind marathon and tow-in freestyle windsurfing events, we had the 2020 Formula Foil world championships, plus first ever major iQFoil event, the European championships, where PWA and Olympic stars would meet for their first real showdown.
I was in Switzerland for six days at the event and loved being up in the mountains photographing in such an awesome location. As well as all the crazy foil racing, we had Balz Müller doing his usual insane stuff on all craft (freestyle, foil wing and kite), spectacular tow-in freestyle action and the beer didn't taste too bad either.
After a very strange year, it felt reassuring to catch up with so many familiar faces from across all walks of windsurfing and know most people are healthy and still following their passion. The action, all came to an exciting crescendo with the 2020 iQ Foil European Championship finals, which were not without drama, but I will leave it to the others to explain about that.
GUY CRIBB, GBR-9. 1st GRAND MASTER FORMULA FOIL WORLDS.
I predict, the next twenty years will be the real birth of windsurfing, the decades of development when we literally take off. If you've not been on a race foil yet, get on one a.s.a.p., then you'll catch my drift. In my experienced view, we had a long era of dragging along the surface; we are currently having a short blip where foils are a medley of surf, wing, wind and kite blurred into one, mostly very different to windsurfing as we knew it, but out of this explosion there are windsurf race foils zooming ahead with our future. Extremely high speed, zero drag, sophisticated suspension flying machines, with all the action and thrills of windsurfing multiplied. We ride race foils just like we windsurfed, just in 3D instead of 1D – upwind, across the wind, downwind, up, down, point anywhere and get there amazingly fast.
The Formula Foil world championships and iQFoil Europeans, brought together the world's best windsurf racers from the Professional World Tour and the Olympic athletes. This was the first time they were face to face for World and European titles and the showdown was immense and intense!
This was my first world championship race in twenty-five years…I remember arriving at the windward mark to a procession of foils racing in front of me like a futuristic war machine invading the first reach, and in their wake were chunks of polystyrene where boards had been run over. French accents argued with Slavic and bodies lay on rigs and boards with arms waving in disbelief, and the procession continued pouring past at frightening speed, with only the most dangerous fractional gaps to penetrate and invade into. It was absolutely nuts! And with no time for an elderly set of lungs to recover from this charge at 1800 metres high, I was doing 25 knots with the red army, knowing full well any wipeout from me or my fellow crazy soldiers could cause utter carnage. And the procession never thinned out or gave time to breathe until the race was over.
Neck and neck, positions changing all the time, a slow tack would cost me 20 places, two slow tacks 40. But a wind shift or gust in my favour could gain 30 places, there was so much movement, and the closing speeds of riders in opposite directions was like 50 knots, which on an enclosed lake was not for the faint-hearted! Whenever you step on a foil you must adjust your mind to hyper alert. When 150 riders all get on their foils at the same time, hyper alert mode has to be 'red-lining'!
Sport has a habit of being most attractive when underdogs succeed and giants fall. The emotions of unknowing keep us intrigued. The newly formed iQFoil class has adjusted sail racing regatta rules, which are basically a week-long slog, in favour of today's more popular sports, where through elimination one winner finally prevails. Wave sailing, surfing, sprinting, motor racing, tennis, Champions League – you name it, modern sports rise through a foreplay of eliminations to a climatic final, and this is how the iQFoil European championships was decided with a script not even Hollywood could have written – heartache and a collapsing of lungs and nations.
Basically the week-long competition is a test of three different disciplines – slalom, course racing and long distance, purely to establish the top 12 all-rounders who do battle on the last day. The good thing about this is the attraction to the media and spectators, and the intensity of high-pressure competition. The bad thing is, in watersports we rely on the weather…
For most of the week the European championships were dominated by three or four outstanding riders; behind them were some incredible all-rounders who had managed to break into the top twelve, and when the wind was somewhat lighter for the finals two problems arose. Firstly, the lighter winds did not favour the current leaders who'd dominated in the strong winds previously. Secondly, the race officers were faced with the unfortunate experience of having to make decisions based on new guidelines in this inaugural and untested event.
Remarkably the dominant riders from the stronger winds – Nico Goyard, Sebastian Koerdel and Matteo Iachino were still surprisingly fast in the lighter conditions. Matteo sadly had his first poor start of the event in the finals, and combined with a dropping wind and a course race instead of slalom, felt excruciatingly robbed of a European title. But a predictive and worthy top four emerged for the finals – Nico Goyard, utterly dominant in the world foil champs; Sebastian Koerdel, winning many races; young French racer Tom Arnoux from Marseille and Kiran Badloe, current RS:X world champion (the current Olympic class), who was full of strategy, confidence, skill and fitness. So, in a traditional regatta by now, Nico would be European champion, and it was no surprise he and Sebastian were leading the finals all the way to the last gybe mark, only 200 metres from the finish. So why did they not become European champions? Is it fair that a team or player who excels in all the qualifying, fails in the finals? Sport is governed by rules and within those boundaries results are unpredictable, that's largely the attraction.
Sebastian gybed first on the best racing line. Nico gybed second on a traditional attacking line to overtake upwind. Kiran gybed third on a very competitive line, further downwind and knowing that underpowered on a foil a tighter reach to the finish is a faster one. And right there the sport played out in front of wide eyes and dropping jaws. A Dutch Olympic athlete made a powerful tactical decision and used incredible fitness to pump over the finishing line destroying the hard work of French, German, and Italian athletes. Kiran was as surprised as the crowds watching. History was written and like all relevant history, not without controversy.
There are powerful arguments for and against the new format. I favour the change, popular or not, change always develops improvements. Windsurfing has stepped up. Welcome to the new era!
TOM SQUIRES, GBR-931.  
As a group of six lads in a van heading out to Silvaplana we were incredibly lucky to make it out of the UK just before the Government issued an essential travel only notice into France and a two week quarantine if you did travel. There would have been more Brits out there competing, but most car insurance companies wouldn't insure you as soon as there was restricted travel into Europe, which was a real bummer.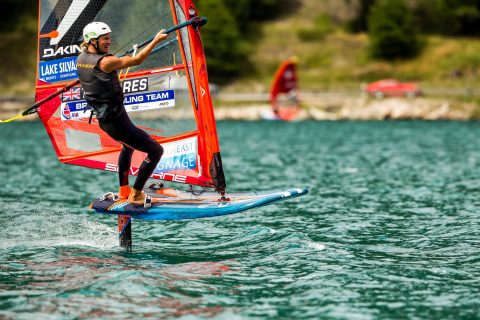 I was heading out with the lads mainly to test the water with this new form of foil racing as my main goal right now is the Olympic Games and training for Tokyo 2021 on the RS:X. Little did I know what I was in for when arriving in Switzerland.
We arrived two days before the Formula Foil Worlds and after 16 hours driving, only stopping for fuel, we all just flopped out of the van and went windsurfing straight away; the froth was real and couldn't help but just get out on the water!
Silvaplana is an insane place and the buzz from other riders and the event itself was immense. Lining up for race one was surreal, everyone on their new race foil gear and all the big names present, rocking up for their chance to be foiling world champ. Some of the best freestylers, PWA superstars and old Olympic legends all on the line together was so, so 'LIT', it felt like the windsurfing community had finally connected back together and it was the start of something really special.
The racing was the most overwhelming, craziest and dangerously radical I have ever witnessed. I don't think there will ever be an event more mind-blowing, I honestly couldn't sleep at night. The racing was just so tight my mind was on overdrive. There was so many people on such a small course and everyone was out of their depth at some point. You'd be going across the top reach and just see a block of foam floating past and then it'd register that it was the nose of someone's brand new 2020 £3k board from a crash, usually involving fellow Brit Andy Brown ha-ha!
The Formula Foil world champs was followed by the iQFoil Europeans. Luckily for me, we had two days of bad wind and two days of rest to get over the emotional and physical stress of being so out of my depth ha-ha! The realisation my skill level was average, but the speed and consequence for a slight mistake was so big really wore me out and talking to the other Brits we had all felt the strain. When someone asked you if you enjoyed the racing you weren't sure what to say initially, you were just so jacked from fearing for your life. It was only after you calmed down a bit you realised it was the sickest thing you'd ever done.
When the big boys and their big sails all moved onto the iQFoil kit for the Euros we were all racing at such a high level. At this point I felt like my racing was coming together and was challenging the ground of the fleet on both slalom and course racing. The Brits as a group were on the money for pace, but there were some lads who were clearly faster and I didn't make it to the top 12 for the finals. But to watch those boys with so much pressure on each medal race was insane, there were a lot of toys being thrown out of the pram by some big names but to watch it was probably the best thing I've seen in windsurf racing in a long time.
I'm so ready to race the foil and iQFoil in the future, after the Olympics on the RS:X!
ISLAY WATSON, GBR-529.
Although the new format was quite a big change from the days of RS:X racing, I think the changes will be a positive step forward for the class. It presents a more varied and exciting show for the media and an audience, while also trying to make sure the best all-round sailors win. There is also the bonus of being able to compete in the biggest wind range possible.
I went into the event with limited expectations. Obviously, this is a very new class and this was the first time I had raced it internationally, so I was really going in blind. Finishing 2nd was definitely a nice surprise!
On the final day I think nerves were even higher than usual due to the "winner takes all" nature of the final series. I think it was more pressure than people were comfortable with or used to, so opinion was definitely mixed on whether it was the right format to go for. I'm not completely sold on it myself.
It felt slightly surreal competing during the Covid-19 pandemic. It was quite different to a normal event with the added difficulties of trying to navigate an event site with hundreds of other competitors and crew in a socially distant manner while keeping focussed on the racing. Despite the difficulties it was amazing that the organisers managed to make this even happen in such difficult times and I think all things considered it was a success.
ANDY BROWN, GBR-360.   
I have not changed my weight since moving from the RS:X, so I am still mid 70 kilogrammes. In the open fleet there was certainly a large advantage to the iQFoil kit over the Open fleet's equipment on the reach. However, you had to fight their high upwind and low downwind angles, which given it was the majority of the course was certainly a challenge!
At the iQFoil Europeans I certainly found an edge on the broad reaches, I believe this to be down to sending it 1% closer to the edge than the majority… this did have its caveats however… falling in during a few of the downwind legs… sending it slightly too hard for my current ability. It did make for a good highlight reel however!
SAM SILLS, GBR-60.
It was exciting to be lining up with the PWA racers on equal equipment. I think if it's windy the PWA guys will have the upper hand on speed. If it's lighter wind foiling then perhaps some Olympic style pumping will be prevalent. The world champions will be the sailors who can do all of it to a high level and then hold it together in the knockout finals. I think Gonzalo, Severne, Starboard and everyone from the iQFoil class deserve a special thanks for inventing this epic racing experience and managing to make it happen during adverse times. It was great to be able to have an event and test things out early on in the cycle.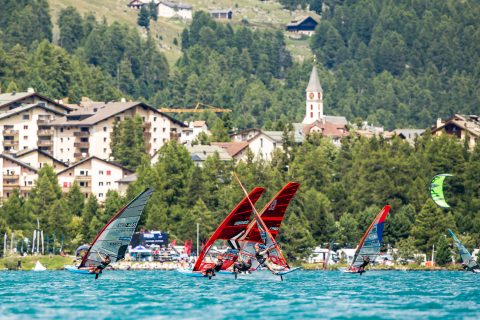 I think the 'knockout finals day' format has two sides: on one hand it is exciting for the spectators, on the other it is brutal for the sailors at the front. I've raced in RS:X on both ends of a knockout, I once went in on 2nd place with a big lead and got knocked out straight away to 10th and felt robbed. On the other hand, I have been in 11th and felt pumped with the opportunity ahead. I think the iQFoil class is an exciting time in windsurfing and I'm looking forward to the racing and being a part of it.
(Editor's note – Sam finished 13th in the iQFoil Europeans, agonisingly just outside the top twelve qualification for the finals day.)
FINN HAWKINS, GBR-19.
It was incredible racing, unlike anything I've done before with super high adrenaline rushes whilst having to make split second tactical decisions around the race course. I am very happy to win the iQFoil Euro youths and I am excited to see what the class brings in the future.
BRITISH PODIUMS
2020 FORMULA FOIL WORLD CHAMPIONSHIPS
MATTHEW BARTON GBR-983 FIRST MENS iQFoil GOLD
ANDY BROWN GBR-360 SECOND MENS iQFoil GOLD
TOM SQUIRES GBR-931 THIRD MENS iQFoil GOLD
JAMES HATCHER GBR-102 SECOND MENS OPEN SILVER FLEET
FINN HAWKINS GBR-19 SECOND iQFoil YOUTH
MAX BEAMAN GBR-262 SECOND GOLD YOUTH OPEN
JAMES FALEY GBR-426  THIRD GOLD YOUTH OPEN
GUY CRIBB GBR-9 FIRST GRAND MASTER
ALYSIA GIBSON GBR-400 SECOND iQFoil WOMEN
IZZY ADCOCK GBR-988 SECOND YOUTH OPEN
iQFoil EUROPEAN CHAMPIONSHIPS
ISLAY WATSON GBR-529 SECOND WOMEN
FINN HAWKINS GBR-19 FIRST MEN'S YOUTH
KIRAN BADLOE, NED-9. 1st MENS iQFoil EUROS.
It was such an exciting finals day! My heart rate was up the whole day because of the pressure. The format was great from a media point of view and an exciting way to show that windsurfing is a cool TV sport. We knew from the sailing instructions that this was the format and it would boil down to the last 12 on the final day, so I think I was prepared for this kind of all out racing to decide the winner. My quarters didn't go too well, I fell in the first gybe, and had to come back from last, but I ended up making it all the way to the finals. The final race was intense! The first one was cancelled and we had to redo it over in a slalom style rather than upwind race. I missed the start by two seconds and had to settle for third place almost around the whole race. Just before the last reach I realized that the wind was dropping and we were closing in on Sebastian Koerdel. I made a solid last gybe, while Nico Goyard and Sebastian were trying to pass each other there and both had sketchy gybes. Because of this, and the wind getting lighter, I saw my opportunity if I worked my ass off. I put all the power down that I had left after doing three other races that day and slowly passed 'Basti' on the home straight. He was throwing down all he had as well. It was only 20 metres before the finish that I realized I had passed him and that I had just won the first iQFoil Europeans! What a finish!
SEBASTIAN KOERDEL, GER-220. 2nd MENS iQFoil EUROS.
They took away all our points on the last day, which created some drama. It all boiled down to the last race for the medals. It created tension. If you made one mistake you were out. The wind didn't come through and we had light conditions. We eventually switched to slalom when the wind dropped, we had to make a show and that is what we did. I was leading the final race until the last mark. Kiran came from the back and pumped past me and took the victory. I was happy to be competitive and at least know my level is up there.
Matteo had a situation where he could not get going at the start when we were at the last eight, although he was one of the fastest sailors all week. He was pretty upset that the change of the conditions cost him a top three finish. He was screaming around a bit and hit the road before the prize-giving. That is what creates the drama in the end. I could feel the excitement as we were racing. There was a lot of pressure and the fairness was in question. But we must make a show and sell the sport and from that point of view it was awesome.
MATTEO IACHINO, ITA-140. 7th MENS iQFoil EUROS.
With the current Covid-19 situation, having an international event has been great for windsurfing. It was a great moment for the sport. The gear was awesome, the board, the sail and the foil were all really nice to use. It all performed well upwind and downwind and for reaching. I would say it is something you can actually buy if you want to learn to foil. I think it is an evolution of windsurfing and something incredible that is happening to our sport. The class has the potential to unify the world of windsurfing. The potential is amazing, we will still do the PWA, but this class is something new and an exciting platform where we can race together.
On the negative side, was the organization on the water from my point of view. I still regret how angry I was at the time. I feel I made more damage to myself than anyone else. A sportsman at my level should not be that angry. After I put absolutely everything into the racing and was competitive throughout, I felt I was hard done by on the last day by big mistakes! I felt bitter. I think they felt the pressure to get a result with this medal race. Then they started making mistakes as the wind was dropping. They were making decisions at the last moment, saying one thing and then doing the opposite ten minutes later. I don't think there was anybody in the race crew that was able to deal with the pressure. It was the first event of this new class and I felt they needed to be on it. I trained for it and bought all the gear. I did my part. I felt because the race crew could not deal with the pressure, that messed up everything I had achieved all week. That was what made me bitter! I am already over it. It was a mistake for me to insult people on the beach and on the internet. I went too far! I put a lot of effort into that racing and felt like I was robbed. I hope the organization will get better and we will all learn from that day. I think the class is cool, we just need to fix those mistakes!
SVEIN RASMUSSEN
The future of racing is up to the racers to discuss, but at least we have good feedback on the work of Gonzalo Costa Hoevel and the race committee. There is now a new and exciting option available for those who enjoy racing one design. The bigger picture is to build an attractive foil junior class, that is what makes me excited about the future.
HÉLÈNE NOESMOEN, FRA-57. 1st WOMEN FORMULA FOIL WORLDS & iQFoil EUROS.
Since we were allowed to return to the water mid-May in France, I spent a lot of time training. In May and June I sailed mostly in Brest with my sponsor's equipment: the F1X L board from Elix Funboard, the 9.0 Skyblade sail from Loftsails, and the 'Windfoil Race' foil from Lokéfoil. In the beginning of July, I received the iQfoil equipment, and started sailing with it. With the iQFoil French fleet we did some training camps in Quiberon and Marseille in July and August. I completed my preparation with some physical training in the Alps, before doing my final equipment settings on lake Silvaplana.
The last day of the European iQFoil championships was exciting; there was a lot to play for with the scores reset to zero for the final races. I wasn't bothered by the pressure and even felt pretty confident after dominating the ten days of racing we had before. But I was also tired after two events in a row and I knew any mistake could cost me the title. There was a stressful moment in the first semi-final, all the girls in front fell in the water with a gust coming in the opposite direction of the wind and we saw the girls at the back able to keep foiling to the next mark. I gave it my all to get back in the top of the fleet at the last mark but in the end the race was cancelled.
As it was the end of the afternoon, the wind started to turn light and patchy and we switched to slalom courses. It was tough to keep foiling all race long and to anticipate the holes in the wind. The second semi-final and the final were really intense with the light wind. I was leading but I knew I could drop off the foil at any time. It was a big relief when I achieved the last gybe of the final still on the foil!
It felt amazing to win the Formula Foil world championships too! It was my first international foil event. My goal was to win the world title, but dominating the event was a surprise. It was vindication for quitting my job a few months ago to dedicate myself fully to training. It was also a victory full of hopes regarding my ambition to chase a gold medal at the 2024 Paris Olympic games. This world title is also a good way to thank my sponsors. My equipment felt comfortable and high performance at the same time; I had some really nice times sailing with it. My Loftsails Skyblade 9.0 felt very stable in the gusty wind of Lake Silvaplana. At the same time, the rig felt soft and easy for pumping to get foiling. I was using the 'Windfoil Race' foil from Lokéfoil with the L front wing and I had some amazing gliding feelings; it felt powerful, fast and safe. I never catapulted at this event, even though we had pretty strong winds and I was taking risks and pushing a lot!
In the iQFoil European championships, we experimented with a mixed format of racing – some slalom in the lighter winds and some upwind/downwind in the stronger ones. I don't have so much experience in slalom, but I really liked it. It was short, intense, and full of adrenaline! I have sailed a lot on the RS:X before, so I am much more used to the upwind/downwind racing. It was nice to adapt the upwind racing tactics to foiling races where we have more speed. I would love to work on the development of equipment with my sponsors. Wind foiling is new and there are many ideas to explore and things to improve. But it also felt nice to race in one design iQFoil because it means that a difference of speed is due to technique or kit tuning instead of equipment.
People asked why I was so dominant, I don't have a secret recipe, it was really all about training, training, and training again. Foiling is new and there are many things to work on to improve.
Lake Silvaplana is an amazing spot! Firstly, wind foiling on flat water is really nice, and the lake is really beautiful. Personally, I love spending time out in nature, and it felt great to sail on those stunning waters, surrounded by 3000 metre high mountains. I just wonder how the local windsurfers sail outside of the summer months as it was already freezing in the last days of August!
It was also nice to have an event where the spectators can follow the racing from close up. Usually we either sail far from the shore, or close in with some fluky wind. We did have some gusty wind, but overall it was pretty consistent for the two championships. Silvaplana is a very nice place for wind foiling events!
Sailing in freshwater makes it more comfortable for the sailors, with less preparation time every day, so it was nice to be on the lake. The iQFoil equipment is really good. The foil is efficient and safe, the rig is stiff but stable, and the deck of the board is really well designed. I was not sure if we could foil early enough with the 8.0m², but the cold wind of the mountains helped a little and there was not that much difference to the men on their 9.0 sails.
I took some rest after the end of the championships and I am now back to training. I will compete in a French national regatta at the beginning of October in La Rochelle, and then go to Lake Garda for the iQFoil world championships. I will also race the French wind foil championship at the end of October in l'Almanarre. So I plan to spend a lot of time on the water over the next months.
I will also take some time to search for some sponsors that are willing to support me for the next four years. I want to put my all into preparation for the 2024 Olympic Games.
NICO GOYARD, FRA-465. 1st MENS FORMULA FOIL WORLDS, 3rd iQFoil EUROS.
I am back at my home spot in Hyeres enjoying my house with my 'bro' Thomas. I have been living in Hyeres for the past five years and Thomas just joined me a few months ago here, which is one of the best spots in Europe to train at!
At the time the competition took place, we did not have any issue travelling with Covid-19 and we were super lucky that the event occurred! I know that for the Spanish guys it was a two-day rush 10 days before the competition as Switzerland decided to quarantine people coming from Spain. Luckily for us, France was not (yet) in that situation.
PREPARATION
I grew up in New Caledonia before moving to France. Earlier in the year, prior to the borders being closed, I flew back and spent three months there, just as Europe went into lockdown.  We had only four weeks of containment there and we were able to keep on training which was great!
Then I came back to France and had a few training camps with the French federation before the worlds and that was perfect to get back to competition training and switch to racing mode.
I only received my new board a few weeks before coming to Silvaplana and didn't have so much time to train on it as I was sailing on iQFoil to be ready for the Europeans.  Anyway, as I designed it, I already mostly knew what to expect from it and I was super happy to have been able to design such a board and to get what I was looking for!
SILVAPLANA
First of all, this spot is absolutely beautiful! It is one of those places you never get bored of. Being so high in the mountains with glaciers around and over 3000 metre summits! It was kind of unbelievable. Sometimes, while sailing, you lift your eyes up and see this landscape and it's just like 'wow'! I don't know many places where you get this kind of feeling while sailing!
About the wind, it's a special place as well as it is quite a narrow lake and you get to sail to the edges of it to reach to the upwind mark, but you can't really get to the lay lines in 1 tack like in the open ocean. The strategy is different and even if it's a valley, the wind is not always perfectly in line with it and so from one day to the next, the conditions were changing. Silvaplana is a place I really love and the local people are very welcoming, one more reason why Silvaplana is such a nice place.
FORMULA WORLDS
My brother Thomas and myself came to Silvaplana about a week before the Formula worlds and had time to train and I saw that I was clearly really quick on the water. Therefore, when the competition began, I was already quite confident about the fact I could win the world title. And after the first day I understood that no one could really be a threat to me, especially in the windy conditions we were about to get! So basically, I had some decent starts in almost all the races and did not make many tactical mistakes. Then, as I had the best speed of the fleet, I just had not to fall!
And about my speed, there was different factors explaining it. I think the Phantom gear is really a step above the other equipment and moreover, I know it perfectly and I know how to push on my foil to make it glide. Of course, there might be other brands making a foil or a sail or a board that are similar in performance to the Phantom equivalent, but to date, none have the complete combo of foil, plus board, plus sail, all being super fast together. It will come though I'm sure, no doubt about it!
What I really love about foil racing is not the racing in itself (even though it's super fun), but it's more about the preparation and the development of the gear.  Working to design the best gear is really something super satisfying and that's clearly what I love about our sport! It is not only a physical sport, or just a technical sport, it needs so many skills and that makes it super complete and interesting!
iQFoil
Now, it's time to focus on the iQFoil worlds taking place from the 19th to 24th October in Lake Garda. That will be the first of its kind and it's really important for me to involved in the future Olympic windsurf discipline. As most of the other competitions are cancelled because of Covid-19, we can really focus on that event!