Tweet
Last year's Tiree wave classic was the 30th anniversary of the event and fittingly saw some of the best conditions in recent years. The long running event has a deservedly cult like status in UK windsurfing but even greater than its reputation is the legacy it has left behind for the island and the life changes it has brought about for those that have grown up with the event. We delve deeper into the event's mark and spoke to some of the Tiree fans and locals for an insight into the characters and effect of this iconic competition.
Words  Finn Mullen // Photos  Richard Whitson, Timmy Vowles/www.timmyvowles.com, Malcolm Steel Photography
(This feature originally appeared in the January February issue of Windsurf Magazine. To read more features like this first, Print and Digital subscriptions are available. Prices include delivery globally for 10 x issues a year!)

---
" Tiree Wave Classic is an event with a history and a legacy and one that the island people are very proud off "


William Angus Maclean – Event Host
"For the past twenty years now I have owned and run Wild Diamond Watersports on the Isle of Tiree. The business focused initially only on windsurfing but more recently also offers kitesurfing, surfing, stand up paddleboarding and kayaking options. Due to the nature of my work & my sports, I wake in the morning and in the first ten seconds of consciousness my first thoughts are where, when and what equipment! Living and growing up on Tiree, this is normally answered very quickly with a quick look out the window combined with the benefit of last night's Windguru check… I have a very real connection with the weather and the outdoor environment accordingly. We are now seeing the second generation of island children coming through who don't see watersports as something new but rather the normal. Most islanders own a wetsuit and kids now have 5/4mm suits and play in the water all day, six months a year as opposed to wearing a 3/2mm wetsuit and going in the water a few days a year. Island children love the water and the natural resources that the island offers, whereas my generation could not wait to get off the island as we hit adulthood. Lifestyle now plays a big part in the decision to stay or leave Tiree and that is often mainly focused around beach culture and watersports. Tiree is a traditional crofting & fishing island community and so people are often more aware of the weather than on the mainland and more office based counterparts. You plan your days in line with the forecast, what work you can do, what you can achieve and what you can do after or before work. With my work and primary sport being windsurfing, I have exactly the same connection to the island and its weather as farmers and fishermen. In the same way as they harvest crops and work through the varying seasons, so also do we. Winter is the opportunity for training and self-indulgence, getting your own time on the water. Spring we open up the season and entertain the keenest of watersports enthusiasts who want to get back on the water after the long nights and cold months of the Scottish winter. Summer we ply our trade and earn our keep for the year when Tiree is at its busiest with watersport enthusiasts. Autumn is the 'performance' season with the best windsurfers visiting the island for mild weather, big winds and the Tiree Wave Classic – the ultimate test of your windsurfing ability and where you stand in the ranks of UK windsurfing!
Tiree Wave Classic is an event with a history and a legacy and one that the island people are very proud off. Tiree is the home of professional wavesailing in the UK and was the one stand-alone event in the UK for this format of windsurfing for many years. I have been involved in the Classic as an assistant, a local liaison, a sports instructor, a competitor at all levels, a judge and finally in the last few years as the official event host for the Tiree Wave Classic, so I guess I have seen the entire evolution of the event which I have been connected to and grew up with over the last 30 years. The event brings social and economic gains to the island through worldwide media exposure, extended services to the island from ferry and air service providers, as well as 'colour' through the competitors at an otherwise traditionally quiet time of year on Tiree. The event also ramps up Tiree's social calendar with live music, themed evenings, sports activities and entertainment on throughout the week of the event. On a personal note, it opened my eyes to possibilities that I didn't know existed until I came into contact with the event and for a young island kid, this exposure was vital in terms of opening up my mindset to options and alternatives in life, that I might not have explored without that exposure to performance sport at a young age. There have been so many great windsurf days on Tiree, but the one stand out session was Big Friday – the day before the event in Mid October 2011. I windsurfed Balephuil alone for an hour in the biggest conditions I sailed in that decade before anyone else (there were only a few!) came out windsurfing with me as the tide dropped and the size eased a little. A few of us went for a beer after that session and no one really said much, whereas normally the boys would all be telling their tall tales of manoeuvres landed or lips hit. It was enough just to have participated in nature's big show on the water that day and the experience was quite humbling in many ways. This was the one and only session in my life that I have had that experience to date, but I hope there will be more in the future! The classic has had some memorable action away from the beach also. We took one hitherto teetotal UK pro drinking with some local farmers and fisherman the night of the prize-giving one year. He got so drunk before his award (I think he was third in the pro fleet that year) he had to be pushed to the front of the hall on a chair to receive it, the fast pace of the Tiree Wave Classic was too much for one of the UK's best sailors! This summarised the Tiree Classic in the '80s, '90s and '00s. Big action on and off the water!"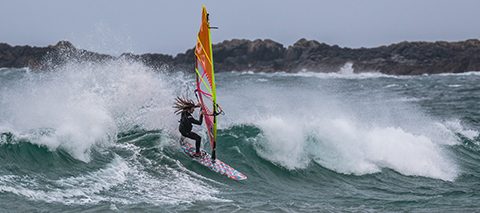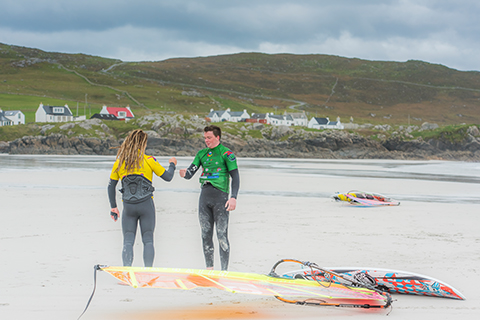 Stewart and Tris
Stewart Cowling and Tristan Levie are two young windsurfers who live on Tiree. Both are up and coming sailors and great characters, Tiree Wave Classic Media officer John Isaacson, photographer Richard Whitson and the boys themselves tell us more.
John Issacson – "Stewart is embedded in local culture, is a fisherman and a windsurfer so is pretty much always at sea when it's light. He's grown up on Tiree and attended the youth windsurf club as a kid, begging borrowing and stealing whatever kit he could get his hands on, but is now a competitive amateur with sponsors from Tabou and Gaastra as well as Wild Diamond. Tristan competed on the racing side of windsurfing as a youth when he began holidaying on Tiree. He quickly moved towards wave sailing under the tuition of Wild Diamond watersports and local wave sailor William Maclean. Tristan now works for Wild Diamond through the summer and funds his windsurfing through the winter season on fishing boats. Both of these guys can be regularly seen on the top of a dune head wearing oil skins and bright orange welly boots rigging 3.4 sails in January on Tiree!"
Richard Whitson – "From having watched Tris & Stewart sailing together on a few occasions, I see that Stewart is a bit of devil and seems always to be having fun with Tris and trying to block his moves, playfully of course and in good humour, he normally from what I could see is the one that ends up in the drink!"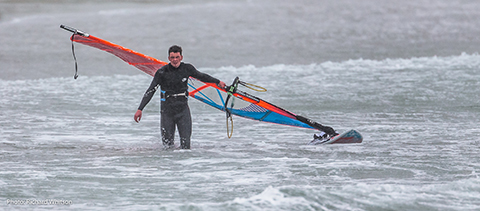 Stewart Cowling
"Windsurfing for me is basically my main hobby and due to Tiree being so exposed to swell and wind, I get to do it pretty often. I work as a fisherman, so pretty much when it's too windy to go fishing, I get to go windsurfing, you cant really ask for more than that! I don't think windsurfing has changed island life too much at all, apart from a lot more Volkswagen transporters causing traffic jams now and then on the island ha ha! Does windsurfing help me connect to home, I suppose it does really, I spend nearly all my life year round in or on the water be it fishing or windsurfing. The Tiree Wave Classic has had a big impact on me. I used to help out with the flags on the beach and watching everyone compete and then as my windsurfing progressed, I started to compete myself. It also brings a lot of business to the island late in the year, which would typically be off-season. My favourite windsurf session? Well I can't pick one, I have three really! Big Balephuil, probably mast and a half high down the line and full power 3.7 and sh***ing myself!! Crossapol again on a 3.7 and logo to mast down the line but peeling probably darn near perfect. Gott bay, only ever scored it one time, 3.7 weather and head to logo high, but the longest wave rides I've had on Tiree !"

Tristan Levie
"Windsurfing made me stop Uni, move to Tiree, and is completely what my life revolves around now. Although windsurfing made me find Tiree, I am by absolutely no means a local; I've only been here 6 years. I first came when I was about 12 to watch the Wave Classic and see what it was all about, since then I've been coming back every time I can. Most memorable session?, nothing stands out, probably a standard 40 knot 5 metre swell day in the middle of December, or there was that time I did a lap of the island in the Corsa with two wheels!"

Adam Milne – Local windsurfer, crofter and dad!
"The biggest influence windsurfing had on my life was opening my eyes to travel. When the Scottish Windsurf Association introduced windsurfing to my school after a couple of years of Tiree Classic events here I would have been in my early teens. Until that stage I was just into the usual sports, football being the main one. Being rubbish at football I jumped at the chance to try windsurfing, turns out that was the only jump I've ever done windsurfing! My first overseas windsurfing trip was to Fuerte' early in December 1994 and I was truly hooked. 5 days out of 7 in the water sailing in shorts – happy days. I guess the other huge influence that windsurfing has had on my life is a lot of my oldest friendships have been formed with meeting other windsurfers over the years, many of whom I've met through the Wave Classic. Quite a few sailors come to Tiree around the time of the Wave Classic for their annual trip, usually just before or just after as they don't want to be skunked during the event, holding a competition seems like the best way to doom the conditions sometimes!
It's difficult to gauge how much of an impact windsurfing has had on the island in general. Visitor numbers have been increasing year on year and it's a bit of a chicken and egg situation – do tourists come to Tiree to engage in water sports or do they pick it up when they are here? Either way most cars in the summer will have some form of water sports craft on the roof during the season which effectively now runs from Easter through to the end of the Wave Classic. Even yesterday there were tourists out windsurfing at Balephetrish in a chilly Northerly. It's great to see how much the watersports industry has evolved on Tiree over the years, from the early days of Glynn and Elaine's shop "Mist wave" based at the lodge and the windsurf club at the loch to what we have today, a multi sports facility in Wild Diamond and a surf/kite operation run by Blackhouse water sports.
In my mind Tiree and windsurfing are effectively the same thing. It's where I fell in love with the sport and the place where I've had some of the best sessions in the past 30 odd years (showing my age!). There are such a variety of beaches to sail, it keeps each trip to the beach exciting, you just don't know what you are going to get served up! No matter how many times you check the forecast or how many websites you check, what you get will always differ to a certain extent. The angle of the swell, the state of the banks, the direction of the wind all combine to make each and every session unique. It's the variety that makes windsurfing special and keeps you hooked, but can also lead to a lot of frustration!
In days gone by I took windsurfing and my freedom to spend as much time as I want at the beach for granted, now that I have a family to consider, every session is all time. Even if the conditions aren't great, I always come away with a strong memory of having a good time. It might be one wave that stands out, or even just one turn, but all the sessions now are memorable. I guess I just need to wait until the kids are old enough to come sailing to increase the session count! One sail from years ago that sticks in my mind was a big day at Crossapol, it would have been in December, tide pushing in with a big swell, wind cross off (starboard), obligatory hail showers. What made the sail so good was the fact that there were some decent banks; the wave would peel giving proper down the line riding with a super clean face. If you were lucky you could even get out pretty easily without getting slapped, which is always a bonus when it's freezing! And also no one else came in – Willy, skinny Will etc. had a look and fecked off to Gott with their tails between their legs!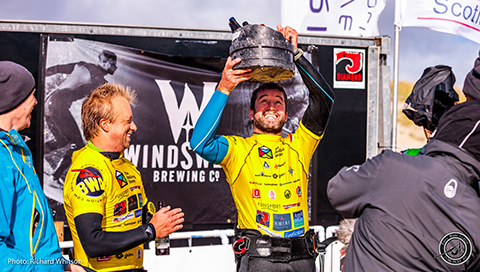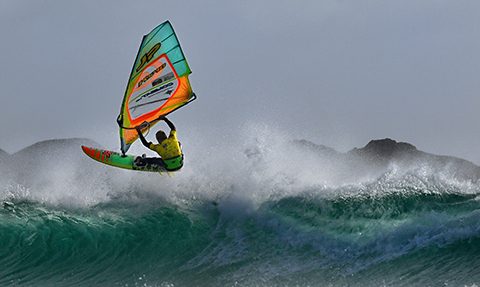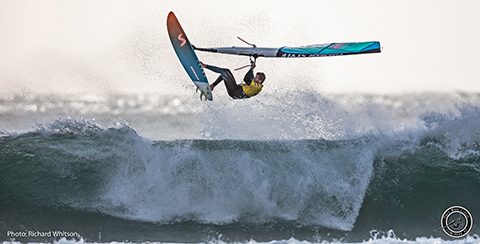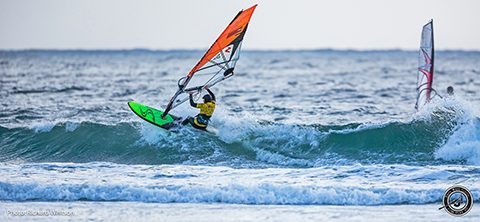 Over the years there have been so many brilliant moments coming from the Wave Classic both on and off the water. Not long after I started windsurfing we went to Balephuil to watch the competition and I was blown away by the standard, it seemed like every pro in the UK was there, all the big names at the time – Duncan Coombes, Scott Poulter, Jamie Knox, Stuart Sawyer etc. I watched one heat where Scott Poulter did a proper end over end forward which was a complete eye opener – you don't see folk doing forwards like that anymore…probably for a pretty good reason of self preservation! Off the water there are millions of stories, most of which are probably best kept out of the pages of this magazine! One prize giving night we (myself, Timo, Suds and Jamie "Dougal" MacDonald) decided it was such a nice evening we should relax, have a BBQ, get into fancy dress and make a Sangria. After several years of working in Corky's bar, which was notorious for getting customers belted, the duty of making the aforementioned concoction feel to yours truly. Not wanting to give away any of Corky's trade secrets, the heavily alcohol ladened potion was masked with plenty of sweet fizzy drinks. Everything was going swimmingly until Skyeboy turned up and discovered that the four of us had developed our own undecipherable language, however after a couple of glasses of "sangria" he was speaking like a native himself!"
" Winter is the opportunity for training and self-indulgence, getting your own time on the water "

Tiree Wave Classic 2016 Results
Pros
1st – Phil Horrocks
2nd – Andy Chambers
3rd – Chris "Muzza" Murray
Amateurs
1st – Louis Morris
2nd – Tristan Levie
3rd – Jack Pettit
Ladies
1st – Sarah Bibby
2nd – Jenna Pettit
3rd – Blue Martin
Masters
1st – Justin Denington
2nd – Graham Pettit
3rd – John Maclawrence