Tweet
Traditionally, in wavesailing terms, 5.3s were the clunky workhorses in most people's quivers. Rigs of this size were termed as 'power wave sails' and often billed as being 'real world' or 'onshore riding' specialists, just because they primarily operated at the lower end of the planing wind spectrum, or largely catered for big boys. Sure they might be many people's most-used size, but they're not the most popular. That's the nimble 4.7s. Everyone thinks they're the cool ones. But with the advent of bigger, floatier wave boards – that often turn better than the smaller boards of days-gone-by – more than ever is now asked of the humble 5.3.
)This feature originally appeared in the Oct. 2013 issue of Windsurf Magazine. To get these reports first get yourself a print or digital subscription – delivered anywhere globally 10 times a year!)
So can our five-something-metre sail be both a compact and capable down-the-line riding weapon? Will it span a massive wind range? Perhaps for lightweights, or any size sailor for that matter in, say 12 knots 'float and ride', plus handle wind of up to 30 knots for the big fellas  – all while delivering the clout of an older 6.0? Let's find out …
CAN WE HAVE IT ALL?
In last month's 4.2 test we discovered that, even though we asked the industry what assumptions they'd like us to judge wave gear under, (the answer to which was to assume it's for dedicated, hard-core sailors in genuine wave riding conditions rather than all-round 'sailability') on our test trips, just like your road trips, we don't always get these ideal environments. This means sails have a wider remit and that, actually, early planing, being comfortable and low energy to use, speed and acceleration to launch fast, catch ramps or get out of trouble rapidly and fly upwind is all critical – rather than simply making legendary turns. We also all sail in a mix of onshore and down-the-line scenarios nowadays as our boards have a wider scope of use. So 'getting around the park' is arguably more valid than ever, wouldn't you agree? 
TEST CONDITIONS
With a fortnight in El Medano we were faced with some really marginal conditions and a few banging windy days – mostly in pretty small weak surf – and nearly all of it served with bang onshore onshore wind. Like, really onshore wind. These 5.3s were mostly tested on the 95L wave boards that are also in this issue as well as on the 85Ls in the upcoming edition.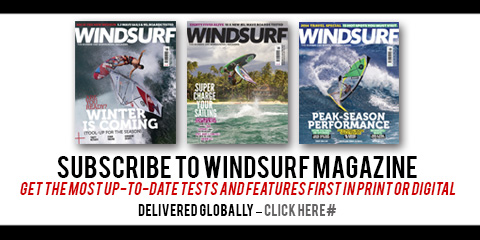 TOUCHING CLOTH
Well, what did we find?
•  Many in this group had really minimal outhaul settings – often touching the boom nearly all the way from the clew to the harness lines
•  All had a lot of tech with lightweight stretch control to keep everything nice and tight.
(There's a lot of scrim and technora cloth on the market – plus a Dacron revival – and not many pure film sails left on the market.)
•  All rigged easily, but now – more than ever – correct mast selection is a must to get the most out of them
ON YOUR BACKFOOT
In the reports you'll read about 'backhand pressure. Let's just define that quickly. Modern wave board outlines have changed. Regardless of how many fins are sticking out of the bottom of them. These shapes let us attack angles on the wave face that we could previously only dream about – especially when it's onshore. As a result many sailors now talk about 'backhand pressure' in sails. This isn't the sail feeling twitchy or 'backhanded' when overpowered. We're talking about 'feedback', pull, resistance. Specifically when sheeting in during a frontside bottom turn.
Without it, rigs tend to put us on our front leg for more drawn-out arcs, perhaps with more forward rail engaged. But having it helps us transfer weight onto our back leg – at some point in the arc – to tighten that curve up – and hopefully, without losing speed, get some more vert into the turn. As you can imagine this behaviour is a matter of preference, so the sails you're about to read about all have a varying degree of this characteristic.
Just thought we'd clear that one up. Comprend? Good. Let's proceed … BM
THE LINE-UP
GAASTRA POISON 5.4
GOYA ECLIPSE 5.3
HOT SAILS MAUI FIRELIGHT 5.3
NAISH VIBE 5.5
NEILPRYDE ATLAS 5.4
NORTH IDOL 5.3
POINT-7 SADO
RRD MOVE 5.2
SIMMER STYLE HALO 5.3
SEVERNE BLADE 5.2
TUSHINGHAM ROCK 5.2