Tweet
WHAT POWER OF LIMITATION?
5.7M CROSSOVER SAIL TEST 2016
Test Editor Tris Best // Second Testers Maurin Rottenwalter and Joe North
Photos Tris Best // Test Location Southwest England
Many people have a 5.7-6.0m sail in their quiver, yet often arrive from opposite ends of the windsurfing spectrum when they decide they require a new sail of this size. Their demands and requirements are therefore also equally diverse. 
This test was originally published in the January/February 2016 issue.
An average weight wave rider might have one as their largest sail for everything from float and ride to marginal conditions until they change down to a 5.3m. A medium to heavy weight freestyler might equally choose one for those marginal winds … albeit opting for it only as their last resort. The seasoned slalom sailor or racer might want a sail that can be partnered with their freerace board and that offers ease and practicality over that of their cambered sails, for use in harsh coastal conditions. The sail also needs to have enough efficiency that it doesn't get 'taken for a ride' by the board and develop control issues. Then there's everyone else – the majority of the market that might have a variety of boards in their garage, and opt for a number of different styles of sailing, from flat water blasting to coastal bump and jump and into the waves. Wouldn't it be great to have one sail that is comfortable for use in all roles?
FINDINGS
And we are happy to report that it is indeed possible! Yes, it's a tricky balance to achieve and there are several sails that claim to be 'all-round', yet when compared to others in the group are decidedly biased towards one specific discipline. Ultimately though, the form or geometry of a sail will largely determine its usefulness and preference. Features such as how low the cut of the sail's foot is and the length of its boom will certainly have a bearing. More interestingly, however, is the fact that the sail's centre of effort can be placed high or low, forwards or back and yet is less of a determining factor on the discipline the sail favours, but more on the power and style of the feedback delivered to the rider's hands. That is of course assuming that the centre of effort is stable and locked in place…! All these sails are ideally used on a 430cm mast. Equally (with the exception of one) they require a short enough boom length to fit on a 140-190cm boom – the most popular length for most high wind sailors.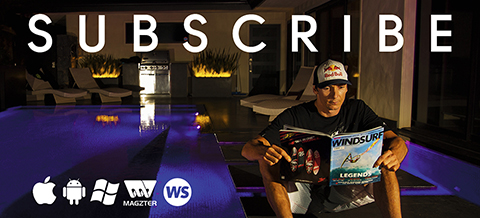 SUMMARY
There are some fairly diverse sails in the group, in both feel and application. The Ezzy and North are unquestionably manoeuvre-bias sails, pulling the rider into upright stances and feeling poised and dynamic in the hands. The Tushingham Bolt is more freeride in nature – with constant feedback and useable dependable power to energise the most stubborn hull. The Severne and Neil Pryde are very different characters, but both come alight when used for blasting, both exhibiting wide wind ranges and rock-steady stability. That leaves the RRD and GA Sails and Point-7 – the three most all-round contenders in the group. Again, all three have their own merits and delivery styles and it is worth reading their full reports, matching them to the sort of sail style you like to use. Pinpoint the board you are likely to be using the sail with and more importantly be honest with yourself in the type of sailing you predominantly want to use the sail for, before drilling down on the one for you. One thing is for sure – the iterative progression in this style of sail has undoubtedly helped to fuel the strides forward made in the modern crossover board sector in recent years. And long may it continue.
TEST LOCATION
This test was conducted at locations found in and around Weymouth, from the idyllic flat water and constant wind of Portland Harbour, to the typically gusty coastal scene at Overcombe. Spread over a long test period it has given us an opportunity to test in all manner of conditions that these boards could (and should) be used in, from light marginal winds, to overpowered gales; from blasting on flat water to playing with fins to mix it up in the waves.
uk.otc-windsurf.com

THE LINE UP
---
---