Tweet
THE SPORT'S HYBRID ENGINE
5.7M CROSSOVER SAIL TEST 2017

Test Editor Tris Best // Second Testers Maurin Rottenwalter & Joe North
Photos Maurin Rottenwalter // Test location Ringstead & Portland Harbour
Reviewing crossover sails is always quite an interesting test to conduct. Take a look at the line-up and you get a glimpse why – all the sails look relatively similar – all possessing five battens and setting on 430cm masts; all with similar dimensions and outlines. It's not until you actually get them on the water and use them in a variety of conditions that you really begin to understand their tendencies and leanings. So what are we expecting of this sail class?  
This test was originally published in the January/February 2017 issue.
The truth is, quite a lot. They have to be early planing, especially if they're to be considered as the light-wind contender in a wave-rider's quiver. They have to feel light, balanced and responsive in the hands to have any merit in a manoeuvre-oriented role. Speed, acceleration and efficiency are key for coastal blasting and the ability to be locked into place, pushing the board to ever greater velocities. And yet it still needs to have an ability to provide a forgiving, cushioned ride – so as not to unnerve the progressing pilot as they venture into increasingly challenging conditions. It's a tall order, and yet there are many here that accomplish most on the list. There are others that have distinct inclination towards a certain field … which is fine. It is our task, therefore, to identify them and ensure the right sail is picked by the right person.
FINDINGS
As with the 2017 wave sails reviewed in the two previous issues, many of the crossover sails here see a reduction of the luff curve used. North Sails, Neil Pryde, Severne and RRD have all done so. The advantages are easy to feel on the water – the mast having more life and response and as a result the sail feels lighter and more reactive in the hands, with better bottom end power and 'pump-ability'. The downside is top end stability, so measures have been taken to reduce any degradation as the wind turns on.
Framework structures, resistant tendons, Dacron luff panels … there are many tricks and features to help reduce the decay and keep the draft locked forward. The other three brands – GA Sails, Goya and Loftsails – use the more tried and tested of method of forcing more curve into the leading edge, increasing skin tension and keeping the sail's body as tight as a drum.
Manoeuvrability is also high on the agenda for these sails, which means reducing the boom length to provide a more compact, controllable nature. Many brands incorporate a step in their leech by the main batten above the boom, enabling them to keep a good amount of sail area in the mid-leech, whilst the clew can be shifted inwards. North and Severne have gone a step further and cut a concave outline in the sail's trailing edge between the clew and the batten above. It not only enables the clew to be brought in a touch, but also reduces the chance of any leech flutter, whilst helping to promote twist.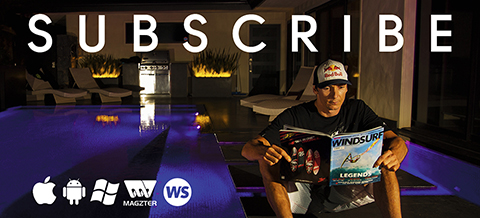 SUMMARY
Starting at the more manoeuvre-biased end of the scale, the Loftsails PureLip is a wave sail at heart, with the crisp response you'd expect … yet possessing the structure and speed to be at home in a coastal blasting role. The North Volt is also manoeuvre biased, yet caters for more marginal conditions, with an extraordinary ability to generate power through pumping. The Severne Gator and RRD Move are both supremely versatile options for the recreational sailor, both with a distinct lightness and balance to their handling. The Gator's power delivery is more focused and defined, but both can be used in a variety of disciplines from cruising to venturing into waves. Then there's the GA Sails and Goya, both with a good amount of skin tension and structure to their foils. They are high-performing all-rounders, more than a match for any experienced pilot's demands, yet requiring a strong hand to get the most from as the conditions become severe. That leaves the Neil Pryde Fusion – a sail with a massive tuning range and a distinct taste for playing in flat-water conditions, be it cruising in marginal winds, or blasting against peers in stronger winds. There is something for everyone in this group – try to make your decision based on the style of windsurfing you most enjoy.
THE LINE UP
---
---