Tweet
THE SPICE OF LIFE – 6.5M FREERIDE SAIL TEST 2015
Test Editor Tris Best // Second Tester Maurin Rottenwalter
Photos Nick George // Test Location OTC, PORTLAND
A freeride sail test is one of the more varied sail tests we are asked to do. In a wave sail test for example, most if not all of the entries are focused on providing power but remaining light, balanced and ultimately manoeuvrable in the hands. Take the other extreme and a slalom or speed sail test would be mostly centred on which contender provided the best top end speed and stability. A quick glance at the six sails on test here and you can see there is quite a diversity amongst the group in sail outline, high or low aspects (i.e. area placement within the sail), depth of drafts and dimensions.
This test was originally published in the May 2015 issue.
There is a mix of five and six batten configurations, and whilst some sails were supplied with RDM masts to be tested with, others plumped for SDM. There is even a sail on test here that is recommended for use with a 460cm instead of the mainstay 430cm. So with all these variables in play, the conclusion to draw very quickly is that the demands placed on the 6.5m freeride sail are also varied and diverse, leading to these various solutions. One thing is for sure – variety and options can only be a good thing for the consumer market and the recreational sailor!
FINDINGS
Put some of these sails on a no-compromise slalom board and in the right conditions and wind strength they wouldn't feel out of place. Put a different sail in this group onto a loose manoeuvre -frothing crossover board and it certainly wouldn't let you down either. There are however very few rigs in this size that can do both comfortably, such is the disparity and void between the two disciplines. So to understand and decide which sail is best for you, ask yourself a few quick questions. Which board are you looking to partner the sail with? What conditions are you likely to take the sail out in? And what style of riding do you tend to err towards – light to marginal wind cruising? Powered and overpowered blasting? Cruising with an upright stance and trying a few tricks and stunts, or locked in and pushing all the power you can muster into the board? Answer these questions and you'll quickly be able to narrow down to a few sails here that will fit the bill. The Volt was tested last month in the Crossover sail category and for all intents and purposes, this 6.4m version does exactly the same as its smaller version – lots of bottom end power in a balanced, manoeuvre-specific package. The Bolt also has lots of marginal wind potential, yet can be tuned to significantly alter its power delivery and style, thereby also extending its top end range. That takes us to the Gator which has a unique character, with such a forward centre of effort that its straight-line performance is masked by an ease and lightness in the hands, allowing the rider to choose the style of riding they adopt.
We then move onto the RRD Evolution and Goya Nexus. Two very different feeling sails from either end of the stiffness spectrum, the Nexus with its firm, direct feedback and the Evolution feeling soft and subtle, capable of moving around the rider so as to not disturb their stance. Both, however, share a clear path into high end blasting and getting the most straight-line speed from the board they're partnered with. Finally we have the Ryde from Neil Pryde, which proved to possess the most surprising performance of all. A straight freeride contender, it needs to be tuned correctly, but get it right and the sail dazzles with the type of balance and slippery efficiency you'd expect from a high end freerace foil.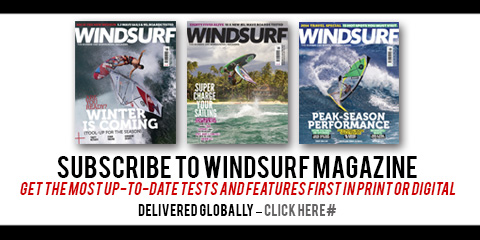 SUMMARY
If you get an opportunity to try these sails at demo events or borrowing kit from your local retailer, we highly recommend it. There is nothing better than getting on the kit and trying it for yourself. With small freeride boards taking a massive surge forward thanks to the 'wide-thin' concept, these are some of the obvious sails on the market to partner the boards, and they don't disappoint.
THE OTC
This test was conducted at the beaches of Overcombe and Bandstead within Weymouth bay and the Official Test Centre (OTC) at Portland, Dorset. The OTC centre is based within the grounds of the National Sailing Academy that hosted the Olympic sailing classes in 2012. With the best wind stats on the south coast, mirror flat water in prevailing winds and a safe launch area with excellent facilities, it provides the ideal test venue. Much of the kit is still on site, so why not go and try some of it for yourself?
THE LINE-UP 
---
---