Tweet
FIRE CRACKERS – 7.0M NO-CAM FREERACE SAIL TEST 2015
Test Editor Tris Best // Second Testers MAURIN ROTTENWALTER, JOE NORTH
Photos ANDY STALLMAN, NICK GEORGE & ALEX BEST // Test Location OTC, PORTLAND
The no-cam freerace sail is quite a unique all-round creature when other sail categories are becoming increasingly specialist. Designed to offer near top end stability and speed of a cambered slalom sail, combined with the ease of use and practicality of a no-cam freeride foil, it has quite a hard job description to fulfil. As with all iterative design processes, it is constant refinement that has enabled the discipline to evolve into what it is today, and sail designers certainly have their own interpretations of how to meet and resolve the same questions.
This test was originally published in the June 2015 issue.
If you find a sail brand you really connect with; a sail line that provides the right balance and feedback that suits your riding style and preference, the chances are that loft has got it right for you as you move through the various other disciplines as well. That is not to say it is not worth trying sails from other brands, but perhaps use the contender from the loft you're most used to as your point of reference or benchmark, and then experiment from there.
FINDINGS
As freerace sails have evolved to provide power and speed over a greater wind range, so too it seems freeride sails have developed to become more stable and efficient, narrowing the gap between the two parties. So there is undoubtedly a crossover in this group, with some sails leaning towards the easy handling and practicality of freeride and others the sharp responsive efficiency of top end straight-line work. No matter how many tube-rod battens you put into a freerace sail though, its structure and stability can't be locked and assured like a slalom sail without the use of camber inducers. If you want to run down a speed course and really see how fast you can go, there really is no substitute. But look at those using full-on slalom sails and see how much sail area they are using, normally at least one square metre larger than those comfortably planing on a no-cam sail. So ask yourself if out and out speed is your bag, or whether you'd like a more relaxed, enjoyable ride on the water, compensating a fraction of top end speed for the comfort and inspiration to fire round some transitions, even venture off the speed strip and into some real world coastal conditions. Because you can be sure that the lightness and practicality of a no-cam freerace will up the stakes in your favour when the seas become rough.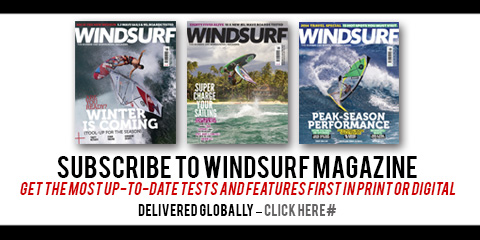 SUMMARY
The Hellcat from Neil Pryde is the thoroughbred amongst the group, providing an efficiency and precision in use that can't help but impress, however it does require taming when the conditions become severe and is also the most expensive sail on test. The North is at the other end of the freerace spectrum with a soft practical nature and an economical price tag to match. The RRD, Simmer and Ezzy Cheetah all offer stacks of performance over a massive wind range, the Ezzy leaning to bottom end prowess whilst the other two come into their own when the wind really picks up. That leaves us with the Severne and Goya. Both of these major on their handling abilities, the Goya being more freeride in character, going light and neutral as it's sheeted out. The NCX from Severne, however, has the most incredible lightness and balance, even when locked down and used in severe winds. There is real high performance, user friendly product across this test, our advice is determine the type of board you're looking to use the sail with and read the descriptions to match the best sail accordingly to your use – then all that's left to do is blast and smile.
THE OTC
This test was conducted at the Official Test Centre (OTC) at Portland, Dorset. The OTC centre is based within the grounds of the National Sailing Academy that hosted the Olympic sailing classes in 2012. With the best wind stats on the south coast, mirror flat water in prevailing winds and a safe launch area with excellent facilities, it provides the ideal test venue. Much of the kit is still on site, so why not go and try some of it for yourself?
THE LINE-UP 
---
---