Tweet
IF TWO'S COMPANY, WHAT'S FOUR?
7.5M TWIN-CAM SAIL TEST 2016.

Test Editor Tris Best // Second Testers Maurin Rottenwalbter & Joe North
Photos Alex Best // Test Location OTC, Portland, Dorset
With a quick glance over the sail line up in this test, you may well have spotted a bit of a rogue entrant, harbouring four cams instead of just two. The reason for this mismatch was initiated last month, during the 3-cam sail test we conducted. In it, there were two innovative sail designs that seemed to steal the show with a new train of thought, using a feature that enabled a reduced luff curve without affecting the sail's stability. North Sails called it their 'No.Compromise. Design' whilst Severne referred to it as the PowerChord. Both came to light this year and both are intended to make traditional rigid high-end foils softer and more user-friendly. So, as a bi-product of their introduction, will they spell the end of the twin-cam, whose very remit was to bridge the gap between outright performance and no-cam ease? We've included the descendant of the original source here to find out.
This test was originally published in the June 2016 issue.
FINDINGS
Last year some rumours began to filter through from the PWA slalom circuit that there was one sail out there that was beginning to prove invincible in marginal wind conditions. The North riders had a secret weapon, rendering themselves unstoppable! It was the WARP F2015 9.0LW – a sail following a new concept that provided better early planing, lighter handling and more punch on the exit of the gybes, without compromising top end speed or stability. As you'd expect in a true development program, these attributes have since been distilled amongst the rest of the North racing series, including all WARP F2016 designs and the S_Type SL. And the difference is immediately apparent. The WARP 7.7m tested here is a true race winning foil with all the qualities that you'd expect. And yet it is still incredibly light and manageable in the hands, easily within reach of recreational blasters.
So what does this mean for the gritty twin cam? For years it has steadfastly held the middle ground between performance and handling? Will this foundation of recreational cammed sailing dwindle? Sales figures from various brands might point to such a decline; yet having conducted this test, we believe that twin cams still very much have a place on the market. In fact, many of the designs are already evolving in the same direction as the WARP, with less luff curve and deeper profiles for wider wind ranges and improved handling. David Ezzy, for example, has been working along the same line for years, using pre-shape in his seams so that he can lock stability into his sails and therefore reduce the luff curve required. And from what we have felt throughout this test and the last (in fact most tests throughout the year come to think of it), less luff curve means a greater sense of lightness and feeling from the sail, more pump-ability (if there is such a word!) and a smoother, softer power delivery. This is all because it lets the mast do what masts do best, flex away in gusts before returning to their datum. Time will tell whether the Kevlar cord design used by North and Severne can withstand years of service, but at this stage it is fantastic to see sail design continuing to evolve and the fruits of development at the sport's cutting edge filtering down to the consumer market so quickly. Long may it continue…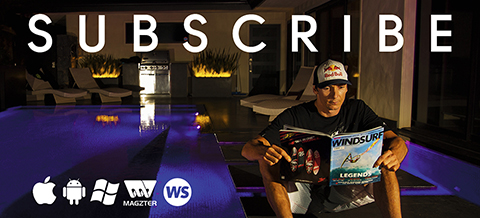 SUMMARY
In this line up of five twin cams (plus one) there is a real mix of attributes and qualities that it is worth, first of all, considering a few determining factors. Which board are you likely to partner the sail with? What type of performance are you looking for and where is the sail fitting in your quiver –your largest sail for early planing, or one of your smallest sails for summer blasting fun when the thermals come in? Answering these questions will help you pin-point exactly what you're looking for as you read the reports that follow. The Bolt from Tushingham is a great starting point into the world of cammed sails, using the traditionally accepted method of increased luff curve to provide stability. The Dacron luff sleeve incorporated then allows for movement and softness in the sail's power delivery. The Lion from Ezzy is at the other end of the luff curve spectrum with the least amount of curve in the group and possessing all the positives associated as a result. Super tuneable and dependable, it uses Ezzy's long established concept of seam shaping … but will we see a stretch resistant chord in future Ezzy designs as well? The Severne Turbo provides extra depth to the brand's 2016 line-up, offering supremely neutral handling and near no-cam ease in a super stable structure. The GA Sails Cosmic has plenty of low down profile to exact real bottom end punch and drive, using shorter dimensions to provide a more compact feel. That leaves the Neil Pryde, whose form has obviously been influenced by the brand's own highly developed race program and provides the highest performance to match its price-tag. As for the North, a four cam in amongst this twin cam test, the cat is now amongst the pigeons … and no doubt the pigeons will evolve and fight back!
TEST LOCATION
This test was conducted at the Official Test Centre (OTC), on Portland, Dorset. The centre is based within the grounds of the National Sailing Academy that hosted the Olympic sailing classes in 2012. With the best wind stats on the south coast, mirror flat water in prevailing winds and a safe launch area with excellent facilities, it provides the ideal test venue. Much of the kit is still on site, so why not go and try some of it for yourself?
uk.otc-windsurf.com

THE LINE UP
---
---