Tweet
BONAIRE: THE BEAUTY OF BONAIRE
Maria Tomasakova took a working holiday to Bonaire as a windsurf instructor; she tells us why she thinks it's a paradise for windsurfers, but also offers plenty to do if the wind doesn't blow. 
WORDS – Maria Tomasakova // PHOTOS – Julien Bru, Florian Wegerer, Ella van der Sluijs, Fabiënne Hoogendam, Anele Ludaviciute, John Carter, Ria Tomasakova.
---
 I did not want to wait the whole winter to go windsurfing again. So I started to look for spots where it was possible to windsurf during Europe's winter months, but also would be safe for a girl to travel alone to. Bonaire ticked all the boxes, so I sent a couple of emails and I managed to secure a job in a windsurf centre as a windsurfing instructor. The best thing about travelling to Bonaire is that you do not need much paperwork to visit, as it is a special municipality within the Kingdom of the Netherlands, so if you are staying there for less than 90 days, most people do not need a visa. 
There are direct flights a couple times a week from Amsterdam with KLM and TUI. From my experience, I recommend KLM, although the price of the flight might be a little bit higher. For accommodation there are a lot of beautiful apartments or hotels available and for transport, you need to rent a car or a scooter, as there are not any bus services; my tip is to rent a pickup.

THE WINDSURFING 
Let's get to the best part and that is the windsurfing. People mostly windsurf in Lac Bay. The water depth depends on the tide, but it is usually just waist deep. The windy period is from mid December to August with winds around 15 – 20 knots. The direction of the wind is always onshore and the bay is separated from the open ocean by a small coral barrier. There are 2 peninsulas: Lac Cai and Sorobon. Lac Cai is home to sea turtles and mangroves and Sorobon is the place where all the windsurf schools are located. There are 4 windsurf schools – Dunkerbeck Pro Centre, Jibe City, Windsurf Palace, and The Frans Paradise, owned by the two very popular professional windsurfers – Taty and Tonky Frans. There are many different brands for hire in these various windsurf centres, so something for everyone! 
I worked in the Dunkerbeck Pro Centre (dunkerbeckprocenter.com) which is located on the beach of the Sorobon Beach Resort (sorobonbeachresort.com) and has gear from Goya, Simmer Style and Starboard. It is not a big windsurf centre; so I feel they are able to give you a lot of attention and help you improve as much as possible.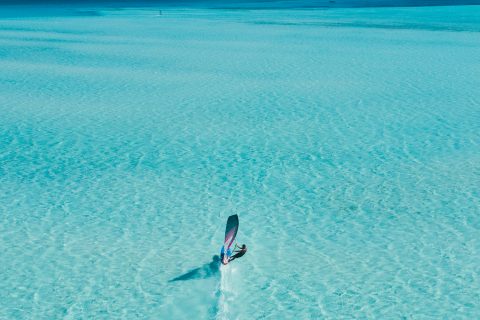 LAC BAY 
What I love about Lac Bay is that you do not need a wetsuit; although I recommend bringing some Lycra as the sun is pretty strong, especially from 12:00 until 15:00. It's perfect here for both beginners and advanced and great for kids. The water is flat and the wind is stable, so you can perfect your jibes or try some freestyle moves. There is also great freeriding in the deep water part of the lagoon. I came here to improve my freestyle skills and felt like I got better every day. The local wildlife makes for a special atmosphere and you can see turtles in the water and flamingos flying over your head; and due to the flamingos, kitesurfing is banned in this part of the island.  
If you are looking for some adrenaline and unforgettable memories, you should go windsurfing in Sorobon bay during a full moon. It's relatively safe as the water is not deep, you just need to be careful about the stingrays.  
If you decide to bring your own gear, there are other spots to sail on the island. Pink Beach, for example, on the other side of the island, offers flat water and is magical, especially at sunset. 

OTHER ATTRACTIONS 
If it's not windy, there is plenty to do. Even though Bonaire is a small island, there are beautiful hidden places where you feel like you are in another world. There are lots of spots for snorkelling, but my favourite is Salt Pier, with its vast number of turtles and different species of fish. Not to mention the pink lakes and enormous piles of salt, which make for great photos!  
Bonaire is also great for scuba diving, with many schools for learning, as well as organised dives for more experienced divers. There are also a lot of cave pools in Bonaire. I visited one and it was epic, and if you stay still, you can see mini shrimp swimming around you. It's pitch black there, so you will need to take a waterproof torch. There is also an option to book a guide who will swim with you from one cave to another.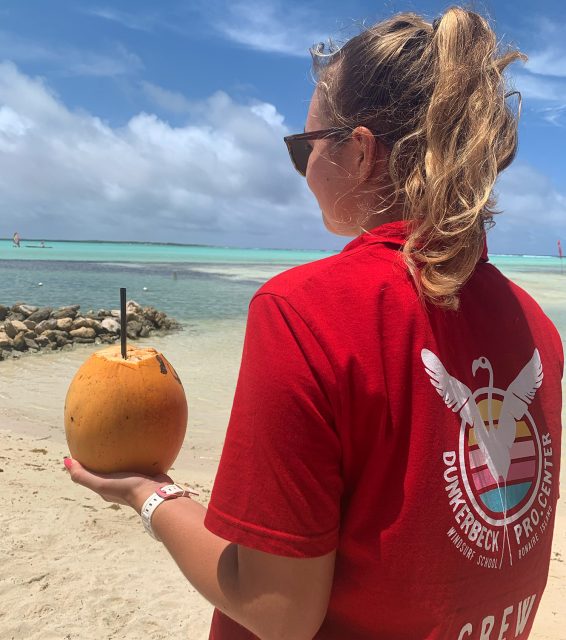 I would definitely save one day to visit Washington-Slagbaai National Park. While some enjoy the cliff jumping there, others can go hiking up the highest mountain of the island called Brandaris, which has stunning views over the whole of Bonaire. 

My best memory is when I went to the donkey sanctuary. The guides explain how the donkeys got to Bonaire and how the sanctuary helps them. Then for the fun part, after a short briefing you can get in your car and slowly drive through the sanctuary while the donkeys are walking around, and if you have a bag of carrots you can feed them. I do not recommend stopping the car as the donkeys gather around and it is impossible to move again, they will not leave you!

The last thing which I recommend, is to check which activities require a STINAPA tag. Stichting Nationale Parken Bonaire (STINAPA Bonaire) is a non-governmental, not for profit foundation commissioned by the island government to manage the two protected areas of Bonaire: the Bonaire National Marine Park (BNMP) and the Washington Slagbaai National Park (WSNP). Scuba diving fees are $45 / year and other water activities $25 / year.

Bonaire is a paradise for all windsurfers in my opinion. Even though the island is small, there are a lot of different activities that you can do, so it is as suitable for families as it is for groups of friends who are looking for adventure!