Tweet
THE DEFI crew tell us – "DEFI WIND JAPAN 2020 – 80 world titles on the starting line of this double event!
Quick brief – One month to the Defi Wind Japan and Defi Wind Superstars in Miyakojima.
The living legends Albeau & Dunkerbeck will be there as well as Pierre Mortefon, Delphine Cousin, Nicolas Goyard – the current PWA World Champions.


The Defi Wind Japan 2020 is already coming in less than one month! Placed at the beginning of the year on a tropical destination, it is ideally positioned to get out of European winter and to start the competition season. Défi Wind Bonaire and Défi Wind Gruissan 2019's winners, Taty Frans and Nicolas Warembourg wouldn't have missed this Défi Wind Japan for anything. This year, they will have a hard time with a very big names on the starting line. The reigning PWA World Champions and many of their contenders will travel to Miyakojima (Okinawa, Japan) for their first competitions of the year. Pierre Mortefon, Delphine Cousin, Nicolas Goyard, but also Antoine Albeau, Björn Dunkerbeck, Arnon Dagan, Jordy Vonk,, Lena Erdil, Marion Mortefon, Amado Vrieswijk and many others will make the trip. For them, this long distance in Japan promises to be a first calibration for the season in slalom as in foil. It will also be an opportunity to combine business with pleasure in contact with many passionate week-end windsurfers and on a perfect spot. The spirit and culture of the prefecture of Okinawa add a little extra spice to an experience that will undoubtedly be exceptional for both pros and amateurs.
As a reminder, this year the Défi Wind Japan will take place from February first to fourth with the defi wind trademark long distance racing format. 150 places are open to challenge the pros on marathon courses. On the race course, the challenge is the main focus of the competition. But on land, sharing, kindness and passion always stay at the center of concerns. Following the Défi Wind Japan, from February 6 to 8, the Defi Wind Superstars will be open to 32 riders for a three-day event on natural and potentially XXL routes. Foils and classic boards will potentially be used. 24 pros have been selected already and 8 qualifying places will remain to be filled on the Défi Wind Japan. In this Defin Wind Superstars, the starting line will bring together more than 80 world titles! To be mentioned, a € 50,000 prize money will be given. Stay tuned for more soon!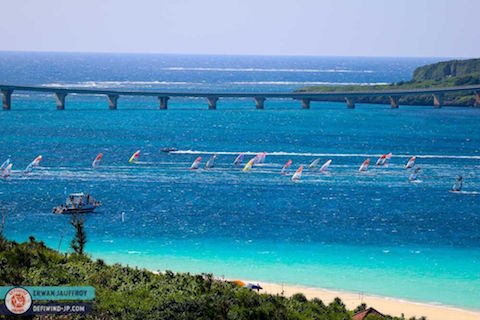 Interview Delphine Cousin (PWA women slalom & foil world champion 2019)
"Thanks to the kindness of the Japanese, we always feel very welcome. The Japanese are doing everything possible to make us feel at home! The photos of the spot are reminiscent of the West Indies so I can't wait to discover this new place! This will first be a opportunity for sharing moments with the other riders and especially the locals and amateurs who will come to participate in the event. The atmosphere will be different than on a world cup and I imagine that we will get closer to the atmosphere of the Defi Wind in Gruissan. Defi Wind Japan will be the first way to gauge yourself, even if everyone's winter training is not over. I also come to seek pleasure to sail with in particular raid type courses because it is a format that I really appreciate! Using natural elements to make routes is something that I really like! I also like the pro / am concept! As I said before, the Japanese are very welcoming and friendly. They always seem happy and this joy is communicative. I have no doubt that we will have a good time on Miyako Island! "
Interview Pierre Mortefon (PWA men slalom world champion 2019)
"I have seen pictures of Miyako and it is true that it looks tip top! The Japanese are very welcoming and everything is super well organized. Respect is also a good word for the Japanese people. The stake will be less important than in PWA but there will nevertheless be quite a lot I think. The cool thing about Défi Wind is being with a lot of completely passionate amateurs! Obviously, once on the line, the goal will be the same … to be in front of the pack ! So this will be a real test for the 2020 season because we still have to work well on the gear… There will be this triming part, but, honestly, I will also take the competition a little more in discovery mode of a beautiful place, take advantage of being able to navigate new waters and meet new people. It's great to mix with the amateurs and frankly I find that for a few years now there has been a great craze of a lot of windsurfers. It's great to share! "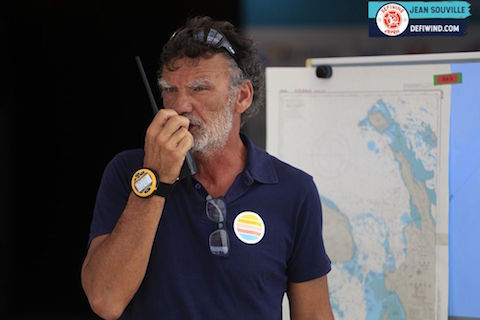 Interview de Philippe Bru (fondateur et directeur de course du Défi Wind)
" Having already organized a few nautical events around the globe (Gruissan, Tahiti, Mauritius, Morocco, Bonaire, etc.), Japan is obviously a particularly extraordinary destination! The language is very different to what we're used to, the culture is unique, the organizational approach is very rigourous, the will for success is very strong. Here we are in a new high-level windsurfing adventure! An organization that lives up to its name! A challenge. This year, in addition to the 150 participants expected, we will also organize the first Defi Wind SuperStars which will bring together the 20 best windsurfers in the world today. A race format pushed to its pure simplicity: Long distances of 60 km on natural routes. Something not to be missed ! "
Defi Wind Japan 2020 top riders full list:
Björn Dunkerbeck (ESP) , Antoine Albeau (FRA), Pierre Mortefon (FRA), Delphine Cousin (FRA), Nicolas Goyard (FRA), Julien Bontemps (FRA), Jordy Vonk (NED), Julien Quentel (FRA), Marion Mortefon (FRA), Lena Erdil (TUR), Alexandre Cousin (FRA), Antoine Questel (FRA), Sebastian Kördel (GER), Amado Vrieswijk (BON), Taty Frans (BON), Nicolas Warembourg (FRA), Andrea Cucchi (ITA), Arnon Dagan (ISR), Akinori Goshi (JAP), Anami Tomonori (JAP), Yuki Sunaga (JAP), Suzuki Ayako (JAP), Alyssa Wijnand (BON)