Tweet
High wind foiling with big sails is not for the faint hearted. The 2019 Catalunya Costa Brava PWA World Cup saw some of the wildest professional wind foil racing to date as sailors battled raging Tramontana winds. On the flip side, the opening day of the event saw some of the lightest winds yet encountered for professional foil racing and then, later on in the event period, for the first time in the PWA, the sailors competed in slalom foiling. The event put the sailors on the edge of foil performance in a variety of conditions; John Carter asked the pros their opinion of the limits for foil racing being explored to such extremes?
Words  Matteo Iachino, Gonzalo Costa Hoevel, Jordy Vonk, Julien Bontemps, Sebastian Koerdel, Antoine Albeau, Ross Williams, Nicolas Goyard, Maciek Rutkowski //  Photos  John Carter
---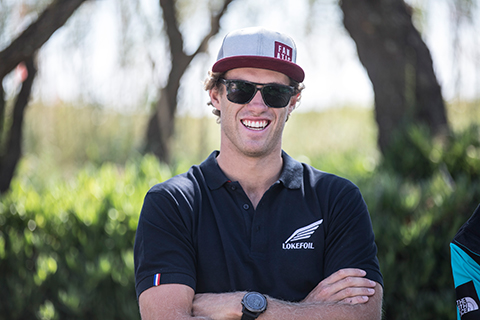 JORDY VONK
The positive about the range of conditions we faced was that it is actually really difficult to tune your gear without this huge wind range. Then you have to find the extremes, which is new to all of us. I only received my sails the day before Japan, so I am still getting used to tuning them. Nobody ever tried to go out with an 8.0m in 40 knots before. Prior to the high wind race we were all just trying to figure out what we could do to cope. I think it was super awesome that we raced in those conditions. It was very good to find the limits and I think we even went a touch over. I went on a 7.8m and it was just 'man up' and go. We learned so much from the first race to the last race. It was already a big difference in our sailing. Next season when we know we need to compete in those conditions we will be trained up for it and looking much better. I used a smaller front wing and raked the back wing to give as little power as possible. It was definitely scary. I was one of the few guys who didn't crash and that was basically because I saw them all going down and decided to take it super easy and not injure myself. I lost some places doing that, but I wanted to survive and knew it was not the time to push hard. The light wind conditions were also tough, I am 90 kilos so it is hard to get up on the foil and beat the RS:X guys who are pumping all the way up. That is the other extreme, you need to get on the foil as quick as possible in such light conditions.
"It was definitely scary."
---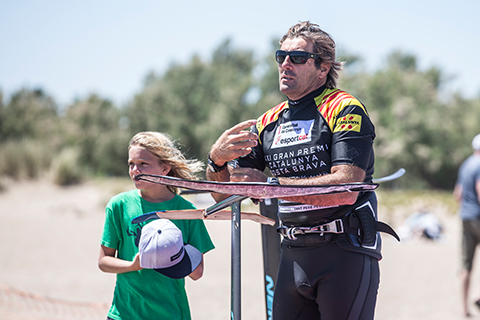 ANTOINE ALBEAU
I like all racing, but the problem for me is the restrictions we have. We managed to do one race in the strong winds, but we could have done more. In the super light wind it is not great for me because I am the heaviest and it is very hard to fight. I am happy because in the end I was in the game and competing a lot better than I expected. The new format with the slalom was awesome. I think I am way better doing this type of racing than the upwind and downwind courses in the super light conditions. In those conditions you have to be light weight to be competitive. I think the slalom was just amazing and unbelievable to see. I think this is the future of light wind slalom for sure. The windy day was a bit scary, but we all soon tuned in. We went out and we are professionals so we soon learned how to tune and be able to do it. I had a lot of fun, but I am the heaviest so maybe it was easier for me!
"I had a lot of fun, but i am the heaviest."
---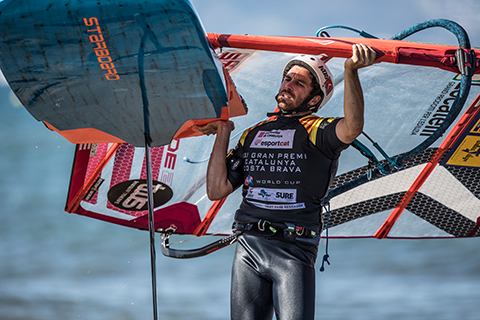 MATTEO IACHINO
I enjoy strong winds more because it is a greater challenge and less pumping. Light wind is more about pumping and if you miss a good start you are down already. In the strong wind you can come back and make up places. The downwind is very technical and kind of emotional as well. We had very light winds and nuclear winds on the first two days. I was on my 8.0m in the high winds, I tried to remove as much power as possible from my sail and keep it balanced. I used the fastest and least powered fuselage that I have. I was overpowered but it was sailable. The day before I was on the opposite sort of kit, a 10.0m and super light wind setup. Playing with these combinations you can actually cover from 6-25 knots and enjoy it, but 30 knots I would say is the limit. Over that is scary. In the very high wind it is super hard for the guys to control what is happening, if there is a sudden change or somebody crashes, you can get injured… 'you are not behind a desk', as we say, but you can get injured doing any extreme sport.
"30 knots I would say is the limit."
---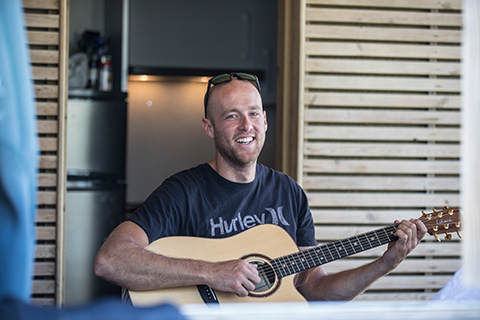 SEBASTIAN KOERDEL
It was great to see that it was possible to race in 40 knots. We could all race and make it round the course. So now we know we can foil race in all conditions. For sure you adjust and take smaller gear. You have to mentally adjust also because you're so on edge all the time, balancing getting as much power as possible and then releasing everything when needed. When the wind was nuking you had to just go with it and not push too much. We use the same boards, a little bit smaller sail and smaller wings, that is it. I actually enjoyed it, but I did hurt my back. Before that it was fun. There is such much load on the sails it is very physical. I loved the foil slalom also. I had good speed and I was fast, so when you are doing well you like it more. To be honest I see the future of PWA foiling in the slalom format. It is just a better show. For the riders it is a lot of fun. You trim your foil more neutral. It is just more free. It is just like being on a slalom board and letting it fly on the fin. When the foil is neutral it just gets going, there is no resistance. The upwind foils always push you up because you have to squeeze the last bit of angle. Another very positive point is that in slalom, the pumping does not give you any advantage. We have a lot less pumping involved and personally I hate pumping. I don't think it looks good and is just an advantage to the light guys. We were racing in slalom up to about 15 knots and that was full adrenaline. I was coming back to the beach with Matteo and he shouted to me, 'Man, finally I got my adrenaline pumping again, wow!'
"Now we know we can foil race in all conditions."
---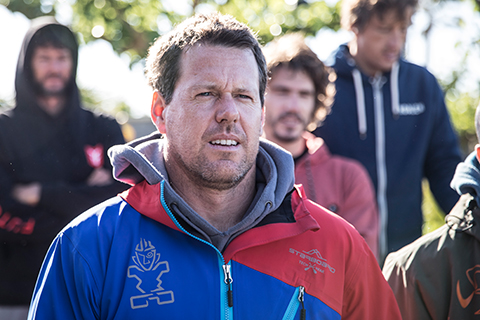 GONZALO COSTA HOEVEL
Nowadays we have managed to achieve a foil setup that many guys used in the light winds and were still on the same foil setup in the strong winds. The foil and wings are quite consistent on the Starboard foil at least. With the sails we just went from 10.0m to 8.0m and hung on. The Tramontana day was just survival mode. The scary part was the downwind. You have no escape. You just pray that there won't be some high chop in front of you. If there is then you have to come up, but the wings come out of the water and then you go straight down again. I was in 2nd and fell on the last downwind leg. You could see from all the pictures there were some very scary faces. It was much worse than doing regular slalom in that kind of wind. On the foil you don't really know how to anticipate the ups and downs like in slalom. You could have been on a 5.5m sail in those winds but we are restricted to three sails. We all registered 8/9/10m as we only expected to race in light winds. When the wind dropped to 25 knots, 8m was actually fine. In 35-40 knots I was on a 8.0m and am sure I would have been better on a 5.5m! Sailing with a lot of guys made it even scarier. When I was ahead I was fine, as I didn't have to follow anybody. When you are in a pack and a guy falls in front of you then you have to try and avoid them, but you are just as likely to also explode! I saw guys going down like dominoes. When you commit on a foil it is very hard to make last minute adjustments or slow down. When you make a sudden turn then everything seems to accelerate. Imagine going 20-30 knots already scared, somebody falls and you have to point suddenly upwind, you are going to get more speed and have to eject. In the light winds it is a big disadvantage for guys like Antoine Albeau as he is racing against guys who are 30 kilos less than him. If you are racing in 4-5 knots you can expect that he is going to struggle to get planing. It takes him longer to load up and achieve his best upwind angle. That seems to be a little unfair in 4-5 knots. It is cool that we are exploring new limits. Last year we could never go in 4 knots, now we can even keep foiling in 2-3 knots. I think we need to find a limit and decide what is fair or not.
"Now we can even keep foiling in 2-3 knots."
---
ROSS WILLIAMS
I loved it all, from 4-50 knots. I think the foiling discipline is really exciting and is going to be the future for our racing. I think foiling should be the stand-alone PWA race format. You can go with one board, three sails and can compete in anything. Less equipment, more people potentially and a bigger market. It makes sense to me. The windy day was horrendous. It was very difficult, none of us were prepared for that. We were still able to compete and it was exciting. I just tried to just take as much power out of my equipment as possible. I just made it manageable so I didn't fall in. I had the smallest sail and smallest everything possible. I tried to get the board sitting so it would not catch the nose going downwind. You were not pushing, you were trying to ride your equipment and be sensitive. It was a discovery day. Now we know we can potentially race in that, people are going to train for it. I think you will see the level rise quickly and not just on the foil slalom courses, all-round foil skills will improve dramatically too. That was the first time I have done slalom and the first time I have tried to go fast across the wind. I know I will need to refine my technique and have different kit settings. There are lots of things to try.
"I think foiling should be the stand-alone PWA race format."
---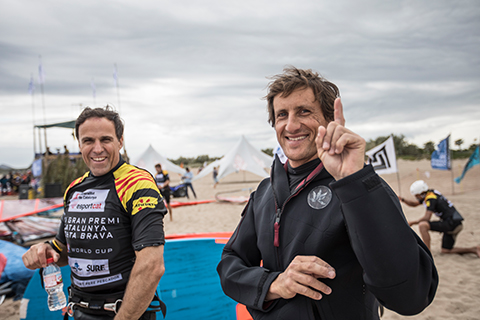 JULIEN BONTEMPS FRA-6
It was fun to try all the different courses and see how it all worked, especially the slalom. I think a lot of riders enjoyed the slalom foiling. The wind we had on the second day was just crazy; a lot of chop and gusty winds. It was really hard to hold the gear because the gusty winds made it much trickier to stay stable. It was challenging, but racing was possible and we were pushing the limits. The slalom guys showed us how it is done in that format. They knew where to be at the start and how to manage the first gybe. For me and the RS:X guys we have to learn more about this. They can also learn from us in the upwind and downwind legs.
"We were pushing the limits."
---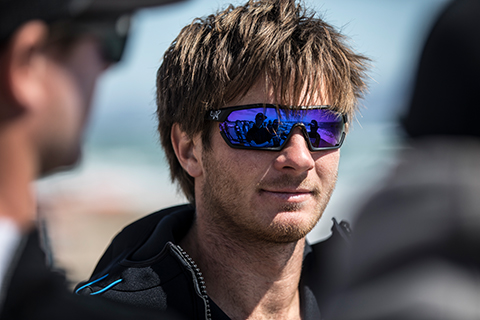 NICOLAS GOYARD FRA-465
It was all great racing. The variety meant you had to totally change your mindset every day. If it had stayed 50 knots I think we would have been destroyed. It was great to try slalom, there were less tactics but it was still fun and entertaining. With two wings and three sails we could pretty much handle everything. I don't think we can reach across the wind in much more than 18 knots. A 8.0m was too big as a small sail and the wings we had were too big as well. If we had one more wing like a 550 or 600 we could go much further with the 8.0m. With that we could reach across the wind in up to 25 knots wind I think.
"The variety meant you had to totally change your mindset every day."
---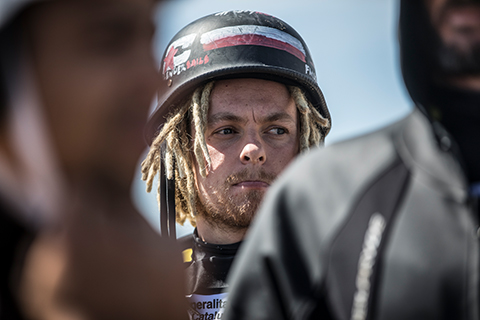 MACIEK RUTKOWSKI
It was a week of adjusting and always trying to get the right settings and getting the power to release ratio just right
on your gear. Enough power to fly high and enough release to go fast. I've been juggling wings, juggling fuselages, sails, masts, everything. It is a very steep learning curve. For me this event has been a baptism by fire. Even so it has been a good showcase for foiling. We did course racing, slalom and high wind racing. The windy day was hard and physical. Sometimes you would stop when you tried to go upwind because the wind picked up to 40 knots and you just couldn't physically go upwind any more with your 8.0m. I was just trying not to get slammed. Downwind was really hard and scary to sheet in. Personally though, I would rather race in 30 knots than 4-7 knots!
"It is a very steep learning curve."
---