Tweet
The UK has 2 new windsurfing world champions and both came through RYA squads in their younger years – we catch up with Jenna Gibson, GBR 96, IFCA Women's Slalom World Champion 2018 and Sarah Jackson, GBR 71, IFCA Youth Slalom World Champion 2018 to find out more. Special thanks to Brian Engblad of Oddhunt Photography for his great shots of our champions at the IFCA 2018 Slalom World Championships in Hvide Sande, Denmark. Check out his blog ilostawavein79.com for more or follow him on Instagram at @ilostawavein79.

Words Finn Mullen  //  Photos Oddhunt Photography  | Oddhunt.com
---
FM: Give us the lowdown on your racing history please.
JG: My racing started shortly after I learnt to windsurf when I joined the 'Hythe Hotshots' at my local club. I started racing at the Team15 interclub series and Team15 national championships. I did one winter training in Zone Squad where I quickly moved up the sail sizes. The next year I started club racing on longboards and started the regional LWA series and the national UKWA circuit. Although I much preferred sailing longboards, the coaching provided in the RYA schemes is unlike any other windsurfing discipline, so I kept on racing in my Team15 events until I had reached the age limit. Before I tried slalom I did a year of formula racing, which was the more similar discipline to
slalom and it definitely showed me how to sail
slalom overpowered!
FM: Tell us about the 2018 IFCA worlds in Denmark.
JG: Denmark was incredible! We had 5 full days of racing in a row, something I have never had before at an international event! Wind strength from 10 knots to 35, sometimes in the same day as the squalls of wind come and go with the rain. The wind was mostly the same direction all week, offshore, giving flat water but gusty winds and a 20 minute sail back up the beach from the course area, meaning there wasn't much option to change kit when the squalls came through. The big challenge of the week was having a kit combo for all the wind conditions, I mostly ended up using a bigger sized board for buoyancy in the lulls, but with a small fin to stay in control in the gusts and using a bigger sail with my boom low and mastfoot forwards. I think this is what helped me stay so consistent through the racing.
FM: What are your plans for the rest of the year and 2019?
JG: We still have 1 UKWA Slalom event left on the calendar, so I'm really looking forward to it as I'm eager to see how much I have progressed since last year. The event in Worthing showed I had really improved in light winds in the one round we completed. Now that my international events have finished for the year I'm going to prioritize progressing on my 'Bug' foil (www.bugfins.com) rather than light wind slalom and hopefully do some foil racing in the 2019 season.
FM: Any treats or celebrations to mark your win?
JG: For now I'm just enjoying the rest, being back home with my family and recovering from the cold I caught 2 days into racing which got pretty bad after 3 long, physical days out on the water.
FM: How does it feel to be a world champion?
JG: It feels amazing! I had no real expectations going into the event, hoping that I might be able to get a top three spot at the end of the week, because I knew the racing would be really close between all us girls, and it really was. Going into the last day, we didn't know if we would be racing two eliminations or six, which could have really changed up the results if I raced as bad as I felt, after not sleeping all night because of a fever. When I saw the AP over A flags signalling the end of racing after only the second elimination of the day, it really did come as a shock that I was world champion!
FM: Finally where will you keep your trophy?
JG: The trophy is a huge hand blown glass vase that matches my mum's kitchen perfectly, so
she has definitely already stolen this one for the kitchen table!
---

SARAH JACKSON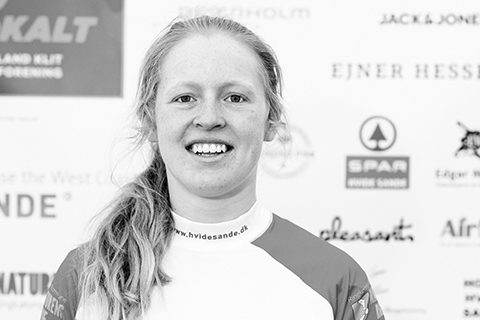 FM: Give us the lowdown on your racing history please.
SJ: I started racing almost as soon as I started windsurfing, as my local lake had a Team15 club – 'Team Astbury' up in Cheshire. At first I didn't really enjoy racing and there were tears at my first Team15 event as I had no idea what was going on, but the team atmosphere at the club really helped and soon I was loving windsurfing and racing. The natural progression from Team15 was Zone Squad and I'm proud to say I'm still the reigning North Zone 3.5 Champion (they no longer do the class!). I started Zone Squad when I was 10 and three years later was selected for the National Squad where I went to my first world championships representing Team GBR. It was a great experience and I learnt a lot, but it made me realize that course racing wasn't for me as I actually only really liked windsurfing when it was windy! I gave up Techno when I was 14 and started going down the teaching route. When I was 17, after a summer in Vassiliki with Flying Fish and Club Vass, I got the slalom bug from Dave White and since then I've never looked back. The RYA taught me the foundations of not only racing, but windsurfing in general. I could just about make it around a race course when I entered Zone Squad and was just learning to use the harness, and through the years they taught me fast tacks, planing, footstraps, waterstarting and eventually carve gybes – so you could say I still use a lot of it! On National Squad I also learnt a lot about racing, tactics and rules, which I still use today, but most importantly they taught me that preparation is key and that's something I try to use across my whole life!
FM: Tell us about the 2018 IFCA worlds in Denmark.
SJ: The event took place from the 9th through to the 14th of September, but felt like the longest event ever! It was only 5 days but in that we managed to do 12 rounds, so 24 races. I was exhausted by the end of day 2, so it felt like a long way to the finish! I think across the week I used all my gear as we had all kinds of conditions thrown at us – light and shifty on 8.6, down to stacked on 5.2, so it was truly a test of who was the best in all conditions. It also showed me I've got areas I need to improve on over the winter. My favourite memory of the event has to be my two second places on day 2. It was gusting up to 40 knots, but after the extreme winds of the PWA event in Portugal in June, 40 felt pretty manageable and I was really enjoying the conditions. In the first race I was coming 4th into the first mark, but a good gybe bumped me up to 2nd behind Jenna. Jenna then dropped her 2nd gybe and I took the lead and I was just focussed on trying to get around the course. Jenna caught up again by the 4th mark and she rounded just behind me. As I sailed off I thought I heard Jenna crash, and I knew we were quite a way ahead, so I took my foot off the gas a little only to see Jenna flying through underneath me! Rookie error,
definitely won't be making that mistake again!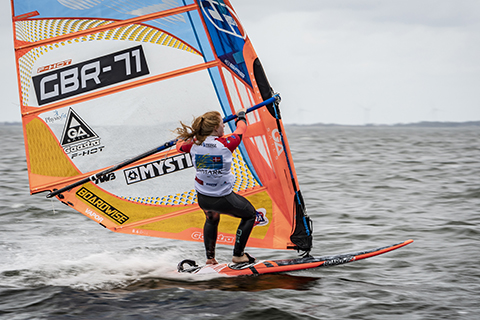 FM: What are your plans for the rest of the year and 2019?
SJ: Lots and lots of wave sailing! Tiree, Cornwall, South Wales and then Cape Town in December. I'm also planning to attend a bit of university when it's not windy! For 2019 I'm hoping to do more PWA and IFCA events, including maybe some more freestyle events and maybe a wave event too.
FM: Any treats or celebrations to mark your win?
SJ: Domino's pizza on the way home!
FM: How does it feel to be a world champion?
SJ: Amazing, dream come true, on to the next one now!
FM: Finally, where will you keep your trophy?
SJ: Pride of place on the family trophy shelf!
For more info about the RYA's Team15 program that Jenna and Sarah were part of, check out – www.rya.org.uk/programmes/rya-team15/Pages/hub.aspx