Tweet
Despite being landlocked, Bavaria in southeast Germany has a thriving windsurfing scene due to its plentiful number of lakes that sit high above sea level in beautiful countryside, fringed with views of the hills and mountains. Andy Lachauer and Michael Krumm give us a guide to some of the area's best spots.
Words Andy Lachauer and Michael Krumm  //  Photos  Michael Berger/mitchphoto.de and Michael Krumm.
---
Bavaria is mostly known for its beer, the Oktoberfest (locally called 'Wies'n'), traditional costumes called Lederhosen for men and Dirndls for women, the most famous river wave in the world called Eisbach or the biggest mountain of Germany called Zugspitze. But there is even more to the area than all that for a windsurfer. Around 100 km from Munich there is a large number of lakes and for every wind direction there is a place to sail.
LAKE AMMERSEE
Ammersee is the place to go with westerly winds and is just 30 minutes from Munich. Typical conditions are a mix of sunshine and rain with a wind strength between 10 and 50 knots. When the lake is 'boiling' from high winds it delivers the best waves for jumping in the area. Best place to hit the water is in the bay of Herrsching; it has good parking, toilets and restaurants. For no wind days, visit Kloster Andechs, a monastery just up the mountain from Herrsching for traditional food and drinks in a great atmosphere.
LAKE STARNBERG
Just 10 minutes away from Ammersee is the next lake called Starnberg. It has pretty similar conditions to Ammersee except is normally a few knots less wind. There are several entry points around the lake (Ammerland, Ambach and Sankt Heinrich) and best wind directions are SSE-S-SW-W. If you need spares, there's a windsurf shop right next to the lake called Surftools
Starnberg (www.surftools.de).
LAKE WÖRTHSEE
Between Ammersee and Starnberg is another lake called Wörthsee, and is the place to go  when the wind comes from the east. It's a pretty small lake with nice water colours and mellow light wind conditions for freeride and freestyle with the wind peaking around 5 p.m., right on time for a sunset session. Best entry point is at "Rossschwemme", which has good parking and a shop and café right at the spot.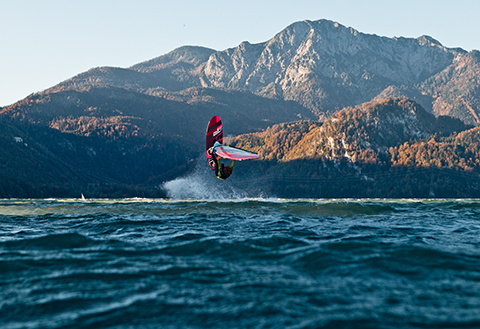 LAKE KOCHELSEE
Lake Kochel (Kochelsee) lies on the edge of the Bavarian Alps and due to its location, is the place to go early in the morning from 6-9 a.m. to catch the famous south wind called the 'Föhn'. Here you can score an amazing sunrise session with warm, sunny weather combined with strong and gusty winds almost guaranteed. Best entry point is at the big car park of the Kristallbad Therme spa at Kochel town. After your session grab a cold beer at the pool bar or spa in the Kristallbad Therme.
LAKE WALCHENSEE
In the middle of the Bavarian Alps is one of the most beautiful of Bavaria's windsurf spots called Lake Walchen (Walchensee). Located at over 800 metres above sea level and surrounded by a stunning panorama, this place is a thermic machine. In the summer months from May to September this lake is blessed with a good amount of windy days with nice, warm weather while the wind is blowing from the north to northwest. It doesn't matter if you prefer racing over pancake flat water on a slalom board, flying with the foil or jumping around with your freestyle stuff, you will love it! Best spot to launch is the 'SUKI Walchensee' windsurf centre by pro freestyle windsurfer Andi Lachauer. It offers good parking and infrastructure and is the place to go for Windsurf/Windfoil/SUP rental and classes in the area. From mountain biking, hiking and fishing to stand up paddleboarding, there are lots of activities to do in the Walchensee area.
LAKE CHIEMSEE
The largest lake in Bavaria is also called "The Bavarian Sea" and has three main spots: Seebruck, Übersee and Chieming. The Alps block winds from the southwest and Chiemsee only really becomes interesting with winds from the west or northwest and east. Seebruck is a super shallow spot that works best in east winds but bear in mind the reed beds where watersports are banned. Übersee is the most popular spot on Chiemsee in west winds and is easily accessible via the A8 motorway. It's great for beginners as offers standing depth water and in strong northwest winds has good waves for jumping too.
Chieming has good parking and facilities (mini golf course and outdoor pool in front of the sailing club area) and you will find depending on the wind strength and direction (NW-W-SW are best), light to moderate chop, the sort of conditions that makes an intermediate or beginner's heart beat faster! In addition, there is 'Windsurfing Chiemsee' (www.windsurfing-chiemsee-shop.com), a shop and windsurf school that leaves nothing to be desired.
LAKE TEGERNSEE
Tegernsee has beautiful panoramic alpine views and is a popular destination for the Munich upper class. It's also very popular as a 'Föhn' wind spot, being an alternative to the rather rough Lake Kochelsee for these winds. Here you can find small chop and shallow water at all spots. After a solid session it's worth visiting the Tegernsee brewery for a local beer with a Bavarian dish. Sailing is at three main spots – Gmund, Bad Wiessee and Holz. Gmund is located on the main road towards Tegernsee and you turn left after crossing the railway tracks to a large parking lot. Here you can rig up and just north there is an entry point. The spot works with southerly Föhn winds. Bad Wiessee is best for Föhn southerly or north winds and near the old casino area there is a large parking lot with a grassy rigging area and easy launch. Holz works with north and south winds and is reached via the small parking area on the B307 from Munich to Bad Wiessee.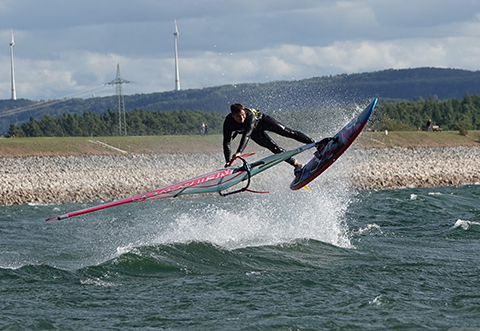 FRANCONIAN LAKE DISTRICT
The Franconian Lake District consists exclusively of artificial lakes, about 50 km southwest of Nuremberg. The area was created to counteract the drought in northern Bavaria and was
completely finished in 2000.
Here is a guide to its main spots.
LAKE BROMBACHSEE
This lake in the Franconian Lake District is favoured by pure west or east wind, as the wind can then move freely through the valley. Best time is spring and autumn, with standout days being mostly in winter, when hardly anyone (except for a small crew that is always there) comes to the lake.
Allmannsdorf
This spot on Brombachsee is best on southwest or west winds and has a large sandy beach and grassy area for rigging. When the wind is up it offers good jumping and due to a concrete pier and sandbar can also offer good flat water conditions depending on the water level. It's a perfect place for moves or gybing, the only downside is that it can be extremely crowded on weekends, similar to Torbole on Lake Garda on good days.
Ramsberg
Ramsberg on Brombachsee is the spot to go for north, northwest and east winds, offering a lot of space and a large grassy area for rigging.
Seespitz
This Brombachsee spot only works in strong east or west winds. In east winds a decent wave builds up for jumping and in west winds it is mirror smooth but very gusty.
BADEHALBINSEL
Badehalbinsel, on the lake known as 'Small Brombachsee', only works with east / southeast winds, but then it can be a real gem of a spot and has a small windsurf centre (www.surfschulebrombachsee.de).
LAKE ALTMÜHLSEE
Altmühlsee is another lake in the Franconian Lake District and in contrast to Brombachsee caters for winds from all directions. The best are directions from NW-N and it is the preferred spot over Brombachsee in these directions. Directly at the spot is a large windsurf centre, (www.surfcenter-altmuehlsee.de), shop and motorhome park. This is the best place if you want to stay in one place for a long time. Here in the summer on humid days (even without predicted wind) in the late afternoon, one or two hours of wind can often be found. Otherwise, the wind probability is the same as for Brombachsee.
WIND AND WEATHER
The best time to visit is spring and autumn. On normal days you use sails between 4.8 and 7.0, depending on whether you are into freeride or freestyle. In storms, which unfortunately happen only a few times a year, than 3.7 sails and a wave board can be used. Best weather conditions are with passing lows from the west. On www.addicted-sports.com they have webcams to some of the spots. The water isn´t cold in summer  and averages 17 – 20 degrees, depending on the lake; Walchensee & Kochelsee are a little colder because of the Alps. Sometimes a shorty or a 3/2 full suit is needed, it depends on the rider, normally you can go with a long sleeved lycra and board shorts. At other times of year you will need your full winter gear.
NO WIND OPTIONS
Around the lakes are countless opportunities for cycling or hiking. At Pleinfeld, near Brombachsee, there is a summer toboggan run. There are also many boat rental options available as well as SUP and a new wakeboarding facility at the Zeltwiese in Absberg on 'Small Brombachsee'.
ACCOMMODATION
The Bavarian lakes are perfect for a road trip and there are lots of hotels right on the lake shores or close to them. At 'Small Brombachsee' there is a hotel right on the beach (Strandhotel Seehof in Langlau). In Ramsberg there is the "Floating Village", which are apartments on the water. There are also campsites in Enderndorf and Langlau at Lake Brombachsee, as well as at Lake Altmühlsee. At Badehelbinsel in Absberg and the windsurf centre at Altmühlsee there are camping pitches with electricity, showers, shops, etc. Otherwise there are plenty of apartments around the lake for rent at the usual websites, such as Airbnb.
"The Bavarian lakes are perfect for a road trip."