Tweet
GOYA ONE 3 PRO 95L
2020 TEST REVIEW
VERDICT
Placed by Goya in their wave category and for good reason, the Goya One is nevertheless a fast, exciting and above all user-friendly board to get on with, giving it real freeride potential to explore. Its crisp controllable nature makes it a dream to exploit any coastal environment, its ease of use and performance range providing masses of appeal, from active intermediate right up to the professional.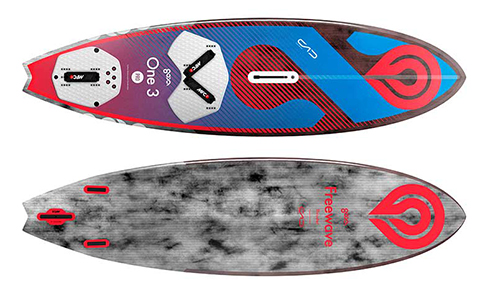 THE LOWDOWN
The One retains its place in the Goya lineup as their thruster configured freewave offering, designed to be their crossover contender for wave, freestyle and freeride sailing. The series encompasses four completely new shapes for 2020, stemming from 85 to 115 litres and produced solely in the brand's Pro carbon/S-glass construction. Using unidirectional and biaxial carbon as well as glass patches for additional strength in various areas, the technology incorporates a complete high density foam wrap that Goya call the Hyper Skin HD. It provides rigidity to the board's structure and is said to result in them being "a third stronger, stiffer and lighter than conventional boards". Over the Hyper Skin HD, the board is then wrapped completely with S-Glass, before being finished in an attractive neon red and blue colour scheme, set off with metallic red gloss rails. It is certainly a classy looking specimen, its low shoulders, tapered rails and pin-shaped nose exaggerating the perception of a long and narrow outline, giving it a gunny appearance. All four sizes in the range are supplied with MFC thruster fins (including Mini Tuttle covers for the side fins), dual density deckpads bearing inboard and outboard strap options to cater for rider preference and style, and an additional MFC strap should you wish to double up in the rear.
BRAND CLAIM
"The new parallel outlines improve agility and comfort on longer, choppy runs, while the resulting added tail area improves stability, early planing and comfort. All sizes now come with a swallow tail. A slightly lower entry rocker allows the board to naturally glide into a plane. The volume in the new One 3 Pro is more equally distributed along the board's profile, to create a more stable and evenly planing hull."
PERFORMANCE
Stepping onto the One 95 initially, it feels narrower and sits lower in the water than most, yet the balance and stability is there, the board taking a 6.0m sail without issue. Deliver the power and it accelerates purposefully, rising to the surface and hunting in the pilot's chosen direction. Shifting weight rearwards, it is easy to locate the One's straps, the rider's stance placed further forward on the Goya than on other boards, providing a real sense of comfort and composure. It also allows the board to glide through lulls well, keeping low to the surface and maintaining its trim well. We did try the One in flat water blasting guise, with two back straps and a large single fin, and whilst it performs admirably, we couldn't help but think it was a bit wasted. Like asking Pavarotti to sing a rap! That's because we'd already tried the Goya around a coastal break and knew just what it was capable of. With the thruster fins supplied in place, the One is a wonder to use. The ride is fast and crisp, the board feeling so planted and dependable underfoot, you can plough power into it and charge around to make the most of what's around you. It points at impressive angles, the fins and rails bestowing bags of traction to really push and drive against. Reaching the lineup faster than most, the One then wowed us with its wave riding ability. It redefines what is possible on a freewave platform, providing masses of useable drive from bottom to top and feeling much smaller and sharper than its quoted size would suggest. It is hard to pinpoint the main contributing attribute as the design is so clean and has many subtle details. Whatever it may be, there's a real harmony to its form, making it easy to get on with for the progressing rider, whilst inspiring the experienced to sail with more animation and assertion. Supremely controllable in the most challenging seas, it offers so much connection and feel through the carve (be it on a wave or gybe), that it's addictive. And in the time we had it, we simply couldn't find its limit.
VITAL STATS
Volume (Quoted): 95L
Length: 228.8 cm
Width: 59.4 cm
1ft off: 39.9 cm
Bottom shape: Subtle vee with double concave throughout, finishing in straight vee in the tail.
Weight ('Naked'): 6.44 kg
Fins: MFC Freewave 21 cm (Power) + 2 x MFC TF RTM 10 cm (MT)
Sail Range (Quoted): 4.2-6.0m
Sizes Available: 86,95,105,115.
Price: £2099
---
Other boards in this test:
THE LINE UP
---
---