Tweet
JEM HALL
MOVE ON UP – 
WINDSURFING TECHNIQUE
CARVING 360
Words: Jem Hall  Photos: Dave White
First on the menu for this first Jem Hall Technique feature is the Carving 360. What the hell? Well, the sky's the limit and we can all do something that might be outside of our skill set to prove the mindset we all require to be the 'Pilots of the water, and not the passengers!' Believe me, but more importantly, believe in yourself!
(This feature originally appeared in the April 2014 issue of Windsurf Magazine. To read more features like this first, Print and Digital subscriptions are available. Prices include delivery globally for 10 x issues a year!)
INTRO TO JEM
Helping you to become a better – and more motivated – windsurfer is a major aim of this publication.
For decades, Harty and Cribby – and more recently Sam Ross – have graced these pages, imparted wisdom and delivered eureka moments. They all have different styles of delivery to match their clients' needs. So why, I hear you ask, am I writing to introduce a fourth coach to our ranks?
Well, you can never have enough input and experience and that's what we believe you deserve – an all-encompassing spectrum of pointers to maximize your chances at progression and on-water joy.
Some of you might be of the view that Jem's a beasting, bootcamp-running Bosun. But actually, like all coaches, who ultimately help you to coax your own potential from yourself, baldy's actually a big sweetie with a much softened style.
In fact he's actually pretty Zen as it happens, grasshopper. And what of Lord Cribb? Fear not, he's still on the team and, in between his fully-booked clinic schedule, is spending some time working on exciting new multimedia formats that we hope will bring a new dimension to our content mix.
Welcome aboard Jem and here's to some exciting times ahead for us all! (Ed.)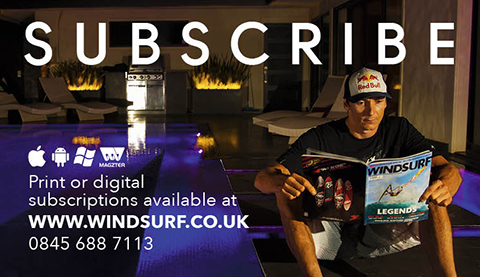 Thanks to the editor for his intro. It's great to be a part of this magazine's fine pages and I hope you've had the chance to read the more complete introduction to my technique series on the fab Windsurf website. 
I'm kicking off this technique series with perhaps one of my favourite, and most useful, moves ever: the strapped-in carving 360
Useful? What the hell? It is not a turn and you end up going in the same direction, but it serves as a great way to dial in your kit and understand how your board carves and helps you to really 'feel the rail', exit tacks and learn vital rig-manoeuvring skills.
It's one of the top 'old skool' carving freestyle moves that all good sailors should have in their repertoire and we can stand in awe as we see a lot of our heroes of our great sport perform this move in the flat spots between waves, or even using the wave as a boost to the end of the move.
So why am I imploring you to do this fantastic move? Mainly because I would like to get thinking outside of the box and also to get you trying new moves AND enjoying the act of learning.
Furthermore, any carving in both straps will improve your ability to keep speed through all your carves and rides, if that is your fancy.
The strapped 360 will call into account just how smooth your carving actually is – and also how aggressive you are.
Whilst it requires you to carve hard it's also a gradual increase and so will aid you to really understand how your carving arcs must take into account:
• Your board speed
• Your kit
• The wind strength
TUNING
The toys for this are best to be easy turning larger boards that can hold a rail, think FSWs, freemoves, easy stylers, large wave board.
Bigger boards from 85 to 115 litres help you at the end of the move to avoid the dreaded tail sink and yet they can still be carved hard.
Your kit set up is:
• 'Big is beautiful' straps so you can really carve hard and feel the rail. Front ones should not be set too far back and both sets should be inboard!
• Smaller fins for easier carving. Think 24 – 30cm for single fins. Note that small freestyle fins are not always adept at holding a rail.
• Relatively flat sail to improves it speed (into the carve) and handling at front to sail
I'm here to guide you through this move with the toppest of tips but I am really backing you to help yourself as this will move you forward towards the target of becoming better self coaches.
It's this target setting and self coaching that will see you progress throughout your sessions and over the course of a season/trip.
CORE SKILLS
Forewarned is very much forearmed here and if you equip yourself with some core skills then you will have the tools to help you nail this move.
The move is a smooth, gradually increasing carve, into some front-to-sail shenanigans and steering – and then lastly into some subtle, but aggressive, steering through the wind.
The carving part is all part of the journey and this will come in time, but you can really give yourself the best chance to nail this by practicing:
• Sailing front to sail (backwinded) on floatier kit and then steering upwind and eventually through the wind in lighter winds
• Lots of tacking where you really focus on steering out of the tack with dynamic rig movements and scissoring (push and pulling feet) legs.
LAY IT DOWN AND CARVE IT UP
Let's get down to the nitty gritty. I'm attacking this move on a RRD Firemove 102, changed the fin down to a 32cm on a 5.3 Ezzy Elite.
In the build up to carve I've checked for space, unhooked and hung off the boom and then scissored the board off the wind to get speed. I've really accelerated off the wind on a broad reach to enable me to carve hard with speed and get me through the arc.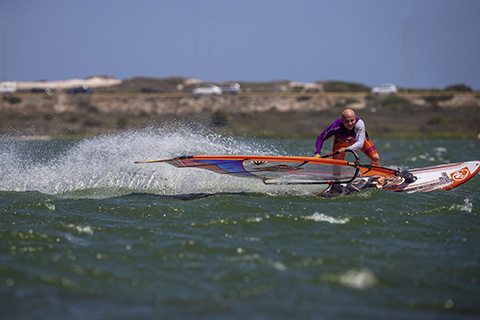 1. Without having to post up way too many pics for this sequence I'm in this carving position by rolling across the rail and into the carve with very bent ankles & knees and I am carving off the front foot at the beginning (crucial!) of the move, all whilst laying the rig down (towards the water).
I also have my hands near to the lines. This roll-over and carve gets smoother with time and, after more attempts, really is a leap of faith as you carve hard and 'feel the rail.'
Start to look up at the top of the mast, more than the grinning maniac here.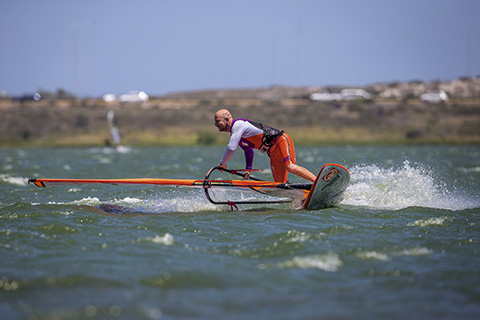 2. My sail is flat to the water here and I'm really bent over through flexed knees and ankles. Then I'm looking up at the top of the mast to help initiate the tightening of my carving arc.
My back foot is really pushing the rail down here and to balance this I'm shifting my hips (weight) forward whilst keeping the rig back.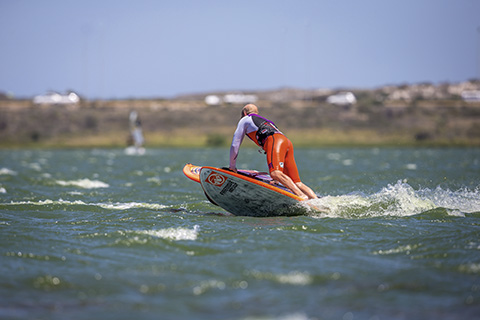 3. I remain in this dropped right over the rail position and continue to carve, looking back and towards the mast tip to help steer the board round.
The rig stays low and you can you see my big hips shifting forward. I position the rig back as the body moves forward to exacerbate the steering through the wind as far as possible.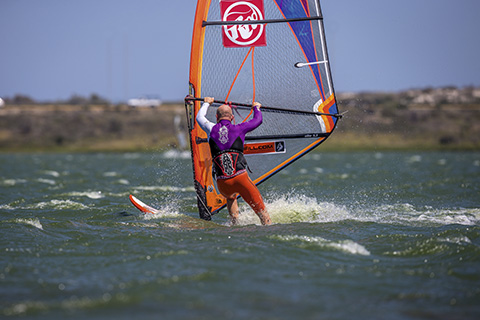 4. I have kept the the rig back and low so that it does not power up and push me over and I am doing all I can to keep steering me round the move.
To keep the board flat I've bent my front knee a lot to pull me forward and over the board. Now in this pic you can see it is time to finish off and get upright to steer the board out.
To come up from my carving position I pushed out on the backhand and bent the front arm, this allows the rig to push you up from the water.
This gets me outboard and ready to scissor the board through the wind.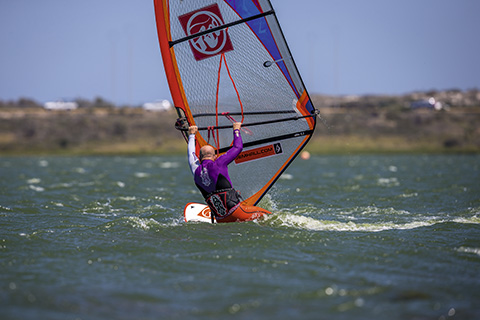 5. It's aggressive steering time now and your tack exit skills are called into account here. This next bit makes the 360 and stops it being a 270!
As your feet are in the straps it's much easier to scissor the board, so start to pull in with the back leg and push with the front foot.
Hang down off the boom to keep the board flat and ensure the rig is thrown forwards and across you. These steering actions can also be used mid jump to initiate a forward loop!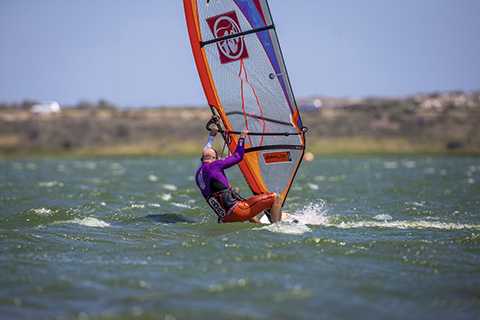 6. This last part is really just like coming out of a tack. With your feet anchored in the straps you can be really aggressive in scissoring the board, so do just that.
Open the sail, weight your toeside and get planing quickly – all much smoother because you're already in the straps. Well done! Now go and learn it going the other way.
SUMMARY
• Prepare and get speed downwind fully strapped in
•  Ensure back hand is up the boom
•  Come across and carve off the front foot
•  Drop the rig to the inside and commit to the carve
•  Look back and at the mast tip as you carve harder
•  Shift your weight forwards as the board slows
•  Come back up and outboards by pushing out on the backhand
•  Twist and throw the rig forwards as you scissor the board
FAULT ANALYSIS
Problem: Board does not carve and stops, or rails catch
Solution: Bear away and get speed and then carve
Problem: Board carves and carries and does not get round carve far enough
Solution: Come over and progressively carve and increase the carving pressure harder
Problem: Sail gets stuck in water
Solution: Coming over too far, find the happy medium
Problem: Sail blows you over as you are front to sail
Solution: Sail too high so keep it back and down
Problem: Board stops and tail sinks
Solution: Shift hips forwards and inboard
Problem: Fall on sail whilst front to sail
Solution: Push out on back hand to get you back up, just the right amount
Problem: You mess up the steering out of the move
Solution: Have patience grasshopper and get amazing insightful tips on this and much much more on a Jem Coaching Holiday.
RRD boards, wetsuits & softwear, Ezzy sails and Pro Sport Sunblock sponsor Jem Hall. Get him live and direct on one of his highly acclaimed coaching holidays, but be quick as they are selling out. You can also follow him on Twitter / Facebook.