Tweet
After a relatively inactive period last winter, Maui's famed big wave break – Pe'ahi – a.k.a. Jaws, has been on overdrive for the 2018/19 season, breaking multiple times and allowing some of the world's best wave sailors to test their limits. Kai Katchadourian tells us about one of the "biggest days ever sailed" there, whilst John Carter recounts his own challenges as he ventured on a hectic one day mission to the Hawaiian island to capture the XL action.
Words  John Carter, Kai Katchadourian  //  Photos  John Carter, Lyle Krannichfeld
---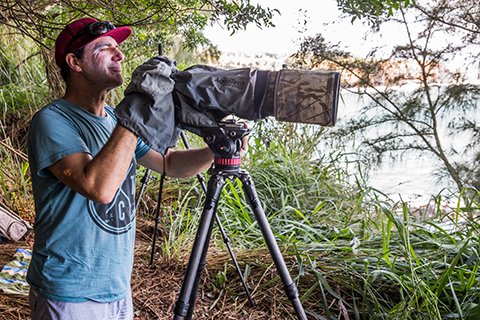 JOHN CARTER
"I quite often find myself checking out flights to far off places when there is a monster windsurfing forecast on the cards! I fill in all the details right down to the debit card, but then when it comes to clicking the button I normally get cold feet and chicken out. It's during this process that I discover how strong my gut feeling is towards committing. I usually realize the mission is some sort of ridiculous dream, take stock of the reality of all the hassle and cost of the travel and then think at the end of the day does anybody really care if I am there or not? As a photographer I would ideally like to shoot epic action on all assignments, but as a business it rarely works out that way, so once in a while it is nice to take a punt and go shoot something for pleasure rather than money!
Missed it
With over thirty years of frequent flying I am lucky enough to have stockpiled quite a tidy chunk of air miles, which I have always had this idea that I would use on luxury or dream trips somewhere down the line. Each year goes by and I keep filling in those itineraries, but nearly every time I find an excuse to bail. Then in November 2018 I saw a pretty epic forecast for Jaws looming up and the temptation was on the cards to fly out to Maui for a couple of days to shoot one of the biggest swells in the last few decades. While I was pondering, the WSL (World Surf League) announced they were pulling the trigger on their 'Big Wave Challenge' professional surfing event and my guess was that Jaws would be shut down for windsurfing on the best day, so I never activated the trip. The night before the event I saw an Instagram post from Polakow where he stated he was hoping to catch a few waves late in the day after the event had wrapped up. By this time it was too late for me to hop on a plane. As events unfolded, the swell was so huge they had to postpone the event by midday as it was too dangerous for the paddlers and the door was open for the likes of Kai Lenny, Camille Juban, Kai Katchadourian (read his account of the session later), Rudy Castorina and Jason Polakow to take over the break for the rest of the afternoon. In short, I'd missed it!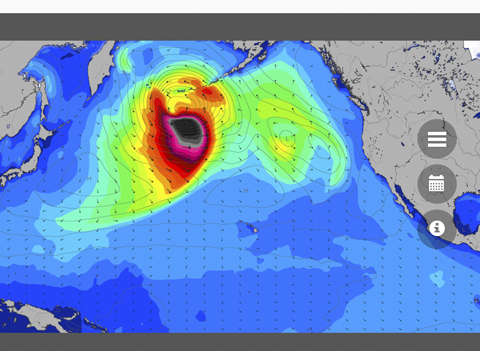 Green Light
A week later, a second XL swell started looming on the forecast in the north Pacific, peaking on Wednesday December the 5th to be precise. I am not sure why, but the moment I saw this black blob of swell emanating from hurricane force winds, something inside of me said, 'this time you are going no matter what!' I sent a few emails out to the likes of Jason Polakow and Kai Katchadourian for their views on this upcoming Jaws session. The responses were mixed, Kai was frothing, while Polakow reckoned it would be 15 feet, still big but nowhere near the size of the historic 'Big Wave Challenge' day. I decided to stay on hold and wait until the very last minute. I had one other minor issue, a ticket booked to France for a SUP event on the 7th, so no matter what, I would have to leave Hawaii on the night of the 5th to make my flight to Paris.     
Come 9:30 a.m. on the morning of Monday the 3rd, I was still painfully procrastinating, but I knew that it was pretty much now or never if I was going to go for it. Shall I, shan't I, I was torturing myself with this decision making process. One more time I looked at itineraries on the United Airlines website and found flights that fitted my agenda all for 60,000 air miles and £140 in taxes. Hesitantly I filled in all the details and sat there looking at my laptop. I was now one click away from being committed. I hovered my finger over the button just to see how I felt about this ridiculous mission. I am not quite sure how it happened, but the next thing I know I had just clicked enter and the process of spinning wheels and messages from United telling me to stay on the page were appearing. Within 5 seconds I had a message saying I was all booked. In seven hours I would be flying to Washington, then on to Los Angeles where I would have a seven hour wait before flying into Maui Tuesday morning. Then on Wednesday at 10 p.m. I would be heading back to the UK via San Francisco and New York and touch down Friday morning at 6:40 a.m., allowing me time to make my flight to Paris from Southampton later that afternoon. Now I have done a few mad things in my time, but this was right up there, with the best or worst of them depending on which way you looked at it!
First things first, better tell Kai I am coming! This was all so spontaneous I had no plan at all as to how I was getting to the airport or even if I could make it to the airport on time. I logged into my emails and sitting in my inbox were two new messages, one from Kai and one from Polakow. I opened the one from Kai, which said the forecast was slightly downgraded, but he would still be going to Jaws to catch a few bombs. The second mail from Polakow was more of a bombshell, he was saying not to come, and it would be sailable but maybe save it for another time. If only I had checked my emails before I booked! It was too late now and I just started packing and rolling with my own self-inflicted mess. I was going to be there less than 36 hours before packing my bags and flying all the way home. My crazy schedule would include six flights, a boat, a train, a bus, a hire car and a few taxis, and I still had to tell the wife!
"Something inside of me said, 'this time you are going no matter what!'"
Plane crazy
The next few hours were crazy. I had to pack everything I needed for Hawaii and Paris in a matter of minutes. What was my wife's reaction to my planned trip? – she just shrugged her shoulders and muttered 'Do what you have to do!' Fast forward another 20 hours and I had flown into Washington cleared immigration, changed terminals and caught another plane into Los Angeles. By the time I made the gate to my next flight in LAX it was 1 a.m. local time with my flight to Maui set to leave at 9:20 a.m. I was pretty much alone in the airport apart from the guys with the noisy floor cleaners and the odd security guard. It was a miserable night sleeping on the floor and there was plenty of time to ponder what a stupid decision I had possibly made. At 7 a.m. I saw a post from Brawzhino on Instagram stating he had just landed in Los Angeles too and was en-route to Maui, at least I was not the only one mad enough to fly in for Jaws!
Maui at last
Finally after 30 hours or so on virtually every mode of transport known to man aside from a donkey, I landed in Kahalui airport Maui, picked up my bags and stepped into the warm sunshine. A pretty plush Honda Pilot was waiting for me in the car park courtesy of Robby Swift and his rental car business (www.northshoremauirentacar.com) and once I was loaded I hit the Hana Highway headed for Ho'okipa.        
I was hoping the first forerunners of the swell were going to hit late in the afternoon but the swell was a mere head high so I cruised for the rest of the day, now knowing my only shot at scoring Jaws was tomorrow. All the guys at Ho'okipa were quite shocked to see me, and even more stunned when they were told I was only in town for just over 24 hours. "Carter, are you crazy?", exclaimed Kevin Pritchard, while Levi Siver just called me 'nuts'! I had a few icy cold local beers (Kona Brewing Co.'s 'Big Wave Golden Ale') with Si Crowther at sunset before heading up to Kai Katchadourian's pad, where he had kindly offered me a bed for the night. Si had warned me that the trek to Jaws was horrific due to heavy rainfall and that I would have to hike down or hitch a ride with a four-wheel drive.
"The trek to Jaws was horrific due to heavy rainfall."
As usual when I fly to Hawaii, jet lag hit me bad, and despite falling asleep at 11 p.m. I was wide awake at 1:30 a.m. on my final and only full day in Maui. Everything was feeling very surreal by this stage. That's the wonder of travel, one day you can be at home in the midst of a UK winter and the next you can be pretty much anywhere on the planet. I kept thinking to myself what the hell was I doing. At 3 a.m. I checked all the wave buoys off the Hawaiian Islands, the swell was definitely incoming at least. About 8 p.m. the previous evening the period on the Pauwela Buoy off Maui's coast had shot up to 20 seconds and overnight had steadied to around 11 feet at 18 seconds which in Jaws terms should be plenty big enough but not massive.
"The period on the Pauwela Buoy off Maui's coast had shot up to 20 seconds"
Jaws at last
Finally at dawn I loaded the car and headed down to Ho'okipa to check my fate. Kai lives a mere 12 minute drive from Ho'okipa and after the drive down through Haiku and past Maliko Gulch I was greeted by perfectly groomed lines of swell as I looked down the coast from the Ho'okipa lookout. It wasn't massive but not a single surfer in the water was enough to tell me that there were some bigger sets feeding through. It was a beautiful day on Maui that was for sure at least! The West Maui mountains were lit up by the morning sun, the warm Hawaiian trades were starting to blow and the surf was definitely building as I watched several huge sets fire through at Ho'okipa. I was trying to pace myself before hitting Jaws but as it was such a stunning day I decided to grab food and coffee at the Kuau Mart and head up early and hopefully catch some big wave surfing before the windsurfers arrived. Word on the street was that Polakow and Pritchard, Levi and Brawzinho, and Kai Katchadourian and Si Crowther were all heading up on skis. Also Kai Lenny was heading up with a whole flotilla of media as well as several other boats loaded with other Jaws newcomers. Not a bad crew to say the least, now it was all down to the wind and waves to play ball!
"Not a single surfer in the water was enough to tell me that there were some bigger sets feeding through."
Action stations
Up the top of the hill at Jaws I parked up off the side of the highway and packed the bare minimum camera essentials that I could physically carry down the muddy trek to the edge of the cliffs as well as rations for the day. I bought three bottles of water, two wraps, a bag of nuts, a couple of snack bars and tube of mosquito repellent to sustain me for at least 8 hours. As luck would have it some tourists in a four-wheel drive jeep were headed down as I started the hike through the thick mud. I waved for a lift and they duly obliged. I knew the track was gnarly but kind of played it down with the offer of the free ride on the table. Five minutes later the lady driving was screaming and freaking out as the jeep slid down a steep section of the hill out of control. By this time there was no going back. We continued down another half mile until we were faced with a huge brown puddle about fifty feet long which looked very deep and my lift finally called it quits. So I then headed down the rest of the way on foot feeling slightly guilty I had left my lift stranded half way down the hill en route to Jaws. Just before hitting the bottom of the trek, now caked in mud, I met a surfer hiking back up the hill with a huge jaws board under his arm. 'How are the waves?' I questioned, 'Dude it's fri**en windy man, its un-surfable!' 'That's fine by me' I thought. Finally after all the planes, trains and buses and waiting around at airports, I had made it to Jaws!
Down at the cliffs there was huge plumes of spray blowing up about eight feet above the waves. It looked spectacular but my gut feeling was that it was unsailable. I knew it was going to be windy but this was another level to what I had seen before. Jaws was looking like a giant version of Pozo. The wind actually looked cross-onshore and was blowing huge ten foot wind swells across the face of the waves which to me looked unrideable. I hiked down into my regular spot hidden in the bushes overlooking the break and made up my camp for the day. First job was to apply mosquito cream, those critters can be a nightmare in the jungle in Hawaii and many a time I have been savaged while shooting at Jaws. Within 30 minutes four jet skis and a boat could be seen grinding their way up through the heavy seas from around the headland downwind. It was the Kai Lenny armada! Fair play to Kai, he was straight out on his tow board, but this was nothing like the session I had watched a week ago after the WSL big wave event. This was simply carnage – wind, spray, chop and all sorts causing chaos in the break. Within an hour we could see Kai packing up on his boat and heading back towards Kahalui along with his support team of four jet skis. I guess after his groundbreaking session last time out, this maelstrom was simply not an option for the best all-round waterman on the planet. Bummer! I was starting to wonder already if this huge mission was going to be all for nothing?
"Jaws was looking like a giant version of Pozo."
By 11 a.m., the next wave of Jaws riders started to appear on the horizon. By this time the wind had abated and the waves were actually looking half decent. Brawzinho and Levi Siver were first to show and wasted no time anchoring and rigging from their ski. Soon to be joined by Morgan Noireaux, the Schettewi brothers, Polish racer Maciek Rutkowski and Vickey Abbott on various boats and jet skis. Word on the street was that Polakow and Pritchard were waiting until noon while cunning Kai Katchadourian, the master of reading the swell maps, was waiting patiently until around 2 p.m. for his session.
So the day slowly unfolded with the best sets very spaced apart, but the conditions gradually improving by the hour. It certainly wasn't the size swell I was hoping for from the original forecast, but it was such a beautiful day it was still amazing to witness Maui firing like this from the ringside arena on the cliffs. I was constantly trying to weigh up whether all the effort I'd put in, hours sitting on planes and personal stress involved was actually worth it. If it had been ten feet bigger I would have been frothing, but you have to take what you are given and make the best of it! Brawzhino was probably the standout sailor on the day, riding the wave far more aggressively, while Morgan definitely clocked up the highest wave count. Pritchard and Polakow eventually rocked up on their ski just as one of the best sets of the day rolled through with Levi screaming down a wave right in front of them. Weirdly there was a lull in the conditions while Polakow was on the water, and then as he packed up, Kai arrived and the best part of the day kicked in. Kai Katchadourian had been studying the conditions like a hawk and his assessment was that the swell had arrived 4-5 hours later than anticipated and therefore the biggest sets were due later in the day in sync with the dropping tide. To be fair to Kai he was bang on the money, although the only curveball was that the wind had swung quite offshore in the afternoon, allowing him only a handful of waves before it was game over.
Once I had packed up, it was now a new mission to claw my way back up the muddy track to my car. As luck would have it Jake Miller from Aerial Video Maui was nervously preparing to head up through the mud bath and I managed to snag a ride all the way to my car. There was still a solid half an hour of daylight left so I decided to head down to the Ho'okipa look out and just enjoy the moment with the rest of the crowds watching the waves. Just witnessing the power of Mother Nature in all its glory was pretty special and watching the waves marching in marked the end of my day nicely.
"Witnessing the power of Mother Nature in all its glory was pretty special."
Homeward bound
I headed back to Kai's place, packed my bags, grabbed a quick shower and then headed straight to the airport. Once checked in it was the obligatory pint of 'Sam Adams' beer in the airport bar before heading to my gate for the start of a journey which would take me to Paris four flights later! By 11:30 p.m. we had still not taken off due to the plane needing a spare part, but that is a whole other story! After three more flights and more hours waiting around in airports, I finally made it back to the UK on the morning of the 7th and caught a cab down to Southampton in time for my flight to Paris. Now ask me if that was all worth it and I'd have to say yes, I would do it all again, what is life without the occasional crazy adventure! Next time hopefully it will be bigger and better, but for now I hope you enjoy the pictures from a memorable day and a half in Maui!
"What is life without the occasional crazy adventure!"
KAI KATCHADOURIAN
November 26th 2018 was a historical day! Hopes for being able to try to sail that day were at the mercy of what the WSL (World Surf League) were going to do with their professional big wave surfing contest. Holding on to hope that there might be a late window to sail, the objective was to observe the situation and act decisively.
Taking Francisco Porcella up to his WSL heat on my ski was a moment of clarity. Huge, menacing swells were rolling in with fury. A few lines extended for what looked like the entire North Shore of Maui. We arrived to the circus in the lineup to hear the news that the contest was cancelled. Everyone was looking around like, "What do we do now?"
Immediately it was time to get ready. Taking Francisco back and grabbing my sailing gear, Camille joined me on my second trip up. I have never seen a display of raw power such as we saw on our drive back up. Moving faster than a locomotive and larger than a building, these moving mountains crushed the coast and sent spray hundreds of feet into the air.
It was all on another level as we arrived to watch Kai Lenny pull into a giant barrel and get clamped shut. His team went in looking for his board and the lineup was empty, where only a few short hours ago it was crowded and frantic. A sense of calm and confidence hit me. The moment had arrived to try to ride some of the biggest waves of our lives.
The wind was light, 5.3 and barely moving, combined with 50 foot sets which were not looking easy to catch, it was the most consequential game of cat and mouse one could imagine. Waves were coming in that looked so enormous we could not even tell how big. It took me a while to ride my first one, but it was a beauty and set me up for a good roll in. The drop felt like it would never end.  Camille right away was on the bomb of the session, and it was so surreal to see the photos of the moment he dropped in. It is like he shrank to miniscule levels. Rudy caught what can only be described as an absolute monster, then I was on another which blew a huge cloud when the barrel cascaded shut. When we were done, it settled in that this session was a historical one, right up there with some of the biggest days ever sailed at Jaws.
It was only fitting that on a day when the World Surf League cancelled its big wave event due to the conditions being too big and windy that we were given a chance to catch a few wonders with our own two hands. The amount of power that runs through you as you drop in is simply indescribable. The lip detonates and you shake with the force and release of energy. It is only on the ride home that one can account for what was even real. It was hard to believe it was real with our own eyes, let alone the images that will always serve as reminders later on. The most important thing is to come back in one piece and with more knowledge and experience than before. It was a special day!
"This session was a historical one, right up there with some of the biggest days ever sailed at Jaws."