Tweet
JEM HALL
MOVE ON UP – 
WINDSURFING TECHNIQUE
IMPROVING TARGETS
This is perhaps the time of year where many of us think back over the past year and consider what we might do differently in the next year. It is inevitable as both the calendar and seasons change, so with this in mind I am going to give you the targets that a sample of sailors I have coached have on their list, as well as their clinic experiences. I also turn the spotlight on my own sailing and explain what I will be targeting personally in 2019.

With Jem Hall, Michael Axani, Bettina Libicky-Mayerhofer & Gwyn Smith // Photos  Nicolas Jones, Clark Merritt & Brian Forster.
(This feature originally appeared in the January February 2019 issue of Windsurf Magazine. To read more features like this first, Print and Digital subscriptions are available. Prices include delivery globally for 10 x issues a year!)
---
Bettina Libicky-Mayerhofer
• Age: 47
• Profession: Psychologist & leadership coach.
• Years sailing: 9 years active sailing (I started at age 30 for 2 years, but then had many years without any sailing because of small children and climbing).
• Local spot: Lake Neusiedl, near Vienna.
When I came to my first clinic in 2016, I really wondered if it would help me improve. Especially when I read about Jem Hall´s advice like long harness lines and big footstraps, I was not sure if I would even like to follow those tips, because they were the complete opposite of what I had done so far. But I finally decided to try, and not half-heartedly, but to give it a real chance, you know, going for it and do whatever the coach would advise me, irrespective of all my former experiences and thoughts. And then, after a one week clinic I could actually decide for myself if this style suited me or not.
And…WOWWW! In this first clinic I changed everything; I learnt to get REALLY LOW, learnt to trust my gear, and myself, and sail faster than I ever did before. My stance transformed so much that people who knew my windsurfing previously asked me what I had done, as they couldn't recognise my style any more. For the first time I had the feeling of being a proper sailor, not a tourist on a windsurf board.
One year later, on my second clinic, I started carving gybes and fast tacks. They were awful in the beginning, but with hundreds of attempts, they got better and better. On my third clinic in 2018, I completed better carving gybes, a much higher percentage of dry fast tacks and finally played around with duck gybes and chop hops. During this time, I felt more and more like a windsurfer and living this sport rather than just a nice holiday extra.
So I decided to buy my own gear, Ezzy sails and RRD boards (Firemove 100 and Freestyle wave 84). Learning to rig sails by myself, which I hadn´t done before (which is a shame!), choosing the right sails and tuning them in the right way, was also part of my third clinic´s learning outcomes. It made such a big difference to become more independent and self-confident in these areas. Not to mention the HUGE difference it made on the water with my new toys! All this helped me to do more water sessions at home as well, which I hadn't done previously, because from my home town it's 3 hours of driving to a suitable lake. However, with my own gear now, the roof rack is always ready to be loaded up and nothing can stop me getting on the water in Austria too!
Even at home my sailing altered from just going on the water and sailing around. These were my main changes:
• Setting a target for each session.
• Coaching myself and talking to myself while trying to do it better.
• Choosing and tuning my kit more carefully.
• Sailing short concentrated runs to have more possibilities for transitions.
• Staying on the water for short sessions of approximately 45 minutes each and then a break, in order to have better learning results.
My sailing sessions began to have much more impact on me – more strategy, more technique, more power, and due to all this, it became much more fun than I ever expected, even though I really enjoyed it before as well. My next clinic will be in Jeri, Brazil. My overall target is wave sailing now. I'm completely excited and stoked and can't wait to step into this next dimension, which I never thought would be for me. I have much to learn but
I have set myself these targets:
• How to find the right line in the waves.
• Developing confidence in the waves and the right technique for jumping with the help of the waves.
• Practicing and improving fast tacks and gybes in 'wavey' conditions.
• In my flat water sessions, my target this year is smooth and planing duck gybes.
I already watch DVD´s / clips about wave sailing to prepare myself, and my mind. And sometimes at night, before falling asleep, I lie in my bed visualising my gybes and tacks in slow motion, feeling in my body and my mind all the moves to be done and practicing them, until the manoeuvre is done well.
"For the first time I had the feeling of being a proper sailor."
---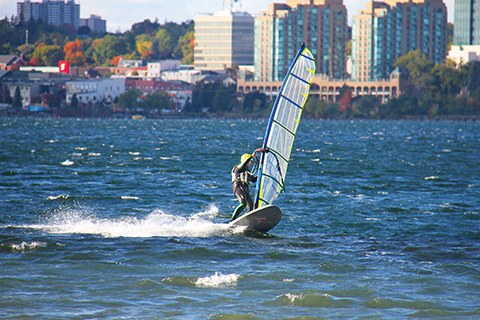 Michael Axani
• Age: 47
• Profession: I.T. Management.
• Years sailing: 15
• Local spot: Lake Simcoe, Ontario, Canada.
I attended my very first instructional windsurfing clinic back in Feb. 2018, more like a bucket list item, with little expectations. I was primarily enticed by the excellent reputation of the head coach and the beauty of the Caribbean Island of Tobago. What a massive surprise was waiting for me! A week of intense training under very professional, diligent, and somewhat stern supervision totally and irreversibly reshaped my approach to sailing. In the past, a typical session on the Canadian Great Lakes was quite predictable: grab a big sail, go two miles out, cruise for three hours back and forth, come back totally spent and declare victory. The fun element was there, but I had been stagnating on a certain plateau for many years and somehow I felt I was leaving money on the table after every day on the water. Windsurfing has so much more to offer, and the Tobago trip was both an eye opener and a reality check for me in this regard.
Now I have more knowledge to approach my sessions from a different angle, aiming for a quality optimized ride on modern smaller gear, shorter rides with many good turns, early planing, a plan to work on and improve – including new moves, physical engagement and mental assertiveness, all leading to a better sailing experience overall.
---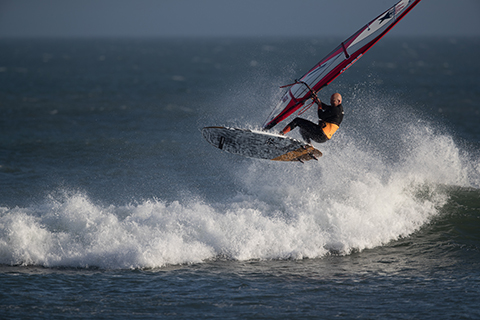 Jem works on one of his new targets – aerials. Photo Clark Merritt.

Tobago clinic reflections
Equipment:
• Use modern boards for the optimal wind range and best possible performance on the water.
• Make efforts to manage the conditions with one sail by fine-tuning the outhaul when possible.
• Lots of downhaul in the sail, so you release the leech properly for good control in the gusts.
• Tuning is key.
Technique:
• Preparation is key to every move.
• You dominate CLEW FIRST, you dominate windsurfing.
• Long harness lines, large footstraps.
• Look where you want to go.
• Be limber, with agile feet which move quickly – yet smoothly – no tap dancing!
• Don't over-sheet, so you don't kill the wind/power.
Fitness:
Windsurfing is a tough demanding sport, perhaps as intense as wrestling – so you've got to be fit. Keep working on your fitness level through general and targeted training. Cross-training through alternative sports helps considerably.
Mindset:
• Have a plan on and off the water; adjust it dynamically based on the ever-changing conditions and your physical and mental potential for the day.
• Focus, be assertive, believe in yourself that you can execute and finish every move properly.
• Love the speed, freedom and adrenaline that windsurfing brings.
2019 Targets:
• Keep the love for windsurfing alive; aim for at least 40 good days on the water in 2019.
• Work hard to cross-train and maintain a healthy lifestyle.
• Focus on sailing with quality and on optimizing my rides; increase my level of awareness and assertiveness on the water.
• Nail the waterstart to a level that I can get up in waves, both tacks.
• Discover the duck gybe, carve 360 and small jumps; make the initial attempts at Tobago and Hatteras.
• Make a first wave sailing attempt, most probably in Brazil.
• Recruit at least three of my friends to the amazing sport of windsurfing.
• Introduce my bigger son to the sport; he is going to be close to 10 years old next summer and is already a good swimmer.
---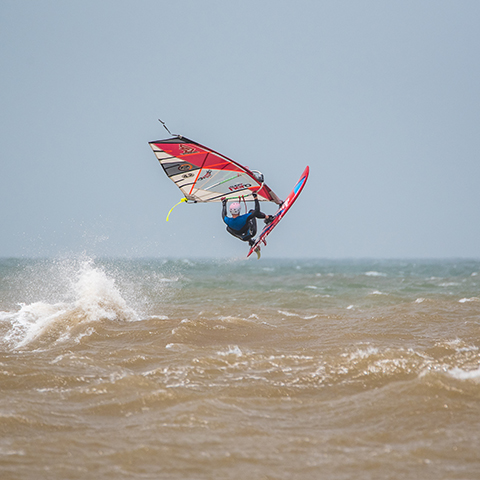 Gwyn boosting in Moulay. Photo Nicolas Jones.
Gwyn Smith
• Age: 39
• Profession: Programme Manager – Radiotherapy medical devices.
• Years sailing: Started when I was about 12, should be better by now!
• Local spot: King Alfred, Hove, England.
When I received the invitation to progress from clinics in the flat and warm water of reliable Rhodes to the more 'exposed' Atlantic reef break of Moulay, I realised I needed to put in some serious training in order to survive the next level of conditions. When my windsurfing fundamentals were 'rebuilt' by Jem in Rhodes, he inspired an almost obsessive need for me to repeat tack and gybe drills, so that when it came to the evening video feedback sessions, I could finally see that I had my hands and feet in the right place.
I heard how carve 360s in the straps will enable various moves when I progress to the next level. I was taught how focussed sessions of 30 minutes followed by 5 -10 minutes of reflection and planning the next session is preferable to a 2 hour session that puts holes in your hands. When I did my first wave clinic in Moulay with 30 knots of wind on a reef break these were the realisations that I made:
• The benefit of the repeated fundamental drills (and the rolls of Leukoplast tape for the blisters!).
• Consistent gybing or tacking allowed me to get onto my chosen wave out the back.
• Carving in the straps with the backhand back on the boom allows for a smooth bottom turn.
• Bearing away before hitting the face of a ramp allows for a better jump shape in the air.
I am pleased to say that I survived the week and my wave riding progressed significantly. I now approach my water sessions at home differently. After ascertaining how long I have with the best conditions, I then decide on the focus for the overall session, this is usually broken down into smaller sessions of around 30 minutes. These are my targets for these sessions:
• If there are any waves I focus on jumping on the way out and bottom/top turns on the way in, hopefully avoiding kit munching in the shore dump of Hove.
• I also work on tacking or gybing onto waves out the back.
• For 'no wave' sessions I work on fundamentals – tacking, gybing, higher chop hops and carving 360s.
• For kit tuning I focus on mastfoot position, outhaul, downhaul and a smaller/bigger fin on the beach rather than wasting half a session on re-rigging. Finally, I have recently bought a second-hand waveboard, a RRD Wavecult 83, so my goal for this year is to get out in higher winds and improve wave riding and jump shape/height.
"For 'no wave' sessions I work on fundamentals."
---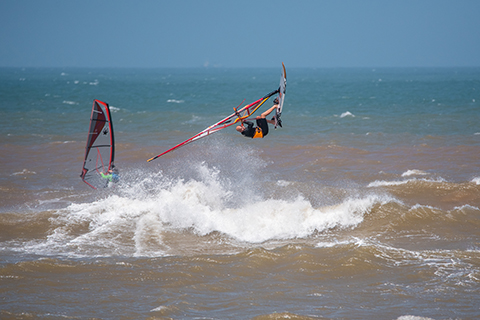 Jem spots a back loop. Photo Nicolas Jones.

JEM HALL – COACH'S  TARGETS
A lot of what I coach people, the psychology, tuning and technique is from what I have learnt over many years of both freesailing and coaching. I am looking to get the best out of my now more limited time on the water. As an exercise, I will highlight some targets using a popular life coaching model, the 'G.R.O.W.'.
Goals:
I want to improve, have fun and challenge myself in most, but not all, of my water based sessions. Wavesailing is my main passion, so all is tied in to that.
Here are my 'realistic' targets, given my ability, age, fitness and effective time on the water:
• Improved power in and through my wave rides and varying the type of turns, e.g. do more off the lips.
• Eat some shit – this is important as I need to push it so I have to try more aerials and go later on the lip.
• Get my jumps higher and my rotations smoother.
• Learn and improve in WS foiling.
Reality:
As a father who travels for work, and now that I live in Oslo, my home session frequency is a lot less than it used to be. I get some freesailing on my coaching clinics, but not as much as you might think. I am 47 and train hard on both my cardio and strength.
Options (focussed targets):
• Choose to sail at home at the right spot when I can and take it for what it is. Travel further afield when I can.
• Minimum 10 sessions a year in Scandinavia.
• Exaggerate key actions in my fundamentals, especially looking out of my carve gybes.
• Keep doing some old skool freestyle to challenge myself.
• When jumping really exaggerate key actions; in the forward loop it is really tucking up my back leg and being more active in the later part of the rotation. For the back loop it is bringing the gear round more actively as I come through the wind.
• Right ramp, right jump. Be choosier over the ramps when I can!
• For  my  riding,  when  I  can  do  different  'hits',  I  need  to  do  as  many  as  I  can. E.g. – one session in PSC, I hit 20 aerials or more, many were crap or comedy, but some were better and the next day my bigger aerials improved significantly.
• Foiling – Oslo fjord is closer to home and although offers less wind it does give me more time on the water and the challenge of learning this new skill.
Will:
How committed am I to achieving all of the above? People who know me would say I am very committed, but I need to ensure I am and that my peers are on my case too!
---
RRD boards, wetsuits & softwear, Ezzy Sails & Black Project fins sponsor Jem Hall. Get him live and direct on one of his highly acclaimed coaching holidays but be quick as they are selling out – check out his fab new site www.jemhall.com for details. You can also follow him on twitter/Facebook /Instagram.