Tweet
Langebaan, just 100 minutes drive north of Cape Town has become increasingly popular as a windsurfing destination, offering great freeride conditions and even wave sailing sometimes. Local windsurfer and the fastest women windsurfer in Africa, Karo van Tonder, gives us a guide to her home waters and an insight into her windsurfing and lifestyle.

Words  Karo van Tonder  //   Photos  Graham Ray Wiles, Guillaume Dakhla, Andrew Forsyth & Joos Bester.
---
Langebaan is a small west coast town in South Africa, known as the "Jewel of the West Coast". This picturesque town, 135 kms from Cape Town, hugs the shores of the Langebaan lagoon. Expect to discover tranquillity, vast open landscapes, the widest array of flora and fauna, beautiful blue waters, white sandy beaches and a rich historical heritage. This epic little windy town is suitable for adventure freaks, as well as those who are in need of a break from the fast pace of city life. It has, over the years, become known as one of the best windsurf destinations in the world where professionals come to do their off-season training and where amateurs come to enjoy the sport and improve their skills.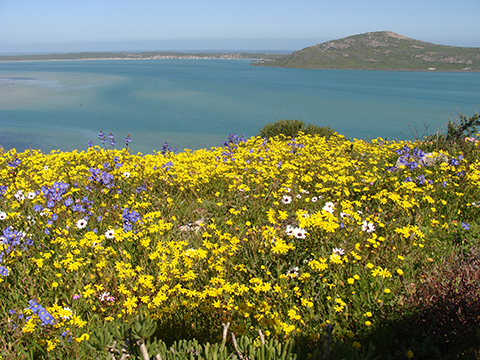 CONDITIONS
Due to the wide range of wind strengths and tides, the conditions change daily and you can have a completely different sailing experience each day, which makes it quite unique. From stormy 50 knot winds and massive chop, to pristine flat water sailing in 12-15 knots, the wind in Langebaan varies every day. However, during our very windy season (from November to February) the conditions are mostly moderate to very strong. There is nothing quite like "the Langebaan South Easter!". It starts in the early morning and picks up gradually during the day, enabling one to sail through your entire range of gear from morning till evening! During October, March, April and May, light wind conditions prevail, and it is then ideal for foiling or slalom sailing with bigger gear. Wave gear is a must because there are also excellent wave sailing spots along the west coast close to Langebaan, such as Elands bay, Swartriet, Paternoster, Big Bay and even a sneaky little wave in the Langebaan lagoon itself at the Cape Sports Centre bay in good conditions. During the winter months the wind dies down and for those of us who cannot live without a session a month, there is the occasional northwesterly storm day. This is an action packed wave gear type of session with monster lagoon swell and a guaranteed adrenaline rush.
ATTRACTIONS
The conditions in Langebaan are suitable for learners and professionals. Some spots on the lagoon, such as Shark bay and Kraal bay provide an easy to learn environment with shallow, warmer, flat water conditions. When the wind is not blowing there are so many other fun activities to do in Langebaan! Our pristine lagoon offers a playground for all watersport enthusiasts and activities like SUP'ing, kayaking, wakeboarding, surfing, fishing, swimming, yacht cruising, etc. all on your doorstep. The west coast offers some of the most untouched, wild and natural beaches, ideal for long hikes. If you are into serious mountain biking, Piketberg and Aurora Mountain is one hour drive from Langebaan and has stunning mountain bike trails. Another attraction is the West Coast National Park which borders the south side of the lagoon. The waters are home to flamingos and the park is well-known as a paradise for birdwatchers  and  wildlife. Game viewing is also possible within the park. A must do activity is to spend a day at Kraalbay in the nature reserve and take a drive to Postberg for a picnic. There is nothing quite like watching wild west coast waves break on the rocky shores and listening to oystercatchers. Sadly, there has been some plans made by the fish farming industry to start  placing fish farming cages in our beautiful lagoon. This could interfere in the sensitive marine ecosystem and attract sharks into the lagoon as experienced elsewhere. The town's major income is tourism based, especially from windsurfers, kitesurfers and watersport lovers, so we hope to win the ongoing battle against these industries to protect our beautiful lagoon. The Cape Sports Centre is the place to go for windsurf lessons, gear and kayak rentals and accommodation options. The kids can enjoy a visit to the fun park where they can try their hand at go-karts, quad bikes, trampolines or the water slide. The family can also enjoy a round of golf at the Country Club or browse around the many shops offering everything from curios, clothing, sports gear and home interiors to arts and crafts. My favourite clothing and gift shop is Kat-too in Langebaan. Here you will find anything from the most beautiful sarongs and clothing to kitchenware, unique crafts and jewellery and the friendliest staff. Horse riding is also a popular outdoor activity and be sure that you book yourself a lagoon yacht cruise, fishing trip or jet ski ride through Elite Charters. Nothing beats a sunset SUP session around the bird island.
Langebaan has some of the most amazing seafood restaurants. Some of my favourite places  include: White Sands restaurant, The Farm house, Pearlies, Friday Island, Kokomos and, of course, you have to visit Wunderbar for the best cocktails and cake in town while overlooking the lagoon and waiting for the wind!
LOGISTICS
For car rental I can recommend "Kennings car hire" or "Rent a Cheapie". Cape Town International airport is very accommodating when it come to excess baggage. Just be friendly and smile! It is very important to bring along a warm wetsuit. The lagoon water and wind chill is not for the faint-hearted and a long sleeve suit with a thickness of 4/3 or 3/2 is ideal.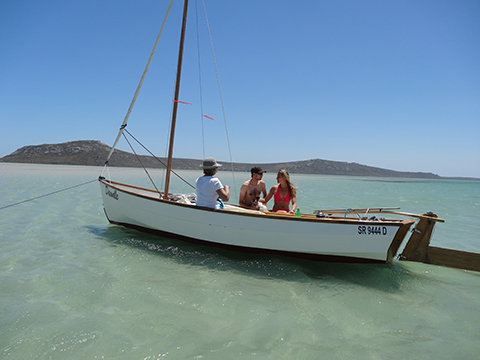 LOCAL KNOWLEDGE
The locals in Langebaan love the outdoors, simple living and are friendly and happy people who are proud of their beautiful town. There is a large fishing community and also a sense of unity within the town; we are one big family! If you enjoy the simple life and being outdoors, Langebaan is the ultimate getaway. During the windy season we have so many full days of wind that we become picky as to when to go for a session! One of my favourite windsurf adventures is to start at Cape Sports Centre bay and then tack all the way up the lagoon to Churchaven. We have some amazing long-distance runs there in the warmer part of the lagoon and then an exhilarating downwind blast back to where we started. I love the vast openness of the lagoon and to be able to windsurf with the beautiful surroundings, wildlife and scenery all around. It is an experience that you will remember for life! For those who want to take on a more relaxing approach, driving around to Kraalbay is a great option in order to experience this world-class windsurf spot. On days where we want to do slalom sailing, but the wind is too strong on the lower parts of the lagoon, Kraalbay is the place to be. Saldanha Bay also offers a unique sailing experience, with strong winds and cross-shore runs along the beach. If you come to visit Langebaan I look forward to sharing this amazing piece of windsurf paradise with you!
LIFE
I cannot picture my life anywhere else in the world other than this beautiful, windy town! We spent many December holidays in Langebaan where my dad taught me how to windsurf at the age of 12. Seeing my dad blasting across the lagoon inspired me to take up the challenge and join him on the water! Anything that looked somewhat like a physical challenge caught my attention. I got hooked on the speed, energy and elements involved with windsurfing. It was a big honour for me when my dad "upgraded" me from my occupation of "water-boy" and "binocular watch" to "windsurfer-in-the-making!". The process of learning to windsurf is not an easy one… but with a lot of dedication and persistence, I managed to master the beach start, water start, uphaul, tack and most of the windsurfing basics. Every year I looked forward to our 3 week December holiday in Langebaan so that I could master yet another windsurfing skill. After a couple of years, when I was 16 years old, my mother suggested that I take a few lessons from the Cape Sports Centre in Langebaan with the intention of meeting some new friends! Low and behold, my windsurfing instructor, a tall young man, Charl, became my best friend and today we are a very happily married couple. I graduated  from the University of Stellenbosch as a Food Scientist and we moved to Langebaan. After completing my City and Guilds accredited Chef and Pastry diplomas, I started my own wedding cake and catering business, KaroCatering, which is now thriving!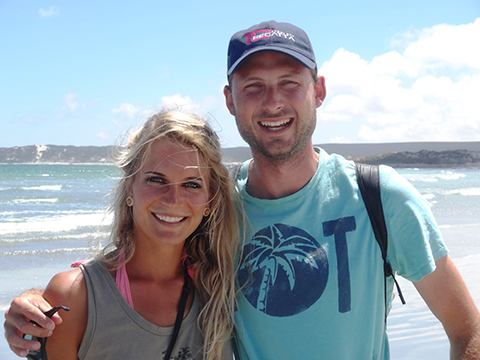 SUPPORT
Of course, living in one of the best windsurf spots in the world has helped to improve my windsurfing dramatically. In early 2016 the Severne Sails agent from Hungary, Raffaello Gardelli from Surf'n'curve noticed me windsurfing on the Langebaan lagoon and approached me to become a team rider for Severne. I was absolutely thrilled! From there on it was a snowball effect. I was provided with the world's best racing sails and equipment and my windsurfing skills skyrocketed!! I soon became an ambassador for many brands: Surf'n'curve, O'Shea Surf, Gypsea Swimwear, Starboard, Dermasure & Zone Skincare, Mitsubishi Motors and Kat-too Langebaan. I started to compete locally and internationally. In 2017 I set the women's African speed record at Lüderitz and also became the African woman slalom champion at the IFCA Gran Prix in Mauritius, as well as the first female windsurfer in the world to complete and win an 80 km windsurf race during the Defi Mauritius competition in 2017, the longest windsurf race in the world to date. My main discipline is slalom racing, but I also enjoy wave sailing, speed sailing, free riding and storm sailing! Today I am proud to have built up a solid support base of brands, locally and internationally. These sponsorships, together with the amazing support from my family, Langebaan locals, friends and my social media fan base has been the key to my motivation and progression in the windsurfing world.
The windsurfing community is like a big extended family for me. We are all very diverse individuals who share the same passion. Windsurfing is what brings us together and even though we compete against each other on the water, once we are on land, we are best mates! The number of contacts that I have built locally and internationally through competing and my social media is phenomenal. In South Africa there are not a lot of women in the sport and I therefore mostly compete against men. One day when I have enough sponsorship support I hope to be able to afford to compete on the PWA tour where I can race against other women and represent South Africa. It is good for me to compete against men as part of my training in South Africa, because I have to push myself much harder and also be a bit more fearless around the gybe marks in a race!
LANGEBAAN ACCOMMODATION
Sportif Travel and Planet Windsurf give us their pick of accommodation in Langebaan.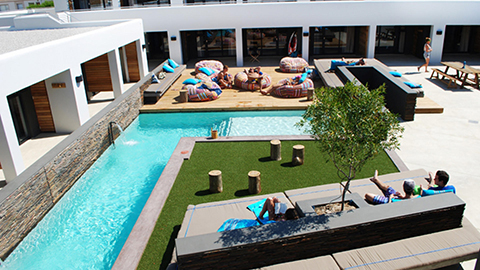 SPORTIF TRAVEL
Sportif have been down to Langebaan and Cape Town to check out all the best accommodation. Here's our top picks:
3* Langebaan Guest House. This charming guest house has en-suite rooms for 2 or 3 people, a shared kitchen and dining area, courtyard garden and around a 5 minute walk to the windsurf centre. There's a garden BBQ area and fitness studio offering Pilates classes, free WiFi and breakfast at the Friday Island Beach Bar, which has views over the lagoon. The lovely courtyard is perfect to relax in and you can't beat it for location, as it's just a couple of blocks to the water's edge.
4* Boutique Lagoon Hotel. Situated in a perfect spot in the centre of Langebaan, just a few minutes from the beach. A contemporary hotel where you can socialise with other watersport enthusiasts. A modern design with cool outdoor deck area, own bar and restaurant. There is a choice of room options with own balcony, ideal for drying out your kit, chill out at the bar, or on the roof top terrace which is great for checking out the action on the water.
Luxury 4* Penthouse Apartment and Pool House. Located approximately 50m from the Farmhouse Hotel, choose from a luxury penthouse apartment or pool side rooms with small gym, swimming pool and use of nearby hotel restaurant and bar where breakfast is included. Ideal for families and groups.
A Sportif representative will provide a meet and greet service at the airport with group or private transfers, car hire from the airport or in Langebaan. Guided or self-drive tours to the wine land, garden route and Kruger National Park Safaris plus excursions bookable in advance. To book contact Sportif Travel on +44 (0)1273 844919 or see www.sportif.travel for details and special offers.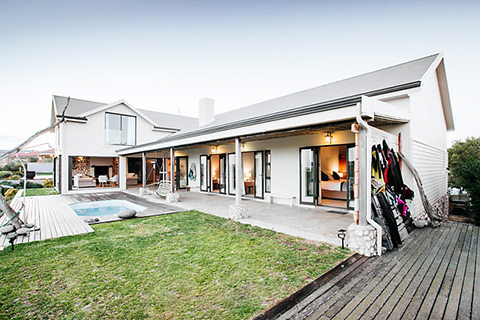 PLANET WINDSURF
Planet works with the top accommodation providers in Langebaan and with an office in nearby Cape Town they are able to personally visit and inspect each hotel in the area. One of their favourites has to be the Windtown Lagoon Hotel. Although favoured by kitesurfers, due to the onsite centre and nifty wash area, this is one of the only proper hotels in the area offering modern facilities and amenities. Located only a short walk from the windsurf centre and beach, Windtown's rooms focus around a gorgeous sparkling pool while the Breeze restaurant serves amazing breakfasts, curries, burgers and salads.
Another special find for Planet is their exclusive Langebaan Luxury Villa. This gorgeous house is set in the residential part of Langebaan, with sweeping views over the bay. Stackable doors allow you to open up the house completely, while an outdoor shower, splash pool and plenty of storage make it the perfect spot for windsurfers. While the house sleeps a total of 14 people, what is amazing is that you can book the house out in its entirety, even if you're only two people and still have full exclusive use of the facilities, including the large kitchen, dining and living areas!
Another great option is The Farmhouse Hotel, an authentic historical homestead with gorgeous views of the lagoon. Full of character, this restored  historical building is all about creaky floorboards, low beams and afternoon tea on the lawn. They have a superb 2-bedroom cottage set to one side, great for families. Generally speaking there are very few hotel style accommodations in Langebaan, and they get booked up fast for the windy season from November to March, so best to book early. Visit Planet on www.planetwindsurfholidays.com, email [email protected] or call us on +44 1273 921 001 for expert advice.
---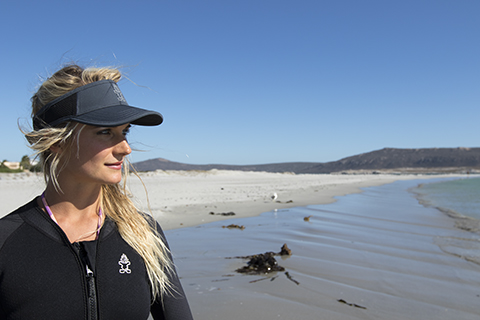 FOLLOW Karo
If you want to see more of Karo, find her online here:
www.facebook.com/karovantonderSA89/
www.instagram.com/karo.vantonder/ 
http://karolife.com/