Tweet
Reader Lauren O'Dwyer-Buckland from Norwich was diagnosed with Rheumatoid Arthritis in 2016 at 18 years old. She hasn't let the illness dominate her life though and has travelled the world and trained as a windsurf and SUP instructor. She shares her inspiring story.
Words  Lauren O'Dwyer-Buckland  //  Photos Andrea Soncini, Meg Delahoy & Nadine Moore.
---

I know what you're thinking, arthritis is an 'old age' disease and there's no way a girl of 18 could be diagnosed with it at such a young age. That was my exact thoughts too as I left that very cold and lonely room in the hospital. I went in with an open mind, but nothing prepared me for something so life changing. This is my story of how I coped and how I am still coping with this illness, which has actually somewhat shaped my life perfectly to what it has become. My weakness has now become my strength.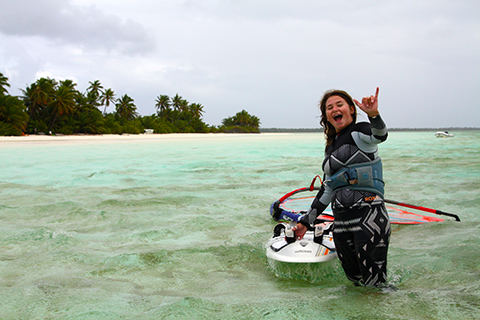 JOURNEY
I started this journey in 2016 when I was 18 years old. I suddenly felt a shooting pain all the way down my arm one night after skiing at my local dry slope. I didn't think anything of it until the pain didn't go away and started to spread throughout my whole body. My feet, knees, hands, elbows, shoulders, you name it, all hurt. It got to the point where I couldn't lock my car because the pain was so bad. Daily life quickly became very sore and hard. My Mum, the most supportive and encouraging woman I know, helped me through every possible step she could and more. She was a Resuscitation Officer at the Norfolk and Norwich Hospital and had been working there for 30 years. She was very knowledgeable and basically translated everything into plain English for me so that I could understand what was happening to my body.
My dad, protective and concerned, stopped having as many arm wrestles with me! We went through a number of different things that my pain could've been a consequence of. At first we thought it was my thyroid gland. This was upsetting because I knew I would be on medication for the rest of my life. However, after a few different blood tests, I was told that it was not my thyroid. This, as you can imagine, left me even more confused; what was wrong with me? Before all this happened I had planned to do a 5 week intensive course in the Isle of Wight to become a windsurf and SUP instructor. However, the fact that I could barely walk or apply minimal pressure on my wrists, gave me little hope of ever being able to achieve my dream of becoming that blonde-haired beach babe. Luckily after seeing different doctors and nurses, I was referred to a rheumatologist, Dr. Tarnya Marshall, another very supportive and encouraging woman, who has also been and still is, a big part of my journey. This was when life threw a few obstacles in my way. I was diagnosed with Sero-Negative Rheumatoid Arthritis. My immune system was fighting against my own joints, thinking that it was some kind of foreign infection. Not only was I in pain 24/7 and very fatigued, I was sad.
TREATMENT
It felt that my world was tumbling down on me and suddenly the thought of living this painful life was not exciting anymore. How was I meant to get through my instructor training? Fortunately, Dr Marshall put me on a couple of medications, one called Hydroxychloroquine, which decreases the pain and swelling of arthritis, and one called Prednisolone, a steroid that inhibits the immune system's response to reduce swelling. The steroids were only temporary to get me through my courses in the Isle of Wight. I was given a steroid injection too before I went and I think that was when it all became very real.
ACHIEVE
The Isle of Wight was the best and the scariest experience of my life. Although the steroids took most of the pain away, I was anxious all the time. I found it very difficult to make it through all my exams and presentations and I cried, a lot. However, with the support of my friends on the course and my teachers, I got through it and became a windsurf and SUP instructor and was very proud of my achievements.
A few days after I got home, I managed to get a job working for Neilson Active Holidays in Greece for two months to complete the end of the season. Here I taught people how to windsurf, sail and SUP. This job was a combination of physical, mental and social aspects in, what could be, very high and humid temperatures. All of these things were pretty strenuous on my wrists, but I didn't want anything to stop me working in such a beautiful place with awesome people. When I got home, I went back to Dr. Marshall. I had still been having flare ups in Greece, so now that I was home for a while, she put me on a drug called Methotrexate. Methotrexate reduces functions of the cells that cause inflammation in the joint tissues. I had to be monitored every week with blood tests to measure my blood cell count, kidney and liver function. I wasn't very good with blood tests, I felt faint every time I had one. Methotrexate knowingly gave me lots of side effects; I felt tired, stiff, sick and anxious about what this drug could do. My hair also started to fall out, which was very distressing as I love my hair! I was given folic acid to take 6 days a week to help with the sickness and hair loss. At this point I was on 24 tablets a week! Now that I was on these drugs I could stop taking Prednisolone; I didn't like the way it made me feel, but I am so grateful it got me through my instructor course.
RESEARCH
I was asked to take part in some research investigating the correlation between why people get Rheumatoid Arthritis and the effects of Methotrexate when taken, which I was really happy to be part of as the thought of helping others, especially people my age, was encouraging.
The other thing which really made me sad was the fact that I couldn't drink alcohol. Sounds stupid, but try being 18 and watching everyone else drunk whilst your stone cold sober. Not that I needed it, but these were the times of my life where I wanted to have fun. Nobody else really understood, I didn't blame them – how were they supposed to know? I just felt very alone and trapped in my own head. I was embarrassed to tell anyone because I just felt old and useless, I couldn't accept it. Thankfully after a few months, my medication kicked in and I began to feel a massive difference in my overall health and wellbeing. I was on my way to being myself again!
RECOVERY
I really wanted to continue doing seasons and teaching, so after a chat with Dr. Marshall I applied to work for the same company for the following season. In January 2017 I was offered a job to go to the brand new Neilson resort in Sardinia. I was over the moon and could not stop smiling. My brother, Lewis, and his girlfriend, Nadine, had already been given senior roles. It was so awesome to have support from them! My beach manager, Sarah, had a lot of empathy for me as her mum was actually a Rheumatoid Arthritis Nurse Specialist – what a small world! I had regular blood tests in Sardinia which were always eventful. Try explaining something you can barely understand yourself in another language! Luckily my Mum got an Italian Doctor at the hospital she worked at to translate everything. Life working on the beach felt natural and energising and I felt comfortable to be surrounded by all these cool people. It was always reassuring to get feedback from guests saying that I was sympathetic and motivating when I taught, maybe because this is what got me through everything that I have now achieved. I grew as a person expeditiously, in my health, happiness, ability to teach and to windsurf. This was a memorable point, I was on my way to recovery, nothing could stop me. Windsurfing quickly became my new obsession. Most lunches I would wolf down my food and run out to get on the water as quickly as possible. Even if it wasn't windy, light wind freestyle would always be a laugh. I felt myself progressing quite rapidly and the thought of being in pain and hardly being able to finish my course in the Isle of Wight seemed like a distant memory.
"Windsurfing quickly became my new obsession."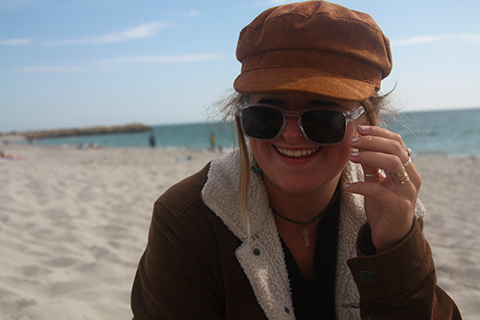 INSPIRED
Windsurfing has already taken me to so many awesome places, from the U.K. to Europe, the Canary Islands, all the way out to Australia and then to the Cocos Islands, a remote territory of Australia in the Indian Ocean. I am now 20 years old and currently still travelling around Australia and New Zealand and have no intention of stopping just yet; I am loving the life I'm living. Touch wood, I've had near to no pain in the past year, and it feels amazing. Time and patience are the best healers. I am also very into photography and I feel that water sports has inspired and changed my outlook on life. I think it's very important for everyone to love their bodies and see the potential things that they can do with them, no matter what condition, shape, size, gender or age. How awesome are we! Keeping active and busy became my sanity and what better way to do it than to spend it travelling around our precious planet and meeting wonderful people.
To you this is the last paragraph, but for me my journey will continue. Arthritis is a part of who I am. I am not ashamed or embarrassed anymore, in fact I am delighted to be able to share my story in the hope that it will inspire others. Acceptance has set me free. Sardinia was a season that gave me hope, excitement and sparked my interest to keep going and achieve anything I wished for. I've learnt a lot about myself through this illness and I am very grateful for that. I am also very proud of myself; and for anyone else who is suffering, or rising up with arthritis, they should be very proud of themselves too. The best advice I could give would be to listen to your body. If you're tired, rest. If you're sad, cry. If you want to dance, dance like nobody is watching. Please don't let something like Rheumatoid Arthritis get in the way of your hopes and dreams. Does everything happen for a reason? I'm not sure, but I'm making this reason worthwhile!
MAIN SHOT – Lauren cruising at Baia Dei Mori Neilson beach club in Sardinia. Photo Andrea Soncini.