Tweet
It's easy to imagine what life at the top of professional windsurfing is like – podiums, prize money and photo shoots – what's not to like! But what about the struggle to get there?  Every master was once an apprentice and in sport the road to the top has tough lessons to learn along the way. Former youth world slalom champion, Maciek Rutkowski, is a 24 year old Polish windsurfer with his sights firmly set on breaking into the upper ranks of the PWA and here shares his candid thoughts on the challenges of following your dreams.

Words  Maciek Rutkowski  //  Photos  John Carter, Andrzej Jozwik/Surfmedano.com

Originally published within the September '16 edition.
---
Dream time
"Maciek, what you doin' here so early?" At first I think it's part of the dream, but it's just way too normal. My dream world usually consists of shapes, colours, chicks, shady characters, heavy brawls, barrelling waves and flying objects. Oh, and my girlfriend. Somehow she's always there. "You alive? Don't tell me you're sleeping here!" It takes my brain a few seconds more than my body to wake up. I look around, almost conscious now. I'm in the middle of a small equipment tent in Reggio Calabria, laying on a 9cm thick mattress with Patrik Diethelm, my sponsor, shaper and friend, standing over me. I share the tent with him and Karin Jaggi, his long-time girlfriend and the second half of the 2-year-old board brand mysteriously called "Patrik". The hotels close to the beach were too expensive for my 20-year-old pocket so I decided to crash the equipment tent's floor. It's 2012 and I'm about to begin my first full year on the professional windsurfing tour.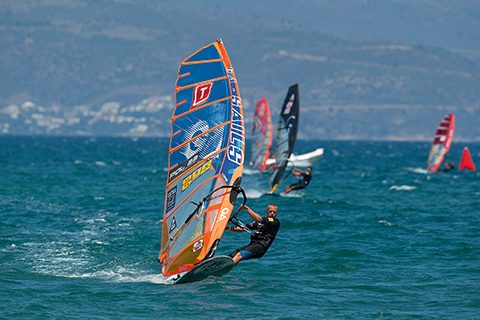 Hard yards
I pretty much cleaned out my bank account with buying the ticket to Korea, the tour's next stop. Here in Reggio Garbagia, as it's quickly labelled due to all sorts of things floating around, we only get one round done. My very practical goal was to earn some prize money, but Taty passes me on the last jibe and I finish 6th in my quarterfinal. That puts me in 25th – one place outside the much-needed dollar. But no worries, I had a good time and learned a lot. I'm not starstruck anymore, like I used to be in 2010 when I first did a few events, but I definitely enjoy hanging out with pretty much everyone and listening to all they have to say. About equipment, racing tactics, travelling, parties, contracts et cetera et cetera. I sink it in like a sponge. You never know when certain information can prove useful. But I also simply like to feel a part of the group. The pros, y'know…
In Korea I tell Matteo Iachino, who's quickly becoming one of my good friends due to a shared passion for silly jokes, "If I always pass the first round I should finish top 30, right?" Well… wrong. I finish 36th, a harsh reality check. First lesson of racing: don't ever calculate, just race. That's what I do in Costa Brava and finish 14th. I feel on top of the world. Everyone patting my back, the windsurf media wanting interviews and videos, enjoying my first PWA prize money, peers giving me the first bits of respect, industry starting to slowly notice the too small competitor from a too small market. "Let's see how he does in Fuerte", they're thinking. The answer? Crap. Back to the drawing board.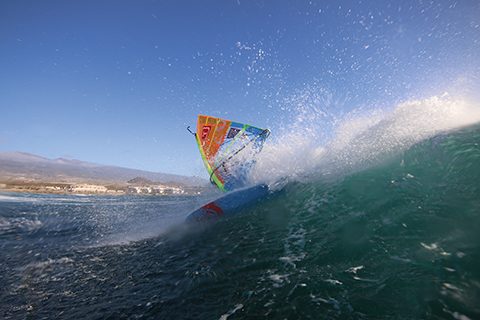 Money, money, money.
Before Costa Brava I received the second part of my energy drink sponsor money hoping it will last until the end of the year. Lesson two: when it comes to money, hope for the best, prepare for the worst. I use the last of my funds to pay for my Turkey trip. The contest goes average. At the same time IFCA announces their World Championships will take place in Paros a week after Alacati. I change my ticket to fly to Athens instead of Berlin and literally scrape coins from the bottom of my bag to pay for the ferry to Paros. There's good prize money for the top 3. With only 4 pros going I'm pretty confident. I'm in 2nd for the most part of the event, but on the last day disaster strikes and I fall to 4th. How the hell am I gonna get home now? Gonzalo Costa Hoevel, who's took me under his wing since day one and happens to win that event, pays for my flight home. The only problem – the flight arrives at Berlin-Tegel airport and my car is in Shoenefeld, about 2 train and 3 bus-rides away. I decide not to carry the 150kg of gear with me, but since I don't have any money to pay for the storage, I hide the gear in what seems to look like a deserted corner of the airport. After almost 2 hours I come back just to find that same corner empty. I go into full panic mode. The sails aren't even mine, I got them on loan from Loft Sails. I already have a vision of not going to Sylt and cleaning Monty's floor for the next 2 years to pay for the set of sails and masts. Police tell me I should look around as thieves often only look for money and passports and dump the rest somewhere around the airport. So I'm running around like crazy asking everyone in broken german if they saw some very big bags somewhere. After an hour or so I hopelessly drag my feet back to the police station just to ask if there's any news. As I'm passing by the left luggage storage I see some weird massive shapes sticking out of one of the alleys. My gear! I'm saved! Someone just brought it in! Only one small-time problem though – how am I going to pay the 150 euro bill for the 3-hour stay? "Hey dad", I almost whisper to my worn out pre-smartphone cell, embarrassed out of my skin (because of having to ask dad not because of the phone), "Look, umm, there's a bit of an emergency…" Within an hour the money pops up on my account and with a sigh of relief I drive home to prepare for Sylt. Lesson three: do not leave your baggage unattended.
Before leaving to Germany I sell my small board. Just enough to pay off Gonza, dad, and the fuel. Steve Allen gives me a lift to Sylt in his campervan and despite no great overall result again, I leave the island happy with a new trophy and a second Youth World Champion title to my name.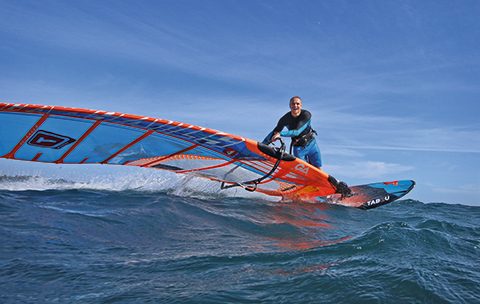 The breaks
"Mache, you're snoring like a pig!!" I look at my iPhone. It's 4am which means I arrived an hour ago. On the other side of the room lies a not very happy and very jetlagged Ricardo Campello, once my childhood idol, now my teammate and friend. We're in Denmark the night before the beginning of the Cold Hawaii PWA World Cup. A lot has changed since 2012 and doing waves as well as slalom is probably the least of the changes. No more sleeping in equipment tents and crashing hotel dinners – finishing 16th in 2014 means free accommodation in 2015.
No more girlfriend ("how can I be with someone who's never here?") and no more university ("how can we pay a scholarship to someone who's never here?").  No more getting excited about 14th places. I was sitting at the gate with Josh Angulo once and he told me: "As a slalom sailor all you have to do is be top 4 every heat". And that's pretty much been my motto ever since. Some guys love winning first round heats even risking everything to get from 2nd to 1st. And a lot of the fans were more excited when I won a first round heat in front of Antoine in New Caledonia then when I got 7th overall in Sylt, which to me is absolutely ridiculous. I've even been branded "The Worm" by Finian due to sliding through heats Kevin Pritchard style. Offence to some, but an honour if you ask me.  No more hanging out for no reason. I realized that hanging around and talking to people during the contest actually takes a lot of the energy and focus away.  Sounds like a veteran? Well, not really. That hasn't changed at all. I still feel as young and as fresh as in my teens. I still learn every day, the hard way a lot of the time. Like every year when negotiating contracts for example. Every year it's different and every year, new circumstances come up. It starts the same with all the brand/team managers coming to Sylt for the PWA contest in October and sitting down with all their present and possibly future riders. From there they chase the biggest fish, the top 3, top 5 riders in each discipline. Then they move onto guys like me, which means between the nice chat you had in Sylt to the actual agreement, can be a 2-month gap sometimes. 2 months of not knowing what gear you'll be riding next year, when you are going to get it and what your future is going to look like in general. The first year this happens you panic, as if the silence or the stalling means you're not going to get picked up by anyone. Then you sort of get used to it and then start to use that time to improve as a windsurfer and as an athlete, which definitely won't harm your negotiations. You can't control everything, but control what you can control. This year I signed with GA/Tabou in December, after 4 years on Patrik and 3 on Point-7. As much as you would love to be loyal and be on the same brands forever, Ross Williams style, you learn that windsurfing is a business and you just have to approach every situation with an open mind, just looking at it as the way it unfolds.

Think big
At the end of last season I asked myself – "What's the big picture?" The answer was simple, to be a world champion. "So what will move you towards that direction the most?" I pondered. Probably the one that supplies the best gear with a sufficient amount of money to be focused on training 100%.  Or like when you're testing gear. You think you know a lot, but you learn every single session. Boards, masts, sails, booms, fins, battens – the further you get into the game the more of this stuff you have and the more money you can spend on having even more. And that means countless hours of testing, tuning, measuring, modifying, sanding, laminating etc. And every single time you learn something new. A softer batten tip does this, a 3cm longer tube that, but it only works on a mast that is these numbers and it might be too stiff in choppy or too soft in flat. I often get asked why those 40 year olds are still kicking our butts. Well, that's exactly why and there's no shortcut. Only learning by doing. Sounds like a grind? Well, maybe sometimes it is, but it's well worth it.

A worthy journey
Apart from winning which is the absolute best feeling in the world for me and having fun on the water every single day, the experiences we get along the way are absolutely priceless. Show me another sport, or even another business where a person has the opportunity to learn so many different skills. I just finished laminating battens; now I'm writing this piece, before leaving to the gym and then going full travel-agent-mode to get all my flights for the next events. In bed instead of watching a film I'll try to edit one but will most likely crash out the minute I touch the pillow.
So yes, the road to the top is long and winding. And yes, I believe, actually I'm pretty confident I can make it all the way. But if for some reason I don't I'll be ready to take on any new challenges in life. Only because of windsurfing and how much it's given me. And I'm still "only" 24. So thank you windsurfing. You're the best!"
" When it comes to money, hope for the best, prepare for the worst "