Tweet
WINDSURF MAGAZINE #383 MARCH 2019
The March issue is out now!

---
Subscribe and receive your copy in either Print or Digital format.
(Prices include delivery anywhere globally 10 times a year.)

---
Winter's pulse: XL Brittany, Kai Lenny interview, Jaws season, Tested: 2019 115 litre freeride boards & 5.7 crossover sails, Peter Hart on windsurfing confidence, Slalom physique, Gybing footwork with Jem Hall, Niton – Isle of Wight waves, windsurfing with arthritis.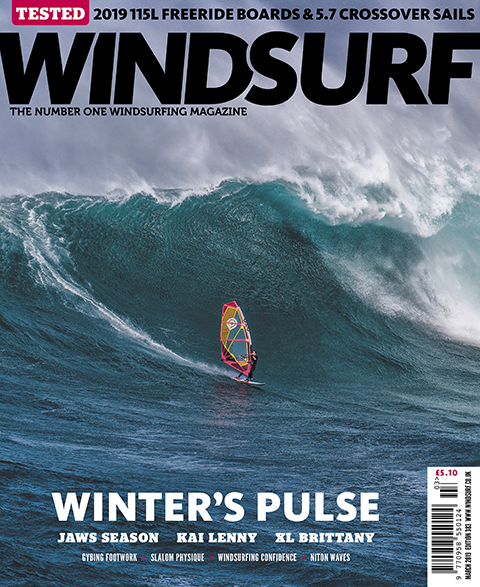 UK charger Vickey Abbott takes the drop on a solid one at Pe'ahi /Jaws.
Photo John Carter

BIG JUICY READS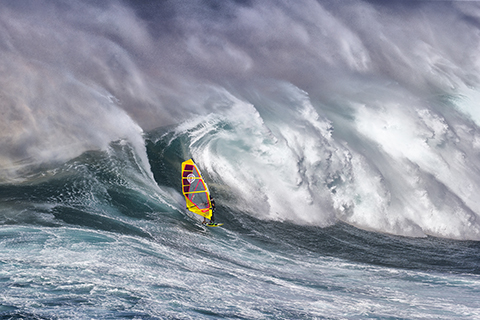 JAWS SEASON
Pe'ahi – a.k.a. Jaws, has been on overdrive for the 2018/19 season. John Carter, Kai Katchadourian and Charles Vandemeulebroucke report on the XL action.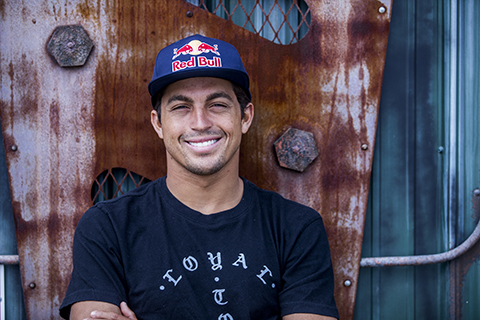 SUPER KAI
Kai Lenny is the greatest all-round surf sport athlete on the planet right now. John Carter finds out the secrets behind his skills and success.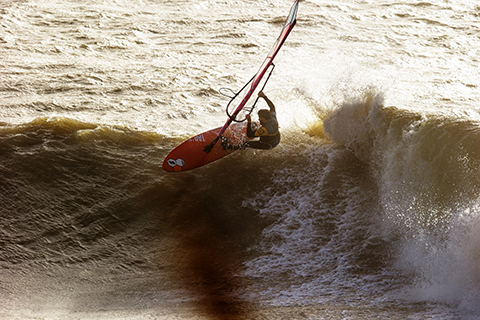 WIGHT CHRISTMAS
Niton on the Isle of Wight offered a feast of cross-shore wavesailing to gorge on just before Christmas. John Carter reports on the festivities.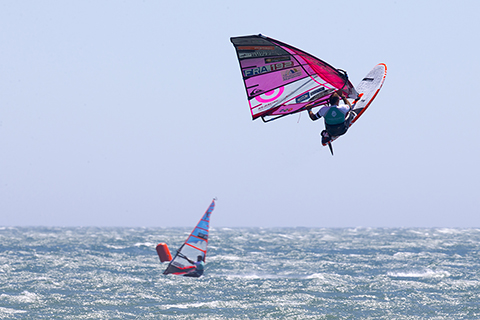 SIZE MATTERS
Advances in equipment have levelled the playing field in slalom. We asked a selection of slalom racers if body weights really do still matter!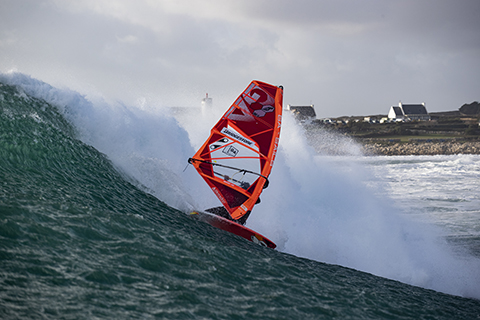 PROJECT BRITTANY
'The Windsurf Project' team turned their focus on Brittany this winter and its famed spot of 'Île aux Vaches'. We get the lowdown on 'Project Brittany'.

GEAR SHED
2019 115 LITRE FREERIDE BLASTING BOARDS
They're fast but friendly; the class of 2019's 115 litre freeride blasters are tested by the team in UK waters.  The lineup is as follows: 
FANATIC BLAST LTD 115,
GOYA BOLT PRO 115,
JP SUPER RIDE PRO 116,
SEVERNE FOX 120,
SIMMER MONSTER 116,
STARBOARD FUTURA CARBON 107,
TABOU ROCKET PLUS LTD 113.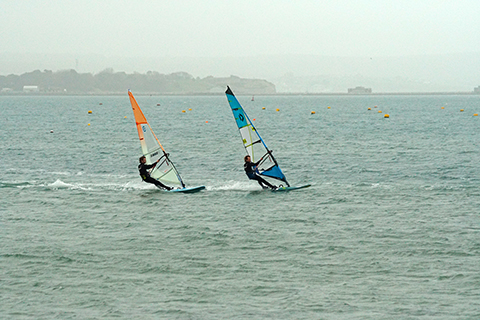 2019 5.7 CROSSOVER SAILS
Capable of tackling all that the UK's waters have to offer, from waves to flat water, a selection of 2019's all-round crossover sails are examined by our test team. The lineup is as follows: 
DUOTONE SUPER SESSION 5.6M,
EZZY ZETA 5.8M,
GA SAILS HYBRID 5.6M,
GOYA NEXUS PRO 5.9M,
GUNSAILS TORRO FR 5.7M,
LOFTSAILS PURELIP 5.7M,
NEIL PRYDE X:WAVE 5.7M,
POINT-7 SPY 5.9M,
RRD MOVE MK6 5.7M,
SEVERNE GATOR 5.7M,
SIMMER STYLE ICON 5.6M,
WITCHCRAFT KARMA 5.6M

TEKKERS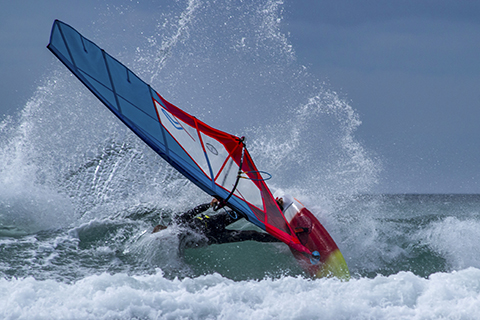 PETER HART MASTERCLASS – BELIEVE TO ACHIEVE
Harty, coach turned neuroscientist (for a day), speaks wisely on how to rule the self and win the mental battle.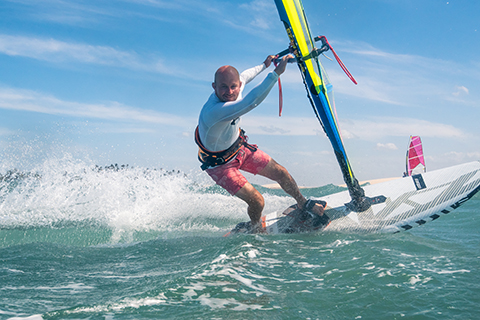 MOVE ON UP WITH JEM HALL – GYBING FOOTWORK
Jem advises this month on how to master our footwork whilst carve gybing.

BOARDSHORTS

LATEST & GREATEST
Where there is no news, we bring hope. In times of darkness, we bring light reading. In windsurfing, this is the latest and greatest.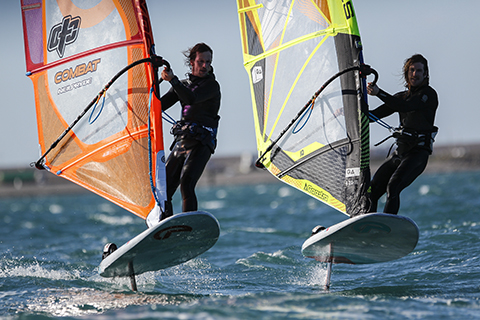 RYA KNOWLEDGE – LEARNING TO WINDFOIL.
The RYA tell us how to learn to fly on wind foils.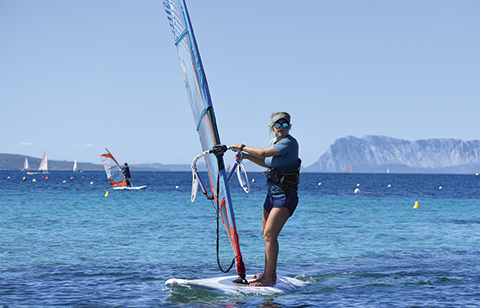 LIVING WITH ARTHRITIS
Reader Lauren O'Dwyer-Buckland was diagnosed with Rheumatoid Arthritis at 18 years old. She hasn't let the illness dominate her life though and shares her inspiring story.

SITTIN' ON THE DUNNY

EDITORIAL – WINTER'S PULSE
The editor reflects on a pulsing winter season so far.

AFFAIRS OF THE HART – PRACTICE OR GENETICS … OR A BIT OF EACH?
The jury is still out on whether good windsurfers are born or made, Harty offers his thoughts on the debate.
Get your Print or Digital copy now!