Tweet
The organisers of Mayo Mayhem give us the lowdown on their new event – "Bull Island Windsurfers in conjunction with Pure Magic and the Irish Windsurfing Association ran a new windsurfing wave competition this year  – "Mayo Mayhem". It was an IWA ranked wave competition to decide the Irish Wave Champion and took place at Achill Island between Sept. 29th – Oct. 1st, the same weekend as the "Battle for the Lake Kite and Music festival" www.battleforthelake.com.
The Battle for the lake is a fantastic show, a wonderland of water sports, music, entertainment, food and surprises, right in the middle of the WILD ATLANTIC WAY! The three day Music Festival consisted of 3 stages with an Impressive line-up of bands, various DJ sessions and trad sessions and lots of other actives, such as,  firework displays, product demo's, stand up paddle boarding (SUP) competition, kid's DISCO, West African drumming workshops, Kid's kite workshop, "Mega Kids Village", fun rides, giant games, bike tours, Curragh races, sheep shearing demonstrations and much more!!!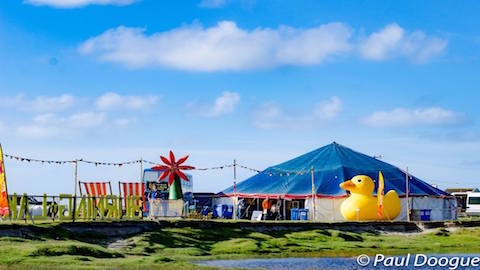 PHOTO – Battle for the lake festival site.
Origins – The Mayo Mayhem story starts a long way from the west coast of Ireland. Three years earlier a loose band of windsurfers were forced to join together when the city council took access away from their local and favourite beach. Malcolm Scott, Dan Kealy, Bob Hagan and Colm Scully needed to form a club to represent the wider interests of the Dublin wavesailing community. Bull Island Windsurfers was born and its mission was to support the sport that has given them so much. Fast forward two years of lobbying the council, they were finally re-granted access to their local spot. A win for windsurfing and with that taste of success the club set their sights on holding a fun competition to showcase the mighty conditions Bull Island has to offer. After a year waiting and a couple of missed opportunities later, the club approached Pure Magic with the idea of running a competition during their "Battle for the Lake" event on Achill Island. Achill Island has long been a hub for windsurfing similar to Brandon Bay in the South, offering a multitude of spots to suit all levels. It was a risk for sure, but Autumn is probably Ireland's best time for wavesailing. The days are still quite long, the water is warm (ish) and those Autumn gales blow more frequent than any other time of the year! If all else failed Pure Magic would still but together a show that would rival most music festivals.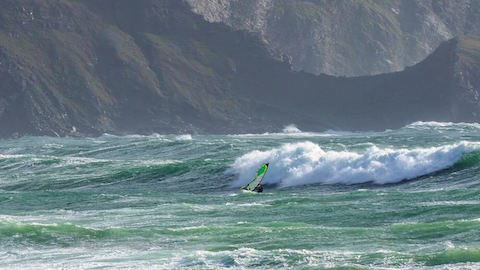 PHOTO – Malcolm Scott heads out into a monster set on day 1 at Keel.
Registration took place in the comfort of the Pure Magic Lodge. A mix of familiar faces, up and coming wave sailors, college students and title contenders. From early in the morning the wind was howling and the swell was building as the minutes went by.
At the beach, the conditions were huge! "Mananan Mc Lir" (the Irish Sea God) was good to the windsurfers and had stirred the ocean into a mast and half high cauldron that was both menacing and beautiful.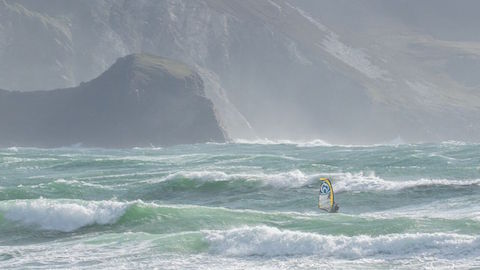 PHOTO – Katie McAnena battles the raging seas.
The Gold fleet were sent out first to test the conditions. Sail sizes ranged from 3.2 to 4.2. There was no "out the back" as the further you went out into Keel Bay the bigger the waves became. There were some spirited performances with no one holding back! Big waves have big consequences and the Gold Fleet showed no sign of trepidation. Kit failure would have ended in a colossal swim.
Next up the Silver Fleet took to the water. For many, their first time in competition and others only their second time in the west. What many would deem survival conditions, saw this brave crew compete, busting big jumps, table tops and wave rides. Oleg Antonenko took a massive swim, gathered his gear back at the beach, caught his breath and went straight back out again. There is a fine line between, being inspired and being crazy and it is not clear what side Olec is on.

PHOTO – Dan Kealy tabletop.
Day 1 finals saw a head to head with the Pidden brothers of "The Chook Journal" in the Silver Fleet, and Niall Mellon and Dan Kealy in the Gold. In cranking conditions it seemed like all men gave it there all. Charging down the faces of mast and half high waves and rocketing into big forwards and back loops. Friday will be a day not soon forgotten by all competitors and spectators alike.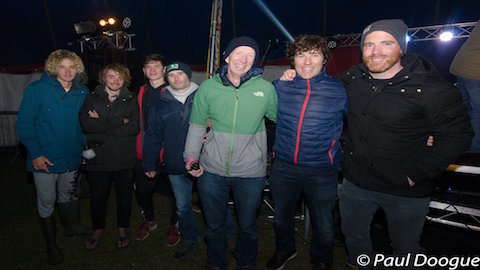 PHOTO – Podium placers from day one. 
Gold result day one .
1) Niall Mellon
2)Dan Kealy
3) Tom Knox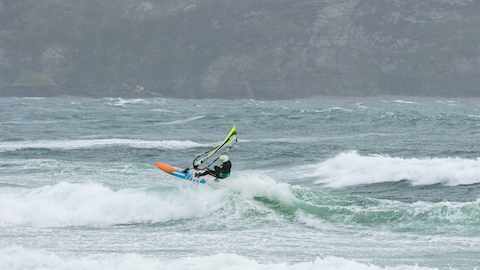 PHOTO – Ollie Pidden hits it.
Silver result day one.
1) Ollie Pidden
2) Tom Pidden
3) Malcolm Scott
PHOTO (below) – Tom Pidden smacks the lip.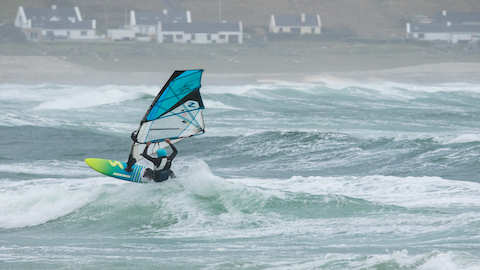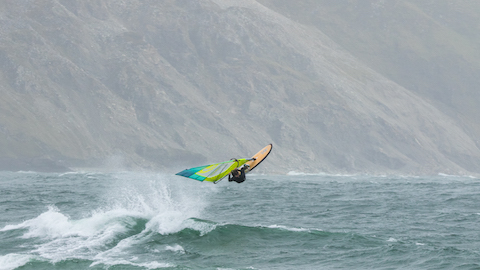 PHOTO – Dan Gardner back loop.
That night saw the perfect storm circumstance for an epic social gathering. The forecast was dropping of completely on Saturday and building strongly on Sunday. The competitors were stoked from the days events, and Pure Magic Burning Lake venue was alive with music and banter. "Andreas" had the crowd in tears of laughter, in an arm linking mix of folk and fiddle while the nights headliner Paddy Casey made the ground shake and had the crowd in singing in unison.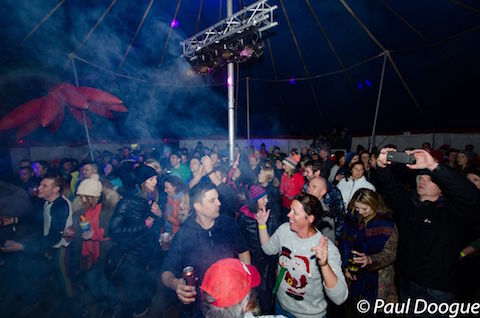 PHOTO – Festival fun.
Saturday was a very pleasant day with competitors surfing and supping in light airs and soaking up the festival vibe in the sunshine. This was topped off by an epic fireworks display over Keel Lake at 11pm.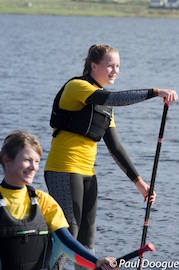 PHOTO – SUP Racing winner Mia Hamilton.
Sunday was back to business and after some minor delays Mayo Mayhem was back firing on all cylinders. This time with Silver Fleet taking centre stage. Heats were now seeded and this brewed an intense battle between "old skool style" and "new skool flare". Conditions seemed friendly in comparison to Friday but logo high sets could still be found and 4.7m was the average sail size. The Gold Fleet semi final was on fire seeing Dan Gardner, Dan Kealy and Tom Knox go head to head. In the end Dan Gardner clinched to victory by half a point to proceed into the final.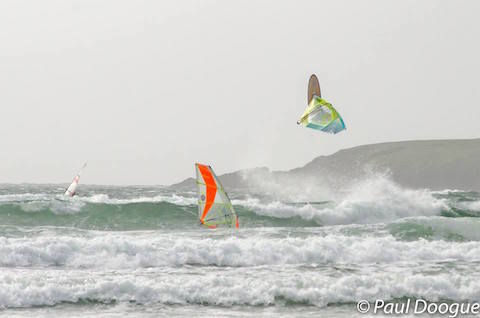 PHOTO – Dan Gardner back loop on day 3.
Up next saw the Silver Fleet four man final between Malcolm Scott, Bob Hagan, Tom Piddden and his brother Ollie. The Piddens combined age was not great than either Malcolm or Bobs individual age. So this was a real battle of the two "skools". Bob had some classy waves linking great wave selection with table tops, while Malcolm sailed the heat of his life and was rotating into plenty of forwards. However the Pidden brothers were not going down easy, big jumps and an aerial or two thrown in to boot. In the end Ollie secured the win with Tom and Bob in joint second.

PHOTO – Pidden brothers in action on day 3.
The Gold Fleet Final saw Mark Grennan against Dan "The Viking" Gardner ( there were tales going round the camp that he eats 20 eggs for breakfast and can chop down trees with his bare hands). This match produced an exciting final with big back loops, stalled forwards, takas, and slick waveridng. Dan secured the win with a massive back loop to seal the deal.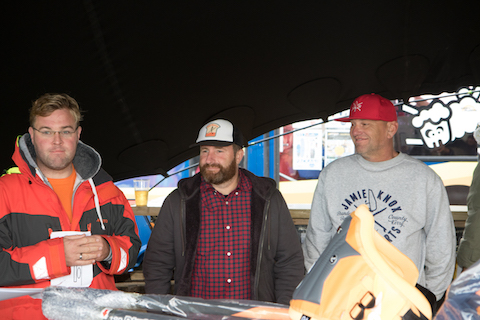 PHOTO – The judges (L-R, Maurice, Francis and Jamie).
Expression Session – After the finals, the judges Francis Nogue, Jamie Knox and Maurice Owens leap forth, litterally jumping into wetsuits, grabbing gear and running to the water, thirsty to taste what all the competitors had been revelling in all day. This turned into an epic expression session with tired sailors gaining a new lease of life, in what were perfect Keel conditions.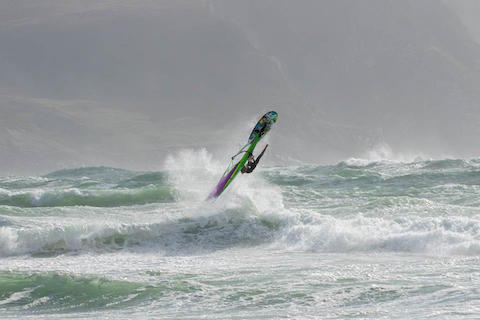 PHOTO – Duncan Knox – Big Balls award winner.
This session summed up what the event was all about. The joy of windsurfing, the fun of getting together with friends and giving it your best shot. Win, lose or draw was irrelevant it was the simple act of coming together to celebrate the sport we love.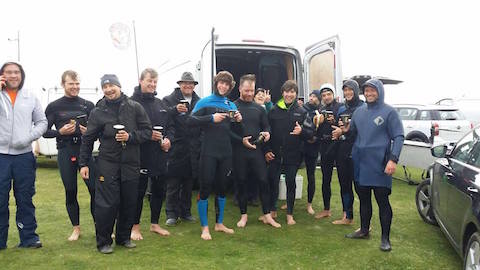 PHOTO – It's all about the fun!
The Mayo Mayhem organisers were extremely grateful to Pure Magic, the IWA, Jamie Knox watersports, Witchcraft Windsurfing, Tricionary, Loch Altan Hotel Donegal, Animal, Mistic, and Colaiste Uisce for there generous support all which went into creating an exceptional event and last of all, each and every competitor for travelling far and wide to take part in Mayo Mayhem.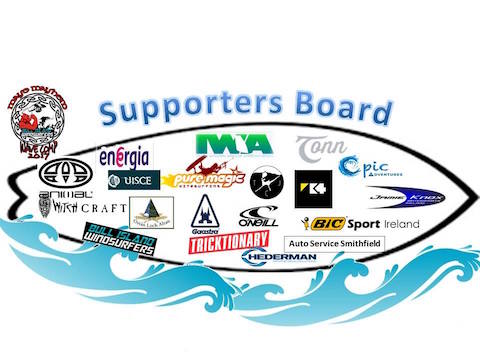 PHOTO – SUPPORTER'S BOARD
The event decided the Irish Windsurfing wave champions for 2017 with results as follows.
WOMEN'S WAVE CHAMPION – Katie McAnena
MEN'S WAVE CHAMPION – Dan Gardner
Check out the gallery of shots from the event below (click to enlarge) – thanks to Paul Doogue and Marco Cavalleri for the shots.