Tweet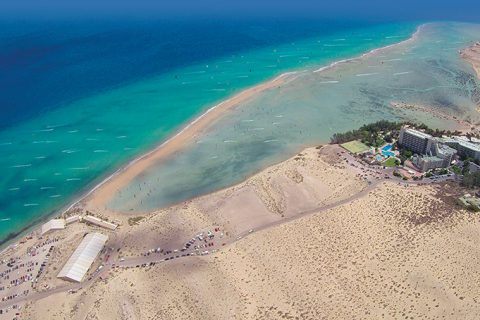 RENÉ EGLI

SOTAVENTO, FUERTEVENTURA
The René Egli Center is located since 1984 in the south of Fuerteventura at a breathtaking tidal lagoon with ideal wind statistics and year-round pleasant air & water temperatures for a perfect windsurfing holiday in a safe destination, only a 4 hour flight time away. It is famous also for being a PWA World Cup venue for 34 consecutive years.
CONDITIONS AND WHEN TO GO:
The spot offers all year-round conditions for beginner, intermediate up to advanced windsurfers. The turquoise flat water in front of the centre has side-offshore winds, strongest during the summer months.
This part of the coastline is one of the most beautiful beaches in Europe. The spacious supervised windsurf zone on the sea is perfect for learning, as well as freeriding, freestyle and speed. The sophisticated in-house rescue service provided by jet-skis ensures a safe holiday.
Offering courses for all levels and the highest quality of equipment: Annually 1000 sails from Severne and 450 boards from JP & Starboard are completely exchanged every 6 -12 months.
Located only 200m away from the windsurf centre, the Hotel Meliá Fuerteventura with superior service options and the newly opened Sol Beach House Fuerteventura Resort with it´s unique beach house ambiance offer excellent 4**** accommodation right at the spot.
CONTACT
René Egli Center
www.rene-egli.com
info@rene-egli.com
+34 928 54 74 83