Tweet
NEW NAISH WINDSURF FREERIDE  BOARDS, FREERIDE SAILS AND FOILBOARDS
Naish have just released their newest additions to their lineup — Windsurf Freeride Boards, Freeride Sails and Foilboards.
They say:
FREERIDE SAILS: LIFT RN & SPRINT
The LIFT RN is an ultra-high aspect no-cam sail that delivers incredible foiling performance, as well as high-speed, freeride sailing. It is great for foiling windsurfers looking for maximum speed on or off the foil. The LIFT RN is also fantastic as a non-foiling sail, offering great no-cam handling and speed.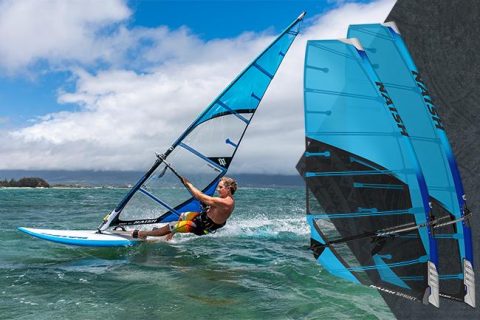 The Sprint is our no-cam freeride sail which offers great performance and easy handling. The Sprint sets the standard for freeride performance with its early planing, balanced feel, and high-quality construction.
FREERIDE BOARDS: GALAXY, GALAXY GS, & CUSTOM SLALOM
The Galaxy is our widebody freeride board that's equally at home on the fin or on the foil. Well balanced and early planing, the Galaxy is incredibly easy to jibe for a board of its width. the Galaxy will allow you to perfectly adapt to any conditions that are available.
The Naish Custom Slalom boards have been further evolved from the classic slalom board, thoughtfully developed by our R&D team to make it easy for you to go fast. For this season we have added the 114 as a new size for heavier riders. You will find Robby Naish testing speed runs on the 95 at Kanaha here in Maui, Hawai'i. The Custom Slalom board is designed for riders who want to go fast. With their incredible speed on straightaways, as well as their smooth jibing sensation, these boards will fulfill your need for speed.  
FOILBOARDS : HOVER WS, MICRO HOVER 105, WIND FOIL CROSSOVER 131
The Hover WS boards are foil-dedicated windsurf boards that will grow with you from your first steps into windsurf foiling and beyond. Aiming to decrease as much swing weight in a windsurf foilboard as possible while keeping the necessary length and volume to get on the foil, the Micro Hover is the shortest foilboard yet.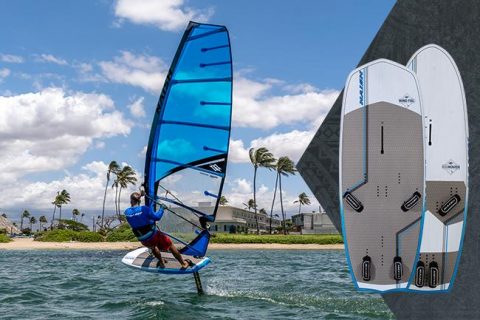 The Wind Foil Crossover 131 sets the standard in windfoil versatility. Whether you are windsurf foiling or wing foiling, this board can do it all. Its ultra-compact outline offers great stability with minimal swing weight.

For more information on the new Naish lines, please visit: www.naish.com